There's nothing quite like a German Christmas market to get you in a festive mood. Each of these Christmas markets has an ambiance and atmosphere of their own. A couple of years ago in Rudesheim, a small Rhineland town, we found ourselves roaming the market, chatting to stall holders almost every night. Each time there was something new, and something different to discover. This included a group of Finns selling crafts and celebrating their Independence day.
Known as the Weihnachtsmarkt, these Christmas markets are held in most towns across Germany throughout December, taking over the streets and squares with little wooden chalets and trading until late in the evening. Hot Gluhwein is sold in little pottery mugs. These can be returned for a cash payment or taken home as a souvenir. Traders and craftspeople take stalls, as well as retailers like KatheWohlfaht, makers of intricate, delicate festive decorations.
Products worth looking for are crafts, wooden toys, cooking accessories, Christmas tree ornaments, hot chocolate, snow globes, food and drink including specialties such as Lebkuchen (heart shaped cookies similar to gingerbread, decorated with messages), and Gebrannte Mandeln: nuts coated in brown crunchy sugar.
Frankfurt Am Main
Among the most popular Christmas markets is Frankfurt Am Main. This has one big market in the center of the old quarter around Romerburg and Paulsplatz. Dating back to the fourteenth century, this is a great place to buy special food & drink before taking a ride on the historic carousel. Hunt out unique specialties like Brenten(rectangular marzipan cakes) or Quetschemannchen(figures made out of prunes and nuts).
The Shooting Star Market in Wiesbaden
The Shooting Star Market in Wiesbaden is a delightful market, characterized by the shooting star and giant lilies which ornament the square. There are lots of craft stands and cooking items around every corner. It is also a good place to buy clothing such as waxed jackets, scarves and hats. On the nearby Luisenplatz, a children's market includes not just toys and clothing but entertainment such as an ice-rink and children's train.
Cologne Christmas Markets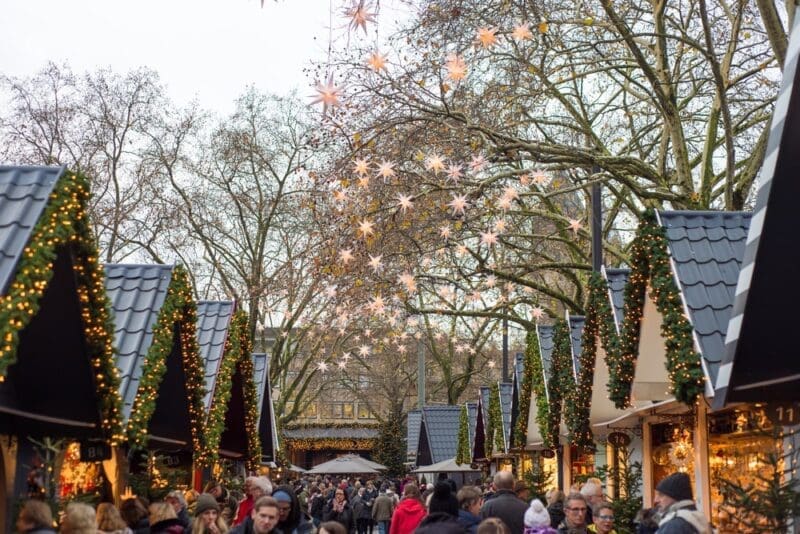 Over in Cologne, there are several markets keeping visitors busy all day. With over 150 stands, the largest market is located in front of the Cathedral. Others include the Nicholas Village at the Rudolfplatz, and the Angels Market in Neumarkt Square.
There is also the Christmas market in the old town which is home to the legendary Heinzelmannchen. These are small creatures who did the housework in local homes. That was until they were annoyed by a housewife spying on them.
A real festive treat is the Hafen Weihnachtsmarkt located on the banks of the Rhine, and within the grounds of the irresistible Chocolate museum.
The entire Old Town quarter of Nuremburg becomes a magical Christmas city during the Christkindlesmarkt. Cheerful red and white roofed booths spread out across the Main Market Square, as well as along the Rathausplatz, the Schmuckhof, Jakobsplatz, LorenzerPlatz and the Insel Schutt.
For some shopping ideas, there are well known names such as Playmobil (founded in nearby Zirndorf), lots of crafts like honey and body-care, hand made teddy bears, classic games, and collectors items like Ursula Leyk's little ceramic houses lit up by candle lights.
Dresden's Striezelmarkt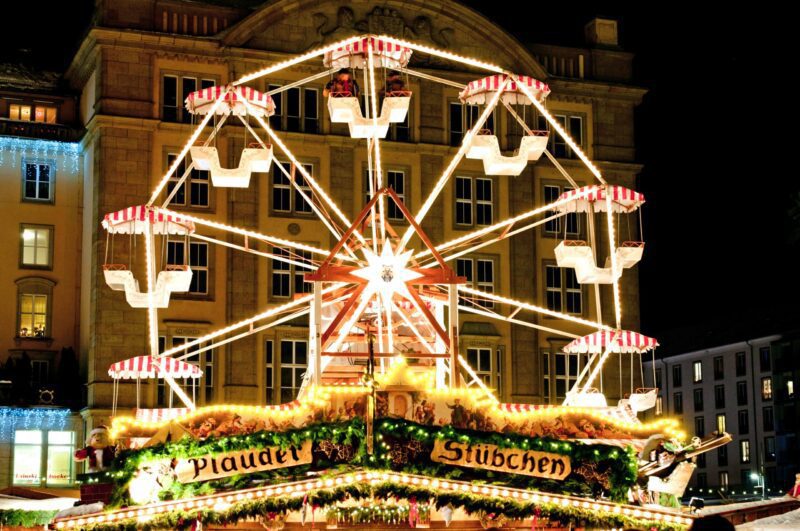 Founded in 1434, Dresden's Striezelmarkt is one of the oldest Christmas markets in Germany. Towering over the market is a massive 45 ft high candle pyramid, topped with a series of blades. As the candles burn, their heat rises and causes the blades to turn continuously. Local specialties include wooden Nutcracker soldiers and Smoking men breathing out incense reflecting local folk tales.
While in Dresden, check out the other Christmas markets. These include the Augustmarkt on the Hauptstrasse – one of the longest promenades in the country, the Frauenkirche and nearby Neumarket. The Winter Lights Market is centered around a 49 foot Christmas tree, and links the railway station with the city center.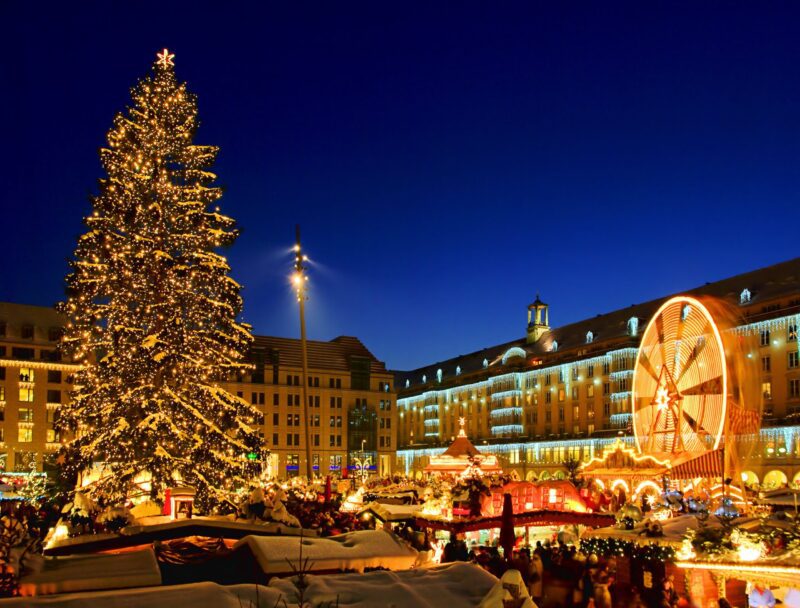 Trier Christmas Market
Located in the medieval marketplace in front of the imposing medieval Cathedral, the Trier Christmas market is a delight to explore, no matter whether you are looking for something special or relaxing with a mug of Gluhwein and some festive entertainment. Often described as being one of the most romantic of Christmas markets, this is where you can find choirs, minstrels, historical puppet theatres, plays, and much more.
Leipzig Christmas Market
Over 300 stalls, covered in twinkling lights, occupy the center of Leipzig during the Christmas market. This is one of the oldest and most traditional of festive markets, dating back to 1458. It is a great place to find local crafts, toys, festive food and drink.
Not to be missed is the very special event that forms a key part of the Leipzig Weihnachsmarkt: the daily performance by a group of trombonists on the balcony of the Old Town Hall. Adding to the magical atmosphere is the special street lighting, complete with a fairy tale forest and decorated Christmas tree.
Additional Resources