A leading organic and non-GMO seaweed snack brand, gimMe Snacks, recently debuted their new Sea Salt & Avocado Oil Roasted Seaweed Snack flavor. The company also recently introduced their Sushi Nori Sheets. These are perfect for crafting fresh sushi rolls at home and for small gatherings this summer season.
GimMe added the Sea Salt & Avocado Oil Roasted Seaweed Snack flavor to continue bringing the benefits of nutrient-packed seaweed to everyday snacking. The addition is also for consumers to discover a new way to savor the rich, buttery goodness of avocados.
This premium organic seaweed is roasted to crispy perfection using organic avocado oil and topped off with a sprinkle of sea salt. Just simple ingredients combined to make one tasty snack! GimMe is the first seaweed snack brand to offer an avocado oil product!
Now is the time to craft your own sushi rolls from California rolls to Vegan Avocado rolls. GimMe's healthy line of seaweed snacks are not only great for snacking on the go, they also incorporate well into salads, on top of avocado toast, macaroni dishes, and even popcorn!
Add a Kick to Any Snack or Meal
GimMe is a great addition at home for all family members. It provides excitement and an umami kick to any snack or meal!
For example, for family movie night, try adding gimMe to your bowl of popcorn. Sit back and relax knowing everyone in the family is getting a dose of green veggies. For dinner, try gimMe seaweed as a wrap or topping for your next meal from pasta dishes to rice, poultry, and more.
For wraps, add your favorite ingredients, wrap in seaweed, and enjoy!
GimMe is also great as a topping for a variety of simple dishes. Add to your favorite poke bowl, salad, soup, or even a hot dog.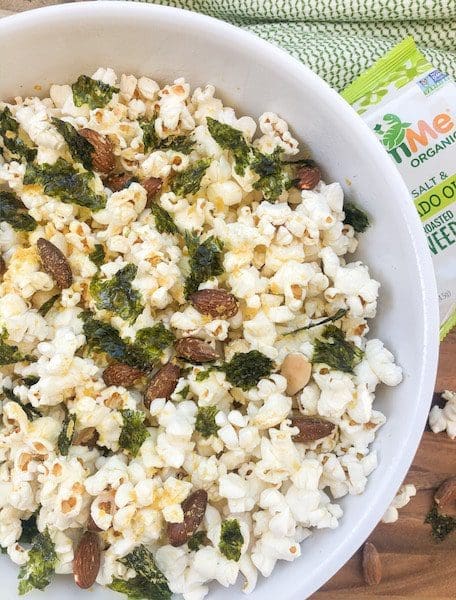 Favorite Sushi Rolls
Founders of gimMe, Annie Chun and Steve Broad, revealed their favorite sushi roll creations to us. "Our favorite rolls to make with our gimMe Sushi Nori is a veggie roll. Simply slice avocado, cucumbers, carrots and add rice," they exclaim. "With five ingredients, you have a snack or meal to go!"
Their recently launched 50 count Sushi Nori packs with resealable packaging. These are ideal for stocking in your pantry closet.
For sushi, some additional filling ideas include turkey, tuna, and cheddar or Swiss cheese. Add cucumber for an extra crunch. Another idea is marinated beef, rice, spinach, carrots and sliced egg omelette.
Where to Find gimMe
GimMe is found in grocery stores nationwide in addition to being sold online. For those located in the Hamptons, they are available at King Kullen and Stop n' Shop. They are sold in NYC at Target and Whole Foods Market to name a few.