If you have been combing through the Hamptons in search of the perfect hair salon, Sean Edison Salon is the place to be. Sean Chankersingh is the owner and founder of Sean Edison Salon, located in the heart of the village of Sag Harbor on Rose Street, just around the corner from Schiavoni's Market, and the Sag Harbor Cinema. The salon is also within an easy walking distance of several nearby restaurants, hotels, and boutique shops. 
Come in to start your day with a blowout or full makeover. Sean has a keen eye for style while putting the client's needs and their hair vitality first. 
Get to know Sean Edison Salon in Sag Harbor with our exclusive interview where we dive into all things hair care, including product recommendations and styling tips.
Tell Us About Your Background. What Brought You to the Hamptons?
I was born in Trinidad and eventually moved to Fort Lauderdale and lived there for about six years before moving to NYC. While living in New York City, I earned my credentials in hairdressing and worked for different salons including TONI&GUY. Cutting and styling hair really started out as a hobby for me, cutting friends' and family members' hair. 
Growing up, my younger sister was a hairdresser and I would help her with her business. But going back to my time in Fort Lauderdale, one of my friends there who is a professional colorist and stylist asked me to cut a [particular] side of her hair for her. I took the scissors and comb and went to work. [During the styling session], she asked me 'who taught you how to hold the scissors and comb like that? You're a natural!' 
Hair styling comes very naturally for me. I just love it! My goal is for my clients to love how they look and feel inside and out. I eventually came out to the Hamptons and opened my salon, Sean Edison Salon, in 2012. 
What Was Your Journey Like in the Beginning When Opening a Salon in the Hamptons?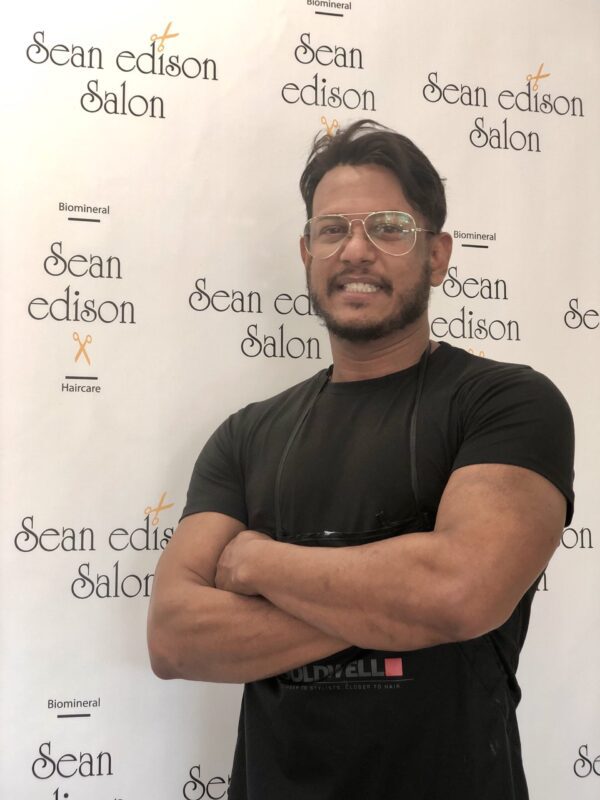 After working for different salons in the city, I decided it was time to open my own salon. This was in August of 2012. With my background in business and accounting, everything fell into place. When you open up a business, no one tells you anything: what to do and how to run it, you have to figure it all out for yourself. I originally decided on a black, gray, white, and red color scheme. One of my clients later on helped introduce the large, gold mirrors in the salon. 
Then three years into the business, I decided to start my own hair care line. This also prompted a change in the color scheme of the business. I wanted it to be a simple packaging style. 
Please Introduce Us to Your Hair Care Line!
I first started the line on a small scale, ordering as I go along and while I developed and perfected the line. The line is plant-based without sulfates or parabens. The line includes: leave-in conditioner, amplifying foam, versatile styling crème, flex paste, illusionist spray,  in control hairspray. 
One of my favorites is the leave-in conditioner. It is something I always recommend that my clients have in their beach bag or handbag. It has SPF so if you go to the beach, it acts as a base to protect your hair and scalp. The hairspray is also one of my favorites. What is unique about the hairspray bottle is that it has different spray settings: L for low, M for medium, and H for high. 
Each product in the line is very affordable. Products range in price from $16-$25. The products are available to purchase online. 
What Hairstyles Do You Recommend for Your Clients?
First and foremost, I always recommend a client to bring pictures of their desired look. I will, however, be honest with the client and may say that particular style may not be the best fit. Remember, it's just a picture, it's just lighting. We will then come to a compromise, focusing on what is best for your hair. At the end of the day, we want to keep your hair as healthy as possible. We also have to think about your lifestyle. For example, do you have time to blow-dry your hair? Do you regularly style your hair? You have to train your hair otherwise it will do what it wants to do.
The main goal is always to make the client happy. The more we talk and get to know each other, the walls come down and they are open to the experience. 
When the seasons change, what tips do you recommend for hair care?
The Keratin Blowout is very popular right now. We usually do them for clients once before summer, and once after as the winter approaches. For coloring, people tend to go darker in the winter season. 
We also have a CBD Blowout that is very popular right now. It lasts up to ten washes. 
What misconceptions for hair care and styling come to mind right away?
Washing hair! We do not need to shampoo our hair every day. Our hair needs those natural oils. You can condition your hair everyday, but not shampoo. Shampooing everyday dries out the scalp and hair. Remember: condition more, shampoo less. 
Make sure you are drinking plenty of water! Some clients may also want to consider a collagen supplement. I also recommend Vitamin E and Fish Oil. 
Hours & Additional Information
Sean Edison Salon in Sag Harbor offers haircuts for men and women, keratin treatments, blowouts, color/highlights, Brazilian blowouts, updos, and more. Gift certificates and gift baskets are available. 
Sean Edison Salon is currently open Tuesday-Sunday. Call 631-725-7326 to make your appointment. Find them on Instagram and Facebook.