Visitors from all over the world flock to the UK each year to enjoy what the country has to offer. They typically spend their time in the big cities, with very few travelers heading off the beaten path to explore the many beautiful small villages around the country.
We're aiming to remedy that in this article as we explore some of the villages in the UK that you must make time for on your next getaway. From tranquil hamlets in Gloucestershire to breathtaking coastal beauties in Cornwall, there's something for everyone.
Planning Your Travel
Visiting many of the centuries-old villages in the UK requires some planning, particularly if you're coming from the US East Coast.
In terms of seasonality, there's no bad time to visit these picturesque villages. Summer brings vibrant festivals and lush landscapes that are perfect for leisurely strolls or picnics by the water. That said, if cozy pubs and snow-capped cottages sound more appealing, winter might be more your style. 
When it comes to flights from the US East Coast to the UK, several major airports offer flights with United Airlines, ensuring a seamless journey. United has exclusive deals with different travel companies, so it's always a good idea to check what's on offer. Other key airlines like British Airways, Virgin Atlantic, and Delta also offer direct flights to various UK cities.
Once you're in the UK, you have a number of options. The train is probably the best way to get around, as the extensive rail network connects most corners of the country with ease. This makes even remote villages accessible. You also have plenty of car rental options available if you're keener on exploring at your own pace.
It's always advised to book accommodation early in the UK, particularly during the peak seasons when rooms fill up fast. You should also consider staying in a bed and breakfast when you're in some of the smaller villages. They're often located within historic buildings and will add an extra dimension to your trip.
You now know how you're going to get to the UK, where you're going to stay, and how you're going to get around, but where exactly are you going to go? There are so many great villages on offer that it can be really difficult to narrow it down. Hopefully, our eight suggestions will make that task easier.
Bibury, Gloucestershire
Nestled in the heart of England's Cotswolds, Bibury is often lauded as 'the most beautiful village in England.' This is a title that isn't thrown around lightly, but one glance at this charming area and you'll understand why.
The River Coln flows through Bibury, and its crystal-clear waters are home to an array of wildlife. This is the perfect place to walk by the river, breathe in some of that fresh country air, and just relax. 
In addition to being a great place to relax, it also provides fertile grounds for one of the village's prime attractions — the Bibury Trout Farm. Here, visitors can try their hand at catching trout or simply enjoy watching the fish go about their day in their natural habitat.
Polperro, Cornwall
Next up, we have Polperro in Cornwall. If you imagine the most picturesque coastal village, you can, something resembling Polperro should come to mind. Located in a stunning cove, it's the perfect spot for those seeking a relaxing escape. Even beyond its incredible natural beauty, the rich history of Polperro is another drawcard. The village has a captivating past of seafaring smuggling that you can learn all about.
One must-do activity in Polperro is to explore the coastal paths. As you meander along these trails, you'll be treated to awe-inspiring sea views that are truly Instagram-worthy. Even if social media is not your go, seeing the view and taking in nature make this activity worth your time.
If the mention of smuggling has you intrigued, make sure to visit the Heritage Museum of Fishing and Smuggling. This is where you will get a deep dive into the village's past regarding the smuggling trade and everything that came along with it — including secret tunnels!
Castle Combe

, Wiltshire

Castle Combe is so beautiful that not even filmmakers can resist. If you have a keen eye, you may recognize its stone cottages and winding streets from movies like "War Horse" and "Stardust."

Motorsports enthusiasts will enjoy spending time at the Castle Combe Circuit. You can sit back and be thrilled by some high-speed races, and they might even let you get behind the wheel yourself.

For nature lovers, a walk through the scenic woodlands surrounding the village is a must. The lush greenery and peaceful paths offer a refreshing break from the hustle and bustle. There's something for history lovers, too, with the historic Market Cross. This is an enduring symbol of Castle Combe's past as a bustling wool town.
Castleton, Derbyshire
Right in the middle of the very popular Peak District in Derbyshire, you'll find the charming village of Castleton. This is the perfect spot for those that love to get outside and hike, with plenty of hills, dales, and even caves waiting for you.
Four of the caves have even been turned into show caves, including the famous Blue John Cavern. This cavern is renowned for its stunning mineral formations and veins of the semi-precious stone, Blue John, found nowhere else in the world. A visit here is a must for any nature or geology enthusiast.
Peveril Castle overlooks the village from a high ridge and is perfect for either those interested in the Norman period or just history buffs generally. The castle ruins are intriguing, and the views from the top are simply breathtaking.
If you're up for a bit more of an outdoor adventure, take a hike up Mam Tor. This "Mother Hill" offers panoramic views of the surrounding countryside that are truly worth the climb. 
Lavenham, Suffolk
Next up on our list is one for the history minded, Lavenham in Suffolk. This village brims with medieval roots, evident in its charming streets and buildings. The most distinctive feature is the timber-framed houses which date back to the 15th century. Just like Castle Combe from earlier in the list, Lavenham has a prosperous wool trading past.
Make sure to visit Lavenham's market square. This is a place where locals buy and sell goods, but it's also a social hub to gather. It's a perfect place to soak up some of the village's atmosphere.
After a day of exploration, make sure to go to any of the historic inns in Lavenham. Keeping with the history theme, imagine having something to eat and drink in the same spot where villagers gathered centuries ago.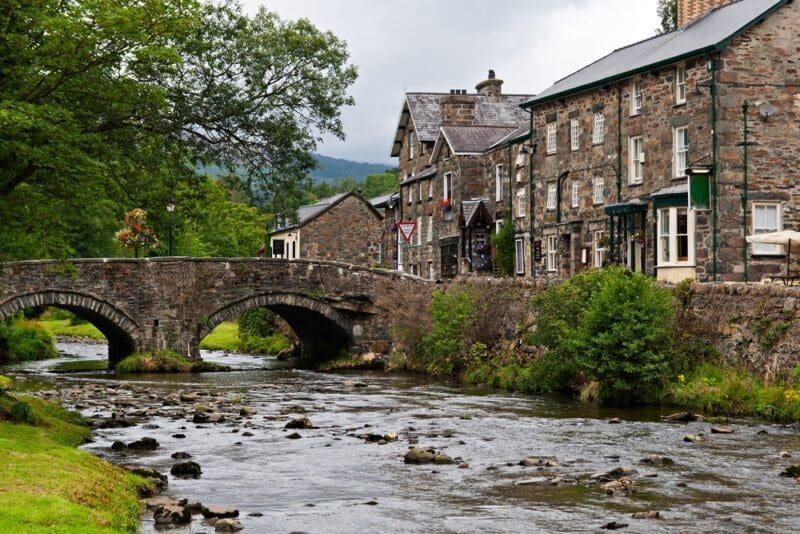 Portmeirion, Wales
Now we head to the coast of Wales, with a very unique village in Portmeirion. Portmeirion is noted for being picturesque, it boasts an unexpected Italian-style design with colorful buildings and cobbled streets. You may get confused and feel like you've been transported to the Mediterranean.
Like earlier list entrant, Castle Combe, Portmeirion has also caught the attention of filmmakers. Its unique aesthetic saw it become the setting for the popular TV show "The Prisoner," all the way back in the 1960s.
Visitors to Portmeirion should make sure to visit the stunning gardens. They are filled with many rare plants, and it's the perfect way to spend some time outdoors. On a similar note, there are many beautiful coastal walks so you can take in that sea air.
Plockton, Scotland
Now we head to the Scottish Highlands, home to Plockton — a hidden gem that should be on every traveler's itinerary. This village is surrounded by stunning lochs and mountains and provides an authentic taste of Scotland.
One of the must-do activities in Plockton is a boat trip. Getting out on the water, you will be guided by local boatmen who are filled with knowledge and stories about the area. You'll also get to see seals lying around on the rocks.
Given its seaside location, travelers to Plockton must also sample the local seafood. The village is renowned for its fresh prawns, mussels, and lobsters, served in cozy pubs and restaurants that overlook the harbor.
Beaulieu, Hampshire
We round off our list in Hampshire, in the village of Beaulieu. One of the best attractions here is the Beaulieu River, a natural jewel with calm water and beautiful green banks. In addition to this, nature lovers will also feel at home walking through the New Forest. This is an ancient woodland filled with wildlife and walking routes.
If you'd rather spend some time inside, Beaulieu is home to a world-renowned museum, the Beaulieu Motor Museum. This is one for car lovers, filled with vintage and classic cars, as well as motorbikes and memorabilia. 
After you're done at the museum, head to the nearby Beaulieu Abbey. The Abbey dates back all the way to the 13th century and was founded by King John. Enjoy the serene grounds and stunning architecture as you daydream about how different life would have been around the time of its founding.
We may have covered eight villages in this list, but the truth is we could have included many more. The UK is home to a huge amount of beautiful villages that are worth your time. So why wait? Begin plotting your journey through Britain's scenic backroads today.