Haven Riviera Cancun Resort & Spa, located less than fifteen minutes away from Cancun International Airport, is an all-inclusive and adults' only beachfront resort.
After their grand opening two years ago, Haven Riviera Resorts & Spas has quickly emerged as the epicenter of the 'Cancun 2.0', where the resorts are away from the touristy strip and are instead surrounded by mesmerizing ocean views, and several fine dining options that await guests inside the resort.
These fine dining options range from a Mediterranean Restaurant to an Asian Fusion Restaurant with a long-form Hibachi grill. All reflect the flavors and vibrancy of the Mexican Caribbean scene.
Escape for the long weekend or for the whole week. Spend your days at the pool, enjoying a wide range of recreational activities at and close to the resort, and savor the fine cuisine from their eleven restaurants and bars.
Start your day with morning yoga on Mondays and Wednesdays at 8am or with a brisk walk along the white sand.
A Serenity Club guest
If you choose to be a Serenity Club guest, you have the opportunity to experience all of the exclusive perks that encompass what vacationing in paradise is all about.
Amenities include an exclusive check-in area, butler service, invitation-only weekly manager's cocktail reception, VIP treats delivered daily and nightly, secluded beach area with butler service, complimentary access to the water journey experience and dynamic pool circuit, complimentary snorkel tour, and so much more.
During the afternoons, there are many activities you may partake in, both indoors and outdoors. These include beach volleyball, tennis, daily organized beach walks, table tennis, spirits tasting and cooking classes, and more.
For an additional fee, you may wish to jet ski, parasail, or go fishing. Spend one late morning venturing off the premises for a dolphin encounter, about thirty minutes away.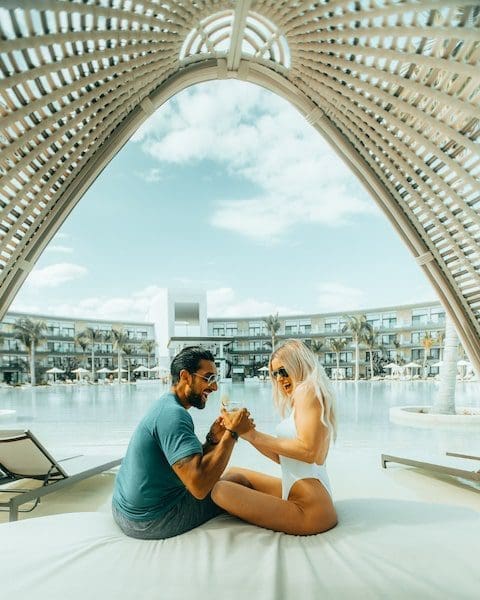 The Spa at Haven Resorts
The Dynamic Pool Circuit and Water Journey Experience is one of the most relaxing experiences. Take advantage of this every morning before breakfast.
The Water Journey, after the Circuit, takes you through the sauna, high-density aroma steam room, sensation shower, ice fountain (yes, it's very cold but so refreshing), cold mist shower, and more.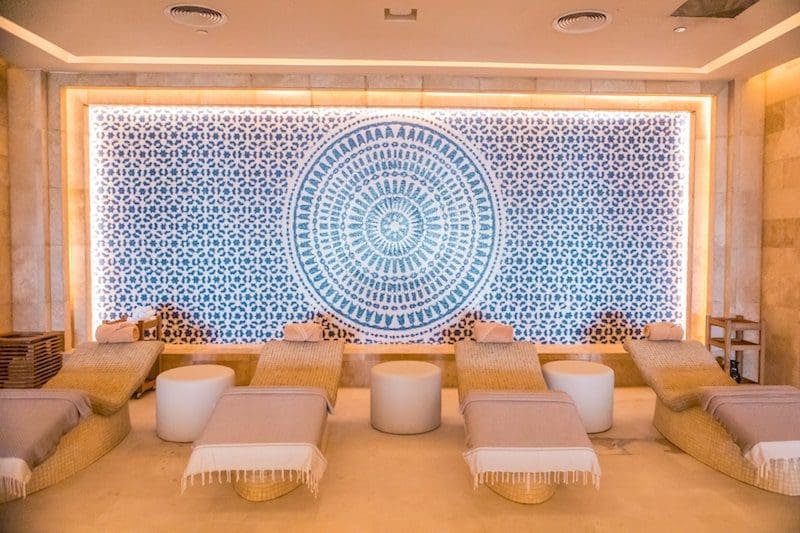 The hydrotherapy experience takes you through five different showers and beds. These include the tubular bed and cascade shower that meant to massage specific areas of the body. A favorite is the Heizer Bubble Floor that will do wonders for massaging your feet.
After the circuit, which in total lasts just over an hour, allow yourself to completely unwind in their area of rest and relaxation. Enjoy a head and neck massage, a cold facial towel, and rehydrate with cold-pressed juices and tea. Perhaps you may want to have a facial and or hot stone massage and drift off into complete tranquility. You will feel like you are in a dream state the entire time.
Dining at the resort
Start your morning with a full breakfast at Flavours. They offer a wide variety of artisan and local fare. Breakfast includes an expansive selection of culinary stations from traditional Mexican cuisine to a juice and smoothie bar. There are dozens of options for fresh fruit, as well as a hot and cold cereal bar, granola, freshly made omelets and waffles, breakfast pastries, sweet breads, coffee, tea, and so much more.
Vistas Snack Bar
After your spa treatment, journey over to the Serenity Club pool to have a couple of drinks, sushi, and chips and guacamole at Vistas Snack Bar. They also have a swim-up bar and you can enjoy a selection of food items poolside. You could easily spend hours by the pool and relaxing in your own private cabana. Fresh towels are always on hand. Your butler, if you choose The Serenity Club, is always available if you need assistance.
Vora Mar
An option for lunch is Vora Mar just steps away from the main pool where a DJ will perform on select afternoons. Plenty of cooking stations await you including a fresh seafood and pasta, a classic wood-fired oven, and a full salad bar. Their desserts are so delicious as well, and there is also self-serve hard ice cream and toppings.
If you come back in the evenings, enjoy a full antipasto buffet, a la carte offerings, and fresh seafood all prepared to order. Top choices include their fresh paella and crab legs.
Satsu
Dinner was on the later side for us, or at about 8pm each evening. During our first evening, we dined at Satsu, their Asian Fusion restaurant, and sat at the Teppanyaki station to view the art and show of Japanese cooking. Enjoy sushi a la carte and freshly grilled meat, seafood, rice, and vegetables from the hibachi grill.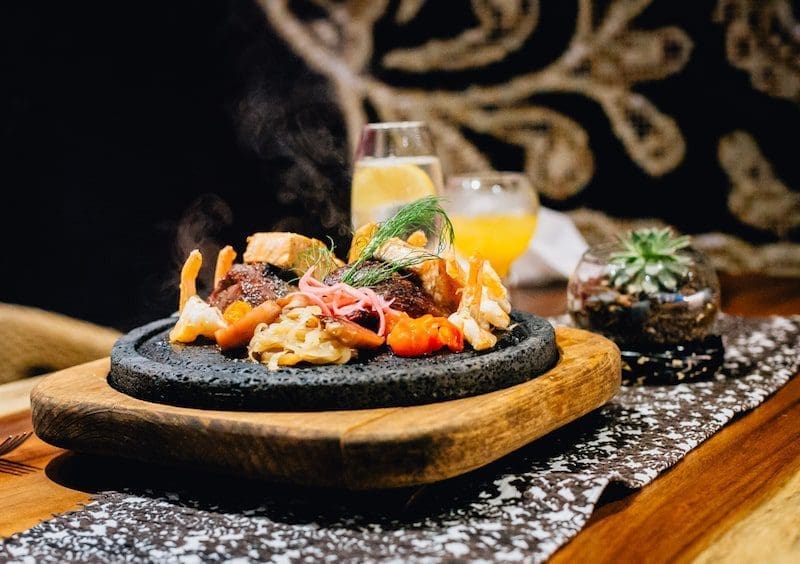 Olios
The next night we dined at Olios. Olios is the Mediterranean restaurant that features an a la carte menu of perfectly portioned dishes that represent both the land and sea. And if you wish to enhance your dining experience, Olios offers the special Chef's Table that features a gourmet tasting menu.
Favorites included the Beet Salad with Arbequina Oil Crumbs, Feta Cheese & Pine Nuts; and Seared Seabass in Shellfish Crustaceans Juice with Seasonal Vegetables, Tarragon Aroma & Clams. Desserts that evening were Tiramisu and a Chocolate Brownie.
Agua Bendita
Next was Agua Bendita at Haven Resorts. The restaurant is a blend of contemporary Mexican cuisine with a classic steak house. Start with the house-made chips, guacamole, and a variety of four salsas. The favorite entrée is the grilled Honey Salmon with Grain Mustard, with sides of rice and plantains.
Mocaccino Deli
Enjoy cappuccinos at Mocaccino Deli. Located adjacent to the hotel's main lobby, they offer freshly brewed coffee, tea, espresso beverages, liqueurs, and hand-scooped ice cream with a variety of toppings. They also offered a variety of cakes, sweet breads, and pastries. A recommended top choice is the Guava Cake.
Moons & the Serenity Club Lounge
End your evenings at Moons, which offers entertainment on select nights. We saw a terrific cabaret performance and enjoyed a few cocktails during the show.
Another highlight was the Serenity Club Lounge. This is a great place to escape to for watching some television and playing board games. Guests may also sip some premium wine, spirits, beer, and delight in plenty of finger food options.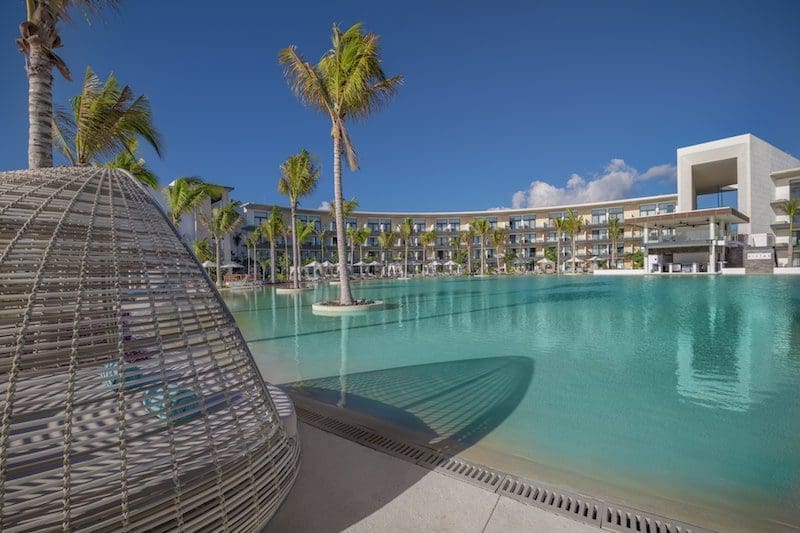 Weddings and Romance Packages
Haven Riviera Cancun offers wedding and romance packages. From a VIP welcome and exclusive ceremony decorations to being pampered in our spa and enjoying innovative food and beverage presentations, Haven Resorts offer three unique wedding packages that create everlasting memories around your special day. Learn more about their packages here.
Room rates include meals and beverages at onsite restaurants and bars.