Purvi Padia is a New York City-based interior designer who founded her design firm in 2008. Her firm focuses on integrating both modern and classic elements to high-end residences throughout the country with a focus on New York City and the Hamptons.
With thirteen years of experience, she brings a unique and fresh unparalleled level of expertise to each project. Purvi Padia is an expert when it comes to tablescapes and entertaining. We recently sat down with Padia to approaching tablescape designs and her favorite ways to spend summer out east.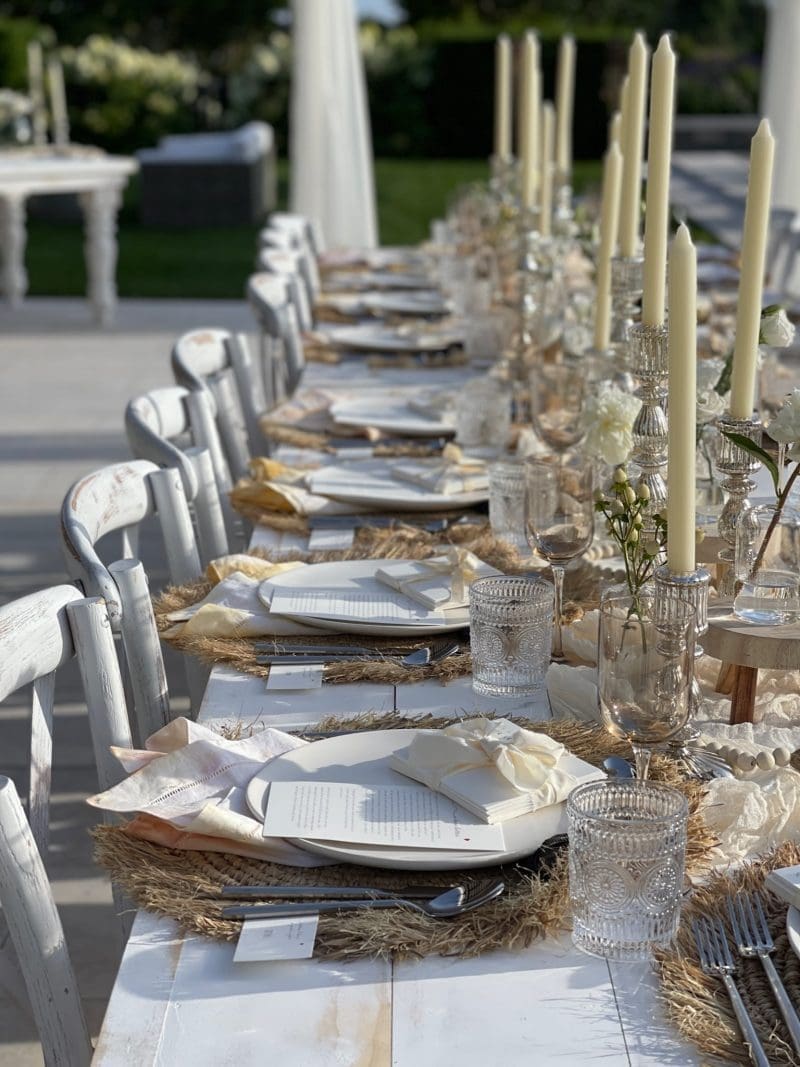 Regarding your interior design background, how do you organize your ideas for tablescaping?
I very much think of the table as a mini space I'm designing and take into account the same elements – proportions, silhouettes, layout, textures, mood and functionality.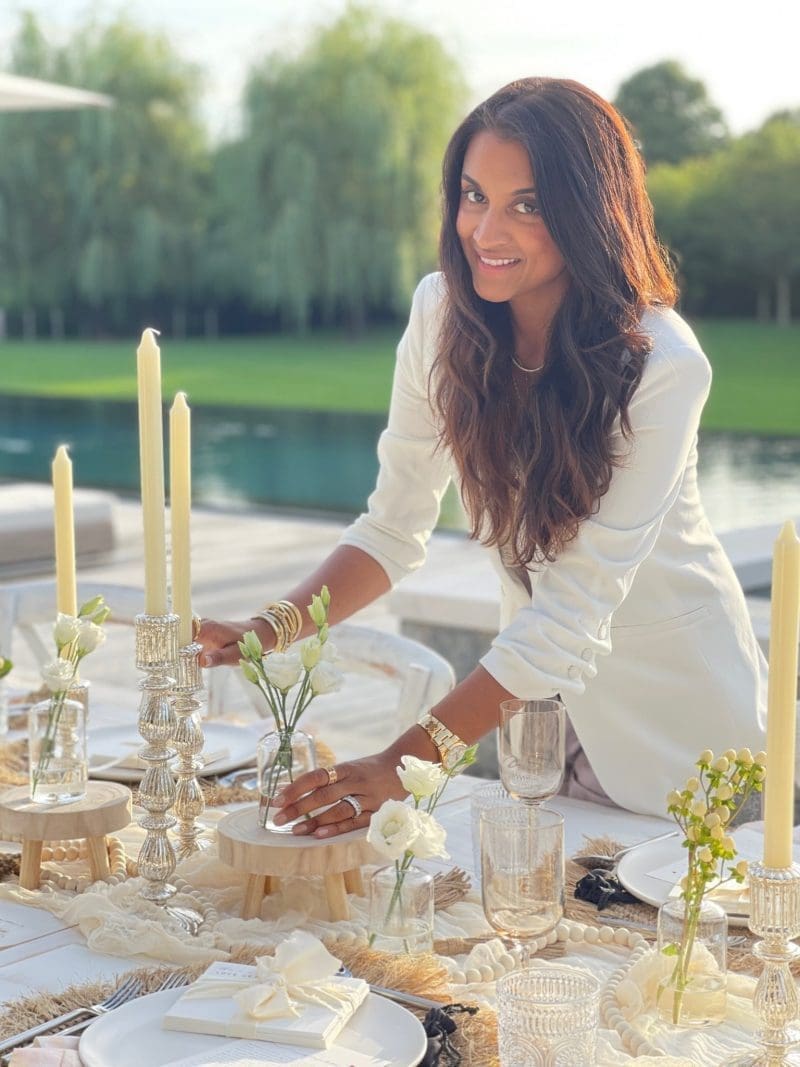 What is your step by step thought process when creating unique tablescaping for homes?
I love the idea of starting with one inspiration piece – it could be a great vase, a pretty napkin, a cool goblet, an interesting fabric – really anything that speaks to you. Once I have that piece, it's important to identify what about that piece makes it special and then take that into consideration when selecting the other elements.
I like to build the rest of the table around whatever those qualities of the inspiration piece are. It's a really easy and fun way to ensure the table feels cohesive even if you are pulling from a bunch of different places.
What are your favorite pieces to use/attract the most attention when designing?
Any piece in a tablescape can be the statement element. That's what makes tabletop so fun. You can always change it up – it's low commitment! Sometimes I'll make the focus a set of intricately designed dishes and everything else will be understated.
Other times, I'll use the dishes as core grounding elements and play with height and shimmer through dramatic candle holders and tapers. And yet, other times, it can be all about the floral statement with gauzy fabrics. That's precisely what I love about tabletop – you can create different moods and stories daily – it's like fashion in that way.
How do you make sure your tablescaping complements the surrounding interior decor?
I think of all accessories in a house as an extension of the interior design and the tabletop is no exception. It is so important to take cues from the surrounding pieces noting color palette, use of texture & pattern, material selection and silhouette.
While a tabletop doesn't need to look exactly like the interior that houses it, my rule of thumb is 75% of the tabletop should seamlessly work with the interior and then you can push the boundaries a bit on 25% of the curation.
In regards to the Hamptons lifestyle, how do you keep up with incorporating new trends into your designs?
I'm not a designer who really believes in the idea of trends either in interiors or for tabletop. I think the most stylish thing someone can do is to
know her aesthetic and express it confidently
. It makes for a look that is authentic and timeless.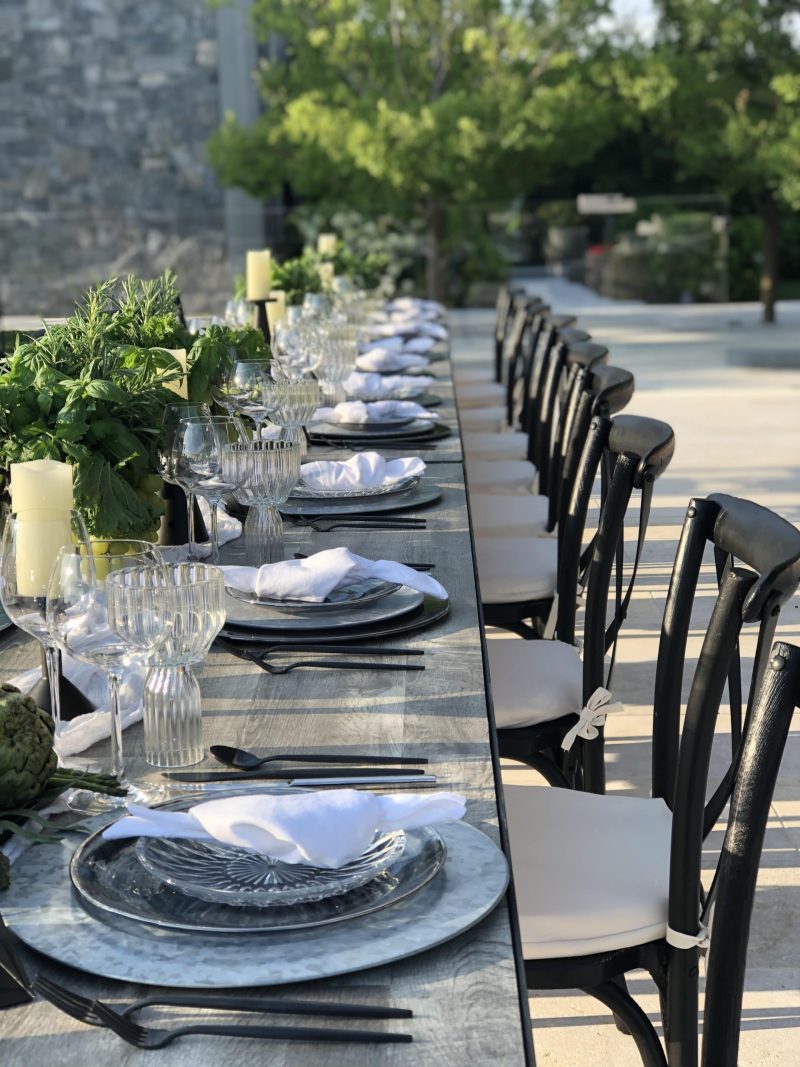 What is one important piece of information you've learned from interior designing you think is worth sharing?
I've learned countless things in my experience as a designer so it's hard to pick just one, but I will say, I think it is incredibly important to mix high and low pieces to create spaces that feel layered and interesting.
Please share some of your favorite spots across the Hamptons and why?
My most favorite spot in the Hamptons is anything on the water. I am a water girl through and through and happiest on a boat.
I love Navy Beach for a gorgeous sunset, Marie Eiffel for a sweet breakfast, Matriarch for its commitment to women, Bistro Ete for a really solid meal, and Tenet for good summer basics.