"Chester CT. We know where it is" proudly proclaims a bumper sticker available for purchase on Little House Brewing Co.'s merchandise rack. Little House Brewing Co. packs flavor, character, and many exciting events into a surprisingly small space. As the name implies, the brewery and taproom are in a little house in the central shopping and dining district of Chester.
One of the brewery's most recent events paired the unexpected yet delicious combination of craft beer and locally made chocolates from Pursuit of Pastry in celebration of Valentine's Day. 
About Little House Brewing Company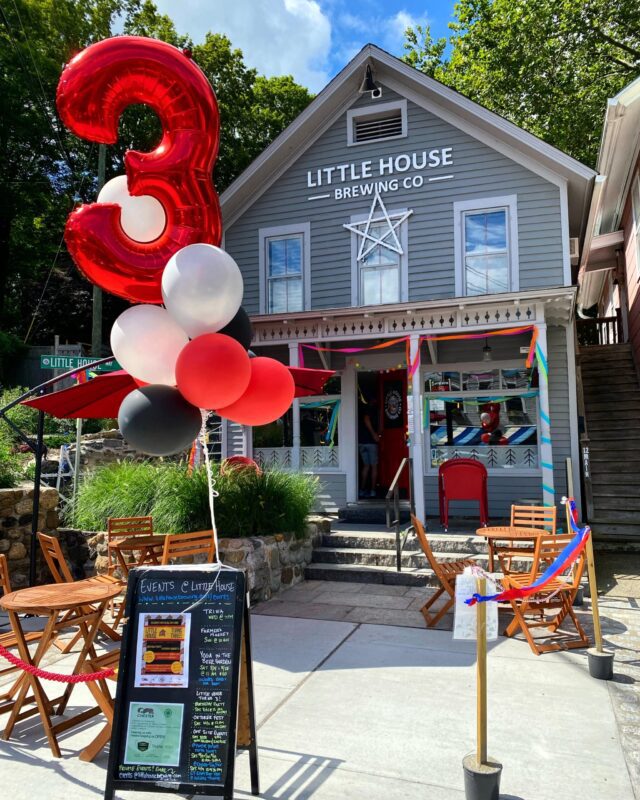 Co-Founders Carlisle Schaeffer and Sam Wagner met at Vassar College. Both Schaeffer and Wagner explored the craft beer industry in various capacities before opening this brewery together. The brewery's home is in a little house that has been a fixture in Chester's town center since 1836.
Little House Brewing Co. offers beer on tap or 32-ounce "Crowler" cans to go. This popular Connecticut brewery is also surrounded by many great dining options. These options include select menu items from River Tavern and Otto Pizza.
The brewery features a revolving calendar of fun events, some upcoming attractions include a Beer Flight and Cheese Pairing (Mystic Cheese Co.), trivia nights, game nights, Candle Making, and Pop-Up Shop Sundays that feature local vendors on the second Sunday of each month. 
The Chocolate & Beer Flight Pairing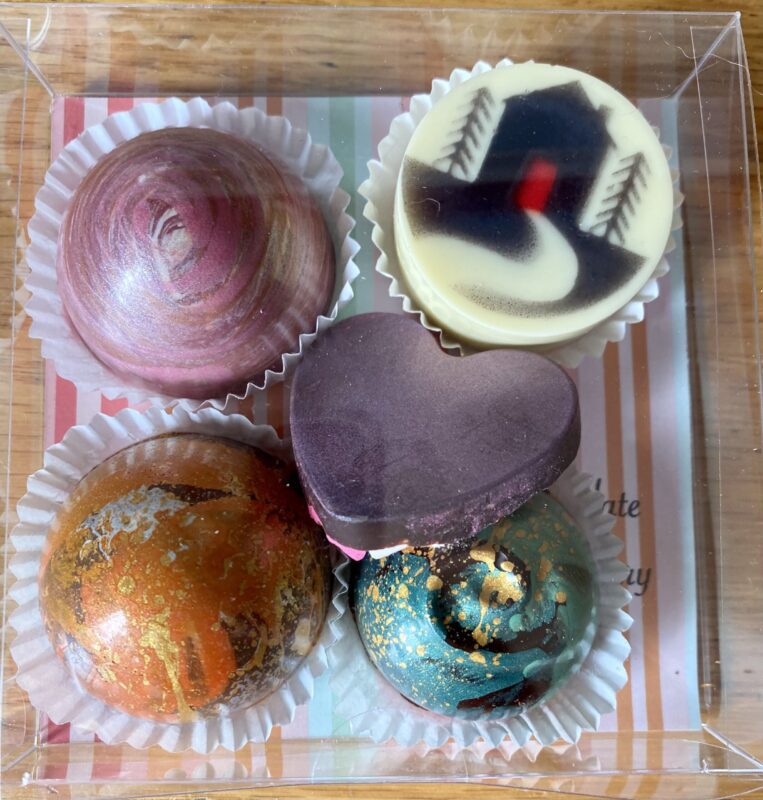 A flight of four beers was paired with four signature chocolates created just for the occasion by Emily Dale from Pursuit of Pastry in Old Saybrook, CT. Caramelized white chocolate was a perfect pairing for Otto's Cream Ale. The imaginative honey rosemary dark chocolate complimented the Mini Bear Stout perfectly. The flavors of bittersweet orange chocolate let the citrusy notes of Jorts New England Pale Ale really shine. In addition, a berry ganache truffle paired delicately with plum and vanilla notes of the Scrummy! 
While wine and chocolate pairings are commonplace, this event illustrated that beer is every bit as excellent a companion to fine chocolates, perhaps even more so due to the relative scarcity of the opportunity to enjoy expertly paired beer and chocolate. 
This event also coincided with the monthly Pop-Up Shop Sunday events highlighting local vendors Haylez Design's handmade clothing and Ballek's Garden Center's fresh-cut bouquets. 
Hours
Little House Brewing Co. on Main Street in downtown Chester is currently open Wednesday-Sunday.