We've rounded up our favorite sweet and decadent dessert gifts for Valentine's Day that are available to ship nationwide (USA).
Cheese Brothers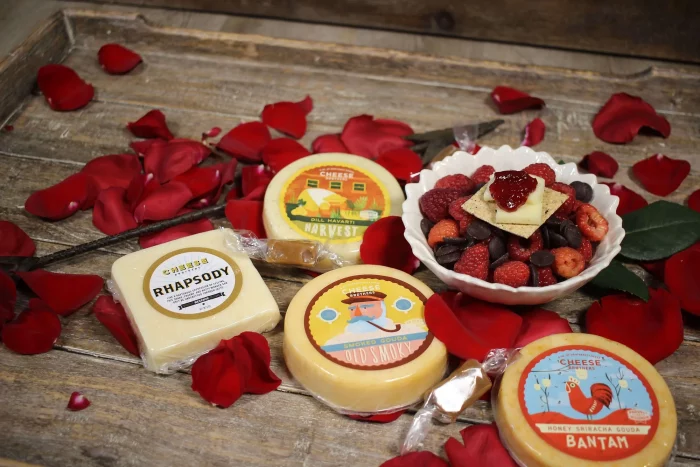 Love (can be) cheesy! Cheese Brothers is a Wisconsin-based e-commerce gourmet cheese company that ships cheese and gift packages nationwide. The company created the "Love is Cheesy" gift basket for Valentines' Day. Your sweetheart will love to receive a taste of Wisconsin, featuring cheeses like Honey Sriracha Gouda, Dill Havarti, Smoked Gouda, and Cheddar-Parm blend Rhapsody.
The gift box also includes other local specialty food products like caramels by Sugarwood of Cumberland, WI, and Cherry Lavender Jam from Bushel and Peck of Beloit, WI.
Citarella
NYC and the Hamptons' beloved Citarella is the perfect on-stop shop for Valentine's Day. Their luxurious gift baskets ship nationwide, including the Citarella Tea Cake Trio, Citarella Sweet & Savory Collection, Citarella Sweet Collection, and Citarella Finest Selection.
The Citarella Finest Selection, in particular, features a grand array of gourmet favorites to nosh on this Valentine's (or Galentine's) Day, including Iberico Salami, Reggiano, Citarella Manchego, Citarella Chocolate Handmade Truffles, Lemon Tea Cake, Italian Almond Bars, Just Cheese Black Figs, and so much more. It is also available to order with caviar. 
Disset Chocolate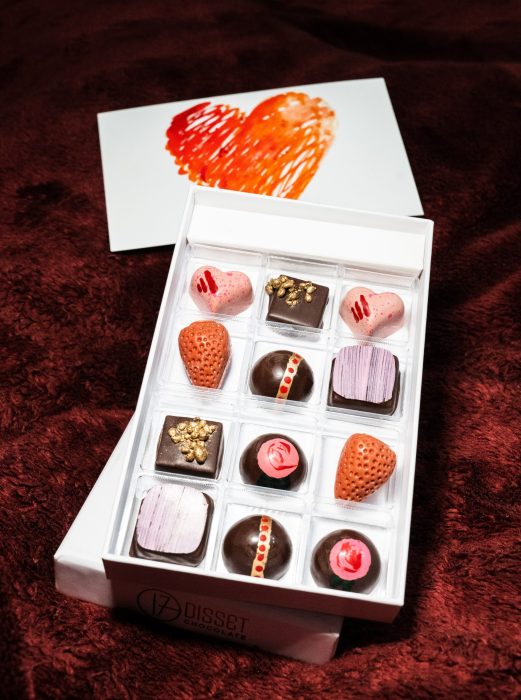 Disset Chocolate is based on Long Island in Cutchogue. These artisanal small batch chocolates are handcrafted by Michelin Trained Pastry Chef, Ursula XVII. Ursula is a New York native with roots in Catalonia.
Just in time for Valentine's Day, Disset has introduced their elegant 12-piece assortment, a perfect gift for him or her. This collection features Salted Caramel, Raspberry Rose, Strawberry Black Pepper, a Sparkling Rose Pate de Fruit, and more.
Tip: "When biting into a bonbon, allow the chocolate to sit and melt onto your tongue. Enjoy its layers while the flavors open up onto your tastebuds," explains Ursula XVII.
Divine Chocolate
Let Divine Chocolate add that extra touch of sweetness to your Valentine's Day celebrations. Divine Chocolate is the first and only fair-trade, B-Corp certified premium brand of chocolate that is co-owned by the cocoa farmers.
Perfect for Valentine's Day is their Taste of Divine gift set. This gift set lets you and your significant other explore the full collection of Divine Chocolate. It includes a wide selection of white, milk, and dark chocolate bars in variety of sizes and flavors.
Divine Chocolate also sells vegan gift packs, and much more.
Dylan's Candy Bar
Make your sweetheart's day even sweeter with Dylan's Candy Bar's new Valentine's Day collection. The collection includes the Valentine's Day Variety Tackle Box (pictured above). This tackle box features Valentine's delights from around the world in every candy food group. Use these colorful candies for decorating Valentine's desserts or for enjoying on their own.
Tackle box candies include Cotton Candy Sour Belts, Turquoise Milk Chocolate Hearts, Triple Gummy Hearts, Wild Cherry & Strawberry Banana Gummy Bears, Valentine Milk Chocolate Drops, and more.
Eastern Standard Provisions
Eastern Standard Provisions has launched a range of Valentine's Day gift boxes for the 2023 season. These include Love You To Pieces, Sweet & Spicy, Lookin' Like A Snack, and You're In My Wheelhouse.
You're In My Wheelhouse, for example, includes 2 Wheelhouse Signature Soft Pretzels, 1 Bag of One-Timer Soft Pretzel Bites, 1 Jar Dark Chocolate Fudge Sauce, 1 Pkg. Sweet Love Sprinkles, and more. A lovely package to share and have fun enjoying with that special someone.
Eastern Standard Provisions is currently extending a 20% early bird sale.
Gene & Georgetti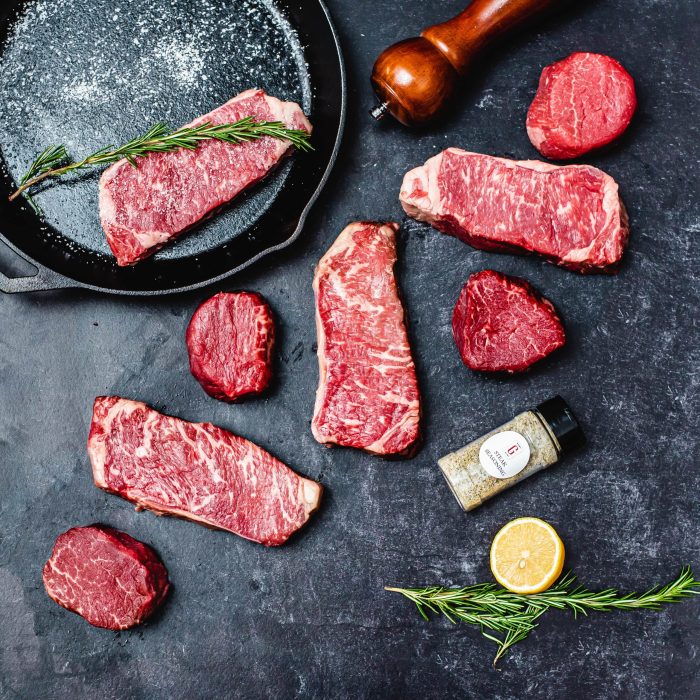 Gene & Georgetti, one of Chicago's most iconic and beloved steakhouses, has curated luxury steak boxes available for global shipping, ideal for Valentine's Day gifts and dining this year.
G&G is offering their house favorites and boutique steaks for steak lovers via the G&G Meats Online Store. The gift boxes include cuts like Filets to T-bones, to NY Strips and Prime Rib. Cook up a special meal together with that special someone this Valentine's Day with G&G!
Little Red Kitchen Bake Shop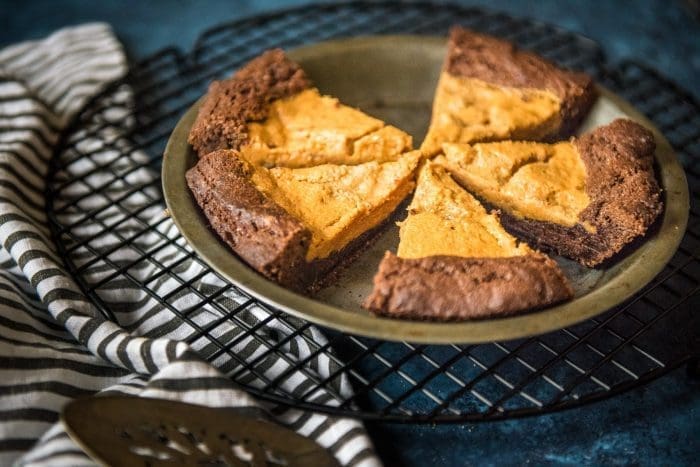 Little Red Kitchen Bake Shop will make Valentine's Day a little bit sweeter with their nationwide delivery of small-batch cookies, cookie kits, brownies, cookie pies, and more created with mostly organic, fair trade, or non-GMO ingredients.
Every batch is baked with love and shipped out the same day, delivering a home-baked taste with a quality you expect from your neighborhood bakery. Cookie of the month subscriptions are also available.
MarieBelle
Based in New York City, MarieBelle's limited edition Valentine's Day collection includes a romantic and luxurious romantic assortment of chocolate ganache sets that anyone would fall in love with. The collection is inspired by the 18th century Rococo period of France.
Included in the collection is a beautiful 16-piece box of chocolate from MarieBelle New York's limited edition Valentine's Day Collection. It is elegantly presented in a romantic, Rococo-inspired painting. Each ganache piece tells a story with love-inspired designs.
Other gift boxes include vegan dark chocolate petite truffles, gourmet brownies, chocolate covered orange peels, hot chocolate, and more.
Molly Bz
Skip the box of chocolates this year and give your Valentine a sweet treat everyone will love! Select from a line of fun, imaginative, and explosive flavor combinations infused with tasty non-alcoholic extracts by Molly Bz.
Molly Bz has eight different cookie varieties to choose from. Cookies include the BE Cordial, an oversized cookie made with Ghirardelli® semi-sweet chocolate, and maraschino cherry halves, topped with a cherry and amaretto extract (zero alcohol). Variety boxes are also available.
Available in half-dozen and full dozen as well as three packs. For the best results, warm for 20 seconds in the microwave for that fresh-out-of-the-oven taste! Ships anywhere in the US and Canada.
Numi Organic Tea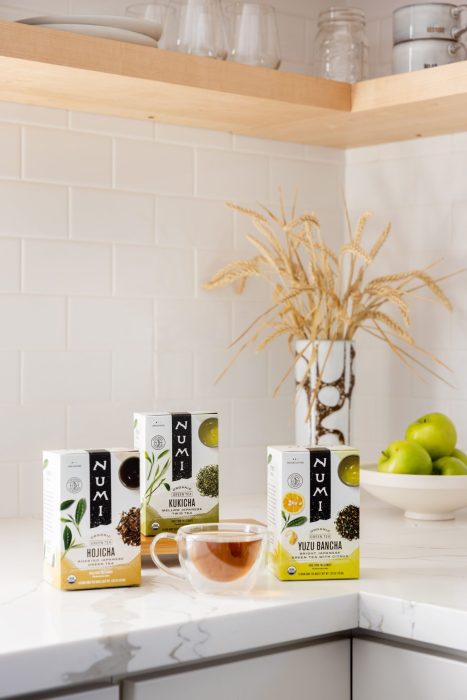 Numi Teas are fair-trade and made only with organic ingredients with no added flavorings.
Beyond extensive Fair-Trade practices that help farmers worldwide, Numi's sales support their impact programs, which include educational support for underserved Oakland school children, and supplying clean drinking water for communities around the world that do not have access to it.
Just in time for Valentine's Day, the new Roasted Japanese Green Tea Line features two of the top 10 Japanese-inspired flavors trends: umami, a savory and nutty flavor, and yuzu, a lemon-type citrus with a distinct tart flavor. Perfect for cozying up with a book or watching a favorite film with your significant other! Available on Amazon.
Sugar Plum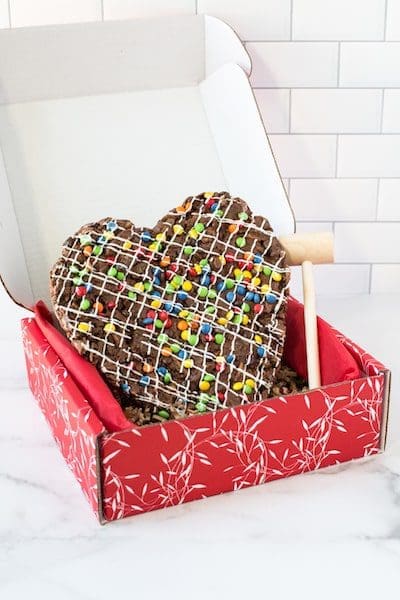 Sugar Plum's Broken Heart Chocolate Pizza will be the tastiest broken heart you've ever had! The solid chocolate Broken Heart Chocolate Pizza is topped with crushed pretzels, cookies, potato chips, candied chocolate gems, and a drizzle of white chocolate.
Plus, every Chocolate Pizza heart comes with a wooden mallet, so feel free break this heart into bite-sized pieces knowing it'll never return the favor!
Wicked Finch Farm
Wicked Finch Farm ships luxurious and delicious treats across the country from New York's Hudson Valley. Shop their line of boozy jams, handmade marshmallows, gift sets and more.
Best-sellers include their Champagne Marshmallows made with sparkling wine, topped with crystallized sugars, 24K gold leaf; and Roses & Kisses Marshmallows infused with strawberry and topped with dried rose petals.
For the morning after Valentine's Day, spread Wicked Finch Farm's Strawberry Prosecco jam on your favorite scone or muffin. Available via their website and Etsy.