We've rounded up our favorite sweet and decadent dessert gifts for Valentine's Day that are available to ship nationwide (USA).
Bake Me A Wish
A fantastic option for those who want to say "I love you" from afar. Bake Me A Wish offers personalized, gourmet heart-shaped cakes as well as a wide variety of festive sweets. These include their 10" Red Velvet Heart Cake, Valentine's Cookie Tin, The Cupid' Crate, and the Solid Gold Valentine's Day Tower. The Tower is filled to the brim with mouthwatering romantic treats and sweet confections.
Overnight delivery is guaranteed for those last-minute gifts!
The Cookie Cake Company
These insanely good cakes will fill everyone's hearts with love this Valentine's Day! Celebrate with their Heart Shaped Cookie Cake. It is crafted with chocolate chip cookies, and filled & topped with their salted vanilla buttercream, and festive heart sprinkles. You'll feel like a kid again with each bite!
Their cakes are also customizable! Customers may add a brownie layer, a caramel core or a chocolate ganache core.
The Cookie Cake Co. is also offering free nationwide shipping.
Disset Chocolate
The newly launched Disset Chocolate is based on Long Island in Cutchogue. These artisanal small batch chocolates are handcrafted by Michelin Trained Pastry Chef, Ursula XVII. Ursula is a New York native with roots in Catalonia.
Just in time for Valentine's Day, Disset has introduced their elegant 12-piece assortment, a perfect gift for him or her. This collection features Salted Caramel, Raspberry Rose, Strawberry Black Pepper, a Sparkling Rose Pate de Fruit, and more.
Tip: "When biting into a bonbon, allow the chocolate to sit and melt onto your tongue. Enjoy its layers while the flavors open up onto your tastebuds," explains Ursula XVII.
Eat Me Cookies
Eat Me Cookies offers custom oversized cookies perfect for sending that cheeky message or phrase to loved ones. "We consider ourselves to be an edible greeting card," says The Barnett sisters, founders of Eat Me Cookies. They also offer vegan and gluten-free cookies.
Tip: place your cookie slice in the microwave for 10-15 seconds to enjoy that fresh out of the oven taste!
Omaha Steaks
Omaha Steaks has a wide assortment of desserts, including decadent specialty offerings perfect for celebrating Valentine's Day at home. Their festive Omaha heart-shaped raspberry swirl cheesecake is currently available for a limited time. It brings authentic New York cheesecake together with a twist of sweet tart, and raspberry swirl. You will have to taste this devilishly delicious cheesecake for yourself!
Simply thaw and serve, no baking required.
7 Deadly Zins and Ghirardelli Chocolate Company Pairing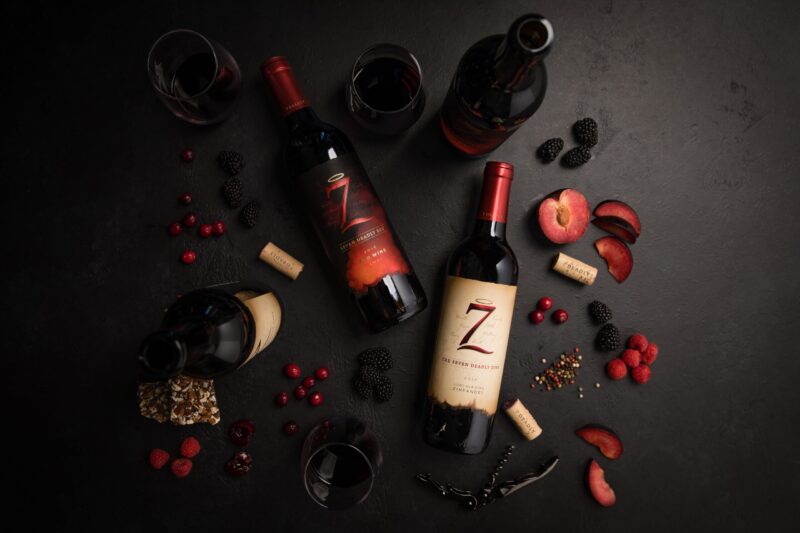 7 Deadly and Ghirardelli have partnered together to create three different wine and chocolate pairings. 7 Deadly, known for their big, bold, terroir-driven style of wines from the Lodi AVA, makes three red varietals that pair wonderfully with three of the luxuriously deep and velvety dark chocolate in Ghirardelli's Intense Dark range.
The recommended wine and chocolate pairing includes the following:
2019 7 Deadly Cabernet Sauvignon with Ghirardelli Raspberry Radiance and Pomegranate Seeds
2018 7 Deadly Red Blend (SRP $16) with Ghirardelli Sea Salt Soiree and Fuji Apple
2018 7 Deadly Zinfandel (SRP $16) with Ghirardelli Intense Dark Chocolate and Cherries
7 Deadly Zins and Ghirardelli can easily be found at stores nationwide, thus it's perfect for a romantic Valentine's Day gift for last-minute shoppers. These brands are available online and at stores nationwide such as Walmart, Target and Kroger.
Sugar Plum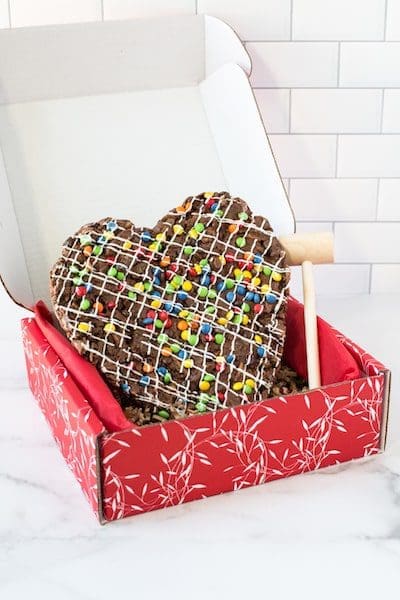 Sugar Plum's Broken Heart Chocolate Pizza will be the tastiest broken heart you've ever had! The solid chocolate Broken Heart Chocolate Pizza is topped with crushed pretzels, cookies, potato chips, candied chocolate gems, and a drizzle of white chocolate.
Plus, every Chocolate Pizza heart comes with a wooden mallet, so feel free break this heart into bite-sized pieces knowing it'll never return the favor!