Are you looking for a way to make your next travel adventure truly unforgettable? Whether you're planning an overseas trip or just want to explore closer to home, there are countless ways to create a life-changing experience. From choosing the right destination and activities to packing the essentials, here are six tips for making sure your next journey is one that will be remembered forever. With these strategies in hand, you'll be ready for an amazing trip that will stick with you long after it ends.
1. Luxury Transportation
Forget about crowded buses and long train rides. If you want your next trip to be special, consider traveling in style with luxury transportation. This could include a private car or helicopter service, so you can arrive at your destination in comfort and without having to deal with any of the usual hassles associated with public transport.
Another even better option is private jets that give you the freedom to go wherever you want without having to worry about limited flight options. And while most people think this is expensive, it doesn't have to be. Some charter jet companies offer surprisingly affordable rates.
2. Convenient Accommodations
When searching for accommodations, look for places that are convenient and with plenty of amenities. From villas overlooking stunning beaches to comfortable boutique hotels in bustling urban areas, there are many luxurious options available that give you easy access to all of the local attractions and activities.
For an even more memorable experience, consider staying in a place with a unique history or cultural background – such as an old castle or a Buddhist temple – where you can truly immerse yourself in the local culture. Maybe you've dreamed of staying in a glass igloo under the northern lights, or an overwater bungalow in the Caribbean. There are endless opportunities to make your accommodations match the destination. 
3. Out-of-the-Ordinary Activities
No matter where you go, there are usually plenty of things to see and do. But if you want to make your adventure even more special, seek out activities that are unique and unusual. This could include everything from hot air balloon rides over the desert or scuba diving with dolphins to taking cooking classes in a foreign country or exploring an ancient ruin. These types of experiences will help you get to know the local culture and give you stories to share for years to come.
4. Local Cuisine
Most travelers enjoy trying new foods when they go somewhere, but why not take it up a notch? Instead of just eating at restaurants, find ways to experience the local cuisine by going on food tours or cooking classes, attending dinner parties hosted by locals, or participating in food-focused activities like wine tastings and cheese-making workshops. You'll get to sample some delicious dishes, learn about the local food culture, and meet some interesting people in the process. If you are staying in New Orleans hotels, you must try gumbo and jambalaya!
5. Shopping for Souvenirs
When it comes time to buy souvenirs for yourself or your friends, try to find something that is truly special and unique to the destination you are visiting. Something handmade by a local artisan is always a great choice as these items often come with an interesting story behind them. If possible, shop directly from the creator rather than buying from tourist shops that offer mass-produced goods of questionable authenticity. Other good ideas include jewelry made from local materials or traditional clothing specific to the region you are visiting. Most places also have local delicacies that make great souvenirs, such as teas or wines 
6. Invest in Memories
When all else fails, invest in memories instead of material things. This could include a photography session with a local photographer to capture your time abroad or even hiring a professional videographer to document the entire trip. You can also chronicle your adventures through an online travel blog or photo album which you can share with family and friends at home.
And don't forget about memorabilia like postcards, magnets, T-shirts, and other trinkets that will remind you of your travels for years to come. And remember to keep a journal of your experiences – it's a great way to look back on the memories when you return home.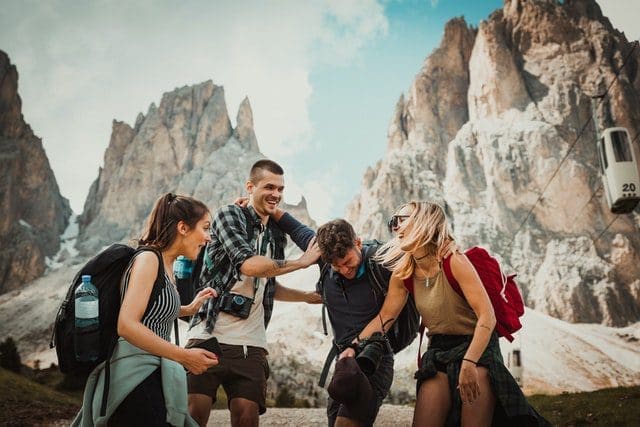 By investing in the right things, you can transform any vacation into a luxurious and memorable adventure. Whether it's chartering a jet, booking unique accommodations, seeking out off-the-beaten-path activities, exploring local cuisine, or shopping for souvenirs – there are endless ways to make the most of your time away from home. And by focusing on creating lasting memories instead of just buying stuff, you're sure to have an unforgettable experience that will stay with you for years to come.