Short drives from any major Irish city will bring you to charming towns rich in historical beauty and fascinating culture. With a vast array of castles, gardens and ocean views, it would be a shame to bypass any of these pretty towns and villages during your next trip to Ireland.
Clifden
Co. Galway 
In Connemara, just over an hour from Galway, is the quaint seaside town of Clifden. Here, visitors can check out centuries old Clifden Castle and visit the remains of Marconi Station, the first commercial transatlantic radio transmission station. If you find yourself in the area in August, be sure to check out the Connemara Pony Festival which is hosted right in Clifden. 
When the town was founded in 1812 by John D'Arcy, he built his private estate overlooking what is now the town center. Today, this estate is known as Abbeyglen Castle and is an operating hotel. The hotel is the best place to stay if you want to be immersed in local history. Guests of the property have access to private gardens and classic styled rooms. 
The Clifden town center has picturesque views and access to Clifden Bay, along with 30 unique shops. Market Street Square has many restaurants including Ravi's Bar and Restaurant, which has an outside terrace area and gorgeous view of the bay.
Cobh
Co. Cork
The charming coastal town of Cobh is located a half hour south of Cork. The town is known for its importance to Irish emigration in the 19th and 20th centuries. Over 2.5 million Irish citizens left Ireland from Cobh's port, making it the largest emigration site in the country. The town's port also is the last port of call for the Titanic, which sank in 1912. 
The city's rich coastal history is on display at the Cobh Heritage Center which takes visitors through the restored Victorian era railroad station to learn about Ireland's mass emigration. Nearby, visitors can take part in the Titanic Experience, which immerses you in daily life on the ship. 
The beautiful WatersEdge Hotel is located right near the many area attractions, shops and restaurants and has endless views of the water. Grab a bite at The Quays' heated and covered patio any time of year for classic, casual waterfront dining.
Cong
Co. Mayo
Cong is a village set on the border of Co. Mayo and Co. Galway and is just over 40km away from Galway's city center. Most famously, John Wayne and Maureen O'Hara's film, The Quiet Man, was filmed in Cong in the early 1950's. There is a museum there that is dedicated to the film.
During your visit, explore Cong Abbey, a 12th-century abbey in the town center. See the abbey's North doorway, cloisters, and the Monk's Fishing House. After exploring the abbey and its grounds, visit Pat Cohan's Public Bar. The bar and restaurant offer a creatively curated dining menu, serving up colorful farm to fork cuisine. Notable dishes include the Roasted Irish Pork Chop, Smoked Bacon & Portobello Mushroom Tagliatelle, and Tomato Bruschetta with Macroom mozzarella and basil pesto.
Cong is just a few miles away from the famous Ashford Castle.
Dalkey
Co. Dublin
The seaside Dublin suburb, Dalkey, is just a half hour drive from Ireland's capital city. There, you can find charming attractions ranging from Dalkey Castle tours in the town center, to day trips to uninhabited Dalkey Island. 
The island is reachable by boat, or canoe for adventurous visitors. Here you will be able to find an immense amount of local wildlife, along with evidence of former island settlements. While no one lives there now, there are church ruins from the 7th century, and it is believed that Vikings even used the island as a base site. 
In Dalkey, there are a variety of unique eateries serving local Irish cuisine. One of those popular spots is 1909 Restaurant, which is located in a historic brick building in the town center. They serve up delicious seafood and steak. Nearby, you can stay at the Fitzpatrick Castle Hotel. This 18th century luxury castle turned hotel is just 4 minutes from Dalkey center.
Dingle
Co. Kerry
On Ireland's southwest peninsula, the town of Dingle has some of the most stunning scenery in the entire country. The 2-hour drive from Limerick will bring you to many picturesque driving routes with views of the water and dramatic cliffs. 
Dingle, being a port city, also is the perfect place to charter a boat or take a sail around the surrounding waters popular with surfers. A trip off of the mainland lends itself to some of the best views of Dingle peninsula. 
The Dingle Bay Hotel is located in the town center directly across from the marina and is at the hub of local happenings. With an onsite pub and restaurant, guests can become acquainted with all that the area has to offer by chatting with locals and other visitors.
Doolin
Co. Clare
Just 40 minutes from Ennis, the oceanside town of Doolin overlooks the Aran Islands and provides visitors with ample access to some of Ireland's more renowned attractions. Whether you're interested in taking a day trip along the nearby Cliffs of Moher, or simply spending time in Doolin center among the bright colored buildings, you're sure to see some beautiful sights. 
The 50-minute sail to the Aran Islands will bring you to one of the few places in Ireland where residents still speak the native language. This day trip is a must for those visiting the region looking for vibrant pubs, local charm, and beautiful landscapes. 
Doolin is known as the home of traditional Irish music, so it would not be a trip to the area without experiencing the town's rich musical culture. McGann's Pub, like many local eateries, offers live music 7 days a week during the summer months. Here, you enjoy family fare while listening to local bands consisting of harpists, fiddle players and flutists. 
Down the road, guests can stay at any of the local bed and breakfasts, or in the heart of Doolin at Fiddle + Bow Hotel. No matter where you stay in Doolin, though, you are sure to experience a warm welcome and high levels of hospitality.
Dunmore East
Co. Waterford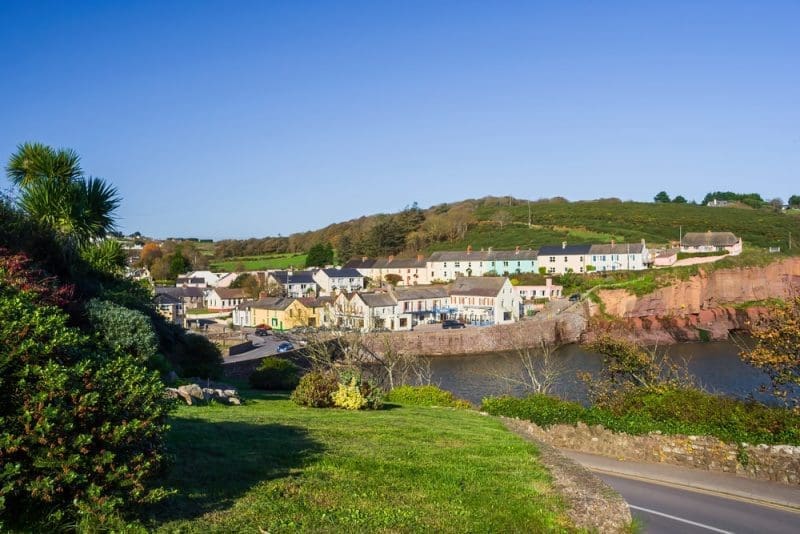 Dunmore East is a beautiful fishing and tourist village on Ireland's southeastern coast. Those who love sailing and golf will especially love Dunmore East's seaside tranquility and local golf course, which is located on the cliff top overlooking the bay. This beautiful village is home to the Waterford Harbour Sailing Club. There, visitors can also learn how to sail.
Dunmore East Holiday & Golf Resort is home to a 9-hole clifftop golf course as well as a restaurant, apartments, private access trails, several playgrounds, and more, making for a perfect destination for families and couples alike. The onsite restaurant is the renowned Blackfriars Restaurant, which boasts stunning views of the ocean and the famous Hook Lighthouse.
Blackfriars Restaurant Bar & Restaurant is serves breakfast, brunch and dinner with a menu focused on locally sourced artisan produce. Indoor and outdoor terrace seating is available, and outdoor seating offers a pet friendly policy. Blackfriars also has an onsite coffee shop.
In addition to boating, sailing, and golf, Dunmore East is home to traditional pubs, several hotels, seafood restaurants, thatched houses, scenic headlands, and secluded coves.
For overnight states, there are several hotels to choose from. These include the award-winning Haven Hotel that is a historic former Malcomson home, and The Strand Inn. The Haven Hotel is family owned and managed and offers bedrooms that are individually appointed, an onsite restaurant pub, and the capacity to host beautiful indoor or outdoor weddings.
The Strand Inn is a contemporary, family friendly beachfront hotel with rooms overlooking the sea. The Inn has an onsite restaurant, capacity for weddings and celebrations, and hosts wellness retreats.
Kenmare
Co. Kerry
Kenmare is a small town in the south of Co. Kerry. Known as 'The Jewel in the Ring of Kerry', Kenmare is located just over 20km from Killarney and 76km from the city of Cork. It takes an approximate total of three and a half hours to drive the full Ring of Kerry.
Kenmare is a breathtaking haven of tranquility, gourmet food, golf courses, scenic hiking trails, and horseback riding. Places of interest include River Valley Stables, Ring of Kerry Golf Club, Kenmare Lace, and Molly Gallivan's. Molly Gallivan's is a 200-year-old family run cottage and traditional farm. Visit Molly's old Tea Shop and Barn restaurant, and shop unique, fashionable, and adorable gifts for family members of all ages.
An essential resort for the whole family located right outside of Kenmare is Sheen Falls Lodge. The hotel is a member of Relais & Chateaux.
Killarney
Co. Kerry
Killareny, a stop on the famous Ring of Kerry, is one of the largest cities in county Kerry. So, although quaint and charming, there is plenty to see and do while you're there. A trip to waterfront Ross Castle allows you to learn about local history and the myths that surround the castle. 
Likewise, a visit to Muckross House and Gardens is an amazing way to spend time outside. Here you can enjoy a coffee at the onsite cafe, while taking in the property's floral designs. There, you can also take a peek at the mansion's gift shop and observe the working farm. 
Being a major attraction within Kerry, there is no shortage of lodging options. The Killarney Park Hotel is located right in the heart of Killarney, and balances Irish charm with a luxury experience. Dine at the hotel's Garden Bar or test out one of the local pubs like family friendly Hannigan's Bar and Restaurant.
Kilkenny
Co. Kilkenny
The medieval city of Kilkenny is one of Ireland's largest cosmopolitan areas, but still exudes the historic Irish charm found in small villages throughout the country. Within the city center, you can find the Medieval Mile, which is home to many attractions dating back 800 years. Here, you can discover Kilkenny Castle, the Rothe Gardens and the Medieval Mile Museum which is found in the beautifully preserved 13th century St. Mary's Cathedral. 
Under 20 minutes from Kilkenny center is Thomastown. This quaint village center is filled with castles, the Goatsbridge Trout Farm and plenty of shops owned by local artisans. At the family owned Jerpoint Glass, visitors can learn about glass blowing and see their handmade designs.
A short drive from Kilkenny center, visitors can stay at the Avalon House Hotel. Despite being so close to the city center, the hotel's warm feel is comparable to an inn on the Irish countryside. At Waterside Restaurant and Guesthouse, sampling the local delicacies is a must. On their menu, you will find anything from smoked eel to tomato soup, along with an extensive selection of international wines.
Kilkenny is about forty minutes away by train from Kilkea Castle in Castledermot. Take the train to Athy from Kilkenny train station.
Kinsale
Co. Cork
The waterfront town of Kinsale is known as the foodie paradise of Ireland (and one of the country's prettiest towns). Cafes, pubs and restaurants boast fresh seafood, traditional Irish ingredients, and renowned chefs. Fishy Fishy and The Bulman are two of the areas most notable eateries. Both are in close proximity to the harbor, local shops and many of the town's quaint inns.
The historic city centre has colorful buildings filled with lively, pedestrian friendly walkways. A short stroll from the center is Acton's Hotel. Their large front lawn has great views of the water, and is the perfect spot to relax on a nice day. 
Aside from the picturesque views and architecture, Kinsale also is home to many historic attractions. Within walking distance from area hotels, the star-shaped Charles Fort offers insight to local history. Visitors have the opportunity to discover the many buildings and tunnels that  have withstood battles since 1670. 
A 30 minute drive to Cork, one of Ireland's largest cities, is a great way to see all that the area has to offer. There you can find amazing shopping and The English Market, which has been home to various artisanal food vendors since 1788.
Lismore
Co. Waterford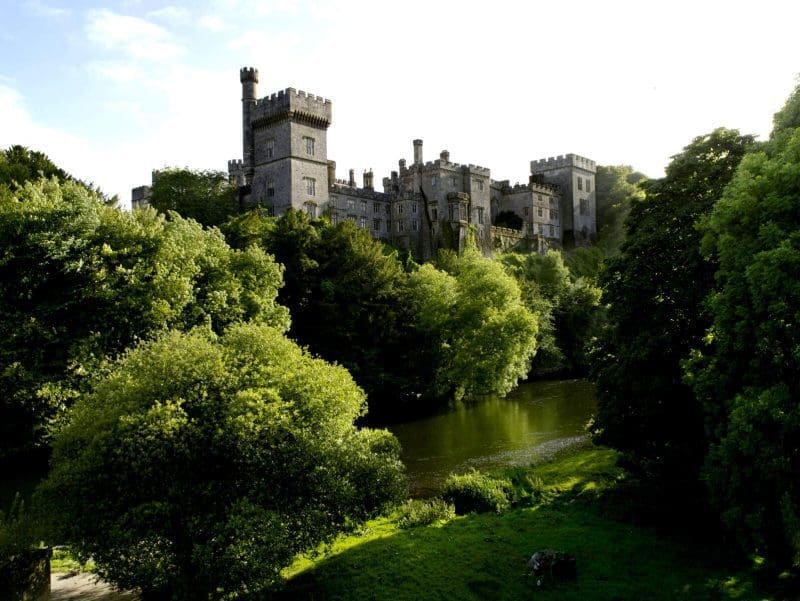 Lismore, translating to 'great ringfort' in Irish, is a historic town in County Waterford. The town is located just under an hour away from Cork by car. There is also a select bus service to and from Cork and Lismore.
The most famous structure in this beautiful Irish village is the medieval eight-hundred-year-old Lismore Castle. The Castle is currently the Irish home of the Duke of Devonshire. The castle is available to rent for overnight stays and as an event venue.
This beautiful and town in Ireland is set on the banks of the River Blackwater at the foot of the Knockmealdown mountains. Notable points of interest in Lismore include Lismore Cathedral, The Robert Boyle Escape Room, hiking routes in the Munster Vales, and Lismore Heritage Centre.
Lismore is home to a variety of local restaurants and pubs, including Foley's on the Mall, The Bakers Table of Lismore, and Lizzie Briens. Foley's on the Mall, for example, is a popular restaurant and pub that is open five days a week serving lunch and dinner.
For overnight stays in and near Lismore, look to The Old Convent Country House & Restaurant, an elegant adults-only hotel in a former 19th-century convent with gardens, or the Ballyrafter Country House Bed & Breakfast that is located close to Lismore Cathedral.
Macroom
Co. Cork
An hour west of Cork city, the ancient town of Macroom gives visitors insight to the many battles fought in the area. Scattered throughout the town, sites dating back to the 1650 Battle of Macroom, and more recent events like the War of Independence and Irish Civil War, showcase the small town's role in national history. 
Those looking to stay in the center of Macroom, should book a room at The Castle Hotel and Leisure Center. The family-owned hotel is known throughout Ireland for its sustainable cuisine, so it would not be a trip to Macroom with a meal at their bar or restaurant. Both spots have distinct atmospheres and menus, offering dishes for breakfast, lunch and dinner. 
Aside from Macroom's historical charm, visitors can also enjoy the town's Farran Forest Park. Here you are greeted with local wildlife like deer and can walk the many trails or take a ride on the zipline.
Tramore
Co. Waterford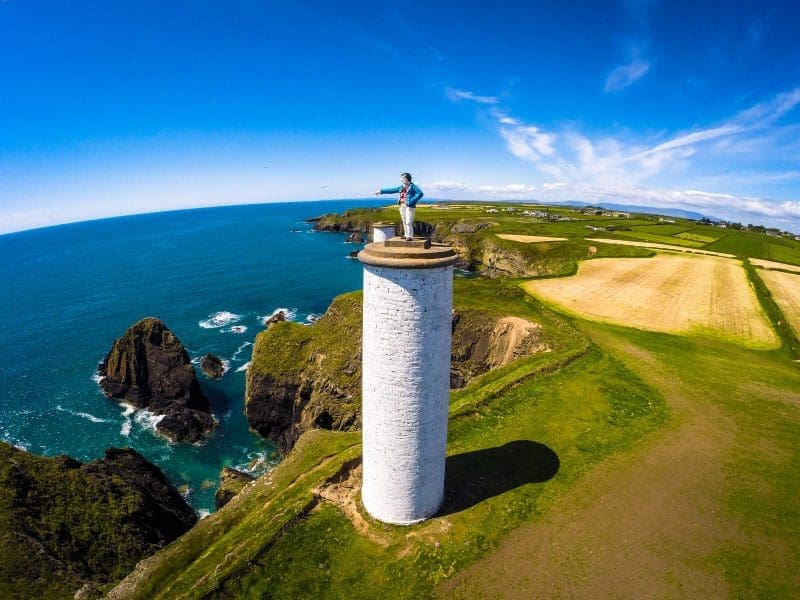 Tramore is a picturesque seaside town on the southeast coast of Ireland. What was once a humble fishing village, over the years Tramore has transformed into a thriving resort  community. In fact, this beautiful town is widely known as Southeast Ireland's "Holiday Resort" and is filled with dozens of outdoor activities for everyone of all ages.
Some of the many things to do in Tramore include touring Lafcadio Hearn Japanese Gardens, visiting Tramore Beach, and strolling along The Doneraile Walk. Water activities include surfing, sailing, swimming, and sea kayaking. Surf lessons and equipment are available locally as well as sailing and sea kayaking lessons.
A particularly fun destination for children is Splashworld in Tramore East. Splashworld offers public swims, swimming lessons, fitness classes, and more.
Tramore is also home to one of Ireland's many racecourses, the Waterford & Tramore Racecourse at Graun Hill. The holiday racing festival in mid-August is a "must" for race-goers and visitors alike.
For overnight visits, Majestic Hotel, an upscale modern hotel that offers stunning views overlooking Tramore bay.
Co. Mayo
A 20 minute drive from Castlebar, Westport is a great family friendly trip to get away from city life. Visitors can stay at one of the locally owned Bed and Breakfasts, or at The Wyatt Hotel located right in the middle of many of the shops. 
The pedestrian friendly area is home to bistros, gift shops, boutiques and cafes. A short drive from the town center is The Tavern Bar and Restaurant. It is hard to miss the bright pink exterior of this award winning pub perched right across the street from the water.
After a day exploring the town center, venture to one of the local sites. The Great Western Greenway is the longest off-road walking and biking route in all of Ireland and it starts right in Westport. With picnic spots and beautiful views of the water and Clew Bay, the natural area is a must visit attraction. 
For families with younger children, the Pirate Adventure Park at Westport House offers everything from rides to boats. Located on the Westport House's historic property, it is sure to please adults as well.