Virginia, also known as the state for lovers, is nestled in between the Appalachian Mountains and the Atlantic Ocean. In 1607, the London Company, originally an English trading company chartered by King James I, established the Colony of Virginia as the first permanent English colony in the New World. One of the best ways to explore this 400-year-old settlement is through its many picturesque towns. Below, we highlight several of the most beautiful towns across the state of Virginia.
If you are thinking about relocating to these beautiful towns, we recommend hiring reliable movers in Virginia Beach.
Abindgon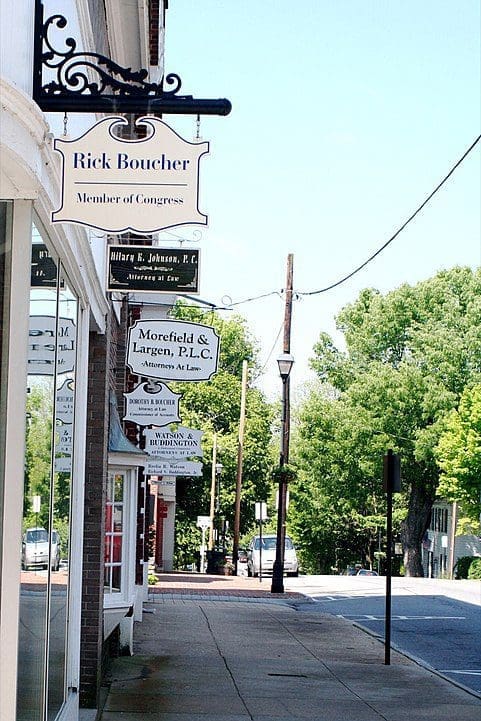 Abingdon, Virginia is a beautiful, small town in the Blue Ridge Mountains two hours southwest of Roanoke and located close to the border of Tennessee. This charming town has been voted as having the "Best Small Town Food Scene in the Country" by USA Today's 10Best three years in a row.
For those who love history, visit the Abingdon Historic District that is home to architecture dating back to the late 1700s. Points of interest for visitors include Barter Theatre (where many celebrities have performed), and the William King Museum of Art. If you love the outdoors, visit Grayson Highlands State Park, the Virginia Creeper Trail, and the world's shortest highway tunnel, Backbone Rock.
Abingdon is the perfect destination for foodies! With more restaurants per capita than New York City, there are plenty dining of options to explore. Restaurants to visit include The Girl and the Raven, Hidden Gem Café, Los Arcos, and Bonefire Smokehouse. Coffee and tea lovers will also love stopping in to Wolf Hills Coffee and Appalachian Tea and Botanicals.
Visitors should stay at The Martha Washington Inn & Spa, an iconic landmark hotel in the Abingdon Historic District. Step back in time to the 19th century stay in one of their sixty-three rooms and suites. Each guestroom features their own unique personality and character. The hotel also features a salt water heated pool, tennis and pickleball courts, a children's play area, and an onsite restaurant called Sisters American Grill.
Alexandria
By Bernadette of Live a Relaxed Life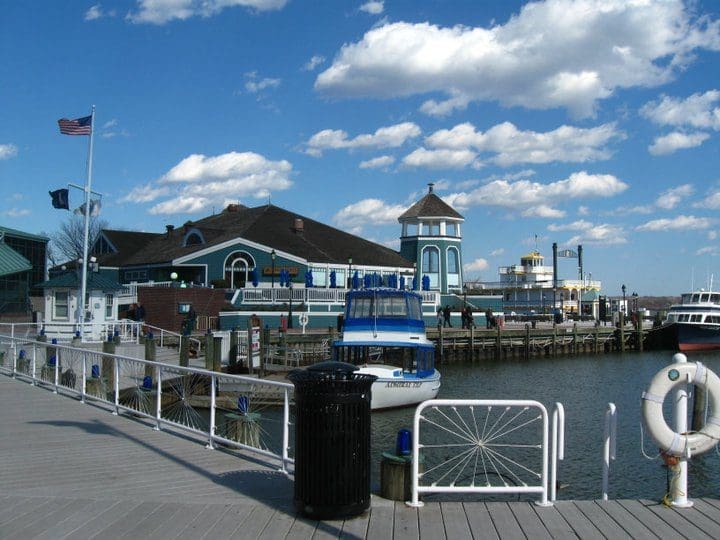 Alexandria is a historic town down the Potomac River from Washington D.C. It is one of the oldest cities in America that has deep colonial ties to US history. Alexandria is a 30-minute drive from DC or Arlington (depending on the traffic). A scenic way to travel to the city is via a water taxi. The water taxi will drop off riders on King Street in the heart of Old Town.
Most of the fun things to do in Alexandria is centered in Old Town, a picturesque district lined with cobblestone streets and colonial-era buildings. Within Old Town are numerous museums, restaurants, and shops. The Torpedo Art Factory is the place to go for unique artisan-crafted gifts while the waterfront is wonderful for a stroll after a meal.
The Gadsby Tavern was established in 1770 and many of the founding fathers visited the premises. Thomas Jefferson slept at the inn one night when he was waiting to find out if he would become the president of the United States. The tavern is open for fine dining while the museum shows visitors about 18th-century life in Alexandria.
Nearby is the Morrison House, a 4-star hotel in a historic Federalist-style building that would be a perfect home base for a weekend getaway.
Cape Charles
by Erin Gifford of Go Hike Virginia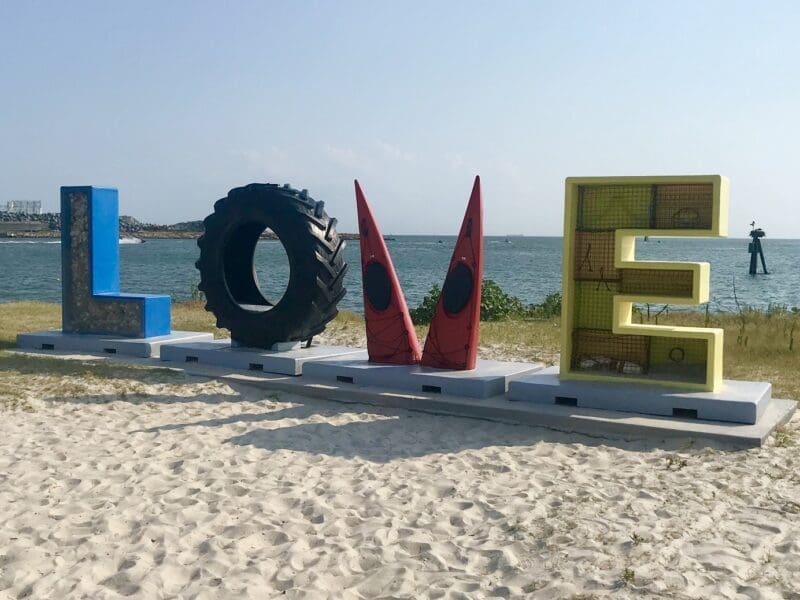 Set on the southernmost tip of Virginia's Eastern Shore, historic Cape Charles is a quiet, tree-lined village adorned with colorful Victorian-style homes. Once a vibrant railroad town, Cape Charles is today a beautiful hamlet better known for gentle waters, kid-friendly beaches and dramatic sunsets over the Chesapeake Bay.
Cape Charles is less than a one-hour drive by car from bustling Virginia Beach, yet few have heard of Cape Charles. It's the small-town appeal and relaxed vibe that makes Cape Charles so appealing to visitors, including its quaint locally owned shops and cafés.
For a latte, place your order at Cape Charles Coffee House. For ice cream scoops, stroll Mason Avenue to Brown Dog Ice Cream. Order up a scoop of Black Raspberry or Mocha Almond at the walk-up window. Stroll the neighborhoods to ogle colorful cottages, including a few that were featured on HGTV's Beachfront Bargain Hunt.
Rent a kayak and paddle out to crumbling ghost ships that date back to World War II at Kiptopeke State Park. You can also hike a dozen named trails or splash on an easy-going stretch of sandy beach. A photo with the colorful LOVE sign at the corner of Bay Avenue and Mason Avenue is a must-do while in Cape Charles.
For dinner, The Shanty wows with hush puppies served with honey butter at the Cape Charles Town Harbor. Turn in for the night at the elegant Baywood Bed & Breakfast, a historic stay set on a slice of private beach.
Charlottesville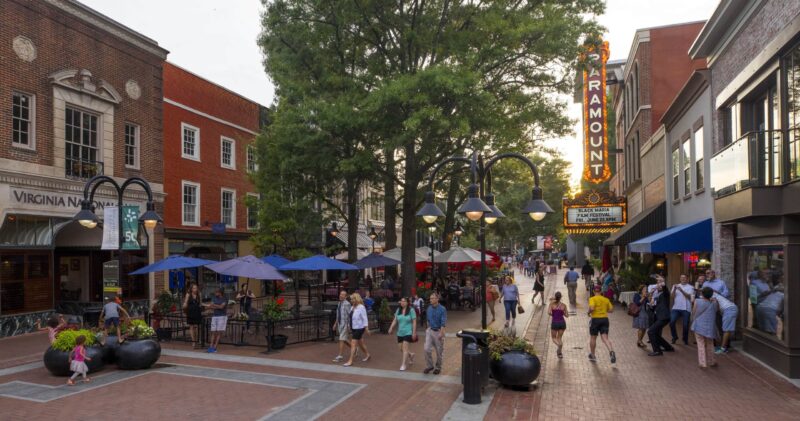 Charlottesville is a gorgeous, walkable town located two and a half hours away from Washington D.C. This beautiful Virginia town is home to the University of Virginia. Charlottesville is filled with many sites and activities for the whole family, including outdoor recreation, wineries, farm to table restaurants, performing arts centers, and so much more.
For those who love to explore arts and culture, visit Virginia's first immersive art space, The Looking Glass, open Thursday-Sunday. The Charlottesville Ballet, Charlottesville Opera, and Symphony Orchestra at the University of Virginia host regular events and performances. The Hive Arts & Crafts Bar is a great spot to visit for everyone of all ages for ongoing workshops from crochet to beading.
Wineries to visit year-round include Chiswell Farm & Winery, Meriwether Springs Vineyard, and Arcady Vineyard located approximately 5 miles from downtown Charlottesville. Restaurants to know include Orzo Kitchen & Wine Bar, The Local, Vivace, and Tonic. The restaurants across this beautiful town are very diverse from traditional Italian and Scandinavian to quaint mom-and-pop restaurants and wine bars.
There are dozens of great hotels and resorts to stay at while visiting Charlottesville. The Omni Charlottesville Hotel, for example, is a luxurious resort that offers spectacular views of Blue Ridge Mountains. Additional hotels to consider include The 10th Street Bed and Breakfast, Albemarle Estate, and Boar's Head Resort.
Damascus
By Jenna of Up and Away Magazine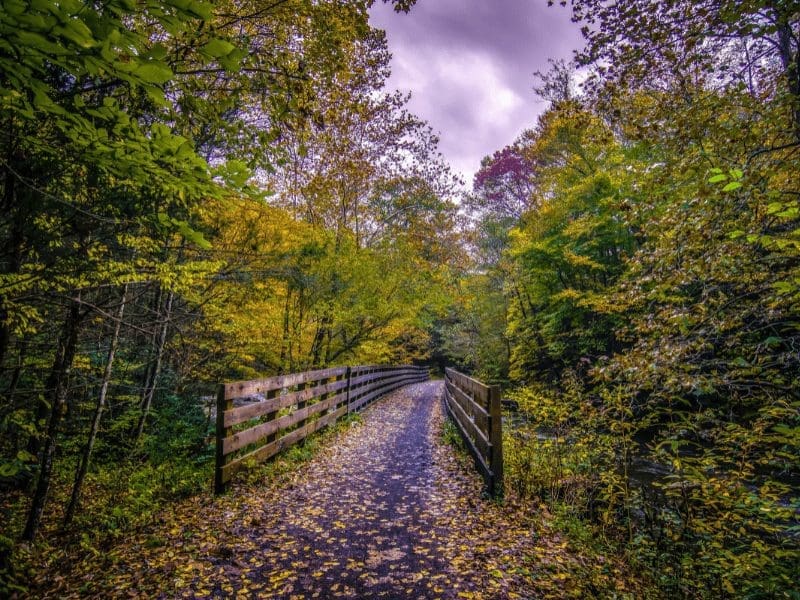 Located in southwest Virginia near the Tennessee border, Damascus has been dubbed Trail Town USA due to the fact that SEVEN nationally recognized trails intersect here. With a population of less than 1,000, Damascus exudes small town charm and is surrounded by some of the most beautiful outdoor areas in the state. It's located about 130 miles from Roanoke and 185 miles from Lynchburg.
Of course, one of the best things to do in Damascus is to hike! Some of the USA's most bucket-list worthy trails pass through Damascus – including the Appalachian Trail, Virginia Creeper Trail and Iron Mountain Trail. Hike a stint of one of these trails or walk one of the shorter loop trails near town. It's also worth noting that the Virginia Creeper Trail is one of the country's most renowned mountain biking tracks.
In addition to outdoor attractions, Damascus has a number of boutiques and antique shops, as well as a great microbrewery.
When it comes to good eats, you can't go wrong with Mojo's Trailside Cafe and Coffee House or Damascus Diner for casual fare. Old Mill Inn is a favorite for dinner. The latter also happens to be the top-rated accommodation in town, though Mountain Laurel Inn is a close second.
Gate City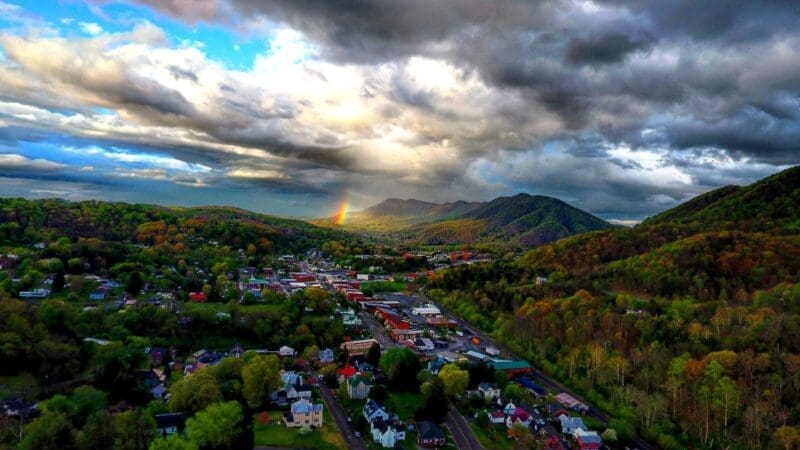 Gate City is located in the mountains of southwest Virginia. Some seasons from the film, The River, were filmed in Gate City. This small town in Virginia is home to a selection of unique shops, hometown cooking, and BBQ paired with a friendly atmosphere.
Notable tourist attractions close by include the Carter Family Fold (15 minutes away), Bush Mill (18 minutes away), and Creation Kingdom Zoo (12 minutes away). For those visiting during the summer, don't miss their free summer concert series that is held in King Alley annually from July-September. In addition, for history lovers, the Daniel Boone Wilderness Trail and Crooked Road wind their way through historic Gate City.
Stay at the top rated Estillville Bed & Breakfast nestled in the Clinch Mountain range in Gate City and offers four beautifully appointed guestrooms. An alternative option nearby is the MeadowView Conference Resort.
Leesburg
By Alicia at Travels With The Crew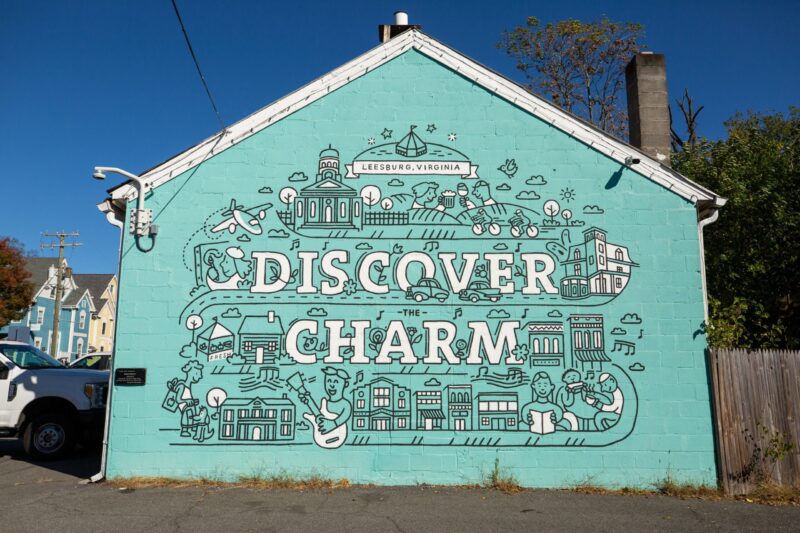 Leesburg is a beautiful town located in the heart of Virginia. There are plenty of things to do in this town, including visiting the many parks, going shopping, and eating at local restaurants. It is a great day trip from Washington DC as it is only an hour away.
Leesburg is a historic town that was the capital of the United States for a short time during the War of 1812! The town is full of old buildings and historical sites that are worth a visit.
Downtown Leesburg has cobblestoned streets and beautiful Georgian buildings. It is a great place to get some lunch at one of the dozens of local cafes and restaurants. Tuscarora Mills is a fabulous restaurant for a night out or you could visit Blue Ridge Grill for the best crab cakes you have ever eaten!
When visiting Leesburg, you should make sure to visit Oatlands Plantation and learn about Virginia in the 18th century. The gardens there are worth the trip alone!
Morven Park is another must-visit. It is a historical estate that was once owned by the Lees family. There are miles of hiking trails, gardens, and horseback riding trails. Plus, there is a super cool carriage museum on site.
If you are looking for some shopping, head to the Leesburg Premium Outlets. They have over 100 stores, including some high-end stores like Coach.
Then head to Landsdowne Resort to spend the night and enjoy the amenities like golf courses, spas, and some great restaurants.
Leesburg is a great town to visit, whether you are looking for history, shopping, or just a beautiful day trip!
Middleburg
By Rose Campau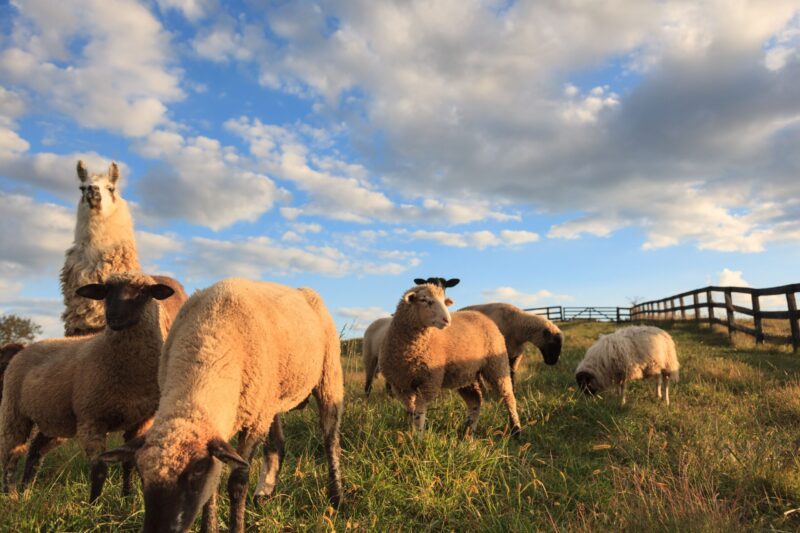 This colonial hamlet just an hour's drive outside the nation's capital is as charming as it is petite. Founded in 1787 by a lieutenant from the Revolutionary War as the crossroads of a major trading route, Middleburg quickly became a popular location for steeple chasing and fox hunting. The area is still renowned for its horse farms and hunt clubs.
You can head over to the National Sporting Library & Museum to learn more about the rich traditions behind country sport within its vast archives and rotating exhibitions.
Then, head into the countryside to Salamander Resort & Spa to experience the sporting lifestyle yourself. In addition to traditional pursuits like trail rides and falconry, they also offer modern activities like zip lining.
Then, experience Virginia's growing wine industry with a visit to the nearby vineyards. The state has become the nation's fifth largest producer of wine, with much of that reaching acclaim for its chilly temperature and unique terroir that leans more European than Californian. Standouts to visit include Greenhill Winery, Boxwood Estate, and Chrysaliswine.
For overnight stays, the historic Red Fox Inn & Tavern is famous for being the nation's longest continually operated inn at a sprightly 275 years old and features romantic guest rooms tucked away in a traditional tavern setting. It's conveniently located right in the middle of town and walking distance from dozens of boutiques, restaurants, and breweries.
The Red Fox is also a dining destination in itself, with former regular patrons including Elizabeth Taylor, Paul Newman, and Jackie Kennedy. The traditional peanut soup and crab cakes remain standout items on the menu.
Smithfield
By Alex of Wander With Alex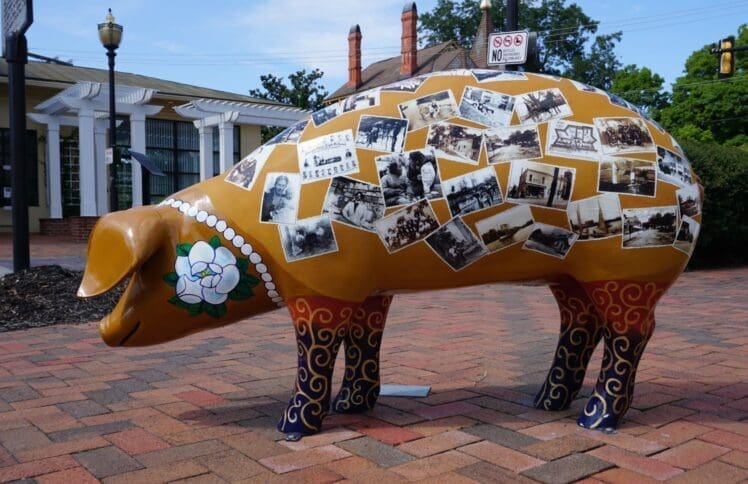 Nestled within Hampton Roads, you'll find the small, charming Town of Smithfield, Virginia. This beautiful Virginia town is filled with southern hospitality, history, tradition, and is also home to the fortune 500 Company Smithfield Foods—the largest pork producer in the U.S. Lovingly, the town is often referred to as Hamtown.
If you're planning to stay in Smithfield, Virginia you should consider the hotel/restaurant of Smithfield Station. Smithfield Station is located right on the Pagan River, giving you beautiful waterfront views during your stay and meals! However, if you are a lover of bed and breakfast stays, the Mansion on Main is a delight!
Notably, the Town of Smithfield holds three annual events that folks from around the region flock to. These events include the Bacon Bourbon and Beach Music Fest, Wine and Brew Fest, and B.O.B Fest (Bloody Mary's, Oysters, and Brunswick Stew). All three of these festivals tend to sell out very fast. However, if you're looking to learn more about the town and its history, take a walking tour! Walking tours of downtown Smithfield, Fort Huger, Fort Boykin, and Windsor Castle are regularly available.
If you're looking for southern charm, culture, good eats, and unique things to do, then Smithfield, Virginia is your vacation destination!
Williamsburg
By Anna of Stuck On The Go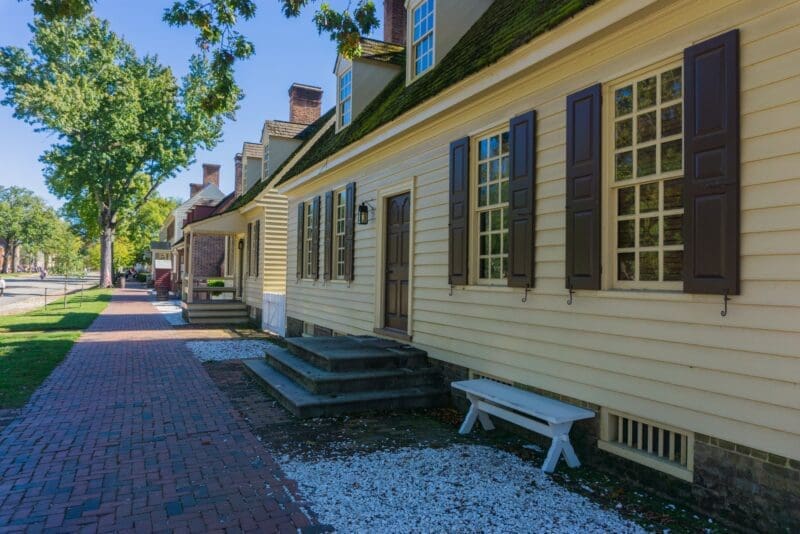 In the southeastern corner of Virginia, close to Newport News and Norfolk, you'll find the charming town of Williamsburg.
The town sits right off of I-64 so it's easily accessible by car and you'll definitely want one while you're there. The closest international airport is in Richmond which is a quick 45-minute drive.
One of the best things to do in Williamsburg is to visit Colonial Williamsburg. Colonial Williamsburg is really what makes this one of the most beautiful towns in Virginia.
The entire colonial area is incredibly quaint but the area just outside of the district near the College of William & Mary is full of old brick buildings that make you feel like you've stepped back in time.
Another fun thing to do is spend a day or two at Busch Gardens riding all the roller coasters and catching some of their shows.
The Gabriel Archer Tavern at Williamsburg Winery is a perfect spot for brunch. There are plenty of great restaurants in Williamsburg but if you really want an incredible dinner then go to Fat Canary.
If you need the perfect place to stay for a trip to Williamsburg, then look no further than the Williamsburg Inn. This five-star, five-diamond resort will not disappoint.
Visiting Virginia soon? Click here to further plan your getaway!