Below we highlight ten restaurants offering outdoor dining from Riverhead to Orient Point. We recommend calling ahead to see if your chosen restaurant accepts or requires reservations. Some restaurants offer first come, first served seating options as well.
Claudio's Waterfront
Greenport
Claudio's Waterfront on the North Fork is now open. The restaurant features a newly designed Raw Bar, on display and located at the north side of the Wharf Bar.
Featuring an assortment of local east and the freshest west-coast shellfish along with chilled lobster, crab and shrimp, guests will have firsthand views of the skilled craftsman shucking shellfish to order.
Their menu of burgers, Classic or Connecticut style lobster rolls, sandwiches, salads and fried seafood will be featured along with their Ultimate Mudslide, Daiquiris and  sister restaurant's K-Pasa Margarita. Live and DJ music will feature on weekends and late-night on Fridays and Saturdays. 631-477-0627
Duryea's Orient Point
Orient Point
Duryea's on Main Road in Orient Point opened for the season on Thursday, May 20th.
The Mediterranean themed seafood centric menu features several of Duryea's classics such as the lobster cobb salad, lobster roll, tuna tartar and fresh crudité.
In addition, Mediterranean style dishes are also offered such as: Mediterranean spreads, hummus, green tahini, salted-cod tarama, Greek olives and grilled flat bread; Spanish octopus with roasted tomato, olives, garbanzo beans, roasted pepper aioli, EVOO; crab falafel croquettes with tartar sauce; Greek melon salad; and much more. The restaurant will also offer a beer and wine list, and new this season, a specialty cocktail list.

Duryea's Orient Point offers several transient boat slips at the marina accommodating up to 75-foot vessels available on a first come first served basis. 
The waterfront restaurant will offer indoor and outdoor seating. Open from 12-10pm Monday, Thursday-Saturday; and on Sunday from 11am-10pm. Duryea's will be open seven days after Memorial Day weekend. 631-323-2424 
Green Hill Kitchen & Que
Greenport
Green Hill Kitchen & Que's menu consists of BBQ classics like Smoked Prime Brisket, Carolina Pulled Pork, and giant St. Louis Ribs by local chef and Pitmaster Tim Coughlan. Check out their epic sized Hungry Man, and BBQ XL platters. Vegan dishes are also available.
Be sure to check out their open mic night every Thursday starting at 7pm. Once in season, live music will resume every Friday and Saturday.
Green Hill Kitchen & Que on Front Street is open for lunch and dinner six days a week beginning at 12pm, closed on Mondays but will operate 7 days once in season.
Takeout is also available and may be ordered online in advance.They offer indoor and outdoor seating, and their upstairs deck offers spectacular sunset views. Currently, the restaurant welcomes families and parties up to 10 people. 631-477-4900
The Halyard Restaurant
Greenport
For an upscale outdoor dining option on the North Fork, The Halyard should be one of your top picks. They are open Thursday-Monday from 12-9 pm. To-go is available from 4-8pm. They offer starters like green chickpea hummus, summer truffle tartine, Halyard Clam Chowder, and many more options.
They also offer entrees like Beer Battered Fish and Chips, Grilled Montauk Monkfish, Shinnecock Sea Scallops, and others. Desserts include Chocolate Mousse and Strawberry Shortcake. Be on the lookout for news regarding their Halyard Summer Guest Chef Series. 631-477-0666
Il Giardino Aquebogue
Aquebogue
Il Giardino Aquebogue on Main Road is open for dinner for outdoor dining in their beautiful garden beginning at 4pm.
John Gambino creates traditional Sicilian dishes every week according to what is available at the farms and sea like local stripe bass that just started the season. Be on the lookout for menu specials like their Vine Ripe Tomato & Onion Salad with homemade mozzarella, Veggie Stuffed Portobello Mushroom, Local Striped Bass Puttanesca, Pappardelle Chicken Bolognese, and Stuffed Peppers.
A takeout menu is also available. Notable takeout selections include Local Spinach Fettuccine, Nicoleta's Lasagna, and Veal Scallopini. 631-779-3900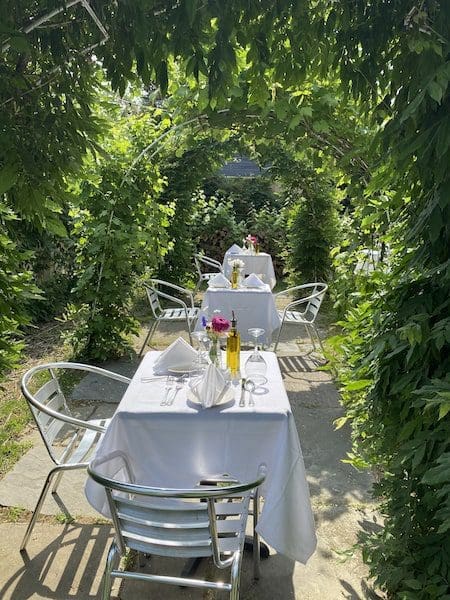 Jerry and the Mermaid
Riverhead
Jerry and the Mermaid, located on Main Street in Riverhead, is open seven days a week for lunch and dinner. Fresh, local seafood is a must-have when visiting! Their menu also consists of Crispy Duck Wings, Baked Stuffed Clams, Tuscan Chicken Sandwich, Jumbo Shrimp, Crispy Chicken Wings, and more. A must order is their famous Lobster Roll.
Their takeout window is also available. A covered deck and patio is available for patrons for outdoor dining. Hours are 11:30am-10pm daily. 631-727-8489
Noah's
Greenport
Noah's is now open for outdoor dining. Patio dining is also available. They are offering a large seafood selection, along with an American selection. Seating is first come, first served. Notable dishes to try include Crescent Duck Farm BBQ, Peel & Eat Jumbo Shrimp, Filet Mignon Sliders, and Local Seafood Jambalaya.
Noah's is still offering takeout. Current hours are Monday, Tuesday, and Thursday from 4-9pm, and Friday-Sunday from 12-9pm. Brunch is served Saturday and Sunday from 12-3pm. 631-477-6720
North Fork Table & Inn
Southold
Last year, acclaimed chef and restauranteur John Fraser quietly took over the North Fork Table & Inn. Located in Southhold on Main Road next to the Peconic Bay, the restaurant has had a long standing reputation as both a critically acclaimed destination as well as a local mainstay with a menu focused on fresh produce.
Some highlights include a Spring Onion Tempura (Ira's flower petals, nori); Spring BBQ Vegetables (Maitake mushroom, asparagus, fiddlehead fern, jasmine rice); and the Southold Grill (fresh caught local seafood, herb bouquet).
The restaurant is officially relaunching this spring with two outdoor patios and plenty of flexible seating. The accompanying food truck, which is a local favorite for outdoor socializing and a less formal option than the restaurant, will officially launch this Memorial Day. The food truck will offer a completely new menu focused on smoked vegetables and meats, as well as outdoor games and communal picnic tables. 
North Fork Table & Inn is open for dinner beginning at 5pm. Brunch is served on Saturday and Sunday from 10:30am-2pm. 631-765-0177
Touch of Venice
Cutchogue
Touch of Venice on Main Road is open for outdoor dining on the North Fork Tuesday-Sunday beginning at 4pm. Patio dining is currently available. Recommended dishes include Eggplant Sorrentino, Strawberry Goat Insalata, Asparagus Pasta, and Bistecca Tuscany.
Curbside takeout is also still available. Patrons may order online in advance. 631-298-5851
Turkuaz Grill
Riverhead
Turkuaz Grill is a Turkish and Mediterranean Restaurant located on McDermott Ave near the Peconic River. Outdoor riverfront dining is available.
Seafood, wraps, and combination meals are popular among patrons. Notable favorites include Shrimp Shish Kebab, Adana Kebab, Gyros, and many others. Their Turkish wines make for a great pairing. They also have a great selection of desserts. Hours are from 12-9pm. Closed Tuesdays. 631-591-1757
Additional Resources
Check out our selection of outdoor dining options across the Hamptons.