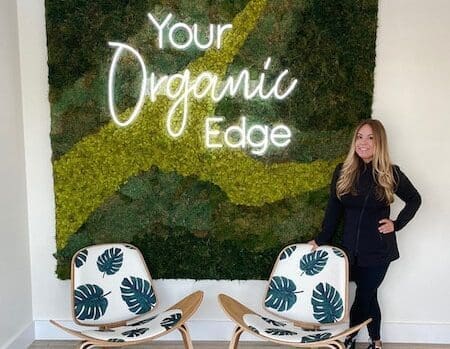 I never thought a colonic would be so gratifying until I experienced one for myself. Who would have thought the perfect pairing for catching up on one of your favorite Netflix series would be colon hydrotherapy? All I can say is, I can't wait for the next episode.
I experienced this treatment, along with Target Cryotherapy on my abdomen, and a half hour session in the Infrared Wellness Pod at Organic Edge in Water Mill. Organic Edge is a new holistic wellness center in the Hamptons founded by Shannon Conklin. She brings over thirteen years of experience in several holistic health and wellness services.
Conklin recently shared her personal wellness journey and informs us how these treatments can be so beneficial to everyone.
Why are colonics so essential?
"Colon cleansing was found in ancient Egyptian medical documents from 1500 B.C."
My belief is that our bodies are made to heal themselves. We live crazy and hectic lifestyles, in toxic environments. I think if we put good into our bodies (real food, pure air, pure water) and detoxify the junk that we cannot help but intake, our immune system can do the rest.
Our colon is the garbage can of our body, holding the waste our body wants to dispose of. Having that detoxification pathway open and working optimally is essential in staying healthy especially because 70% of our immune system (GALT) is in our digestive tract. 
My Colon Hydrotherapy mentor, Barbara Chivvis, told me that as a nurse they used to give enemas upon entering the hospital for most ailments many years ago. If the body was fighting something, it was dumping it into our waste system.
Colon cleansing was found in ancient Egyptian medical documents from 1500 B.C. This ancient technique that has been used for centuries to assist the body in purification.
How was Organic Edge founded? Why did you choose the specific treatments you offer?
I opened my first business right after my father passed away. It was a little shop with crystals, candles, and herbs. I held workshops at night for people to learn various things by master teachers (meditation, reiki, nutrition, etc.).
I have always known I wanted to work for myself, but I think my businesses have been born because I want the place to exist for me. If I need these therapies, I know other people do as well. 
I became chronically ill when I was in high school, and no one could figure out what was wrong. I was diagnosed with chronic fatigue and fibromyalgia after many visits with specialists.  It put a name to what was happening, but they had no answers for what to do to feel better.
My mom finally took me to a holistic doctor in Philadelphia who looked at my body as a whole and started to come up with actionable information.
I had been put on over 50 rounds of antibiotics over the years of being chronically ill. Because of that, I had wiped out my microbiome. I had leaky gut syndrome, so I absorbed none of the nutrients from my food. Even worse, anything I ate became something I was allergic too.
Years later I found out I was misdiagnosed and had Lyme disease. 
I spent my healing journey working in and managing many holistic practices. In that time, I was able to find treatments that truly helped me. 
My many years working in Manhattan have taught me 2 things: 
1) The city was not for me full-time. I'm a type-A person and I need to decompress in a more relaxed environment at the end of the day.
2) My clients had nowhere to go when they wanted these treatments out east. 
I created Organic Edge with my clients, and me, in mind. I wanted a place that I truly enjoyed being every day. A place where my body and mind could leave better than when I entered. I'm always looking for an "edge" health-wise. I want to bio-hack my body and stay optimally healthy. So I created a place to obtain my organic edge. 
There are more therapies coming soon!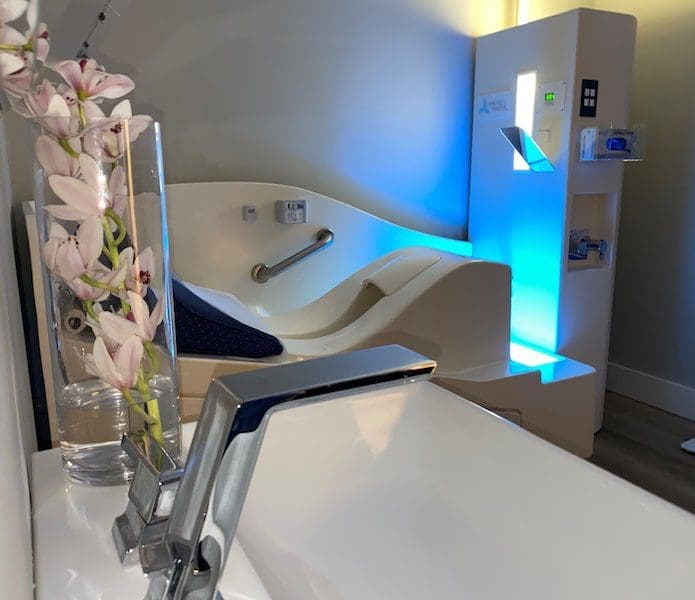 Describe the benefits of targeted cryotherapy. How often can you get these treatments?
Cryotherapy is an amazing treatment that uses very cold temperatures to facilitate different responses in the body. The targeted cryotherapy machine we have at Organic Edge will freeze fat, tighten skin, or reduce cellulite depending on the wand, cream, and temperature setting used all while facilitating a lymphatic response. We can really assess an area and decide what is the best treatment, person to person. The therapist then sculpts the area specific to the client. 
Cryo Slimming
Cryo Slimming is a non-invasive fat sculpting technology that uses cold temperatures to eliminate fat. These treatments have to be spaced out every 2 weeks. This is because it takes the body's lymphatic system a full 14 days to get rid of the dead fat cells that have been frozen. 
Doing a sauna pod after the slimming really helps facilitate the lymphatic drainage from the start. Your lymphatic system dumps waste into our excretory system which is where the colonics come into play as well. All of our treatments are fantastic by themselves but done in conjunction with each other only the maximizes results of all of them. 
Cryo Body and Facial Toning
Cryo Body and Facial Toning uses cold temperatures to improve the skin's blood supply, bringing oxygen and enzymes to the tissues. Whether you come in for a Natural Facelift, Cellulite Reduction or Skin Tightening, the process of producing collagen and elastase is activated in the skin.
The treatment will activate the lymphatic circulation that expels toxins from tissues eliminating cellulite, toning the area, and reducing the signs of aging. After the therapy, your skin will look fresh and firm.
These can be done as often as every 3 days. It depends upon the client's goal.
Are you offering classes soon?
When planning my 1-on-1 classes, I work around the student's schedule as best I can. Group classes are currently available for booking.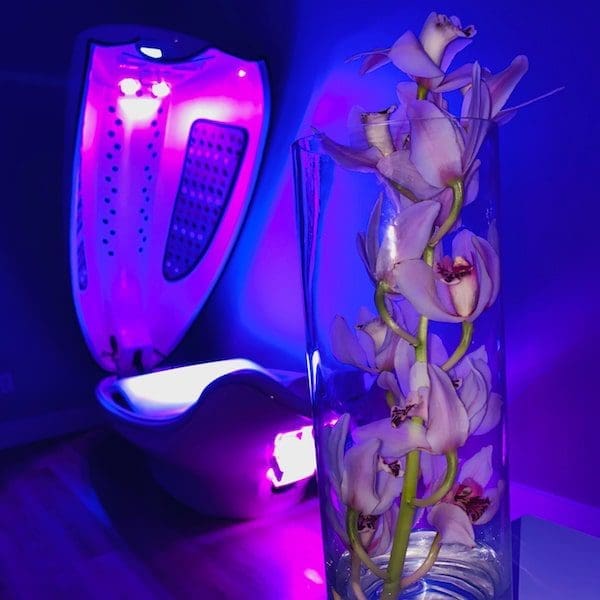 Tell us more about the Infrared Wellness Pod and the hidden benefits.
Infrared saunas have numerous benefits touted by many doctors and health experts. This sauna is full-spectrum infrared. That means it has far-infrared light, mid-infrared light, and near infrared light.
The different spectrums deliver the infrared at different depths into the body, therefore, providing different benefits. Far-infrared penetrates deep where your body purifies at a cellular level, while near-infrared light helps wound healing and cell regeneration.
NASA has done many studies on near infrared as that is what makes up most of the infrared given off by the sun. 
In addition to the infrared, the pod also provides a vibratory lymphatic drainage massage that has 10 different frequency settings, 5 for the legs, and 5 for the back. This helps shake up the lymph as your body is purifying at a cellular level helping to facilitate the waste out of the body.
There is an air conditioning system that keeps your face and heads cool while also delivering pink Himalayan salt air to breathe in. All while laying down and relaxing inside an ergonomic pod listening to your favorite music.
The pod assists in skin and cell purification, weight management (you burn calories while in the pod but it additionally keeps your metabolism elevated for hours after the session), lymphatic drainage, cardiovascular health, stress reduction and pain management. The frequency of treatments depends on the client's goals.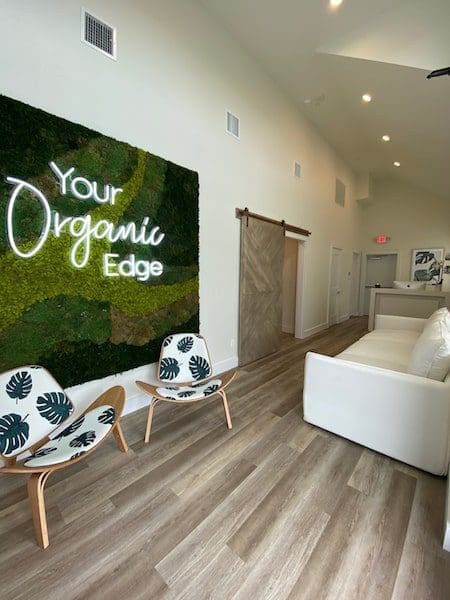 Visiting Information
Organic Edge in the Hamptons is located at 2 Montauk Highway in Water Mill just down the road from the Parrish Art Museum.
Book your appointment today. You will be so glad you did!