Poker is a lot of fun to play and is a very popular game at both traditional and online casinos. It can be fun playing poker on your own against a computer, with family and friends at home, in a traditional casino setting or even against other internet users online. Playing casino games online is a hobby that has only grown more and more since traditional casinos were temporarily closed down by the COVID19 pandemic. If you want to get better at this game and improve your chances of winning tournaments, then these are some of the best ways to improve your poker skills both online and offline.
Learn the Basics
If you are fairly new to poker, then it's a good idea to take some time to learn the basics of the game such as poker hand rankings, as this will help you determine whether or not to bet, and how much to bet when you are playing a game. There is no point in betting half your pot on a double if you see the hand in front of you could easily mean that another player has a straight flush, and somebody else is going All In. Of course, players bluff all the time, but knowing where your hand ranks can help you make wiser decisions each time you play.
Practice for Free
Since poker is so popular, there are lots of apps that allow you to play it without the need to bet real money. Lots of people play poker simply because they enjoy the game and not because they need to try and win something. Downloading a poker game app where you can win virtual chips to play with can be a fun way to practice your skills before you pay real money to enter a tournament. It's not only a fun way to pass the time but also gives you the chance to practice and get better at playing poker with no real risk.
Play with Friends and Family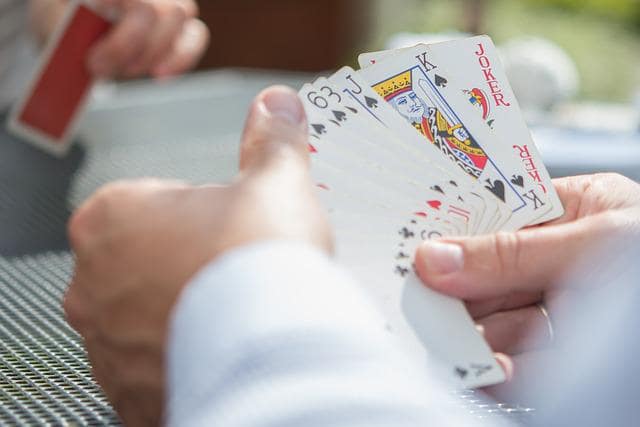 Playing with friends and family can also be a great way to get better at poker, especially if you prefer the idea of playing the game in-person rather than through a screen. Poker nights can be a fun way to get everybody together and since it's informal, there doesn't have to be real cash to bet with if you don't want to. You can decide what you are playing for, and just have fun in the meantime.
Play at an Online Casino
Finally, if you want to step things up a level and start playing poker for real money, then a good online casino is the best option. This is because there are often lower stakes online compared to traditional casinos and you may be able to play games and tournaments for pennies, giving you the chance to build your skills and get the thrill of winning without putting yourself in much financial risk.
Whether you're new to poker or have been playing a while, if you want to improve your skills and get better at winning in a risk-free way, these are some of the best options to consider.