Iconic actress and designer Sarah Jessica Parker has collaborated for the second year in a row with Invivo Wines based in New Zealand. What makes this year so unique is it celebrates the first known virtual winemaking session in the world. As she is affectionately known, SJP and co-founders of Invivo Wines, Tim Lightbourne and winemaker Rob Cameron, blended the wines over a two hour Zoom call. This was due to the recent travel restrictions resulting from the pandemic.
Blending the Invivo X SJP 2020 Sauvignon Blanc
"We took eight different samples of Sauvignon Blanc," explains Lightbourne. "Some tasted tropical or more lemony and zingy. She likes a full bodied, toned down, and smooth Sauvignon Blanc."
SJP has been very hands on throughout the entire process.
The Sauvignon Blanc pairs well with many foods like oysters, smoked salmon, and even with beef, and finally dessert. "It is a very food friendly, well-rounded wine," notes Lightbourne.
Invivo X SJP Rosé
The iconic actress's 2019 collaboration with Invivo Wines also resulted in a classic, crisp, medium-bodied rosé that launched earlier this year. The rosé comes from the South of France, and has been crafted in partnership with Sarah Jessica Parker, the founders of Invivo, and a family estate in Provence.
The grapes comes from a vineyard in Provence on a family estate "Vins Chevron Villette" located in the famous 'Golden Triangle,' situated in Saint Tropez.
Invivo means "in life" and having wine part of your life. SJP, for example, sets time everyday to casually drink rosé from a mason jar every early evening.
"She has a great palate, and is very passionate about winemaking!" exclaims Lightbourne.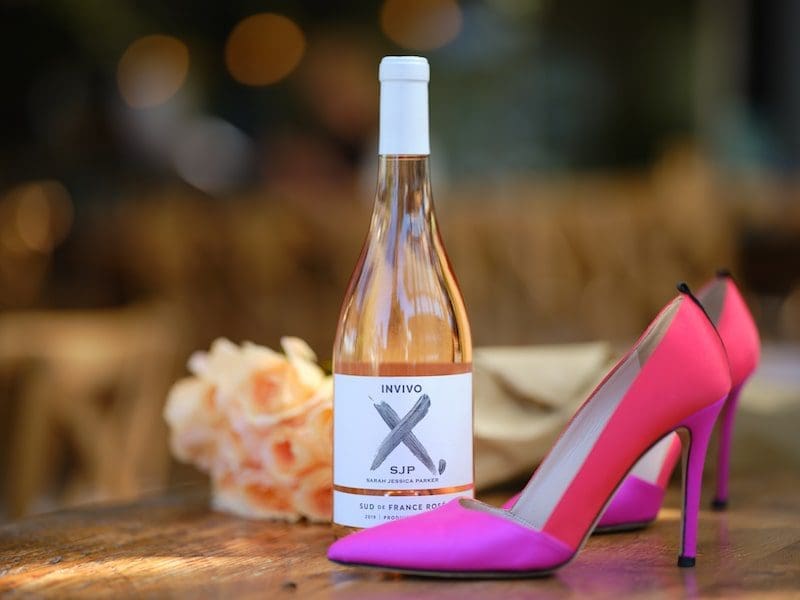 The Background Story
The Sarah Jessica Parker and Invivo collaboration originally launched in Summer 2019. SJP had originally become acquainted with Invivo Wines when she sampled some while on holiday in Ireland.
SJP has been involved in every aspect of the new wine. This includes the naming and label design, to the winemaking itself and choosing the final blend. She is also a shareholder in the company, making this a long-term venture for both parties.
"She has a clear vision but at the same time the ability to adapt to how wines express themselves when blended, and that makes this collaboration so exciting. Sarah Jessica is truly developing a very drinkable style of wines, focusing on full bodied texture but equal aromatic intensity." says Cameron.
Invivo Wines was founded in 2008 by Lightbourne and Cameron. Their wines have received over 200 international wine show medals, distribution in 16 countries, and sales of over 3,000,000 bottles. Invivo has also recently released a Gin brand in partnership with UK talkshow host Graham Norton.
Where to Purchase
Retailers around the world include Costco, Meijer, Bevmo!, Albertson's, Sainsbury's (UK), Supervalu (Ireland), Glengarry's (New Zealand), and many more. Invivo X SJP is also sold at many local wine stores within the United States.