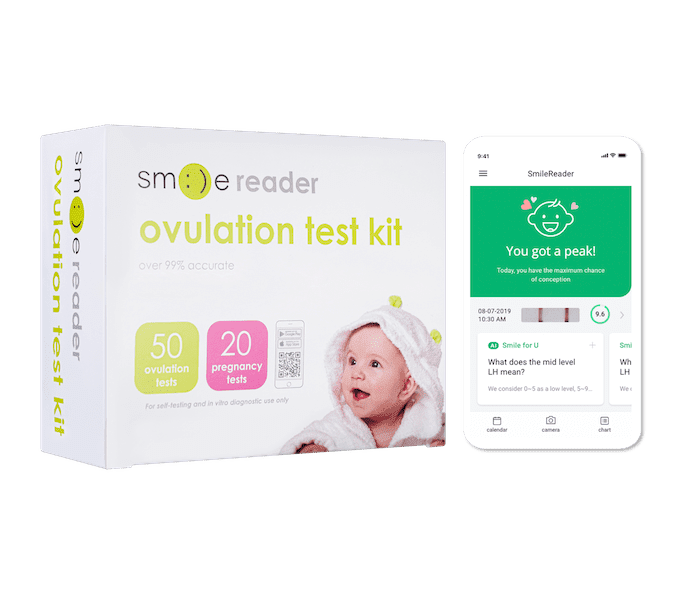 This article is sponsored. Please refer to our Privacy Policy to learn more.
When it is time to conceive, it is essential to know your most fertile days and your LH (Luteinizing Hormone) peak levels. There is so much that goes into conceiving, you want the process to be as simple as possible. The SmileReader Ovulation Test Kit does just that.
About the Ovulation Test Kit
The SmileReader Ovulation Test Kit includes 50 ovulation test strips and 20 pregnancy test trips. It also includes free access to the SmileReader app.
Perhaps you have already used an ovulation test. You may know how difficult they can be to read and comprehend what the results are. The SmileReader Ovulation strips and app take the guesswork out of it, making the process so easy. Customers are easily able to confirm their LH peak and read the results of their pregnancy test strips.
In addition, there is also a handy instruction page that is two-sided. One side highlights when to start testing, the test procedure and how to properly read the test results. The other side narrates how to properly use the pregnancy test strips.
How To Use the SmileReader App
The app calculates the best time to begin using the ovulation test based on your menstrual cycle. First, enter the dates of your last period. The app gets started mapping out your best dates for ovulation testing. It will read messages like "Try Tomorrow," "The LH level is low," "the LH level is in mid-range," "you got peak today/LH surge," etc. Those peak days are your maximum days for conception.
To note, you are also able to access your testing history.
The test strips are easy to use and over 99% accurate. This is a great relief for those who are trying to become parents or add to their growing family.
You may also watch this video that walks you through the SmileReader app:
Purchase Your SmileReader Ovulation Test Kit
The SmileReader kits are available in different options: (LH: Ovulation Test / HCG: Pregnancy Test):
5 LH + 1 HCG – $3.49 
30 LH + 10 HCG – $11.89
50 LH + 20 HCG – $13.98
Grab 20% off the SmileReader (50 LH + 20 HCG kit) on Amazon with the promo code SMILE5020 through December 31, 2020.