Michelin-starred chef Hélène Darroze has launched the Hélène à La Maison delivery service from The Connaught in London. For the first time, Chef Darroze and her team are offering signature dishes from her eponymous restaurant Hélène Darroze at the famed hotel.
The Five-Course Menu
This five-course gastronomically-designed menu for two gives the experience of the esteemed Mayfair restaurant at home. The delivery service will be available until January 2021.
The menu has debuted with the following plates:
Foie gras with celeriac, apple and pear chutney
XXL hand harvested scallops from Scotland served in their shells
Hélène's Vol au Vent 'A la Francaise' with lobster and ragout
The cheese course features an exquisite Ossau Iraty, complimented with pâte de coing maison, nuts, sesame seeds and herb crackers.
The dessert is a decadent chocolate with an end-of-meal canelé cake. It is one of the restaurant's most famous finishing touches.
The final flourish is the delicate origami lotus-style boxes.
Please note that the menu will change after the holiday season.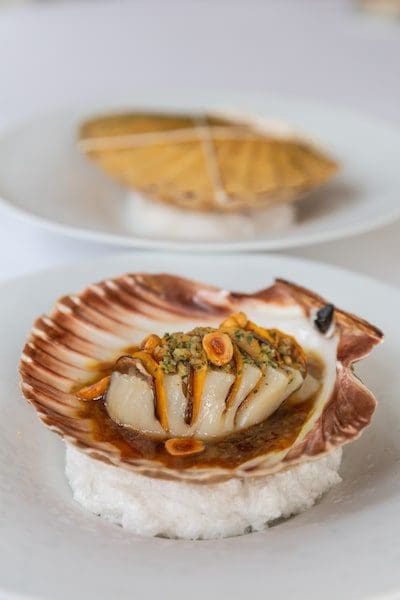 Menu Additions
For true luxury, and avid gourmands, additional showstoppers are available to order. These include:
Caviar with sea urchin and cauliflower with a pearl spoon
Potato gnocchi and egg yolk with white truffle and its very own truffle shaver
Hélène's signature Baba served with vintage Armagnac Darroze and lemongrass Chantilly
Wine pairings recommended by the restaurant's Sommelier and Krug champagne are also available.
"We look forward to spreading a little bit of positivity and joy with our food, even further than Mayfair, and into people's homes. As always, for me, supporting and showcasing our longstanding suppliers is my highest priority, and it's never been more important than now," says Darroze.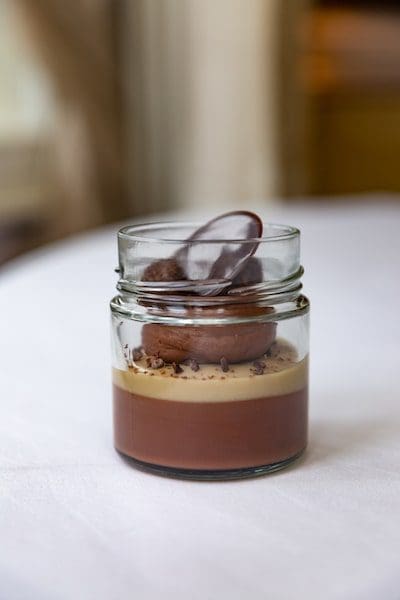 Delivery Information
"Hélène à La Maison" is available to order via Slerp.com. The dinner can be delivered or collected Wednesdays thru Saturdays from 3-6pm from Hélène Darroze at The Connaught. The 5-course menu for two people starts at £180.