Looking for some last-minute specialty food gifts that will create that 'wow factor' for holiday gatherings, office parties, and get-togethers with close family and friends? Below is our festive specialty food gift guide featuring gifts that will add that extra holiday spice to any party this season.
Clif Family Winery
Clif Family is a small production wine and specialty food maker in the Napa Valley. They specialize in small production wines and specialty food products with a focus on organic farming and sustainable production. A specific example of their sustainable efforts is their commitment to donating $10,000 to American Forests Tree Equity Program that helps plant trees across the nation.
Clif Family Winery offers a wide variety of gift sets for the holiday season, as well as a wide assortment of individual products from solar grown honey and red wine jam to hot sauces and preserves. Popular gift sets include Eat Chocolate, Drink Wine that set features our trio of Organic Dark Chocolates paired with a bottle of our 2020 Gary's Improv Napa Valley Zinfandel, and Spread the Buzz Collection, a collection of their Good Food Award winning honey, sourced from hives located on pollinator-friendly solar farms.
Festival of Lights Tackle Box
Dylan's Candy Bar
Everyone's hearts will shimmer when receiving the Festival of Lights Tackle Box by Dylan's Candy Bar. This reusable tackle box is filled with a mix of color-coordinated Kosher candies including Sour Raspberry Bites, Milk Chocolate Hanukkah Miniatures, Dark Chocolate Holographic Coins, foiled taffy, and more. This box filled with Christmas sweets gift is a perfect gift to celebrate the season with the whole family. Available online and at their storefront in Hudson Yards in Manhattan.
The Hidden Sea Wine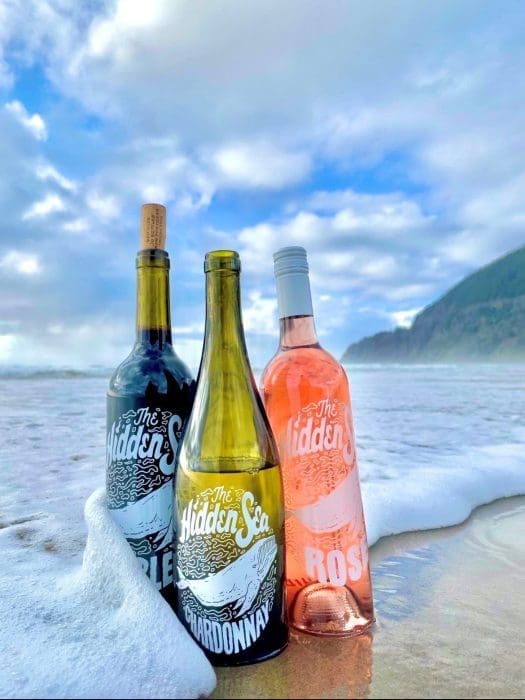 Known as the "Wine That Saves The Sea," The Hidden Sea was founded by Australian entrepreneur Justin Moran and retired AFL star Richie Vandenberg. The Hidden Sea's goal is to make a positive, verifiable impact on the planet and address the global need to reduce oceanic plastic waste.
For every bottle sold, 10 plastic bottles are removed from the ocean. Since July 2020, The Hidden Sea has removed over 17 million bottles. Their goal is to remove 1 billion bottles by 2030.
The Hidden Sea's Red Blend, Rosé, and Chardonnay wines are vegan-friendly. The Hidden Sea can be purchased on wine.com.
Honey Mama's Variety Pack
Honey Mama's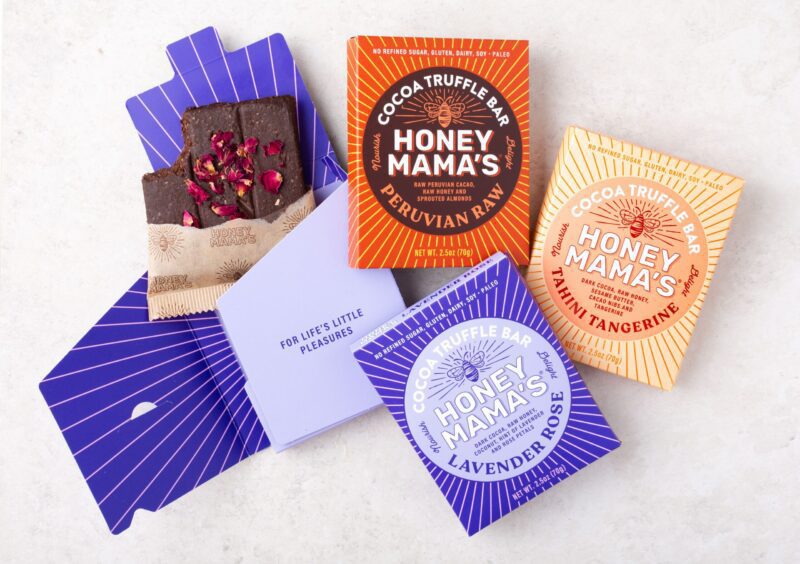 Honey Mama's is a line of delicious, refrigerated raw cocoa truffle bars. Each bar has a base of raw honey, unrefined coconut oil, and Himalayan pink salt. These bars are naturally free of refined sugar, soy, eggs, dairy, gluten, and grains.
A great healthy indulgence and holiday gift for the chocolate lover in your life is the
Honey Mama's Variety Pack
. It offers a taste of every flavor in the lineup, including their most popular picks like Tahini Tangerine and Lavender Rose.
The 
Pastene

 Specialty Gift Box
Pastene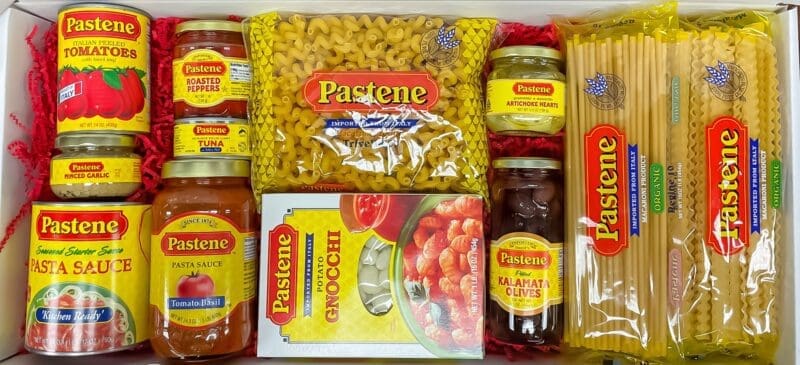 For the pasta lover, the hostess, the gluten-free friend, or foodie in your life, Pastene features an array of epicurean specialty boxes to enhance anyone's skills in the kitchen. Perfect for specialty food gift giving this holiday season, Pastene makes it easy to prepare so many delicious meals with a variety of pastas, tomato sauces, roasted peppers, olives, artichokes, and much more.
Their Specialty Gift Box includes six different varieties of pasta, two different sauces, four types of gourmet vegetables and a can of Tonno (tuna). Pastas include Linguine, Gnocchi, and Regine, to name a few.
The Pastene Gift Boxes can be purchased directly from their website. Order by December 10th to guarantee arrival for Christmas.
tinyB Chocolate
Making for a delightful for festive treat for everyone of all ages, tinyB Chocolate is a woman-owned, San Francisco-based gourmet confectionary company specializing in brigadeiro. Brigadeiros are traditional and popular Brazilian chocolate desserts. Their Brigadeiros are made by hand and are gluten-free.
Celebrate the Holidays with their limited-edition DIY Brigadeiro Kit. This easy and fun hands-on chocolate experience is perfect for any festive gathering. Each Kit contains everything you need to create delicious Holiday-themed brigadeiro treats like reindeer, snowmen, and wreaths.
VAHDAM® India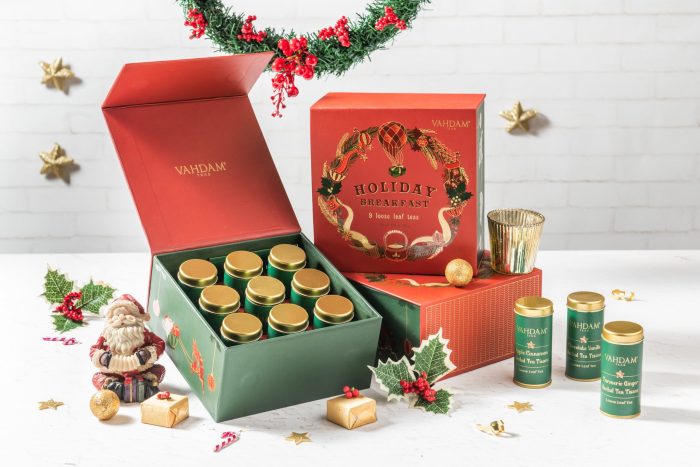 VAHDAM® India, is an award-winning sustainable global wellness brand that produces fine teas, drinkware, gifts, and specialty foods. Their tea has been awarded over 30 prestigious awards, and has a slew of celebrity superfans including Oprah Winfrey, Mariah Carey, Martha Stewart, Sarah Jessica Parker, and many more.
VAHDAM® India has
a large selection of teas including individual teas and
gift
sets. Gift sets for the holidays include the Happy Hanukkah Tea 
Gift
Set, Holiday Breakfast 
Gift
Set, 24 Loose Leaf Teas Advent Calendar, and Christmas Teas 
Gift
Set, to name a few.
It is sold in Nordstrom, Neiman Marcus, Bloomingdales, Bergdorf Goodman, Saks Fifth Avenue, Amazon, and many more stores.
Vignoli Italian Food Anthology
Infused Evoo
Just in time for the holiday season, Vignoli Italian Food Anthology, which recently launched in the USA, offers tasting and gift sets that include their wide selection of infused olive oils. Their selection of infused EVOOs include Meyer Lemon, Mandarin, Black Garlic, Chili Pepper, Basil, and more.
Vignoli currently offers 11 gift sets that pair their infused olive oils and vinegars. Vignoli's popular gift sets include Essential Italy, Taste of the Mediterranean, Get Grilling Collection, Flavors of Fruit, and others. Free shipping is available for orders over $100.
Woodbridge Wines
Fruitful Blends
Woodbridge Wines recently launched their Fruitful Blends collection, a line of three deliciously sweet, fruity and lightly effervescent Premium wines.
Fruitful Blends is available in three flavors: Blueberry Blackberry, Mango Pineapple, and Peach Raspberry. These flavors combine natural fruit flavors with quality California red wine, white wine, and rosé, respectively. Each also adds a hint of fizz for a refreshingly playful spritz. Enjoy Fruitful Blends with an array of accompaniments, ranging from jerk chicken to cream cheese frosted lavender cake.