Ready to celebrate The Big Game with the whole family? Us too! Weelicious founder Catherine McCord has creating three delicious kid-friendly super bowl Snack Recipes just in time for the Super Bowl! Created with the whole family in mind, kids will enjoy cooking them as well as eating them!
Below you will find three recipes created by McCord, including her Vegetarian Sheet Pan Nachos, Corn Dog Muffin Bites and Cheesy Pizza Hot Dogs.
Cheesy Pizza Hot Dogs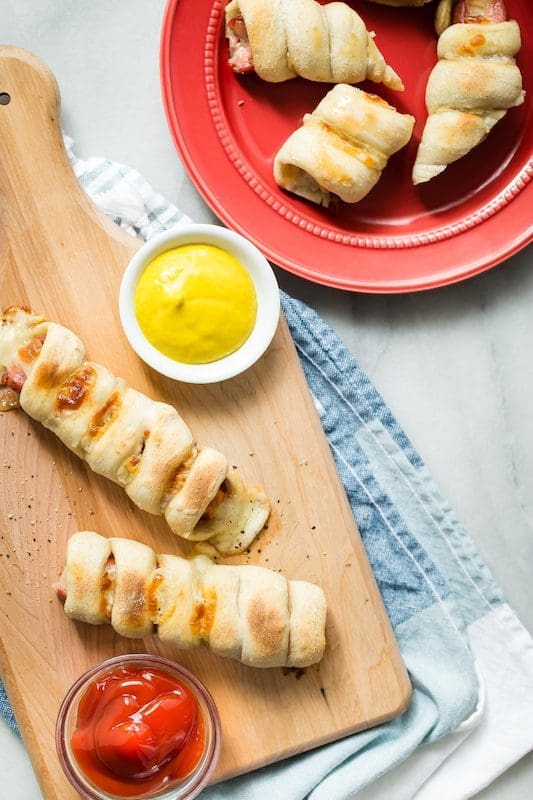 Prep Time: 10 minutes
Cook Time: 15 minutes
Ingredients
1-pound whole wheat pizza dough, at room temperature
6 beef, turkey, or vegetarian hot dogs
3 pieces string cheese
Directions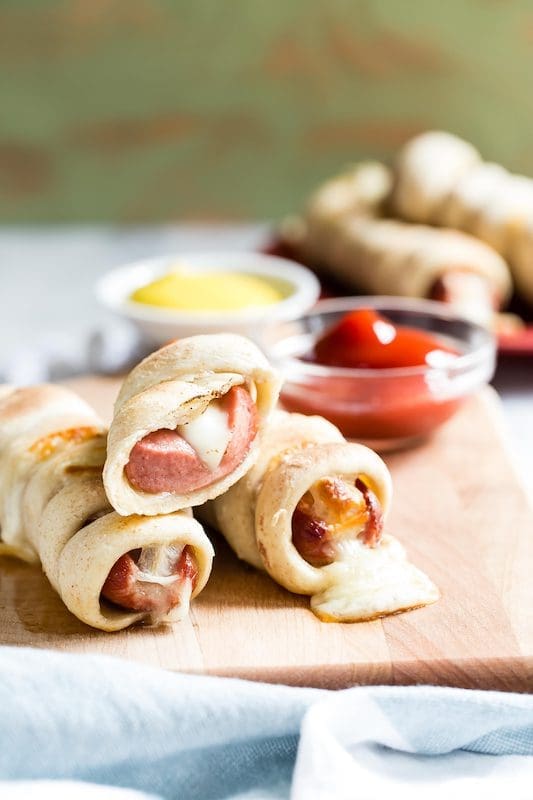 Preheat the oven to 450F
Divide the dough into 6 equal sized pieces.
Roll each piece of dough into a long, thin rope about 4 times the length of the hot dog.
Slice each piece of string cheese in half lengthwise. Slice each hot dog in half lengthwise, but make sure to not cut all the way through. Place 1 piece of cheese in between each sliced hot dog.
Starting at one end of the hot dog, wind the pizza dough around the hot dog from one end to the other.
Place the wrapped hot dogs on a greased baking sheet and bake for 15-18 minutes, until the dough is golden brown
Corn Dog Muffin Bites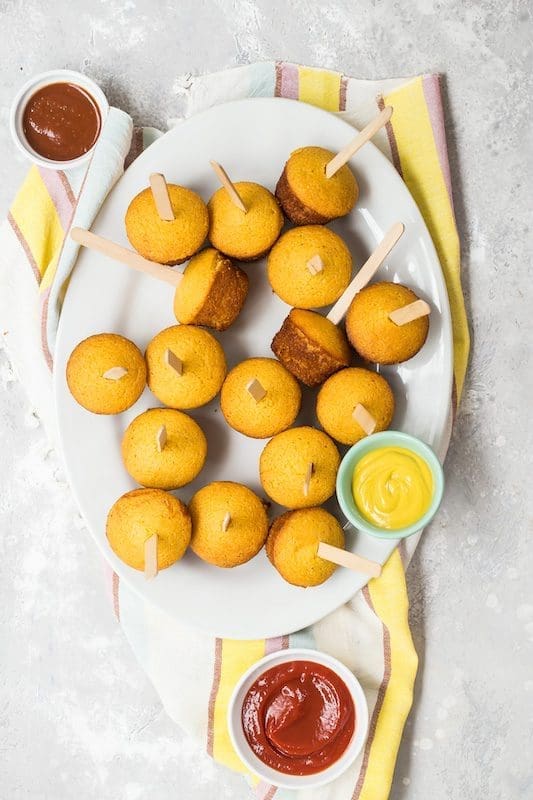 Prep time: 5 minutes
Cook time: 14 minutes
Ingredients
1 3/4 cups cornmeal
3/4 cup all-purpose flour
1 tablespoon baking powder
1 teaspoon baking soda
1/2 teaspoon kosher salt
1/4 cup honey
1 1/2 cups buttermilk
2 large eggs
1/4 cup vegetable oil
3 veggie hot dogs, cut into 1/2-inch coins (you can also use turkey or beef)
Directions
Preheat oven to 425F degrees.
Mix the cornmeal, flour, baking powder, baking soda and salt in a bowl.
In a separate bowl, whisk together the honey, buttermilk, eggs and oil.
Pour the dry cornmeal mixture into the wet ingredients and thoroughly combine with a whisk.*
Grease muffin cups with cooking spray, softened butter or oil on a paper towel and then pour one tablespoon batter into greased mini muffin cups. I use two 24-cup mini muffins pans!
Lay hot dog slices cut-side down in the center of each batter-filled muffin cup.
Top with an additional tablespoon of batter.
Bake until starting to turn golden, about 14 minutes.
Add popsicle sticks after baked and serve.
* Boxed cornbread mix also works great in this recipe. Follow the directions of the boxed mix, prepare enough batter to yield at least 40 mini muffins and skip to step 5 to continue making the bites.
Vegetarian Sheet Pan Nachos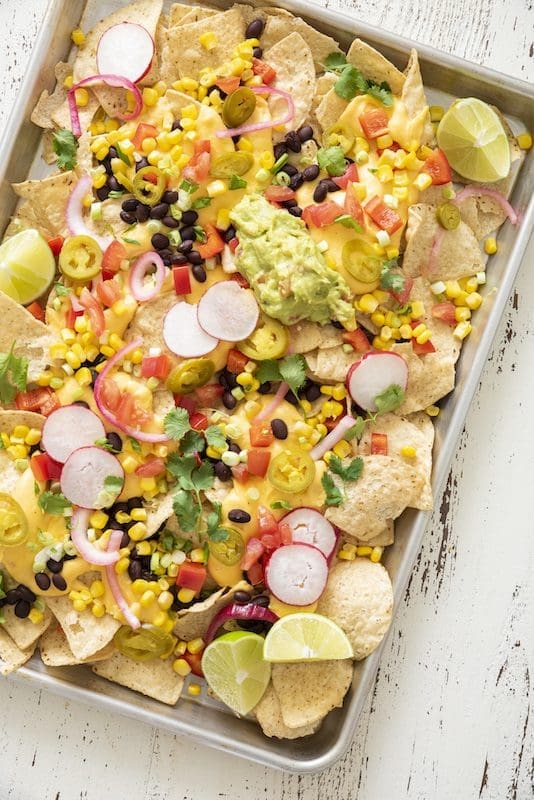 Ingredients
4 tablespoons butter
4 tablespoons flour
1 1/2 cups milk
2 cups Mexican cheese or a mix of Monterrey jack, mozzarella and cheddar
1 teaspoon nacho, taco or fajita seasoning
1 16-ounce bag tortilla chips
1 can black beans, rinsed and drained
1 bell pepper, diced
1 cup frozen corn, defrosted
1 tomato, seeded and diced
1/2 cup sour cream
1 cup guacamole, or 1 ripe avocado, cut into chunks
1 lime, cut into wedges
pickled onions (recipe linked below)
Optional Toppings
radish, sliced
salsa
scallions, diced
cilantro
pickled jalapeños
Directions
Melt the butter in a medium saucepan on low to medium heat.
Sprinkle in the flour and whisk until it thickens creating a roux, about 1-2 minutes.
Add about 1/2 cup milk whisking continuously until milk is absorbed and then add remaining milk. Continue cooking and stirring until bubbles start to appear.
Add cheese and taco seasoning to the roux and stir until mixture is melted and combined.
Place the chips on a 1/2 sheet pan.
Top chips with the nacho cheese mixture followed by beans, bell pepper, corn, tomatoes and guacamole, pickled onions and lime. You can also top with optional ingredients.
Additional Resources
Discover more recipes on East End Taste by clicking here.