When you have been used to working at home, it can be easy to slide into a slightly different routine than when you're in the office. Suits get swapped for sweatpants; a clean desk policy gets replaced by abandoning all your paperwork at the end of the day.
However, doing this could mean that you struggled to keep your productivity levels up and push forward your own work and personal development. You might get easily distracted, or struggle to find the items that you need, leading to wasted time. Luckily, there are some changes that you can make, combined with a solid routine, that can kickstart your career again.
Get Yourself a System
In an office, everything tends to have its place. You might have filing cabinets or wall calendars to help with your organisation. Often, this is reinforced by needing to clear your desk at the end of the day for cleaners, or if you are sharing a working space.
However, at home, it was probably easy to get into the habit of filing paper into one messy 'paperwork drawer', and not spending enough time really keeping your space organised. Not only does it look tidier, but being able to get your hands on the paperwork you need, when you need it, is vital for success and productivity. It looks more professional, too.
Whatever option you choose to organise your files, make sure that it works for you.
Keep it Clean and Hygienic
It's important to set up a routine. Make sure that you are wiping down surfaces, cleaning your computer, keyboard and mouse, as well as dusting and hoovering regularly.
This will ensure that you have a clean and tidy workspace, as well as reducing any germs that might have been picked up, potentially meaning that you are less likely to get ill. If you suffer from allergies, sitting in a dusty room won't help either. Make sure to check out the latest reviews of all the best vacuum cleaners, choosing one with a HEPA (high efficiency particulate air) filter for best performance.
Why not also consider updating your flooring? If you have regular clients coming in and out of your office, you may want to consider investing in anti-slip resin flooring. This type of flooring is perfect for an office setting, a yoga studio, restaurant/cafeteria, hallway, or any type of business that has a lot of foot traffic. Search for top rated and reliable resin flooring contractors to get started.
Go Minimalist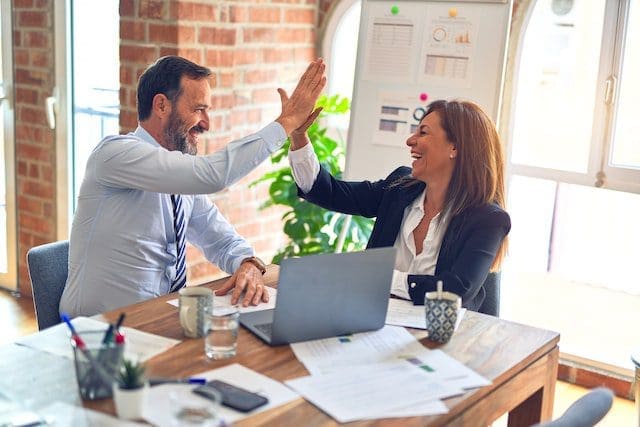 Some people do find that a slightly untidy desk helps with their productivity. Just make sure that it's helping you, rather than hindering you. The easiest way to help your mind focus on the task at hand is to reduce the number of distractions you have around your workspace.
Going for a minimalist approach has been shown to improve performance, with studies showing that people who have a clean desk can focus for over 7 minutes longer than those with a messy desk, as well as reporting increased persistence.