Experience the epitome of luxury and charm at The Beach Club at Charleston Harbor Resort & Marina in South Carolina. The Beach Club is nestled along the picturesque waterfront, where your escape begins with stunning vistas of the city skyline and the iconic Ravenel Bridge. Immerse yourself in the essence of the Lowcountry with regional design, inviting verandas, and bespoke furnishings.
Arriving at Charleston Harbor Resort & Marina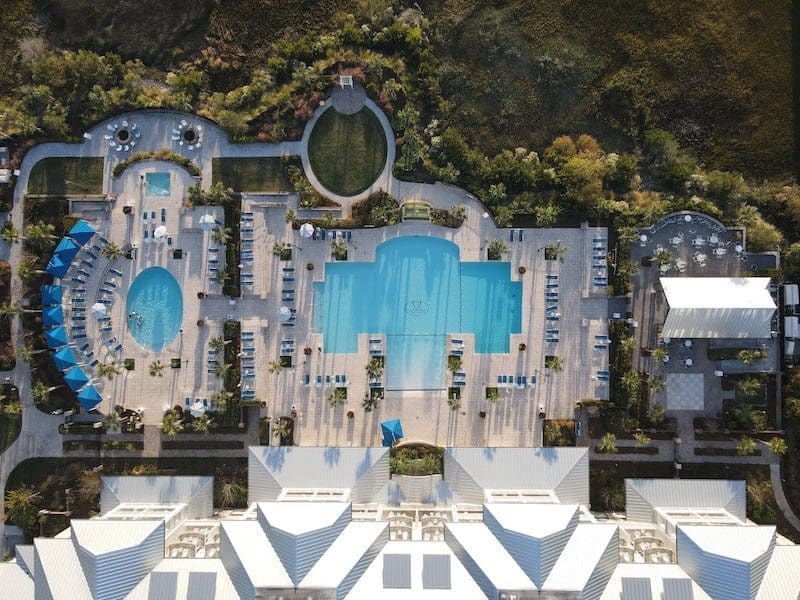 When visiting Charleston Harbor Resort & Marina, you have several transportation options to get downtown and to and from the Charleston Airport:
Hotel Shuttle
The resort offers a convenient hotel shuttle service that operates year-round, providing pick-up and drop-off in front of Key West Hats on North Market Street.
Driving
For a cost-effective option, you can drive from Charleston Airport to the resort, which takes approximately 19 minutes.
Taxi or Uber/Lyft
Another quick option is to take a taxi, also taking around 19 minutes.
Bus Route
Alternatively, you can take a bus from Charleston Airport to the resort, with stops in Charleston and other locations. This option takes approximately 1 hour and 21 minutes.
Accommodations at the Beach Club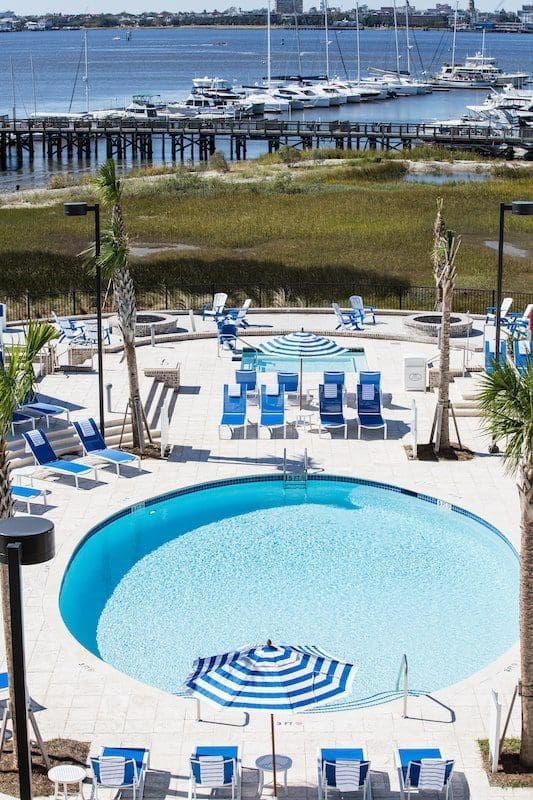 The Beach Club offers various types of accommodations, each designed to provide a unique and luxurious experience:
Family Parlor Room
This 750-square-foot suite is perfect for families, featuring a king bed, a separate room with two twin beds, a cozy fireplace, and a luxurious bathroom with a deep soaking tub and walk-in shower.
Garden Studio
The Garden Studio Suite offers 580 square feet of elegantly appointed living space, including a king bed, a spacious soaking tub, a separate shower, and a charming fireplace.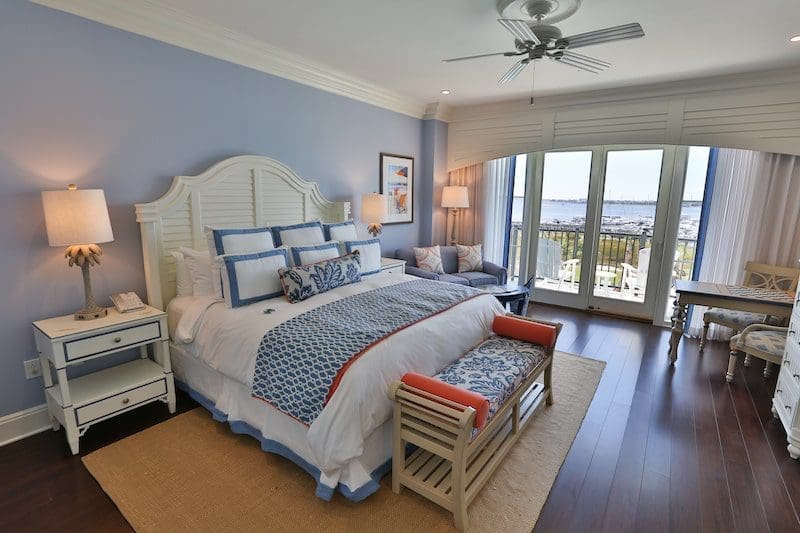 Harbor Deluxe Room
Designed for relaxation, this room boasts 535 square feet of comfort, with the choice of one king bed or two queen beds, a deep soaking tub, a separate shower, and a cozy fireplace.
Patio Deluxe Room
Ideal for a romantic escape, this ground-level, poolside room provides 535 square feet of romantic ambiance, featuring a king bed, a cozy fireplace, and a refreshing shower.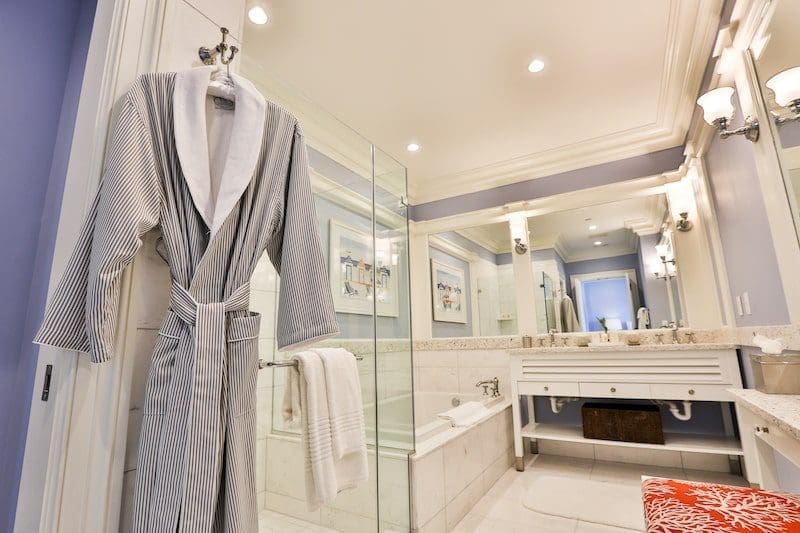 Dining at The Beach
Club
Enjoy dining with stunning views at The Beach Club.
Indulge in a dining experience like no other at The Beach Club, nestled on Patriots Point in the charming community of Mount Pleasant. Boasting breathtaking panoramic vistas of Charleston Harbor and the downtown skyline, this exquisite member of the Leading Hotels of the World seamlessly marries Southern charm with opulent amenities. 
The Beach Club Tiki Bar offers an array of delectable dining options for enjoying poolside. A favorite is the Pimento Cheese Dip and Ahi Tuna Bowl. The Tiki Bar is open 11am until sunset. 
The Charleston Harbor Fish House promises waterfront dining with picturesque views of the historic downtown area, complemented by a menu featuring locally sourced sustainable seafood, produce, and vegetables.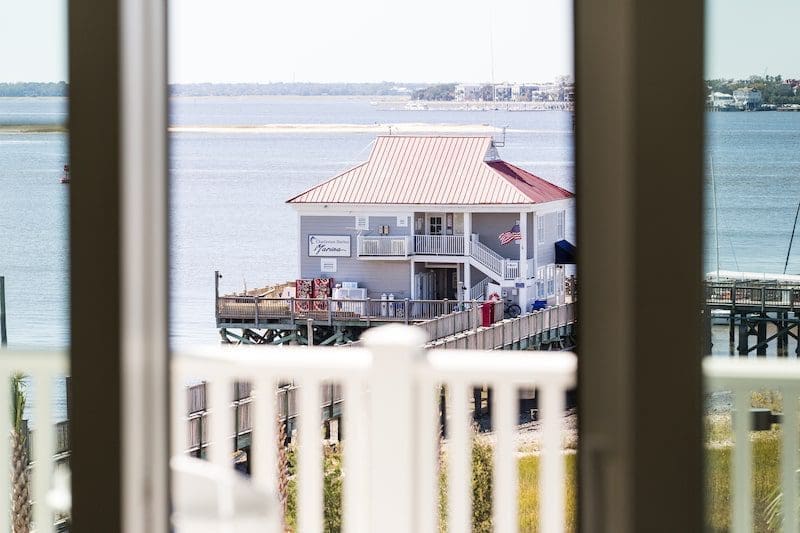 For a refreshing open-air atmosphere, the Bridge Bar offers fresh seafood and craft cocktails. It is open from 4-10pm and features live music on select nights.
Alternatively, the Reel Bar invites you to an indoor setting with teak captain chairs that have a rich maritime history, salvaged from a ship off Miami's coastline.
Amenities at The Beach Club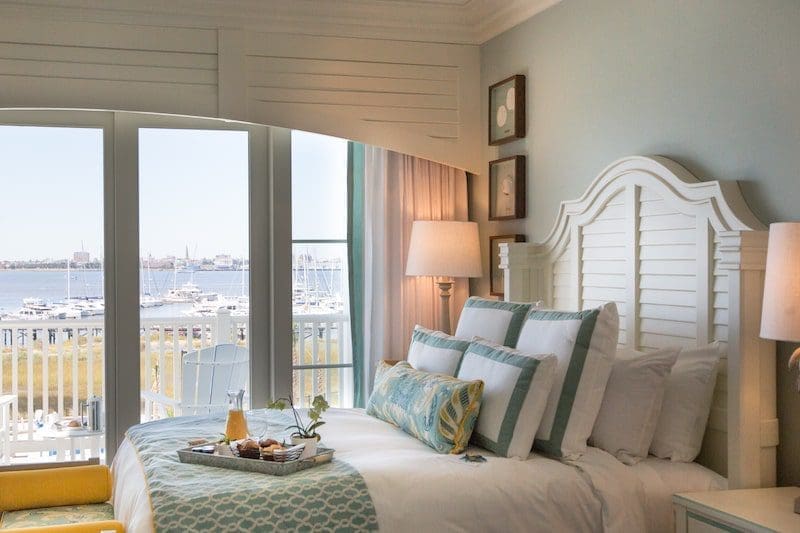 The Beach Club offers a wide range of amenities to enhance your stay:
Poolside bar, terrace, and garden: Perfect for relaxation with scenic views.
Estuary Spa: Onsite spa offering massages and body wraps.
Two onsite restaurants: Enjoy fresh seafood, southern comfort classics, and al fresco dining.
Dry cleaning/laundry services
2 bars and a 24-hour gym
Additional perks include an outdoor pool with free cabanas, free self-parking, full breakfast available, free bicycle rentals, supervised childcare, and more. Guest rooms feature fireplaces, premium bedding, air conditioning, and balconies or patios.
Estuary Spa
The Estuary Spa at The Beach Club is a tranquil retreat featuring five treatment rooms, a coed relaxation lounge, and LEED certification, emphasizing ocean-inspired decor and breathtaking views.
The Spa offers a variety of face and body treatments, including the Nirvana Stress Relief Massage and the Blue Eucalyptus Massage, priced between $130 and $180.
Children's Activities
The resort offers exciting activities for children:
Sailing Camp for Kids: Learn the fundamentals of sailing with expert instructors.
Mini Mariners Children's Program: Engage in games, crafts, and outdoor activities.
Ages 5-12: Kids enjoy supervised fun with meals and surprises.
Nearby Points of Interest
Explore Charleston's attractions during your stay:
Patriots Point Naval & Maritime Museum: Visit the USS Yorktown aircraft carrier, USS Laffey destroyer, and USS Clamagore submarine, along with exhibits.
Ghost Tours on the USS Yorktown: Explore stories of sacrifice and heroism.
Fort Sumter National Monument: Accessible via a short cruise, this site marks the first shots of the Civil War.
Patriots Point Links: Golf enthusiasts can enjoy an 18-hole course with harbor views.
Downtown Charleston: Discover fantastic restaurants, shops, historic homes, and museums.
South Carolina Aquarium: Located across the Cooper River, it offers an educational experience with over 5,000 animals.
Boone Hall Plantation & Gardens: Explore southern heritage at the #1 plantation in Charleston.
Shem Creek Fishing Village: Enjoy leisure activities, unique shops, and waterfront dining.
Horse-drawn carriage tours: Explore 300 years of history in historic Charleston.
Charleston Harbor Resort & Marina is your gateway to unforgettable experiences in this enchanting city, offering a blend of luxury, relaxation, and adventure.
Click here for Charleston Harbor Resort & Marina's availability, current offers, stay packages, and more.