Celebrate Pride and how far we've come all year long. Show your support for the LGBTQIA+ community with our curated list of colorful and fun brands that are giving back to several notable non-profit organizations across the USA that reflect the ongoing efforts that Pride stands for.
FRESHY
Supporting the Sacramento LGBTQ Community Center
FRESHY is brightening up the sneaker scene for Pride with the launch of their Brites, available in the six colors of the rainbow.
FRESHY is an inclusive footwear brand created to shake up the status quo and fight complacency. The footwear brand is proud to partner with the Sacramento LGBTQ Community Center. FRESHY is also donating all of its koozie proceeds to the foundation.
MA Design
Supporting The Trevor Project
For this Pride month, MA Design created a tee shirt using the colors of the LGBTQ+ + Ally flags with the tag line "Stronger Together", a core value of the firm.
The tee shirts are hand-printed by a local company that creates jobs for adults with Autism. MA Design will match all proceeds, with 100% of it benefiting The Trevor Project. The shirts can be purchased by emailing productions@designwithma.com.
MiliMili
Supporting Pronoun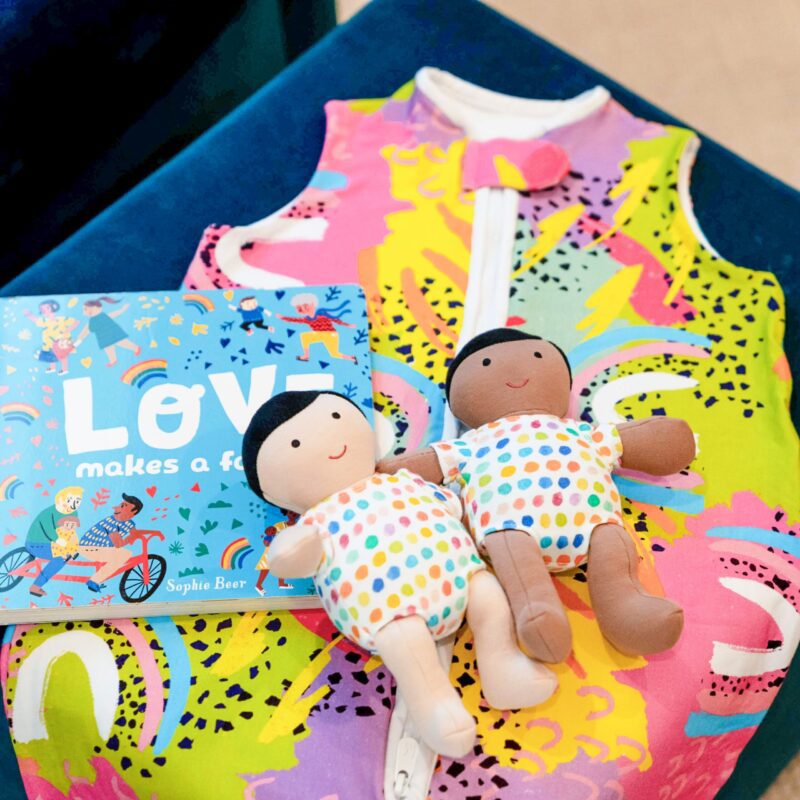 MiliMili has launched a collaboration collection with
Pronoun by Jesse Tyler Ferguson
. 100% of the profits from the sale of items in this collection will be donated to
Pronoun
and their support of organizations that are fighting daily to achieve equality for us all.
The collection was designed with queer artist, Katie Kaapcke. It features their modern take on a rainbow print, reflecting all the flags of the LGBTQIA+ community.
National Vision
Supporting the Matthew Shepard Foundation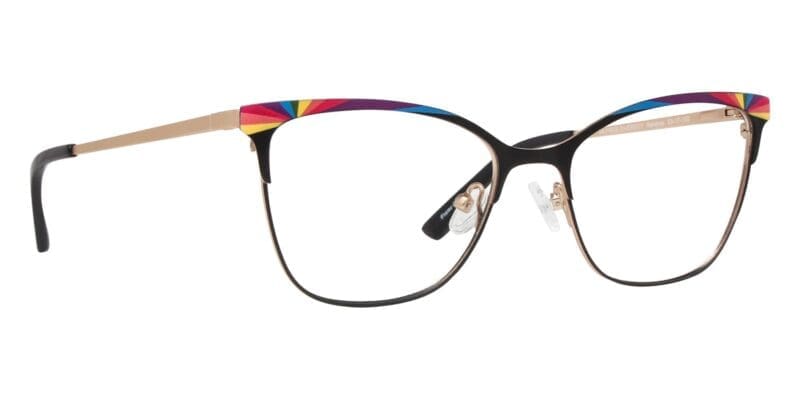 In honor of Pride Month and beyond, National Vision launched a new Pride Collection, a limited series of gender-neutral eyewear celebrating Pride Month and the LGBTQIA+ community. The capsule is available in America's Best Contacts & Eyeglasses stores and Vision Centers brought to you by Walmart.
In conjunction with the launch, National Vision is donating $25,000 to support the Matthew Shepard Foundation, which empowers individuals to embrace the dignity and equality of all people through local, regional and national outreach, advocacy and resource programs.
The Pride Collection features eight optical frames and four sunglasses. The collection showcases the Pride rainbow flag and features on-trend styles like crystal frames, oversized geometric and two-tone designs.
Naturalizer
Supporting The Trevor Project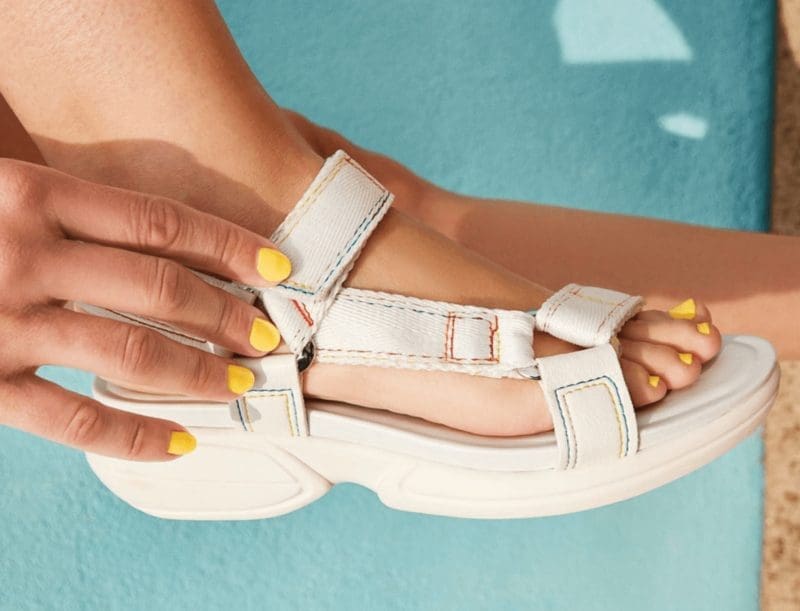 In celebration of Pride Month, Naturalizer's exclusive Pride Shoe is stepping in with a good cause.
In celebration of Pride and the LGBTQIA+ community, the exclusive Pride Shoe represents awareness and acceptance of when we are our truest selves.
Designed with a mission in mind and the goal of benefiting The Trevor Project, 20% of sales from Naturalizer's Flores Sandal, in both Black and White Multi, will go towards the foundation and its efforts with a minimum donation of $50,000 from Caleres and its brands.
Proper Cloth
Supporting The Ali Forney Center
Proper Cloth is hosting a month-long charity promotion for Pride Month. The brand has released a collection of shirts with a special limited-edition heart monogrammed pocket. $20 from each shirt sold is donated to The Ali Forney Center.
For their Pride Month Campaign, Proper Cloth offers an option to add a pocket with an embroidered heart onto any shirt including short sleeves and polos. This is their 3rd year partnering with The Ali Forney Center.
In addition, Proper Cloth has designed their very own Pride Sock, with 100% of proceeds donated for every pair sold.
Psudo
Supporting the Los Angeles LGBT Center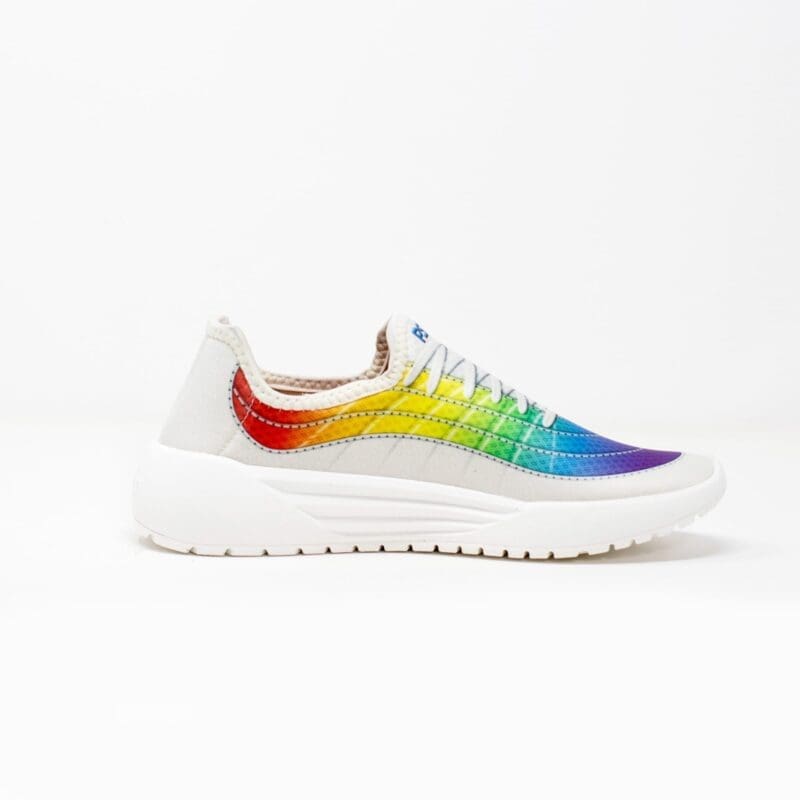 Sustainable sneaker start-up Psudo has designed a limited-edition sneaker, the men's and women's Racer in Rainbow, to celebrate PRIDE month. $20 from the sale of each pair being donated to the Los Angeles LGBT Center. The made in America sneaker is made with recycled water bottles and designed using sublimation printing with zero-waste.
For every Psudo sneaker produced, 7.2 single-use plastic bottles are saved from entering the world's oceans and landfills. To date, Psudo has been able to divert over 61,000 bottles and counting.
Swoveralls
Supporting The Phluid Project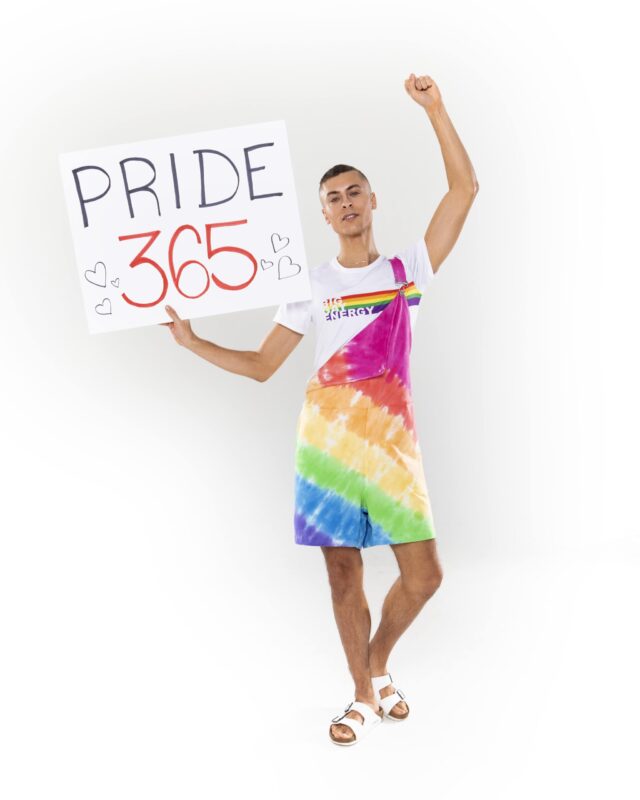 The new Pride Rainbow Stripe Tie Dye Swoveralls in partnership with The Phluid Project has launched in honor of Pride. 10% of proceeds from each pair sold will be donated to support the most at risk of the LGBTQIA+ community, trans-led organizations and homeless queer youth at a global and grassroots level.
The limited-edition Rainbow Stripe Tie Dye Swoveralls are made in the USA. Each are made with a lightweight organic cotton blend and functional design details: a classic front bib, side pockets, hidden zipper pocket, adjustable straps, zipper fly, and jogger-style pant cuffs.
Tipsy Elves
Supporting San Diego Pride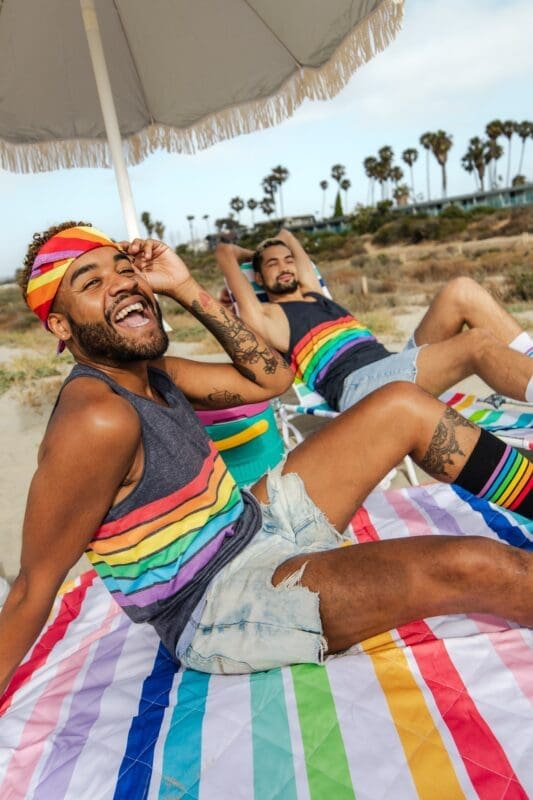 The Tipsy Elves Pride collection is full of fun, care-free and colorful clothing/accessories. A longtime ally of the LGBTQ community, Tipsy Elves Pride collection is flattering, durable and stretchy so you can stay comfy from the Parade to the after-party. Items include tees, tanks, fanny packs, male rompers, onesies, button-downs, socks and more.
10% of Pride product sales goes toward San Diego Pride.
WorldFinds
Supporting the Matthew Shepard Foundation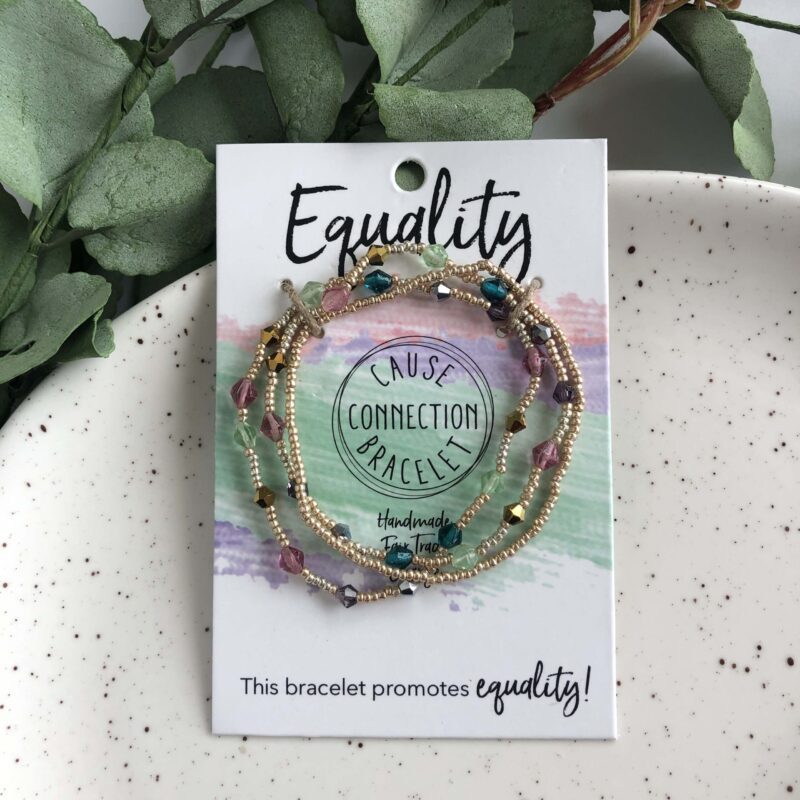 As a member of both the Fair Trade Federation and Green America, WorldFinds sells a beautiful collection of ethical jewelry and accessories. 15% of sales of their Equality Bracelet support the Matthew Shepard Foundation.
Check out their full Pride Collection here.
Their Equality Bracelet is handmade by women artisans in India and also helps fund equality and diversity training initiatives.