The Connaught, located in the heart of London's Mayfair neighborhood, has unveiled The Connaught Patisserie. The Patisserie is located inside the hotel with its own entrance on Mount Street. Guests are greeted with grand columns and a pink flag before they step inside the exquisite space.
The Grand, Pink Interior
The interior features chic, pink architectural detailing that is quite eye-catching! Step inside to Rosa Tea pink marble floors and pink polished walls. Sit in their modern body-hugging chairs surrounding intimate circular marble tables. Look up and see hand blown hot pink crystal lights. The pièce de résistance is the warm white marble counter that is the heart of the shop.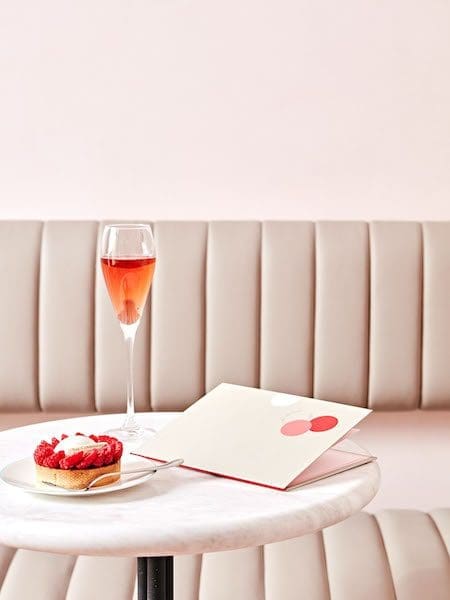 The Connaught is able to hand deliver pastries and beautifully boxed and ribboned celebratory cakes to those residing in Mayfair. Delivery is of course in true Connaught fashion: elaborate and charming.
The Patisserie's Sweet Selections
The Connaught Patisserie's selections range from a morning pain au chocolat, to delicate afternoon pastries and cakes. Loaf cakes and 'gâteaux de voyage' sit on the counter, from lemon madeleines to walnut financiers and chouquettes.
There is also an exclusive pastry from The River Café, a long-time friend of The Connaught. Their Chocolate Nemesis will be hand delivered daily to The Connaught Patisserie. This is the first time the cake has been available outside of its home.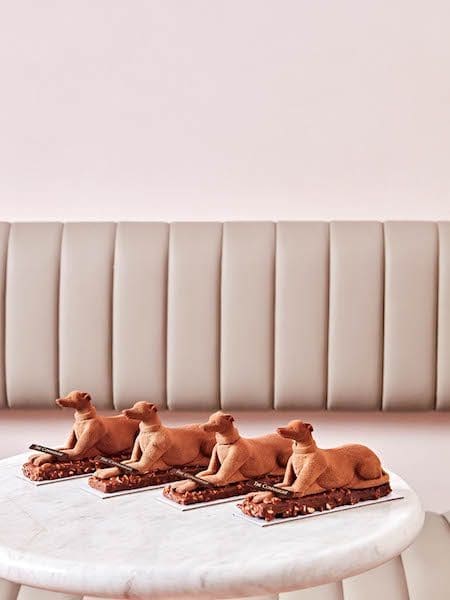 The shop is also home to ten seasonal pastries. These include the Paris-Brest, Apple Tatin and St Honoré. Contemporary pastries include the vibrant Yuzu Éclair, the Mango and Passion Fruit Mousse cake, and the Chocolate Tonka Tart. One of these will be an ever-changing daily cake.
The much loved Connaught hound has been reimagined as a chocolate hazelnut cake. This miniature work of art which is a patisserie signature.
The Connaught Patisserie also creates bespoke large and decadent cakes. These are perfect for birthdays, anniversaries, or any reason to celebrate.
Also available are coffee, artisan tea, and (of course) champagne.
Hours & Information
The shop is open seven days a week from 8am-6pm Monday thru Friday, and 10am-5pm on Saturday and Sunday.