From Bordeaux to Biarritz, the south-west coast of France is a wonderful mix of beautiful beaches, historic towns and delicious local food and wine. It's one of those unforgettable places where you see something new every time you visit, and the atmosphere and local dishes change with the seasons. 
Planning a trip here can feel a little overwhelming, especially if you only have a few days, but it's perfectly possible to spend 4/5 days exploring the area and get a taste of what it offers.
Bordeaux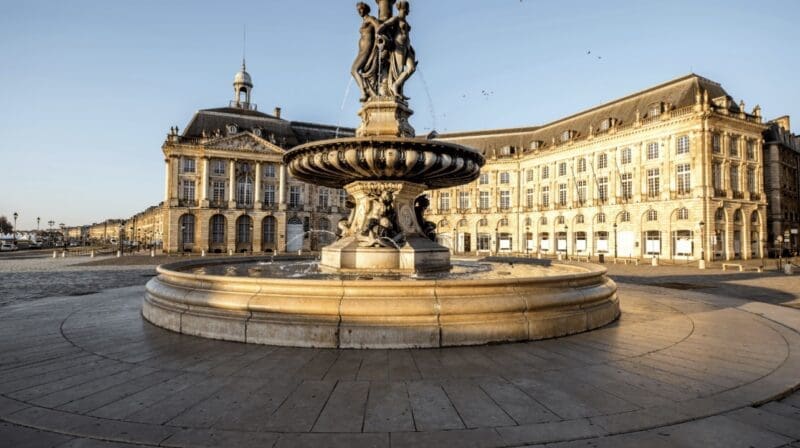 Start your trip in Bordeaux. This vibrant city effortlessly manages to combine history (it's home to more than 350 historic monuments – the second most in France after Paris) with modern living- some of the newer buildings and museums are breathtaking.
Getting to Bordeaux is easy from almost anywhere in the world. The international airport just outside the center has regular flights to most major hubs, and it's well connected on major motorways to the UK, Spain and Paris. In fact, it's quicker to take the TGV (train) from Paris to Bordeaux- only 2.5 hours by train instead of a 6-hour drive.
Like most cities, there's a lot to see. Spend a couple of nights here and allow yourself time to explore the major attractions, which should include:
Place de la Bourse
This incredible square was designed by Louis XV's favorite architect (Jacques Gabriel) and is one of the most famous places in Bordeaux. Don't miss the water mirror- a very thin layer of water over the square. If you arrive very early (before the tourists start walking through it) you'll get the most incredible photos of the city in the reflections. 
La Cité du Vin
One of the more eye-catching structures in the city, this museum is a monument to all things wine. You could easily spend all day in this building alone and not see everything- there is so much knowledge about the history of wine, plus videos and other interactive things to do. Don't miss the chance to enjoy a drink at the Belvedere bar- with incredible views out over the Garonne River.
La Grosse Cloche
This is one of the oldest clock towers in France, dating back to medieval times. The unusual twin peaked roof hides the huge bell- weighing in at almost 8 tons! It doesn't ring very often- only on special occasions like Bastille Day. 
Local Food to try in the area: Canelés & Bordelaise sauce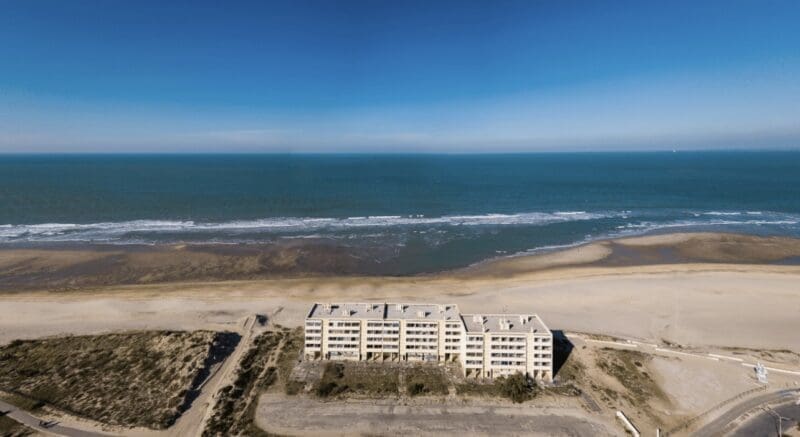 Bordeaux is proud of its local cuisine. Here are a couple of things to look out for in the area:
Locals to Bordeaux are called Bordelais(e), which is also the name of a rich red wine & shallot sauce, a delicious accompaniment to steak.
And keep an eye out for Canelés in the bakeries or on the dessert menu- they are a small pastry flavored with rum & vanilla, baked in a specific mold and then sprinkled with sugar. Yes, you're allowed two. Or three.
TOP TIP: These keep for a surprisingly long time, so make delicious gifts to take home for loved ones. If they last that long…
Wine Tasting
Whilst you're in the area, you must visit a couple (at least!) of vineyards and sample some local wine. There are over 6,000 wineries in the area, so choosing one can be overwhelming- especially when the most famous ones book up months in advance.
The best advice is to ask your hotel concierge to help you book one- they will often have contacts to help you find places with availability at the last minute. Alternatively, go to the local Tourist Office; again, they will know who to call to help you find spaces.
You're more likely to be drinking red than white. Approximately 45 million liters of red wine is produced compared to 170,000 liters of white wine in the Bordeaux region. Rosé is becoming more popular in the area too.
You can choose whether to join a day tour. Day tours encompass visiting several vineyards and wineries. Or you could go for a lunch or evening tasting where dinner or nibbles are provided as an accompaniment. Whatever you choose, you can be sure you'll learn a lot- the producers in the region are incredibly competitive and very knowledgeable. 
Road tripping along the south-west coast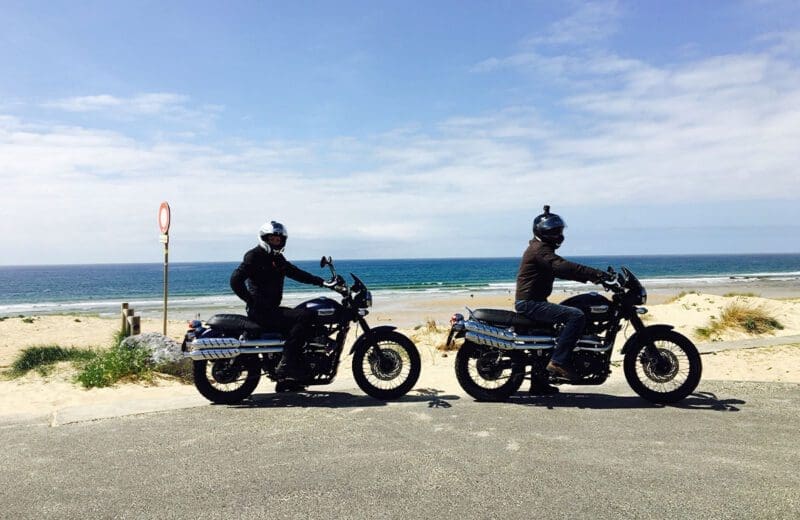 Once you're ready to continue your exploration of the south-west coast of France, you'll find things a lot easier if you hire your own vehicle. Sure, you could hire a car or even a campervan, but in the summer, why not consider hiring a couple of motorbikes. After all, motorcycling in France is one of the best ways to explore the tiny roads and little villages of the region. 
However, you choose to travel, you have a choice to make when you leave Bordeaux. If you have time, head north-west up the D1 and visit Soulac-sur-Mer. This is a very pretty seaside town with fantastic boutique shops and a lovely beach, and views across the Gironde estuary. It's less than a two-hour drive from Bordeaux. You could easily visit for lunch and a quick explore or stay and enjoy the nightlife. There are plenty of restaurants and cafes to enjoy.
Dune du Pilat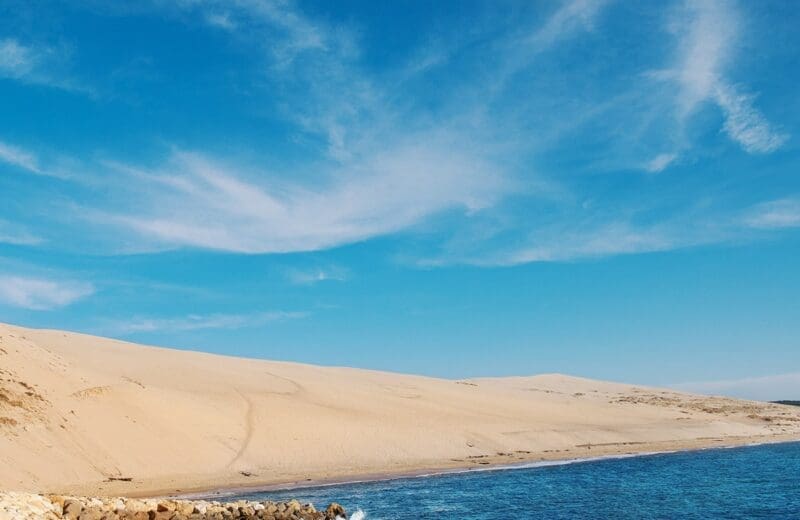 From here head south towards the Arcachon basin. Or go straight to Arcachon from Bordeaux if you didn't want to detour up the peninsula. Then, head for the jaw-dropping Dune du Pilat. This is also called the Great Dune of Pyla- and it's impressive enough to warrant two names.
This is the largest sand dune in Europe, measuring around 106m high and running for nearly 3km. It's ENORMOUS. Walking up it is not for the faint-hearted, but the view from the top is worth it. There are solid steps built into the side of the dune; be sure to bring plenty of water and take your time.
If you want to spend the day, there are plenty of activities to do in the area. These include swimming (be careful of the rip tides), sunbathing, paddle boarding and even paragliding from the top of the dune when the weather is right. 
There are plenty of hotels and campsites in the area if you decide to stay over. If you are motorcycle touring, be very careful- the sand can get into your brakes so needs to be cleaned off. 
Biarritz
The last leg of your road trip takes you down the west coast towards Biarritz. It's about a 2-hour drive on the fast roads. Or you can follow the slow coast road all the way down. It ducks inland on occasion, but the landscape is still pretty. Mimizan is a great spot for the leg stretch and a bite to eat if you go this route.
Biarritz is one of the most famous places in France and a firm favorite with the wealthy and surfers alike, creating a wonderfully eclectic, laid-back atmosphere. 
Napoleon III's wife Eugénie de Montijo favored the area, making it part of the royal circuit and even now the area is full of up-market hotels, huge villas and elegant restaurants.
Where to Stay
One of the most famous is the Hotel du Palais, which used to be the palace used by Eugénie. The building has been a hotel since 1893. It boasts two swimming pools, a spa and a world-renowned restaurant with spectacular views over the ocean.
There are plenty of other hotels and campsites in the area, many with secure parking for your vehicle.
See & Do
The beach (La Grande Plage) is fantastic- sandy and fairly sheltered, whilst still providing great waves for surfers- of which there are plenty. However, the nearby Cote des Basques beach is the most popular surfing beach in the area. Please take care if swimming in the area- partly because of the sheer number of surfers. Swimmers should also be careful as the currents and rip tides along this Atlantic coast are notoriously strong. If you're not into swimming, you can also book a yacht charter with your friends or family and explore the beauty of the location.
Cuisine
Biarritz is famous for its Basque cuisine and fresh seafood and nowhere does that better than La Clos Basque. This Michelin star restaurant mixes local delicacies with a Spanish flavor (the Spanish border is only around 30km away) and all the ingredients are locally sourced. Le Clos Basque is very popular so book well in advance if you'd like to eat there.
Additional Resources