Craving a trip to Lisbon, the capital of Portugal? This gourmet paradise has recently seen an increase in Michelin starred chefs, as well as a greater appreciation of local specialities.
Discover what must be tasted and experienced with our full Lisbon Food Bucket List: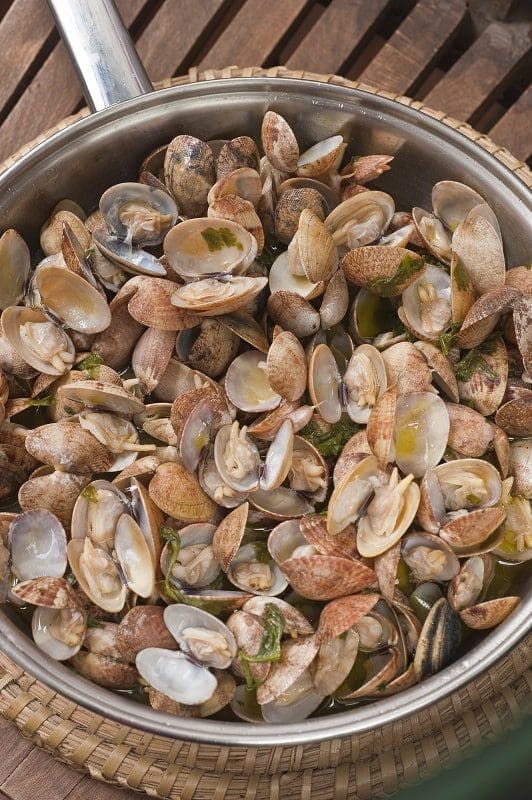 The Bairro Alto is the ideal place for a bohemian night out.
The entire area is renowned for its amazing, high-quality restaurants and nightlife – but be warned. Portuguese people tend to eat late so you need to wait until about 11pm to get the full atmosphere.
Right in the centre of historic Lisbon is the Belcanto.
Belcanto is often described as one of the world's top restaurants. Chef Jose Avilez is a two starred Michelin chef and his dishes are known to be delicious and eccentric. The menu itself is pure fun with entrees  named The Garden of the Goose that Laid the Golden Egg, Dip in the Sea, and Suckling Pig Revisited!
Equally inventive is Joao Rodrigues.
Rodrigues is a chef at the Hotel Altis Belam. He combines traditional cuisine with one-of-a-kind flavors from the former Portuguese colonies to create dishes like Hamachi salad marinated with prunes. He won his first Michelin star in 2011, and it has been renewed every year since. Additionally, Rodrigues was awarded the title: Chef of the Future by the International Gastronomy Academy.
Mercado da Ribeira
Located on the Cais do Sodre, Mercado da Ribeira is an amazing food court home to many restaurants staffed by top chefs. Expect trendy new recipes that incorporate speciality foods sourced from across Portugal including ham from the Alentejo, fruit from the Algarve, sheep's cheese from Azeitao and wines from Garrafeira Nacional. It is worth eating at a less conventional hour as it can get very crowded during meal times.
Mercada de Campo de Ourique
Quieter and more relaxed is the Mercada de Campo de Ourique. It isn't as busy as the Mercado da Ribeira, and it offers a great selection of food from handcrafted beer to extremely sugary sweets and some amazing meals.
Ramiro on the Avenida Almirante Reis
This destination is popular amongst seafood aficionados. Glass cabinets display countless variations of locally caught fish including octopus and scarlet shrimps. This is the best place to enjoy delicious plates of toasted bread covered in garlic butter.
Try one of Lisbon's most popular comfort foods at the Laurentina.
Restaurant King of Cod Aventina Conde. Bacalhau à bras is dried and salted cod traditionally pan-fried. It is served with finely sliced potatoes and scrambled eggs, garnished with black olives and parsley.
Head up to the Ulysses Tower located within the ancient Castelo de Sao.
Use a camera obscura periscope to see some very unique views. Stay and dine at the Casa do Leão restaurant and enjoy the spectacular scenery.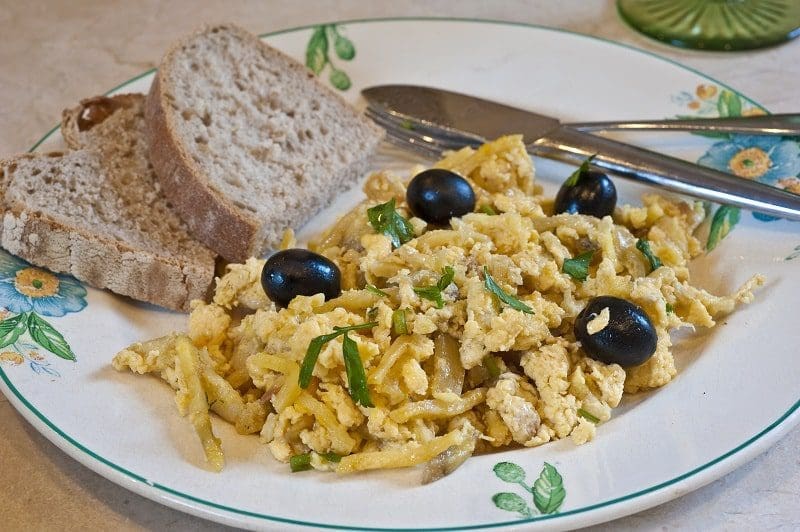 Almost every small restaurant in Lisbon will have the city's signature dish
On the menu: Lulas recheadas à lisbonense. Translated, this means 'stuffed squid of Lisbon style'. Before being baked and garnished with parsley, the squid are stuffed with a stir fried combination of sausage, garlic and onions. It's divine, and a must have when visiting Lisbon.
Peixe e Marisco
Locals love peixe e marisco (fish and seafood) when it comes to food grilled over charcoal and eaten outdoors. Popular options include cherna (wreckfish), garoupa (grouper) and salmonetes (red mullet). For something really different, opt for percebes – gooseneck barnacles resembling dinosaur claws!
Lisbon in June
Lisbon in June is fiesta time when the Festo de Santo Antonio is celebrated. Often regarded as the real patron saint of the city, the Festival is extremely popular. It is always accompanied by lots of outdoor stalls selling grilled fish – particularly sardines – and lots of wine. Grilled sardines served on thick slices of sourdough bread complete with roasted bell peppers has become a traditional early summer dish.
Forget images of Spanish tapas, try Portuguese Petiscos when you visit a bar.
Typical petiscos plates include salade de polvo (octopus salad), caracóis (snails) and pastéis de Bacalhau (cod fritters). 
Bifana
Another popular snack food is Bifana. This can be purchased at any of the countless food stalls to be found across the city. Bifana is no ordinary sandwich – thin slices of pork are marinated in white wine and sautéed before being placed in a soft bun ready for eating.
Conserveira de Lisboa
Head for Conserveira de Lisboa for traditional canned fish, sourced from local Atlantic waters. What makes these really special is the retro packaging unchanged since the 1930's, and sold in a shop with a genuine 1930's interior. It's the perfect place for a gourmet gift!
Wherever you go in Portugal, you can buy Pasteis de nata.
Pasteis de nata are Portuguese egg custard tarts made with golden puff pastry.
By far the best versions are to be had at the Pasteis de Belem bakery in Lisbon. It is there that the original tarts were first created. Only three people in the world are said to know the details of that recipe, passed down through generations of the Clarinha family. That original version is still sold in the Pasteis de Belem bakery under the name Pasteis de Belem.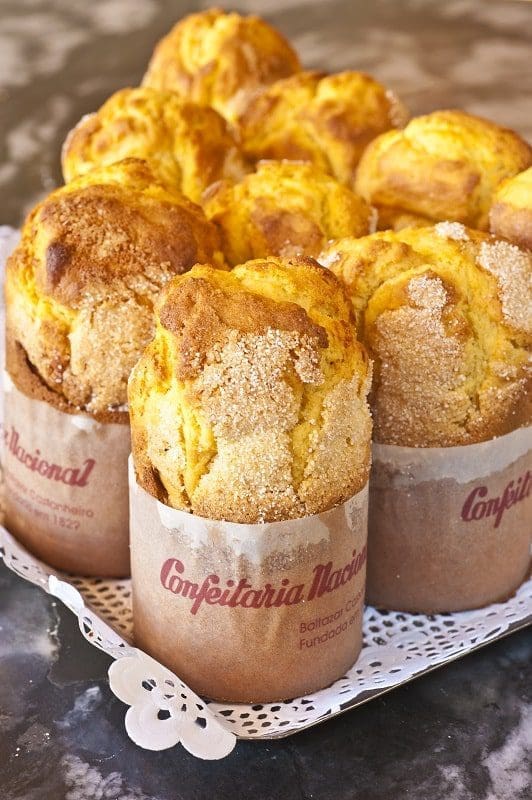 Fancy experimenting with some local cheese? Then head for the Quijaria Nacional on Rua de conceição.
This is the perfect place to try all kinds of Portuguese cheeses including Alentejo, Serra da Estral or even ones from the Azores. Tasting menus are available, and you can buy cheese, cakes, liqueurs and wine to take home.
Throughout the city, you are likely to find Azeitão cheese on offer.
This speciality can only be produced in one place: the town of Azeitão just 24 miles north of Lisbon. It is a very creamy, rich smelling cheese made from unpasteurized sheep's milk.
Mercado Agrobio de Lisbon
On Saturdays, search out local organic markets (Mercado Agrobio de Lisbon). These can be found in various places such as the Campo Pequeno and São Vicente. This is where local farmers come to sell seasonal produce, fruit, vegetables and herbs.
Vinho Verde
Searching for something to drink? Vinho Verde is the most popular wine in the city. The name originates from the green, lush area of northern Portugal where the vines are grown. Slightly fizzy, it is a white wine best drunk young as an accompaniment to summer meals.
Sip Sagres Beer.
Sagres Beer is the oldest beer brand to be produced in Lisbon, and is definitely sought after. It can be found in virtually every bar in Lisbon. Now owned by Heineken, there are varying types of Sagres beer but the most common is a pale lager style beer.