Sri Lanka is one of the best places around the world to enjoy tasty and delicious foods of various categories. If you are a foodie, it gives you access to lots of options. In fact, the foods you will find here are a reflection of their culture and beliefs. Diving into this amazing variety of different flavors is without any doubt one of the best things to do in Sri Lanka.
Below we reveal some of the most famous dishes you'll want to enjoy in Sri Lanka.

Appa
Talking about one of those foods that can make you feel at home in Sri Lanka, Appa ticks all the boxes. The best part is that it can be eaten at any time of the day – as breakfast, lunch or even dinner. Also, Appa has different variations such as jaggery hoppers, milk hoppers and egg hoppers. Its most important component is batter, which is gotten from salt, dried yeast, coconut milk powder, rice flour, and wheat flour. Although sugar can be added, this is optional. If you have always loved spicy foods, Appa can meet your expectations.
Rice & Curry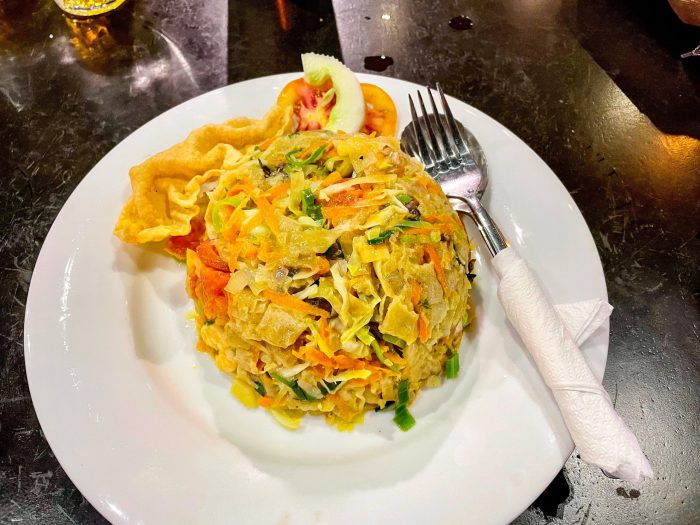 Is this combination the most popular food in Sir Lanka? Well, you can only tell by having a taste of it firsthand. This will make you understand why Sir Lankans have fallen in love with Rice & Curry over the years. It is definitely going to make you feel very comfortable. This food can be prepared using fresh green chilies, tomatoes, onions, mustard seeds, fenugreek, turmeric, vegetable curries and assorted meat. The rice could be kakulu or samba varieties.
Kadala Thel Dhala
If you are a big fan of street foods, then Kadala Thel Dhala can help out. For best results, it is recommended to add fresh bread. One of the reasons why it is popular amongst tourists in Sri Lanka is its high protein. Apart from that, it is super quick to prepare. Some of its ingredients are curry leaves, cumin seeds, mustard seeds, chickpeas, and coconut oil. You can either eat Kadala Thel Dhala as breakfast or snack. This food can make you feel full all day. Thus, it is perfect for people who are watching their weight. Recommendation: To try Kadala in one of the Street Food places is one of the best things to do in Kandy.
Kiribath
In English, this food can simply be interpreted as "milk rice". It remains one of the most popular foods you can enjoy in Sri Lanka. One reason why people love it is that few ingredients are required. Also, it doesn't take long to prepare. With only coconut milk and rice, you can cook this food today. The first step is cooking the rice until it becomes very soft. Also, the coconut milk has to be thick for a creamy texture to be created.
To enjoy this combination even more, you can include kithul treacle. This is known to make kiribath sweeter. Other options you can add to it are lunumiris, bananas, jaggery, or even seeni sambol.
Fish Ambul Thiyal
This can also be called "sour fish curry" in Sri Lanka. It is true that there are many fish curries you can eat in this location. However, Fish ambul thiyal seems to stand out. A large fish will be cut into different pieces (cubes). The next step is frying them using a combination of different spices such as curry leaves, panda leaves, garlic, turmeric, cinnamon, and black pepper.
For the soured flavor, dried goraka is used. Ambul Thiyal is actually a curry fish in its dried form. Once all the ingredients mentioned above have been put including water, it will be cooked till the liquid has reduced.
Kottu
Another name for this is Kottu roti. Whenever you visit any of the markets in Sri Lanka and hear metals producing those clanking sounds, know that Kottu is very close. It is usually called Sri Lanka's hamburger. Due to its tasty as well as greasy nature, Kottu is a special fast food you can't miss out on. It looks like fried rice after being prepared. The only difference is that it has been made with a crispy bread called Godhambara roti.
Again, if you love spicy foods, kottu is worth given a try. In most cases, it is lightly spiced for the ultimate satisfaction. You can still select ingredients that the chef should include.
Shrimp or Prawn Curry
Sri Lanka has gained a reputation as a place where you can have unrestricted access to fresh seafood. Of course, shrimp/prawn curry is one of them. Please note that Sri Lankans have various methods of preparing this delicious food. Therefore, don't be surprised after discovering that two restaurants are offering you something that looks slightly different. Some ingredients of this tasty food are oil, seasoning, curry powder, curry leaves, coconut milk, tamarind paste, garlic, onion (chopped), turmeric powder, fenugreek seeds and mustard seeds. Its aroma is quite irresistible.
Wambatu Moju
Eggplant curry is what this food is called. Just as the name sounds, it is an eggplant dish which many consider to be "sweet and savory". Although this classic food can take up to 40mins to be prepared, it is worth the wait. For instance, the eggplant (sliced) will have to be deep-fried. It will also be stir-fried alongside ingredients like onion, green chili and other spices. After being prepared, you will notice it has a sweet, sour and spicy taste. This makes it one of the most unique dishes you must try out firsthand in Sri Lanka.
Samosa
This snack can offer more than you will ever imagine in terms of the ultimate satisfaction. It gives you a feel of what curry tastes like in Sri Lanka without eating a normal dish. If you enjoy eating light foods in the morning, Samosa is the perfect option to explore. Apart from breakfast, it can be taken as snack in the afternoon. This popular fried pastry is known for being very crunchy. Some of its major ingredients are peas, onions, and spiced potatoes. For clarity, samosa can take different shapes like half-moon shape, cone or triangular shape. It depends on the restaurant you are getting it from.
Conclusion
In conclusion, Sri Lanka has numerus options you can choose from when it comes to delicious foods. They will definitely make your stay unforgettable and worthwhile. For a start, choose any option from the list above.
This article is contributed by Phil from JOURNICATION Travel Blog which focuses on itineraries and summaries amazing travel destinations around the world. One of the more than 100 countries he already travelled is Sri Lanka. He fell in love with this amazingly divers country which has so much to offer.