For a vacation that offers beautiful sights, sumptuous cuisine, and luxurious accommodation – look no further than Ireland! With breathtaking landscapes and plenty of attractions to discover, Ireland is the perfect place for an unforgettable road trip. From coastal villages dotted with castles to bustling cities full of culture and entertainment, there are so many wonderful places to explore. If you're ready to hit the open road in style, we've put together a list of the top 10 destinations for a luxury Ireland road trip. 
1. Dublin
Exploring the capital city of Ireland is a must on any Irish road trip! From world-class hotels to fine dining and an unbeatable selection of pubs playing traditional Irish music, there's something for everyone. Most people will likely fly in or out of Dublin on their journey through Ireland, so it makes for a perfect starting off point or place to end your adventure.
Spend your days exploring the vibrant atmosphere and nightlife, discovering historical monuments, or doing some shopping along Grafton Street – all easily accessible from most hotels and other accommodation options. If you're looking for something extra special, indulge in one of Dublin's many fine-dining, Michelin star restaurants. 
Top attractions and things to do in Dublin
Marvel at the Book of Kells
Trinity College Dublin's magnificent library holds this remarkable and unique treasure of an ancient, hand-crafted manuscript of the four Gospels.
Take a Guinness Storehouse Tour
Uncover the secrets behind Guinness brewing and explore its Dublin origins with a tour of one of the city's most iconic spots. Enjoy an unforgettable tasting session at the end, complete with breathtaking panoramic views!
Visit either ChristChurch Cathedral or St. Patrick's Cathedral
The first has a fascinating crypt full of historic religious artifacts.
Have a pint and listen to traditional Irish music at the Temple Bar
Dublin's most famous traditional pub in the bustling nightlife center of the city.
Tour Dublin Castle
Built with unique architecture and full of rotating exhibits, until 1922 it was the seat of the British government's administration in Ireland.
Use Dublin as a day base for exploring nearby attractions
Enjoy Howth, a quaint local fishing village, explore the Wicklow (Dublin) Mountains that contain the Glendalough Monastic Settlement, or take one of the popular day trips from Dublin to the Cliffs of Moher.
Best 5-Star Hotels in Dublin
The Shelbourne, The Marker Hotel Dublin, or The Merrion Hotel.
Best Restaurants in Dublin
Chapter One Restaurant, Variety Jones, One Pico Restaurant, and The Winding Stair (a Dublin landmark).
2. Galway
Galway, located on the west coast, is truly a special place to visit on a luxury road trip through Ireland. Not only does it have plenty to offer in terms of creativity, art, and literature, but with its expansive coastlines, rolling hillside vistas, and delicious local cuisine, Galway can truly be considered an unforgettable experience. 
Galway has been labelled the city of festivals – and for good reason! Its famous cultural festivals take place most often throughout the summer, offering visitors a chance to immerse themselves in the city's unique traditions. Whether you're going for the traditional music, brilliant seafood, or vibrant nightlife, there are plenty of options to discover while visiting Galway.
Top attractions and things to do in Galway
Explore the Latin Quarter
An area with cobblestone streets in the old center of Galway that has excellent shopping and dining. Make sure to view the Spanish Arch, built in the 1700s.
Take a cruise along the River Corrib
For a truly luxurious option, charter your own yacht.
View the Galway Cathedral
Stunning and unique architecture featuring a beautiful stained glass art interior.
Walk along the Salthill Promenade
Enjoy views of the bay, dine at some of the best seafood restaurants, or stop into the National Aquarium of Ireland.
Take a private, luxury day tour to Connemara
A stunning natural park to escape the city.
Best 5-Star Hotels in Galway
The G Hotel & Spa and Glenlo Abbey Hotel & Estate
Best Restaurants in Galway
Aniar Restaurant, Loam Restaurant, Kai Restaurant
3. Cork
Another popular city to stop in on a road trip, it's a destination packed with unique and enjoyable activities. Cork has a lively music scene and beautiful coastal views and natural attractions nearby. 
When the sun is shining, take some time to explore the city's winding streets and vibrant neighborhoods while indulging in some of the world-renowned local dishes. No visit would be complete without exploring the local art galleries or sampling some of the regional craft beers and ciders.
Top attractions and things to do in Cork
Visit Blarney Castle and kiss the Blarney Stone
Legend has it that those who kiss the famous stone receive the gift of "eloquence and persuasiveness".
Try local goods at the English Market
This 18th century market has everything from fresh teas, jams, meats, and cheeses, to sweet treats and holistic products. 
Stop into the Crawford Art Gallery
Enjoy modern Irish artwork.
Walk through the University College Cork
A historic college with beautiful architecture and rotating exhibitions throughout the year.
Tour the Cork City Gaol
Unlock the secrets of an enchanting castle that was once home to convicts and criminals.
Best 5-Star Hotel in Cork
Hayfield Manor Hotel
Best Restaurants in Cork
Goldie, Greenes Restaurant, and Ichigo Ichie
4. Ashford Castle
Experience the grandeur of living in a 13th century castle at Ashford Castle, located just outside of Galway in Ireland to the north. Staying in a real Irish castle hotel will be one of the most unique stops on your luxury road trip!
Every detail has been considered to provide luxury and comfort for those wishing to stay in this historic 5-star hotel. Enjoy views of Lough Corrib Lake from 350 acres of parkland, explore different cuisines from six restaurants prepared by world-renowned chefs and sommeliers, or pamper yourself in the award-winning spa. 
If you're looking for adventure, Ashford Castle provides horse riding, fishing, falconry, shooting and many more activities. An unforgettable experience awaits you at this unique destination! 
5. Killarney
Staying in Killarney, Ireland is a great way to experience the breathtaking beauty of the Ring of Kerry. This scenic drive around the Ivereagh Peninsula holds an abundance of natural and historical attractions including the Gap of Dunloe, Ross Castle, Muckross House, Ladies' View, and the Skellig Islands. 
You can choose to drive around the Ring on your own or hire a private guided tour that will show you all the amazing sights with local knowledge and interesting anecdotes. A trip to this beautiful corner of Ireland is simply unmissable!
Best 5-Star Hotels in Killarney: The Killarney Park and Killarney Manor House
Best Restaurants in Killarney: Bricín Restaurant and Boxty House, Malarkey
6. The Irish Countryside (Ballyfin Demesne)
Make sure to stop and experience the full splendor of the Irish countryside on your luxury road trip! From Dublin to the west coast, you can break up your drive with a stop at Ballyfin Demesne for an unbeatable retreat. This luxurious 1820s manor is truly picturesque, situated on 614 acres at the foot of the Slieve Bloom Mountains. 
Along the way, take in stunning views from rolling green hills, stroll through quaint towns and chat with friendly locals. When you get to Ballyfin, you'll find an inviting atmosphere coupled with all-out opulence. With plush guest rooms and lavish grounds featuring a serene lake, friendly staff ready to attend to your every need, and an award-winning restaurant serving artisanal dishes, this one-of-a-kind hotel will complete your journey and delight any traveler.
7. Limerick
Stop in Limerick on your next luxury Ireland road trip to experience some of the more unique, quaint experiences in Ireland. Explore King John's 13th-century fortress along the River Shannon, you'll be awestruck by the historical architecture and grounds. Take an Irish cooking lesson at the Hook and Ladder to enjoy a hands-on experience. Or shop for local food and crafts at The Milk Market, one of the oldest markets in Ireland. 
Lastly, make sure you book a stay at Adare Manor, one of the top luxury hotels in all of Ireland. Marvel at over two hundred years of history in this magnificent manor house while you are treated like royalty.
Best 5-Star Hotel in Limerick
Adare Manor
Best Restaurants in Limerick
The French Table Restaurant Limerick, Freddy's Restaurant
8. Waterford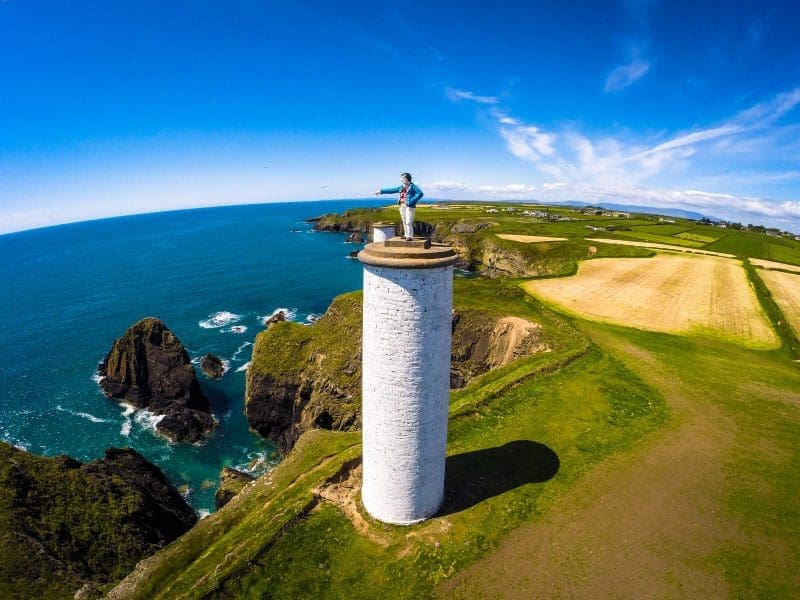 Stopping in Waterford on an Irish road trip is an excellent experience for those exploring the country. This ancient port town is an incredibly special place and the country's oldest city. There is plenty to enjoy here, from taking a factory tour of the famed Waterford Crystal, made here since 1783, to discovering local archaeological finds at the Waterford Museum of Treasures. 
Plus, you can explore the countryside around Waterford, with everything from charming beaches and seaside towns to stunning walks and more. There is plenty of charm and beauty waiting in this adorable Irish city!
Best 5-Star Hotel in Waterford
Cliff House Hotel
Best Restaurants in Waterford
McLeary's Restaurant, Sheehan's, Emiliano's
9. Kilronan Castle
Kilronan Castle is the perfect destination for families wanting a fun, memorable getaway for their children with plenty of luxury for the parents! The 40-acre grounds feature a beautiful lake and lush forest (including a "fairy trail"), providing ample opportunities for relaxing walks or thrilling outings. 
Dining options include an exquisite restaurant and guest lounge where you can enjoy afternoon tea in style. There's also a contemporary spa offering a variety of beauty and massage treatments to help you relax. Whether your family wants to explore the grounds and nearby attractions or lounge in the spa, Kilronan Castle provides the perfect setting for creating lasting memories.
10. Belfast
Belfast, the largest city in Northern Ireland, is a truly remarkable destination. Not only does it offer plenty of activities to explore and experience but there are also many cultural offerings. From Belfast's award-winning restaurants to its vibrant nightlife scene, this city has something for everyone. 
Whether you're into traditional music performances, art galleries or stunning castles, Belfast has all the ingredients for a great luxury holiday road trip experience. If that's not enough, Belfast is blessed with beautiful ocean views and breathtaking countryside excursions which can be enjoyed at any time of the year. If you're looking for an unforgettable vacation like no other, Belfast should certainly be high on your list.
Top attractions and things to do in Belfast
Titanic Belfast
A museum built over the starting point of the famed Titanic ship, offers detailed exhibits and fascinating interpretations of the sinking.
Giant's Causeway
Incredible natural attraction built from hexagonal landscape features.
Peace Wall Belfast – A series of barriers built to separate predominantly nationalist Catholic neighborhoods from predominantly loyalist and unionist Protestant neighborhoods. Decorated in murals, this is a crucial piece of history in Ireland.
Belfast Castle – Fascinating landmark built in 1870, situated on a hilltop.
CS Lewis Square – A plaza filled with Narnia-related sculptures.
Grand Opera House – A restored Victorian theatre and music venue.
Best 5-Star Hotels in Belfast: The Fitzwilliam Hotel Belfast, The Merchant Hotel
Best Restaurants in Belfast: OX Belfast, Deanes EIPIC, The Muddlers Club Restaurant
Conclusion: Top Stops on a Luxury Ireland Road Trip
Traveling to Ireland is an incredible experience that everyone should enjoy at least once in their lifetime. Luxury travelers will especially appreciate the amazing castle hotel stays, 5-star accommodations with relaxing spa treatments, and delicious Michelin star restaurants. If you're looking for a luxurious road-trip with plenty of things to do and world-class views along the way, Ireland is the perfect destination.