Steenwijk is home to the enchantingly peaceful Giethoorn village and several nature reserves, including De Weerribben-Wieden National Park. 
Located in the Dutch province of Overijssel, Steenwijk Netherlands has plenty to offer, and visitors are sure to spend hours and hours visiting tourist hot spots. It is only a matter of time that they would start looking for a place to eat, and Steenwijk will certainly not disappoint. Here are the eight top restaurants in Steenwijk.
Woody's House
When dining at Woody's House, guests will get that natural feeling of eating at home. Offering a super friendly environment, Woody's House serves delicious dishes that include juicy meat, sustainable fish, and nutritious vegetarian dishes, as well as tasty children's meals when dining with kids. And for dessert, enjoy the finest choices with a cup of coffee or tea while the children spend some time in the movie room.
People come to Woody's for their Earth Coffee made from 100% arabica beans, Woody's tomato soup, chicken wings with chili sauce, and chili cheese nuggets with chili sauce, amongst other delights. Tourists shouldn't miss their whole leaf tea, with pure herbs, spices, blossoms and dried fruits, and no artificial additives.
All the dishes come in their purest form, with fresh ingredients in an attractive atmosphere.

De Witte Hoeve
De Witte Hoeve is popular for its pancakes, bread specialities, and meal salads. Other than the food and drinks, however, this restaurant boasts a wonderful location within Giethoorn. De Witte Hoeve is not far from the lovely canals, historic bridges and alluring nature. 
People love the truffle fries with Parmesan cheese with truffle mayonnaise and truffle salt, crispy fried chicken wings with chili sauce, and the Witte Hoeve snacks, including plank with cheese cubes and dry sausage from Drenthe.
Other than the delicious treats, De Witte Hoeve helps diners, visitors, and families arrange a boat or a cruise in the Weerribben-Wieden National Park, as well as group or family outings. Reservations could be difficult during peak season, but this restaurant can make it easy for everyone.
Restaurant Pand 1875
There is so much history to Pand 1875. The building was built between 1873 and 1875, and served a major role in Steenwijk's famed cigar industry from the late 19th century to well into the 20th century. In 1939, it was converted into a warehouse. Through the years, the building served as a flower shop, stereo shop, real estate agency, and barbershop, until it became a restaurant that is now well-loved for its French, Dutch, European, and Scandinavian dishes.
Diners here are quick to recommend the place that offers fine and delicious food at an affordable price. 
Ristorante Pizzeria Casa Nova
Ristorante Casa Nova or Italian Restaurant in Steenwijk Netherlands is the only Italian eatery in Steenwijk. Located in Woldpromenade and run by an Italian family, Italian Restaurant Steenwijk serves authentic Italian dishes prepared by a chef from Sicily.
Guests are treated to delicious Italian pasta, meat and fish dishes, pizzas and desserts. Some of the most well-loved treats are the Cannelloni, Raviolie Chef, Salmone alla Griglia, vegetarian pizza, penne gorgonzola, and the crispy Pizza al Carpaccio with tomato sauce, cheese, carpaccio, arugula, pine nuts, Parmesan cheese, and balsamic vinegar.
Restaurant De Opschepper

Restaurant De Opschepper boasts itself as a unique restaurant in the heart of Steenwijk Netherlands that serves a quality meal in an attractive environment at an affordable price. It is unique for its sharing tables, where the restaurant makes a selection for its guests.
The favourites here are Show-off Schnitzel with fried mushrooms, onion, bacon and bell pepper; homemade chicken satay, prawn crackers and fried onions; Angus burger with homemade burger sauce, lettuce, cucumber, tomato, red onion and bacon; jalapeño burger with truffle mayonnaise, cheddar; and the juicy spareribs or pork tenderloin.
De Opschepper is also known for arranging big celebrations and fun parties. They have different party packages, some of which include an all-in buffet table, beer tasting event, and a fully catered brunch. 
De Heren van de Rechter
This is a beautiful café located in a luxurious former courthouse, a monumental and striking building on the Markt. People love the cosy ambience with friendly staff, and guests regularly come for a cup of coffee, lunch or an extensive dinner. Dining on the terrace is just lovely.
The high tea, with delicious sandwiches, sweet and savoury snacks, jam, and whipped cream is a hit. For lunch and dinner, the restaurant only uses fresh and regional products, with a menu that changes four times a year with the seasons.
De Heren van de Rechter promises a lovely dinner in a historic place. It offers delicious food and excellent ambiance.  
Aroi, Thais vers bereid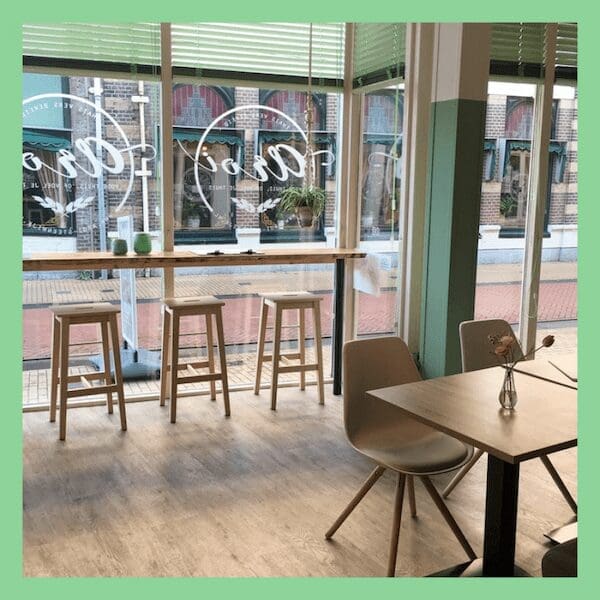 Aroi transports its guests to Asia, as they try authentic Thai dishes. People come for the spring rolls, Thai satay, fish cakes, stir-fried chicken with cashew nuts and vegetables, Thai phaneang curry with chicken and sweet basil, minced chicken with lemon, stir-fried chicken with Thai basil and onion, and pork in red curry with bamboo and Thai basil, amongst a variety of other choices.
Every order comes with Jasmine rice, and guests can specify how chilly they wish their food to be.
This Thai restaurant promises to serve the perfect balance of flavours. Ingredients are fresh, the food is healthy, and everything is tasty. ("Aroi" means "tasty".) Eating here is like dining at home with a Thai family.
Bovenmeester
Bovenmeester restaurant in Steenwijk Netherlands is known for its Dutch, seafood, and European cuisines. People come here for the special diet options: vegetarian, vegan, and gluten-free. Lunch or early dinner is perfect on the terrace.
Located in a former school building, Bovenmeester is unique for its informal and friendly atmosphere. It keeps itself accessible to everyone.
The dinner menu is divided into different menus, and most popular is the lobster. 
Additional Resources