Offering a one-of-a-kind Kosher culinary experience in Surfside, just north of Miami Beach, 26 Sushi & Tapas is a Latin-Asian fusion restaurant that is 100% certified Kosher. They are also considered to be one of the Miami dining scene's best-kept secrets.
26 Sushi & Tapas serves a delightful fusion Japanese-Peruvian cuisine known as 'Nikkei' that originates from Peru. Nikkei cuisine dates back to the late 19th century when Japanese migrants immigrated to Peru. Over time, the Japanese immigrants influenced the cooking style by blending Peruvian ingredients and Japanese culinary techniques, and cooking with the abundant seafood on the Peruvian coastline. This introduced conceptual dishes made with scallops, eel, and mussels infused with Latin American flavor and spice.
26 Sushi & Tapas offers indoor and outdoor seating, as well as an expansive bar, perfect for their 'After Hours' Happy Hour specials throughout the week including a Mojito Monday two for one from 9-11pm, and Mimosas two for one all day on Sundays.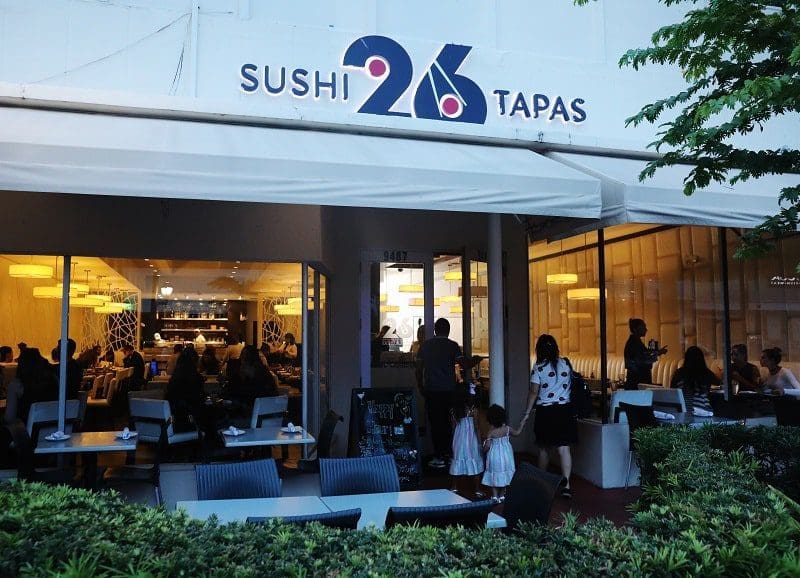 Menu
The menu is quite vast, offering plenty to explore and countless ways to mix and match to create a unique, immersive experience.
Recommended dishes are:
Crispy Lady: crispy rice, spicy tuna, spicy mayo, scallions, sesame oil, jalapeño, masago, salted almonds
Los Marlins Tacos: hard corn or soft flour tortillas, corvina fish, red cabbage, lettuce, diced tomatoes, cilantro aioli
Causa Krab Tower: savory potato mash, aji amarillo, lime juice, avocado, dynamite, rocoto aoili
Ceviche Three Times: a trilogy of their most popular ceviches- salmon, corina, and tuna with leche de tigre, aji amarillo, ponzu, glazed camote, avocado
Karate Kid: tuna, avocado, scallions, masago, aji amarillo, topped with salmon
Tower Roll: spicy tuna, crispy onions, masago, sweet shiitake, rocoto aioli, sweet sauce, topped with avocado
Tropical Roll: tuna, salmon, dynamite sauce, kiwi, aji amarillo, guava, tropical sauce, rocoto aioli sauce, topped with tuna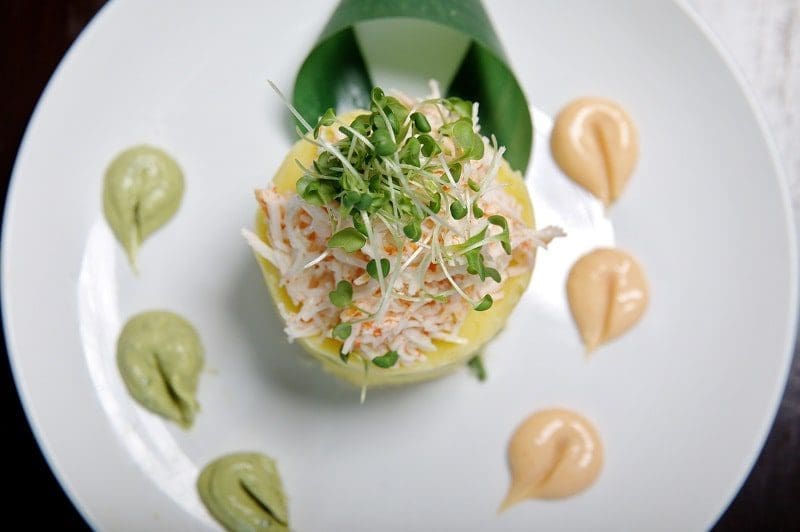 Favorites on the menu include the Crispy Lady and Karate Kid specialty roll. The sushi rolls are very satisfying and unbelievably 'dynamite'. Having a cocktail and some sushi would make for the perfect cap to the day.
Side dishes include quinoa, jasmine rice, wakame, mixed mushrooms, rustic mashed potatoes, fried sweet plantains, and more.
Desserts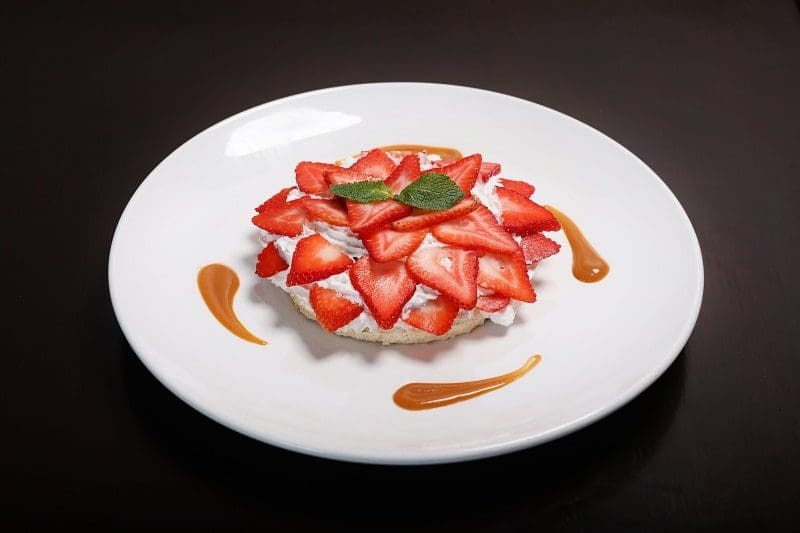 Notable desserts on the menu include a White Chocolate Lava Cake, Panna Cotta, Churro Poppers, Craquelin de Manzana, and Cracquelin de Chocolate. The craquelins are their famous profiteroles.
For this season's dessert menu, don't miss tasting their Strawberry Pavlova. It is served with whipped cream and the sinfully creamy Goat Cheese Ice Cream.
A variety of Nespresso beverages are served such as cappuccinos, latte macchiatos, iced macchiatos, bonbonsitos, and ristrettos.
26 Sushi & Tapas serves breakfast, lunch, and dinner Sunday through Thursday from 9am-10:15pm, Friday: 9am-2:30pm (closed for Shabbat), and Saturday from 9:15pm-11:45pm. Happy Hour is available Sunday through Thursday from 5-9pm.
Additional Resources
If you are visiting from out of town, we recommend the following hotels and resorts: