Miami is surely a bucket list destination offering charming Art Deco architecture, great Downtown attractions, and long stretches of beaches. Miami's location also lends itself to a variety of day trips both on Florida's peninsula and just off the coast. Discover Florida's natural landscapes in the Everglades or travel to the Key West to experience easily accessible Island life.
Bimini Islands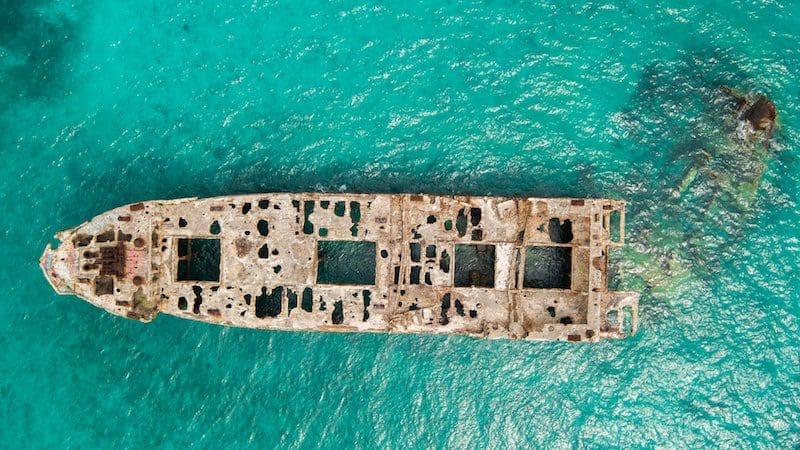 Bimini Islands are the closest Caribbean destination to the United States. Located at a distance of just 50 miles from the Miami Beach, Bimini can be reached by a quick ferry ride. Get ready to see the bluest waters, white sand beaches and dreamy tropical landscapes of the island.
If you are up for some adventure, rent a jet ski, a kayak or snorkeling gear to explore the crystal-clear waters. There are many interesting and mysterious tales that are a part of the Bimini islands.
If the existence of the Fountain of Youth and lost city of Atlantis sounds intriguing to you, Bimini islands take you closest to these mysteries. Bimini is also known to be one of the most popular diving destinations in the Caribbean. The Sapona wreckage and the Bimini Road are some fascinating diving spots in Bimini. Go on a Bimini nature trail located on the South Bimini to learn about the varieties of local flora and fauna that are a part of these islands.
Have a hearty meal at the CJ's Deli, a food shack located at the Radio beach in Alice town. There are a variety of American and Caribbean food served at this shack. If you are planning to stay a little longer in Bimini, Hilton at Resorts World Bimini is the perfect hotel for a fun holiday.
The Everglades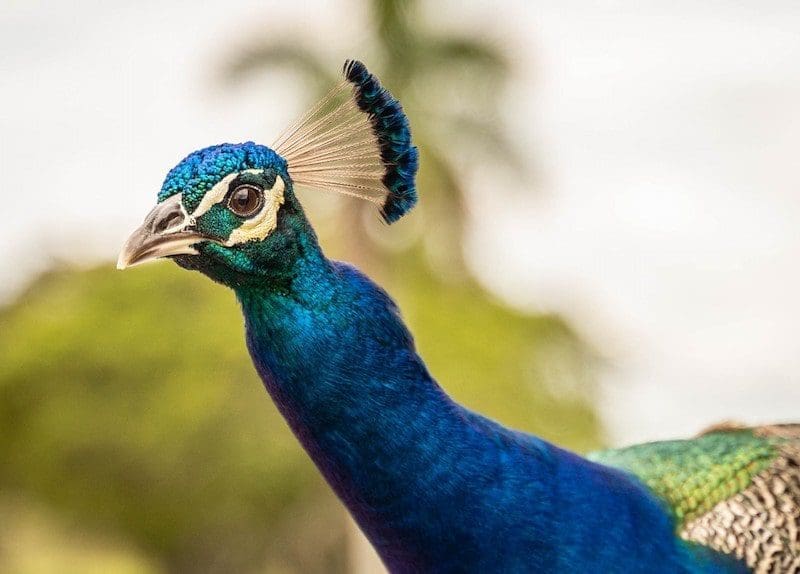 By Ellie of Ellie's Travel Tips
When most people think of the Florida Everglades, the first thing that comes to mind is alligators and mosquitos galore. While you will find wildlife throughout this scenic park, the Everglades National Park offers much more than just its humid climate and dangerous wildlife.
As one of the largest parks in the United States, the best way to see the majority of the Everglades is through an airboat tour. If you prefer to drive through the park, you can still enjoy plenty of short walks (check out the Anhinga Trail), witness alligators and manatees in person, and even go kayaking through the mangroves.
While the first park many may think of for a day trip from Miami is Dry Tortugas, the Everglades offers plenty of activities and natural wonders for families to enjoy. To get an aerial view of the park, hike out to Pa-Hay-Okee Lookout Tower. Once you have finished exploring the park, head over to Miccosukee Restaurant for an authentic, Native American meal.
Make sure to book your stay in nearby Everglades City if you plan to stay longer than a day. Ivey House Everglades Adventures Hotel offers amazing amenities and a unique atmosphere with easy access to the Everglades.
Fort Lauderdale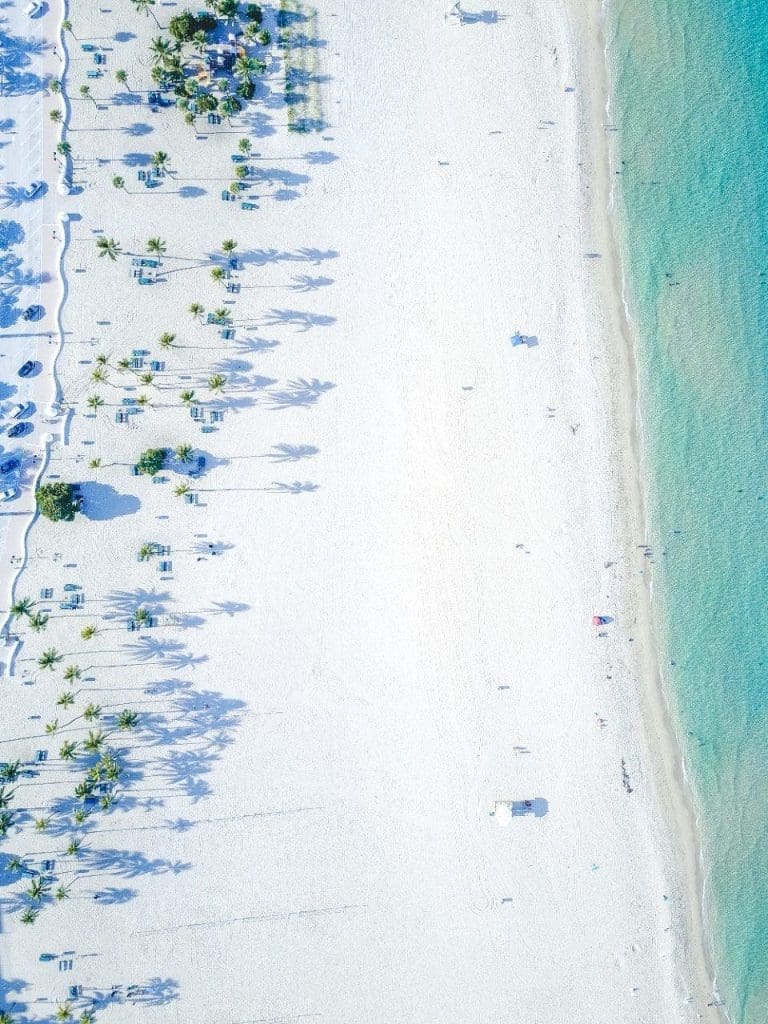 By Derek Hartman and Mike Walsh of Robe Trotting
There's no more perfect day trip from Miami than Fort Lauderdale. It's full of vibrant beaches and boating canals that are perfect for an escape from Miami. A day spent cruising on the Intercoastal Waterway is worth the trip alone. In Fort Lauderdale, there are plenty of options for booking a boat ride or even a sunset dinner cruise.
Miami certainly has world-class beaches, but you'll discover that Fort Lauderdale also has some beautiful coastline of its own. The city has a fabulous network of beaches including the popular LGBTQ+ beach at Sebastian Street. Gay Fort Lauderdale extends further into the adjacent village of Wilton Manors. This is a beautiful area for shopping, restaurants, and shopping no matter who you love.
Visitors also enjoy shopping on Fort Lauderdale's coastal promenade, The Strip. It's home to upscale boutiques and ocean view restaurants. As you might imagine, the seafood in Fort Lauderdale is some of the best in the nation. For a natural attraction in the city, head to Hugh Taylor Birch State Park, a 180-acre state park that's a short walk from the beach. It's full of hiking trails and picnic spots to cap off a perfect day trip.
Hollywood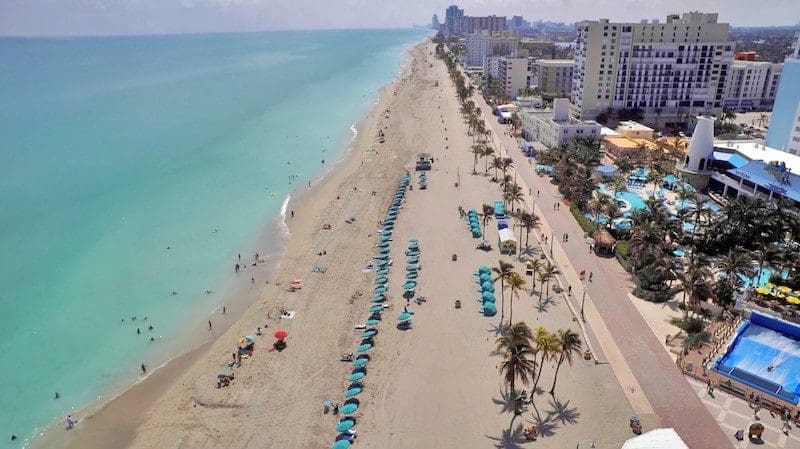 Hollywood, Florida is a great day trip from Miami! It is located just a half-hour north with beautiful white sand beaches, but it is a lot quieter than the more popular Fort Lauderdale or Miami beaches. The town of Hollywood has a lovely 2.5-mile boardwalk on the beach lined with palm trees and great restaurants and shops.
If you are looking for a change from the oceanfront, check out the Anne Kolb Nature Center with 1,500 acres of coastal mangrove wetlands.
The Diplomat Resort in Hollywood is a perfect place for families to stay. It is one of the top hotels in South Florida and a real treat for all types of travelers. There are multiple pools, a private beach area, and world-class restaurants like Monkitail and Point Royal.
And if you have kids, there are many great non-screen car activities to keep your kids entertained on the road during your day trip from Miami!
Key Largo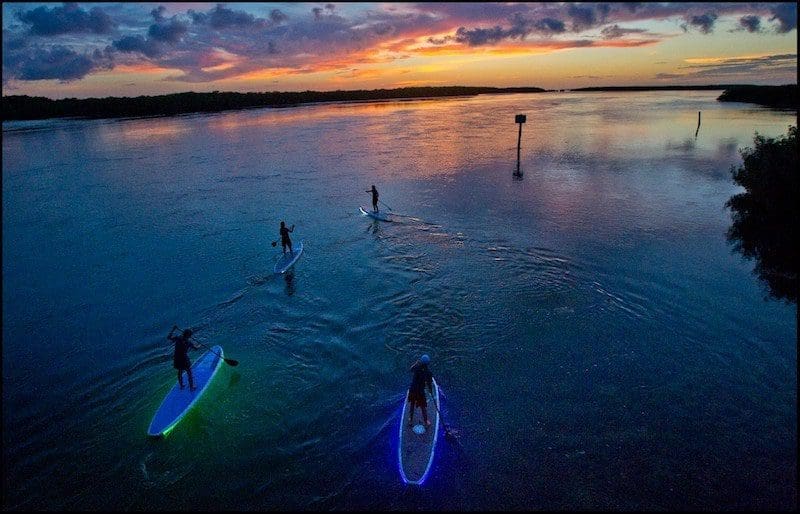 By Neha from Travelmelodies 
The first Key of Florida Keys is Key Largo and makes a great day trip from Miami. Florida Keys are an archipelago of islands in the southern part of Florida and a popular destination to enjoy the sunshine and beaches off the Atlantic coast.
Key Largo as the name suggests is the largest island of the Florida Keys. Key largo has so many things to do for adventure seekers. Parasailing is the best way to enjoy the scenic vistas of the coast. There are options to go single or tandem during the parasailing.
John Pennekamp State Park is America's first undersea park. The park is the best place to explore the coral reef off the Atlantic Coast. With options galore, choose from a glass bottom boat tour, snorkeling or scuba diving and get a glimpse into the beautiful marine life.
Other popular activities at John Pennekamp are canoeing, kayaking through the mangroves. There are beaches as well where swimming is allowed. Sit by the beach, walk the trails or enjoy an activity, it is the best way to spend a day.
There are many great Florida Keys family resorts & hotels in Key Largo to choose from.
Key West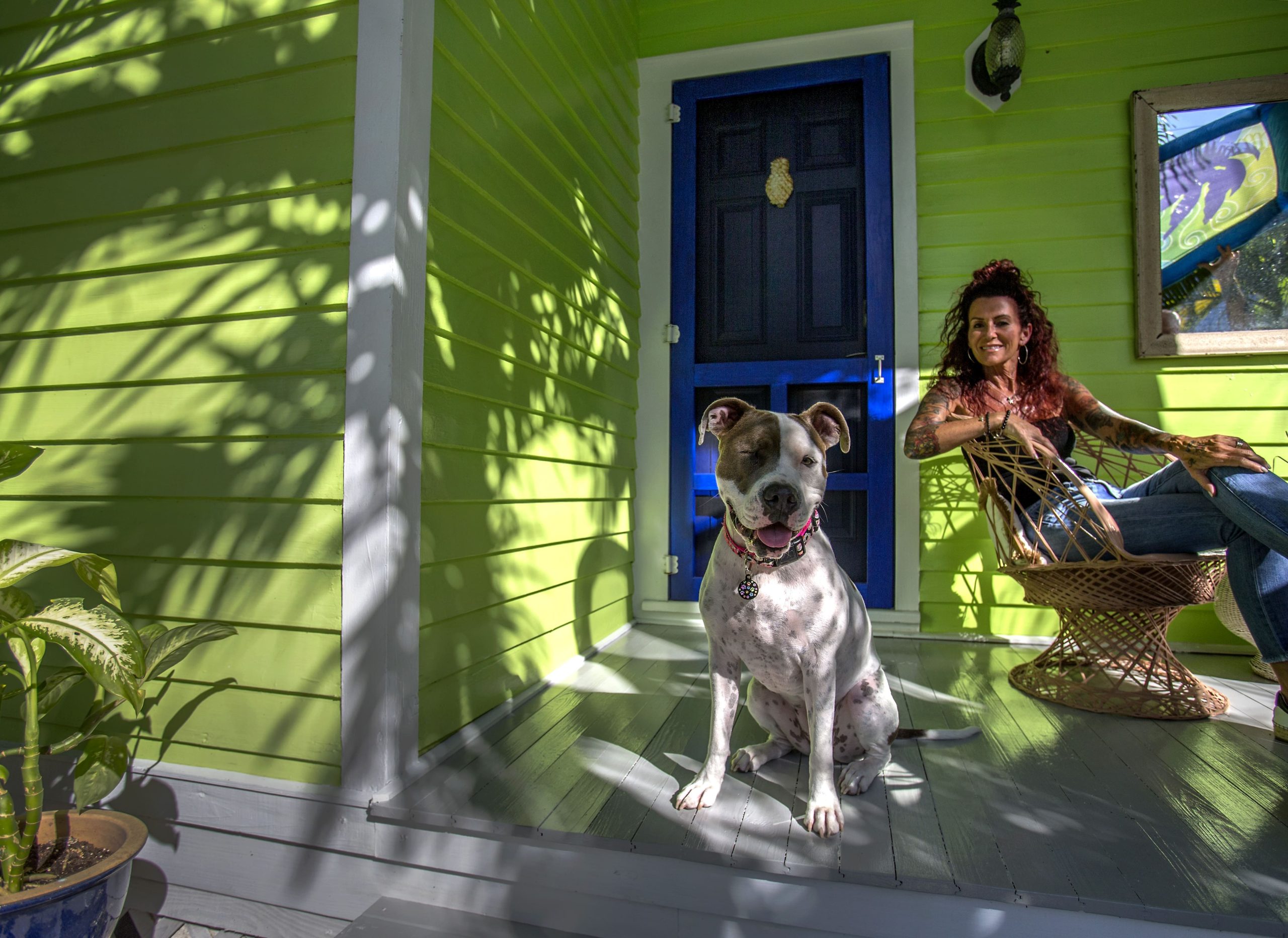 One of the best day trips from Miami is one to the City of Key West. It is an island in Florida and Key West is the southernmost city of the continental USA. Key West looks amazing and it is a great place to visit. The best way to get to Key West is by car. You can get there if you drive over the Overseas Highway, which is a more than one hundred-mile scenic road across the sea.
There are lots of beautiful beaches in Key West, including some of the best beaches of Florida, and it is the perfect place for wonderful sunsets. But there is more to Key West. For example, the Key West Butterfly and Nature Conservatory is a fun place to go. This is a garden with lots of butterflies that you can walk through.
Another fun thing to do is walking along Duval Street, which is the main street of the island. Moreover, you find here many restaurants. Two lovely restaurants in Key West are Nine One Five and Lost Kitchen.
A great place to stay in Key West is Hyatt Centric Key West Resort & Spa.
Naples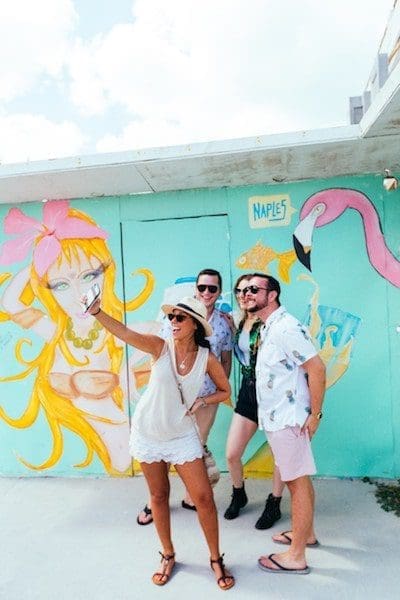 If you're looking to escape the bustle of Miami in search of quieter beaches and a lighter kind of nightlife, Naples in southwest Florida is your answer, just an hour and a half away on the southwest coast of the state. Naples celebrates its cultural heritage with Italian-styled architecture, a vibrant downtown, unique historic sites, and of course the Naples beaches, some of the best in Florida.
The laid-back tropical vibe in Naples is what tourists and locals love, where shorts and dress flip flops are at home in
high-end restaurants and shops
. Take in a fiery sunset at the Naples Pier, then dine al fresco at Osteria Tulia on 5th Avenue or The Continental on Third, both within walking distance of the beach.
During the day, kayak the inlet waterways, visit the Naples Botanical Garden, or spend the day at the beach. Hiking in Naples along well-groomed walking trails and elevated boardwalks is also great for a daytime exploration of the local ecosystem.
Ten Thousand Islands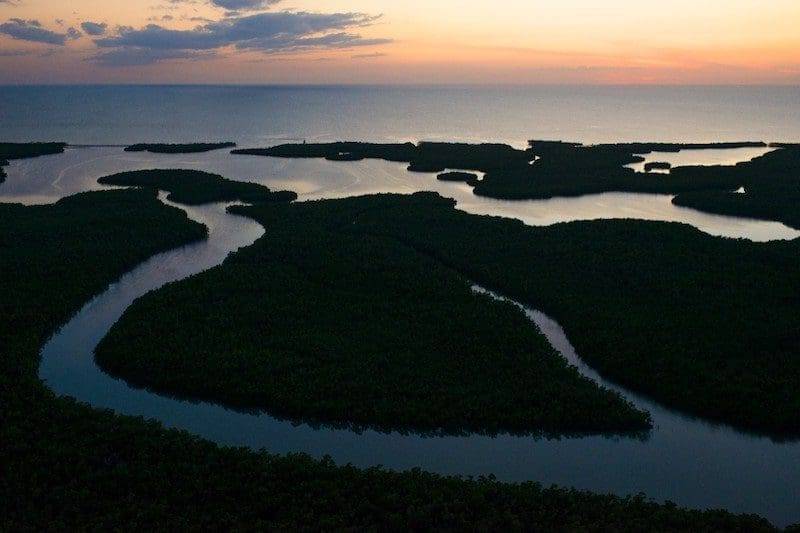 The hidden paradise of Ten Thousand Islands Wildlife Refuge is the second largest mangrove forest in the world forming fascinating labyrinths of water and islands with very rich wildlife, including some endangered species.  Located in the sunny state of Florida, just a 1:30 hour drive from Miami, it makes a great day trip.
To get to the Ten Thousand Islands Wildlife Refuge, drive west from Miami on the U.S. Highway 41. You'll pass through Miami's outer suburbs before entering the largely undeveloped wetlands.
Ten Thousand Islands is heaven for outdoor lovers, with loads of nature to explore, many hiking trails to choose from, and water activities like kayaking and the traditional airboat.
Many come from far just to eat at the local restaurants in the Ten Thousand Islands area. All the restaurants are owned by a local who has resided here for years. Among the best ones are Triad Seafood market & Café and Carmellia Street Grill.
If you are planning to visit the Ten Thousand Islands for a few days or choose to stay overnight, the best option for accommodation is Everglades City, at the famous Rod and Gun Club Hotel.
Treasure Coast and Vero Beach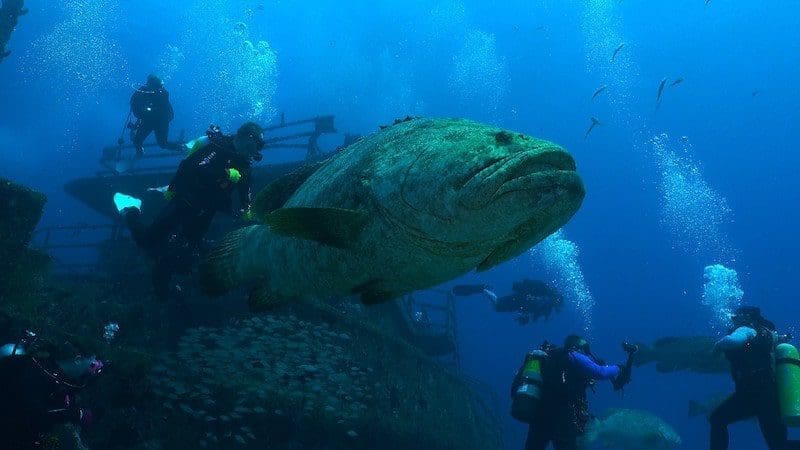 By Lisa of Planning Away
Head north to the Treasure Coast! It is just under two and a half hours away and will be well worth the trip!
Treasure Coast
The Treasure Coast was named because many spanish ships sunk along this coast in the 1700's leaving behind many gold and silver coins.  These treasures have been found all along the coast. This is a treasure hunters dream trip!
Head to Vero Beach
Vero Beach is a great place to visit along the Treasure Coast.  There are so many
things to do in Vero Beach
!  One of the highlights is swimming out to the S.S. Breconshire ( a ship that sank in 1894). It is located about 400 yards off of the coast.  As you snorkel all around the ship you will see bright colored schools of fish, rays, and even jellies.  It is incredible.
Vero Beach is also one of the most important sea turtle nesting sites in the Western Hemisphere.  If you time it right you might be able to see the baby sea turtles heading to the ocean.
Disney has a resort right on Vero Beach! This is a great family vacation destination. If you want
a romantic getaway
, Gloria Estefan has a hotel called Costa d' Este right on Vero Beach.
Most of the restaurants on Vero Beach have outdoor seating.  The views are spectacular.  Ocean Grill, Mulligans, and Waldos are all worth checking out on your day trip from Miami!
Additional Resources