Planning your family's next trip? Stay at one of these Family Friendly Resorts in Miami for an unforgettable vacation.
With everything from award-winning water parks and championship golf courses to world class wellness centers, these resorts in Miami offer something for every member of the family.
Acqualina Resort
Acqualina Resort located in Miami's Sunny Isles Beach is blessed with a gorgeous beachfront location with 4.5 acres of seaside bliss including four outdoor swimming pools. The lush grounds feature outdoor living room settings with sumptuous furniture on Seashore Paspalum grass.
The sitting areas are dotted with umbrellas in the resort's signature red color, and lounge chairs punctuate the blue and green hues of its natural surroundings. Guests can bask in the South Florida sun or spend the afternoon shaded by palm trees.
The resort's stunning outdoor setting is the perfect place for a beautiful picnic in paradise. Guests can choose from a variety of menu options.
There's plenty to do for young children at the resort including a marine biology-inspired educational program known as AcquaMarine. Children will become campers and have fun learning about the ocean. They discover a new appreciation, love and respect for the sea while doing hands on educational activities.
For families, couples and solo guests, the lovingly curated Acqua Experiences provide memorable adventures on and off property. Swim lessons, painting classes, food lover's tours and learning to scuba are some of the unique curated offerings.
Nestled near sand and sea, Acqualina offers unparalleled elegance on the beach. Guests want to wake up here and keep coming back to Acqualina.
The Biltmore
The Biltmore Hotel offers kids menus and healthy options at their restaurants, Fontana, Cascade, and at 19th Hole. The 600,000 gallon pool is also kid favorite. With it being the largest pool on the Southern East Coast, it seems never ending.
The hotel's salon also hosts plenty of mother daughter mani/pedis appointments. And on Mother's Day, the whole family can reserve the best Sunday brunch in town.
The Jim Mclean Golf School is hosting Spring Break Camp for ages 5-14 which guests can book directly at the school. The school also offers private junior lessons for children ages 6-9.
This summer, The Biltmore will be hosting the Kids Culinary Academy Summer Camp.
Carillon Miami Wellness Resort
Located along the white sand shores of Miami Beach, Carillon Miami Wellness Resort presents an authentic and specialized approach to health, wellness and complete well-being.
Exuding the "luxury of wellness," the resort focuses on aligning physical, mental and spiritual health. They offer a comprehensive retreat with the largest spa & wellness center on the Eastern Seaboard (70,000 sq. ft.), a one-of-a-kind Thermal Experience and a medical wellness division.
The resort features 150 spacious one- and two-bedroom luxury apartments, ranging in size from 720 – 1,200 sq. ft. An array of recreational activities are at guests' fingertips with access to the resort's two-story indoor rock wall and resort pools located throughout the property.
Families can take part in the rock climbing class or try out deep sea fishing. Private fitness classes for all ages, and plenty of excursions like kayaking and canoeing, stand-up paddle boarding, kiteboarding, golfing, and more are also available.
JW Marriott Miami Turnberry Resort & Spa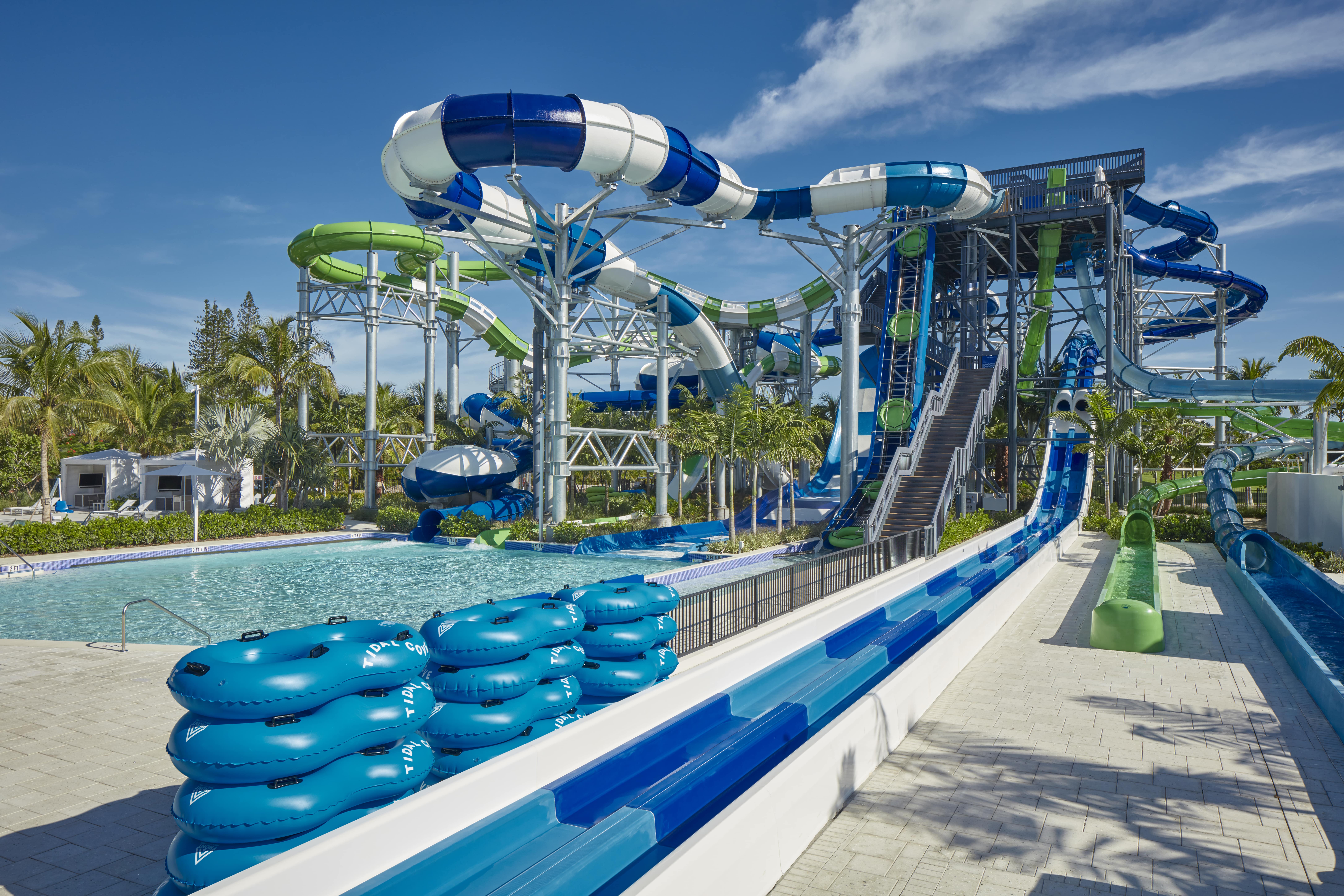 JW Marriott Miami Turnberry Resort & Spa
offers 300 acres of fun for the whole family. From relaxing poolside or at the spa, to action and adventure on one of the two championship 18-hole golf courses or at Tidal Cove water park, there is something for everyone.
The USA Today award-winning Tidal Cove Waterpark is a highlight for the whole family. It has the first-ever FlowRider® Triple surf simulator and seven slides slanting down from a 60-foot-high water tower.
For younger children, the Kids Cove pool playground is the perfect place to play. While, adults may enjoy grabbing a tube for a relaxing float down the Lazy River. While you're at the pool, you can enjoy a bite at the Surf House Bar & Grill.
Shelborne South Beach
Shelborne South Beach, an iconic and glamorous 1960s destination, was revamped for 21st-century families. Its fanciful allure — and fabulous pool and tropical beach access — is an exciting family destination in the heart of the historic and walkable Miami Art Deco District.
The resort is known for its floating white porte cochère above the entry drive and the curved glass-windowed entry with a view of the reception area, impressing guests as they arrive.
On the pool deck, in addition to the cabanas and kid-friendly pool, there's a lovely Oasis beach garden; the Vesper American Brasserie, named for a James Bond movie; and Sweet Beach, a family-friendly outdoor oasis offering food by Michelle Bernstein and drinks by the folks at Sweet Liberty Drinks & Supply Co.
The Shelborne South Beach welcomes families with a children's area, family programming and a package for families with kids under 5 years old. The package includes a welcome toy and a kid's cup for unlimited soda and juice refills. Kids eat free breakfasts at the Shelborne Caffe (the menu offers chicken tenders, quesadillas, grilled cheese sandwiches and other kid-friendly foods). Also included in the price is a one-day rental of a poolside cabana with no food and beverage minimum. Blackout dates apply.
Family Friendly Day Trip Activities
Our list of day trip options from Miami for the whole family to spark some ideas for outdoor adventure. And if you are coming from Orlando, you could simply catch a bus from Orlando to Miami to make your trip more seamless:
Florida Keys: The Florida Keys are filled with great towns with plenty of interesting adventures that will be a hit with the whole family. In Marathon, just 2 hours from Miami, you can find the Turtle Hospital. Here, you can take a tour with energetic staff, explore the facility, learn about the area's spectacular wildlife and meet the hospital's rehabilitating turtles. A short drive away is family-friendly Sombrero Beach home to a playground area, canopied picnic spot and outdoor volleyball courts. 
Marco Island: There are many things to do on Marco Island for families and couples alike. The island destination is 2 hours from Miami and offers access to pristine beaches and water sports. The perfect way to discover the area is by taking part in a Kayak Tour through the Mangrove Tunnels. The tours are guided by biologists and naturalists, and are open to guests of all ages. Two seater kayaks are a great way for even young children to experience the excursion.
Palm Beach: Just an hour and a half north of Miami, you will find the waterfront city of Palm Beach. In order to see Palm Beach from land and sea, you can take a unique ride on a Duck Boat Tour. The 75 minute tour brings visitors around the city streets and then the same vessel turns into a boat and rides around the intracoastal. The tours are guided by local actors who make the ride entertaining and enjoyable for all ages. During the ride, you'll get the chance to see the Palm Beach Mansions, Mega-Yachts, Worth Ave and so much more.