It's your parent's anniversary, and you want to surprise your parents. Whether it's the 18th anniversary or the 25th anniversary, or any other year, the day must be celebrated with a lot of zeal and enthusiasm. The number doesn't count, but the celebration does. Marriage anniversaries are days that help people to remember the valuable moment when two people got married in an auspicious way. As kids, it's natural to have an idea of arranging something for the people who dedicated their lives to you. If you don't know where to start, this article will help you figure it out. 
1. Set up a budget
Organizing a party will surely cost you a good amount of money. It's important that you plan it months ahead so that you don't have any problem arranging the event. If you have siblings, in that case, you can divide an amount, and each one can lend you some amount from their salary or pocket money. Make a rough list of the things that you plan on doing, and then make a rough count on the money that will be needed. This will ensure that you know approximately how much money you'll need.
2. Make a guest list
It's your parent's anniversary, and in that case, you want to invite their friends and your family members most importantly. Make a list of people that you want to invite. Ensure you indirectly ask your parents so you don't miss out on someone important. Also, keep the list as short as possible, as you are the one who's preparing everything. More people mean more responsibility.
3. Arrange for aromatic and crisp wine for the guests
Good wine is very important for the guests on any occasion, whether it's an anniversary or a birthday party. Australian Wine is something that people would love and enjoy for the whole event. You can ask your parents for their preferences and then choose a wine that tastes Savory and has bursting flavors to enjoy.
4. Pay attention to the decorations
Items like number balloons, colored papers, balloons in general, party confetti, and candles are a must. You can search for some decoration ideas on Pinterest to have a proper view of how to decorate the venue. Use a pastel backdrop for a better look. The perfect aesthetic way to go is to choose a pastel color and golden or silver to pair it up with.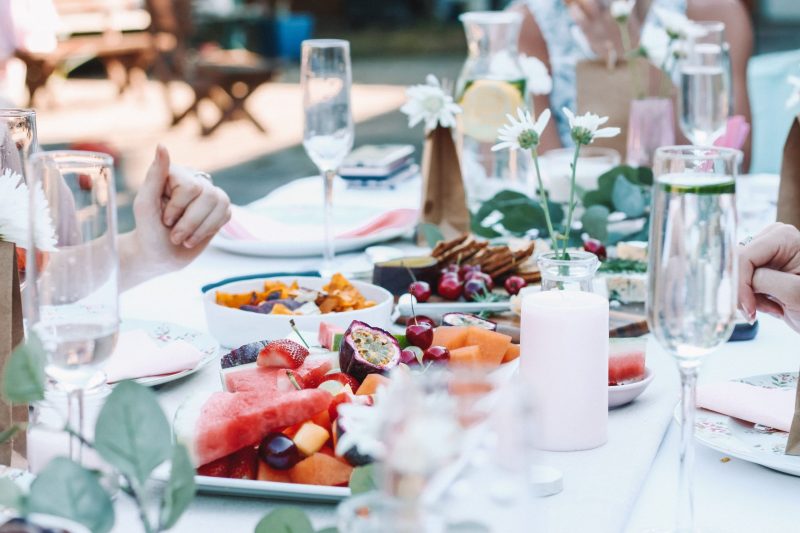 5. Take some extra time to decide on the menu
Good food is a must on any kind of occasion. Take some extra time to decide on the menu for your parent's anniversary party. Select a type of food and build a menu from there. The three main segments are starters, main course, and dessert. Think about if you want to through a dinner or brunch party, for example.
If there is less guest count, then you can prepare the meal, and if there are more guests coming, then you arrange for catering services. You must not miss the beautiful anniversary cake though. Choose a flavor that your parents love and order a two-tier cake. You can also bake it yourself to make it more special.
6. Create a playlist
Good music can lift the whole mood at an event. Make a playlist with music that will go with the taste of most guests. Make sure that you keep the theme intact. If you want to go extra, you can hire a DJ, but keeping it minimal and simple is best. Arrange some games for your parents and the guest to enjoy.
7. Organize some activities
It's always nice to include some activities at the party to keep everyone engaged and, of course, have a fun-filled evening or afternoon. Some games can be charades, mystery games, or even an interactive craft project. Including a game of your choice can definitely be engrossing and fun too!
Final Thoughts
The main thing that matters is your love and your dedication to your parents. No matter what you arrange for them, they'll be proud of you no matter what. So don't stress yourself and plan it, keeping these notes in your mind. We hope you like our ideas for organizing a party for your parent's anniversary and will incorporate them into your party that is coming up soon.