Most first time guests visit Artisan to experience their flawless execution of a New England farm-to-table menu. Little do these visitors know that the menu is not the only feature of Artisan that presents arresting beauty and showcases unparalleled attention to detail. The design elements of this restaurant have been hand-selected by Charles Mallory of Greenwich Hospitality Group, well-known Restaurateur Rick Wahlstedt, and Chef Frederic Kieffer.
Those familiar with Rick's other restaurants may recognize the hand responsible for two large murals that adorn Artisan's walls. Artist and friend Jonas Wickman of Stockholm was inspired to paint a mural of flowering tobacco in the tavern to celebrate Hartford's history, as well as a lavish mural of fig trees in the formal dining room which was created in collaboration with Wickman's daughter to honor the ambiance of the lush garden just outside the restaurant. In the tavern, where 9000 bricks have been hand-laid in a herringbone pattern, you can enjoy a drink at the Parisian bar top that had to be lowered inside via crane or cozy up to the custom Swedish stove during chilly weather.
Artisan offers two locations. Their West Hartford location opened in 2017 and Southport in 2011. Artisan West Hartford is located in the gorgeous Delmar Hotel and hosts Tavern Parties and Garden Parties on the last Thursday of the month, year-round. Enjoy summer nights on the garden terrace from May to October and cozy evenings by the wood-stove from October to May.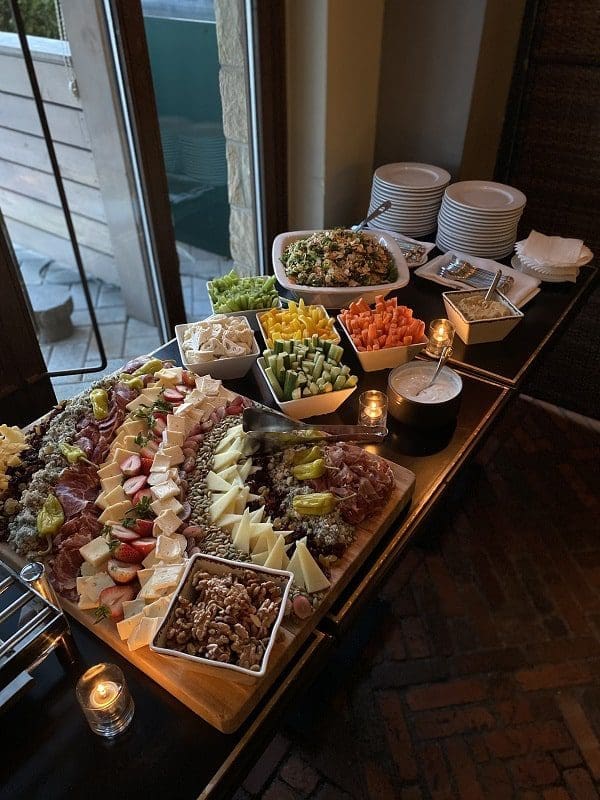 The West Hartford location boasts the largest kitchen garden in CT. The garden is a labor of love for master gardener Renee Giroux who supplies Artisan as well as the Delmar with all of their lettuce and a large portion of their local produce and herbs.
The Artisan West Hartford Tavern Parties are a great place to meet friends for some of Rebecca's famous winter cocktails like Hot Toddies and Cider Punch and Chef Kieffer's unforgettable light bites. This Thursday we were treated to an amazing charcuterie board, crudités with fresh hummus and dip, a kale salad with quinoa, heirloom tomatoes and currants, fresh pasta and bread, and what were unquestionably the most delicious candied walnuts the world over.
Artisan's tavern parties regardless of the season are the perfect way to spend an evening. Not often can you find a destination that is both cozy and refined, relaxed yet elegant. Some other unexpected surprises that make us love Artisan so much: Live music every Thursday at 7pm, and complimentary s'mores the last Sunday of every month.
Reserve a table in Artisan's formal dining room for the full dining menu or pop into the Tavern, where you can enjoy both the tavern and dining menu. A private room is also available for special occasions.