In the Hamptons, have your cake and eat it too while enjoying some of the most scrumptious desserts at some of our favorite bakeries and restaurants. From East Quogue out to Montauk, whether you are a traditionalist or want something out of the ordinary, there is a sweet treat waiting especially for you.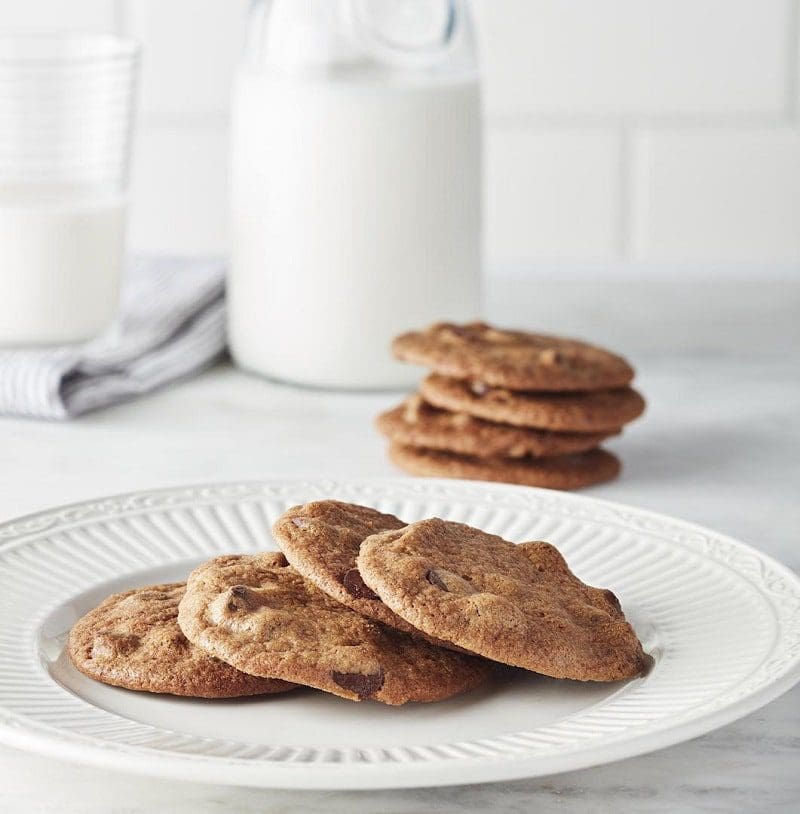 Levain Bakery
Wainscott
If the mood strikes you for an ooey-gooey cookie when driving on the Montauk Highway, check out Levain Bakery in Wainscott Village. These oversized, melt in your mouth signature cookies will satisfy any cookie craving you have. Baked fresh every day, Levain's cookies are like no other. They've been called New York's most famous cookie, and you'll understand why once you try the chocolate chip walnut!
If that's not your thing, don't worry! They have plenty of others, from Dark Chocolate Chocolate Chip, Dark Chocolate Peanut Butter Chip and Oatmeal Raisin. Levain Bakery is open in-season from 8am to 6pm! 844-458-6671
Gemelli Gelato
Hampton Bays
A sprawling green grass lawn with colorful Adirondack chairs sets the mood when you enter Gemelli Gelato of Hampton Bays. With over 24 flavors of Gelato and Sorbetto, Gemelli is the perfect destination for a sweet treat.
Flavored waffle cones and plenty of toppings compliment gelato flavors like Nutella, Caramel Cookie Batter and S'mores. The waffle cones have unique flavors too. Try a Toasted coconut, Red Velvet or Birthday Cake paired with your choice of gelato.
Bring the whole family (pets included) and enjoy a cone outside on the lawn while playing a socially distanced game of corn hole. Call ahead for a specific flavor as certain flavors change daily, otherwise just pop in! Gemelli Gelato is open in-season Monday-Sunday 1-10pm. 631-594-5600 
The American Hotel
Sag Harbor 
In the heart of Sag Harbor right on Main Street, you'll find the famous American Hotel. Built in 1846 at the height of the whaling era, this historical hotel is home to an award-winning restaurant with spectacular dessert choices. Whether you enjoy a full meal or just stop by for a drink, don't miss the opportunity to savor a delicious dessert.
Try the melt in your mouth Banana Foster with bananas, puff pastry, vanilla ice cream, caramelized sugar, crème de cacao and dark rum, or if you want something a little nutty, go for the Macadamia Tart with roasted whole macadamia nuts, honey praline sauce, white chocolate, crème Chantilly and fresh berries. This is one dessert you'll never forget.
The American Hotel is open for Lunch from 11:30am-4pm, and dinner from 5-10pm. They are open until 11pm on weekends & holidays. Reservations and walk-ins are welcome by availability. 631-725-3535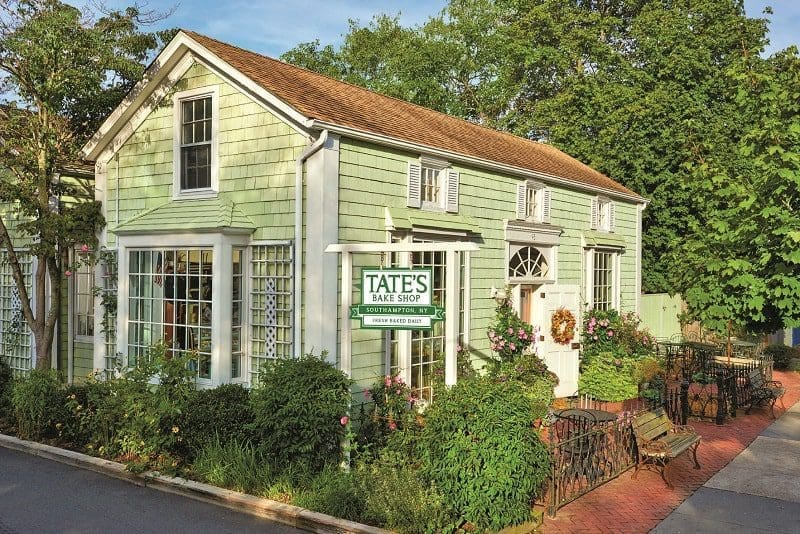 Tate's Bake Shop
Southampton
Tate's Bake Shop in Southampton Village is a nostalgic destination for the whole family. The bakery is known for one of the most famous chocolate chip cookies and a Hamptons staple. They are also a one-stop shop for special occasions. Our favorite is the Best of Southampton that includes their utterly irresistible Sour Cream Coffee Cake and Chocolate Chip Pie.
Their Chocolate Party and Wedding Favors are also a great option for small gatherings during this time. Tate's Bake Shop also has gluten-free bakery options.
The bakery is currently open 7am-3pm daily.
Can't make it to Tate's in Southampton? You can find Tate's cookies in most grocery stores in the Hamptons and in many stores nationwide. 631-283-9830
The Beacon
Sag Harbor 
Located on the waterfront in Sag Harbor, the desserts at the Beacon Restaurant are a must-try! Open for over twenty years, the Beacon is a "summertime only" restaurant so don't miss your chance to try a sweet treat with a sunset view! For a new take on an old classic, try the signature Beacon Ice Cream sandwich with vanilla ice cream and chocolate sauce. 
Local Hamptons rhubarb is the centerpiece for a shortbread crusted rhubarb tart topped off with vanilla ice cream or try the lighter almond cake with mascarpone cream. Open Wednesday through Sunday for sunset dinners from Memorial Day to Labor Day. Reservations only. Reservations can be made up to 14 days in advance. 631-725-7088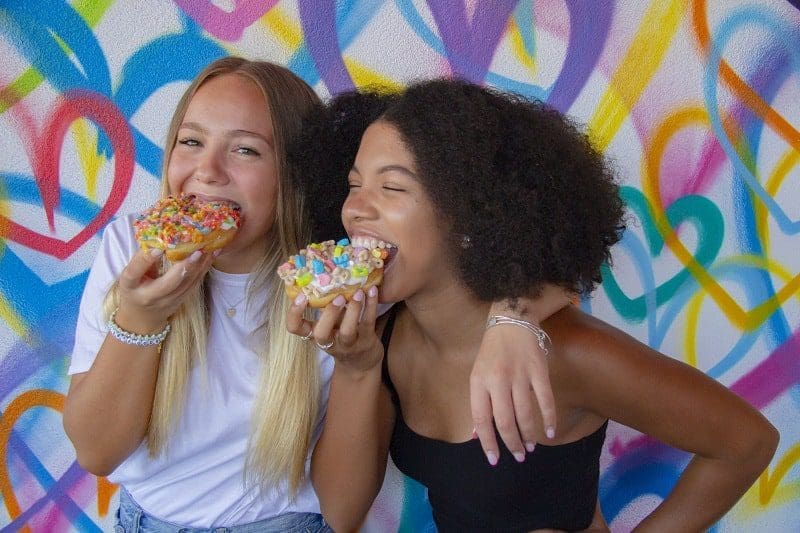 Sundae Donuts
Montauk
Sundae Donuts is the ice cream cereal bar and donut shop you didn't know you needed! Create your own cup, cone, or milkshake by choosing a cereal mix-ins and candy inspired topper. Always after your Lucky Charms, CooCoo for Coco Puffs or craving some Cap'n crunch? All your favorite sweet cereals are there for mixing!
But that's not all, top off your cereal ice cream masterpiece with everything from Twix to Reese's Pieces to good old rainbow sprinkles. Add a decorated donut on top for the ultimate dream dessert! 
Stop by and live the unforgettable sweet life at Sundae Donuts in Montauk! We especially love Sundae Donuts because it is a fun spot for finding some of the most unique dessert options in the Hamptons. 631-238-5732
Stone Creek Inn
East Quogue
Found in the quaint town of East Quogue is the Stone Creek Inn. Chef Christian Mir and wife, Elaine DiGiacomo bought and renovated the building in 1966 to create the Inn. The restaurant has garnered rave reviews for the food, ambiance and service so you'll want to try the entrees, but the real fun starts with some of the best desserts in the Hamptons.
If you are looking for a meal closer that will taste delicious while also being insta-ready, you'll want to try one of these:
Banana Parfait with lady fingers and caramelia pearls, the "Campfire Delight," which is warm chocolate cake, marshmallow cookie crust and caramel ice cream, or fresh warm donuts.
Stone Creek Inn is open on Wednesdays through Mondays from 5-9pm. Reservations are accepted for outdoor and indoor dining up to 2 weeks in advance. 631-653-6770