Spoil your sweetheart with whimsical and decadent treats at Sugar Factory NYC . Whether you are nearer to Foxwoods, Miami Beach, Orlando, Las Vegas, or one of their two New York City locations (Meatpacking or Upper West Side), a luscious extravaganza awaits.
Sugar Factory menu miami is the internationally recognizable American brasserie and dessert café known for their over-the-top, whimsical drinks, entrées, and sweets, including their celebrity-endorsed Couture Pops. Valentine's Day dining at Sugar Factory is sure to be one of those memorable occasions paired with plenty of Insta-photo ops and sweet indulgences. No wonder they are the 'Most Instagrammed Restaurant in the World'.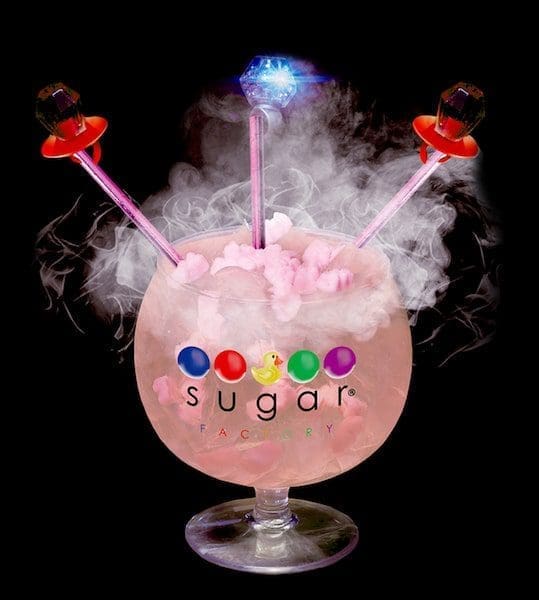 Spend the afternoon or evening of Valentine's Day at Sugar Factory. A special prix fixe menu for $65 per person will be available. Fan favorites will make their entrance like Mac and Cheese Pops or Tomato Bisque for starters. Main dish selections include Pan Roasted Salmon or Black Angus Filet. Take the experience up a notch and include the Diamond Rosé Goblet. It is made with Vanderpump Rosé and inspired by the timeless Lisa Vanderpump ($89 per person).
In our opinion, no experience is complete without having one of their signature goblets ($36) with pour done at your table for the ultimate dramatic effect. Goblets are available without alcohol for $26.
In addition to their prix fixe menu, share their Hearts of Love Insane Milkshake ($19), made with a red chocolate ganache mug, filled to the brim with cookies and cream milkshake, and topped with a dark chocolate dipped Rice Krispy treat heart.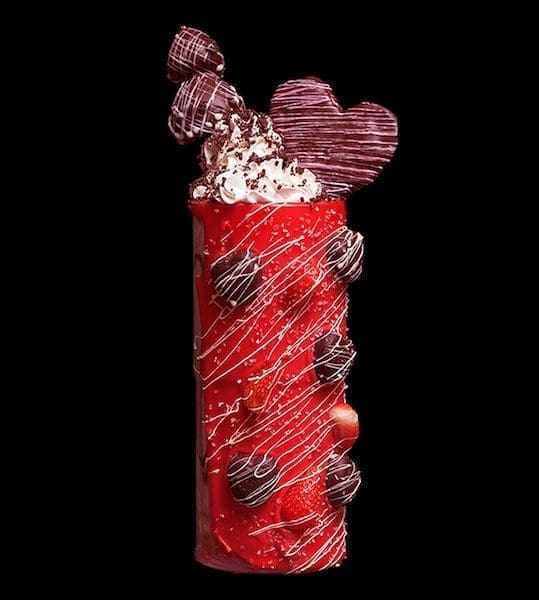 Sugar Factory's Prix Fixe Menu can be viewed below.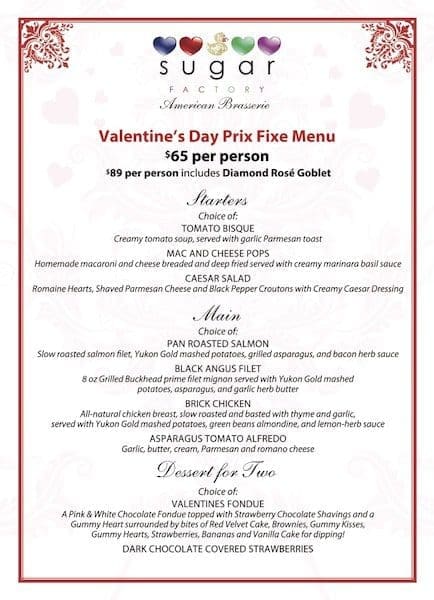 Seasonal menu items, like the Hearts of Love Insane Milkshake, rotate throughout the year for specific holidays such as St. Patrick's Day, Fourth of July, and Christmas.
Sugar Factory Menu Miami international locations include Dubai, Abu Dhabi, Bahrain, and Manila. They have over a dozen restaurant and cafe locations nationwide.