Catch these sweet specials from restaurants across New York City available this week and next. These NYC and Long Island Valentine's Day restaurant specials are available this weekend to share with your special someone, group of friends, or family.
Baldor Specialty Foods x Great Performance Kits
Baldor Specialty Foods has teamed up with NYC caterers to bring consumers a romantic dinner date in a box. From rack of lamb to fondue, couples can order these meal kits for delivery. Couples may even prepare them together for a special meal at home. 
For a traditional Valentine's Day meal in a not so traditional fashion, the Surf and Turf option offers Grilled Filet Mignon and Gulf Shrimp with garlic-herb butter accompanied by grilled broccolini.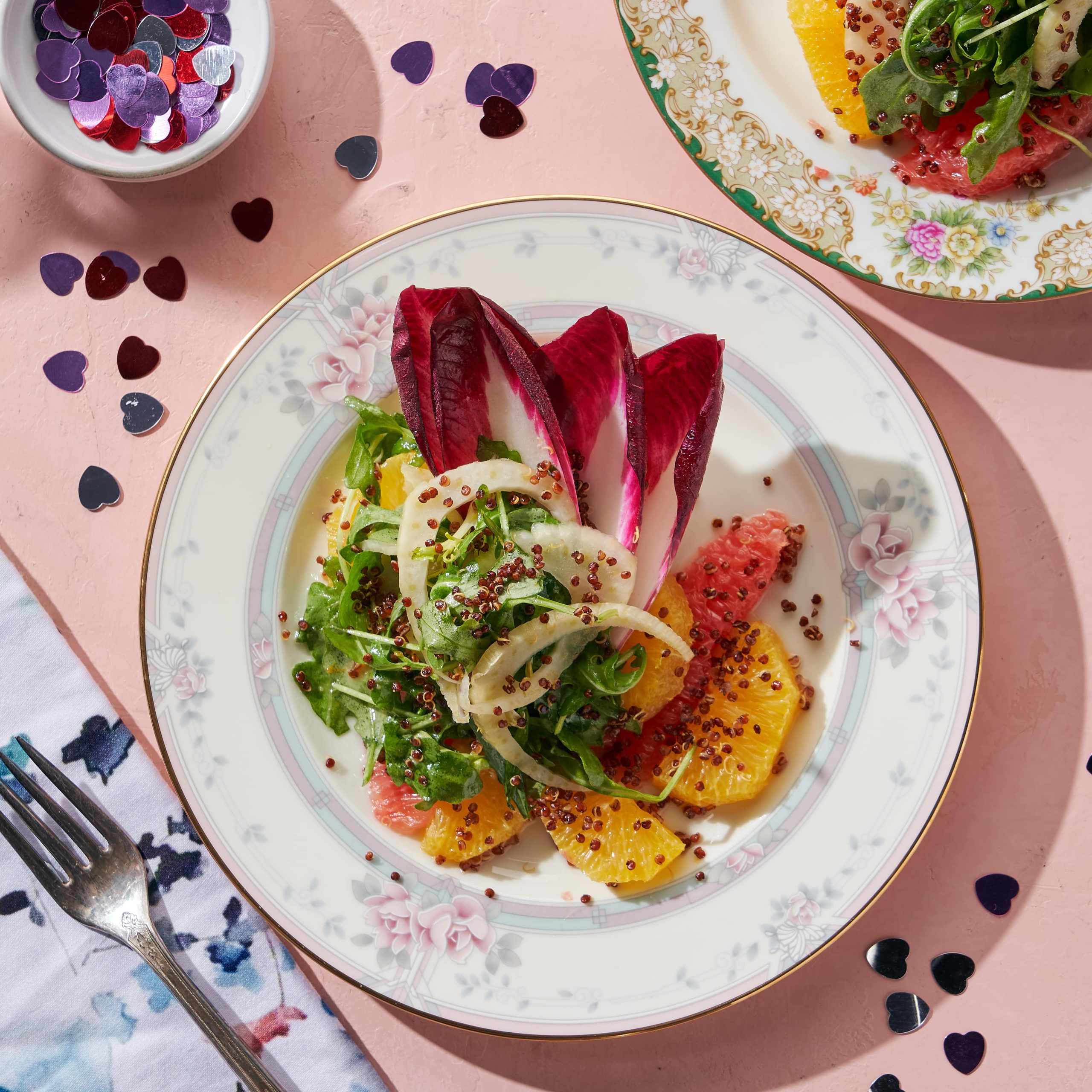 Another great option is the Smoked and Poached Salmon Rillettes. It is served with lemon, shallots, white wine, and crème fraiche on top of their heart shaped pumpernickel crostini.
Great Performances has many other delicious choices. These include Truffled Winter Vegetable Pot Pie, Whole Roasted Rack of Lamb, a Citrus Salad, and Red Beet Gnocchi.
For dessert, they also offer Valentine's Day specials like their caramelized and flakey Apple Tarte Tatin, and Valentine's Blackout chocolate mousse-filled cake with a naturally red, beet glaze. 718-860-9100
Concord Hill
Concord Hill in Williamsburg will offer a 3-Course Valentine's Day Dinner to-go for two with cocktails to celebrate in style – and without breaking the bank!
Chef Guy Kairi marries luxury with comfort in his menu. It includes a Lobster Salad with whole Maine lobster, artichokes, caramelized onions, greens, pickled peppers and olives; Sasso Chicken with Black Truffles, baby carrots and potatoes; and decadent Layered Chocolate Mousse Cake with raspberries.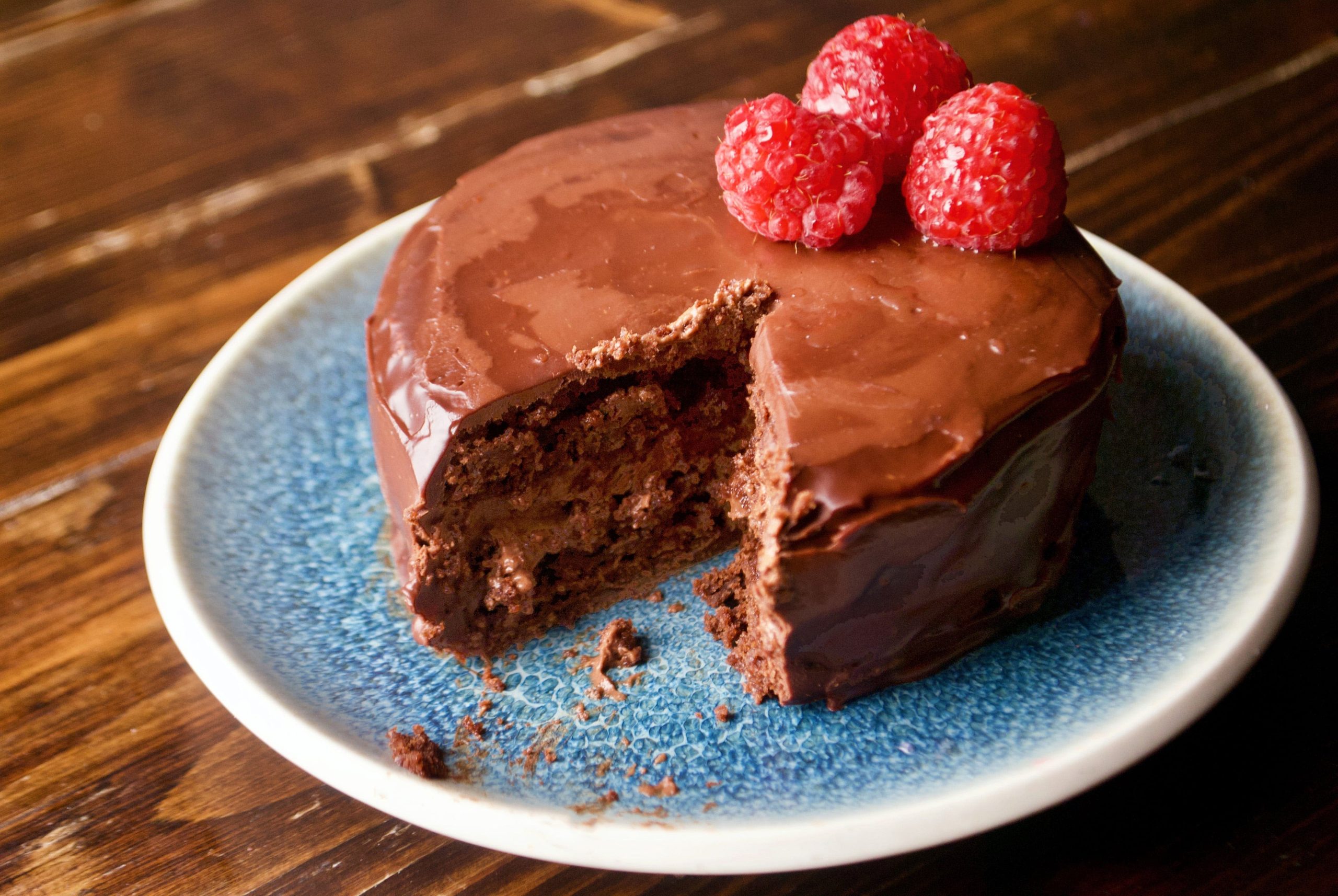 Bar Manager Victor Bautista will add two house-made Valentine's Day-inspired cocktails to enjoy with (or before) the dinner. 
Concord Hill will also have their 'Bring Brunch Home Kit' for two. It has everything needed to make an extra-special brunch at home over the weekend.
Plus, boozy brunch options are available to add on!
Reservations for a la carte outdoor (heated space) and limited indoor dining via OpenTable. 347-463-9322
Little Chef Little Café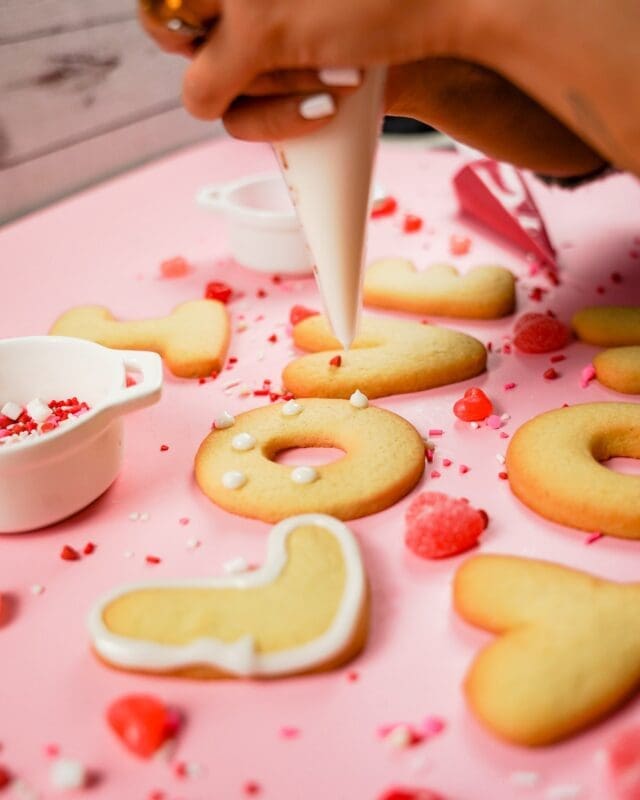 Little Chef Little Café's Valentine's Day menu offers Hot Cocoa and Sweets for two, 'I Love You' Cookie decorating kits, Valentine's Cupcakes, and more. These may be ordered ahead of time and will also be available at the café on Valentine's Day for any last-minute gifts and treats. Click here to place your order. 845-310-4255 
Marche Maman
Maman's "Avec Amour" Valentine's Day Pop-Up will offer limited-edition beverages, pastries, romantic giftable retail items. They will also offer a Pic and Petal dried and fresh floral arrangements, including DIY bouquets and complimentary mini floral design lessons. 
Bring home an assortment of mini sweets from the display. These include the mini raspberry rose cookie, passionfruit marshmallow heart or mini heart oreo in Maman's homemade, edible chocolate "heart" box.
While you're there, grab one of the Valentine's Day speciality drinks like La vie en Rose. It is a lovely Rouge Provence tea latte made with Maman's house made honey lavender syrup, steamed milk of choice, and dried rose petal garnish.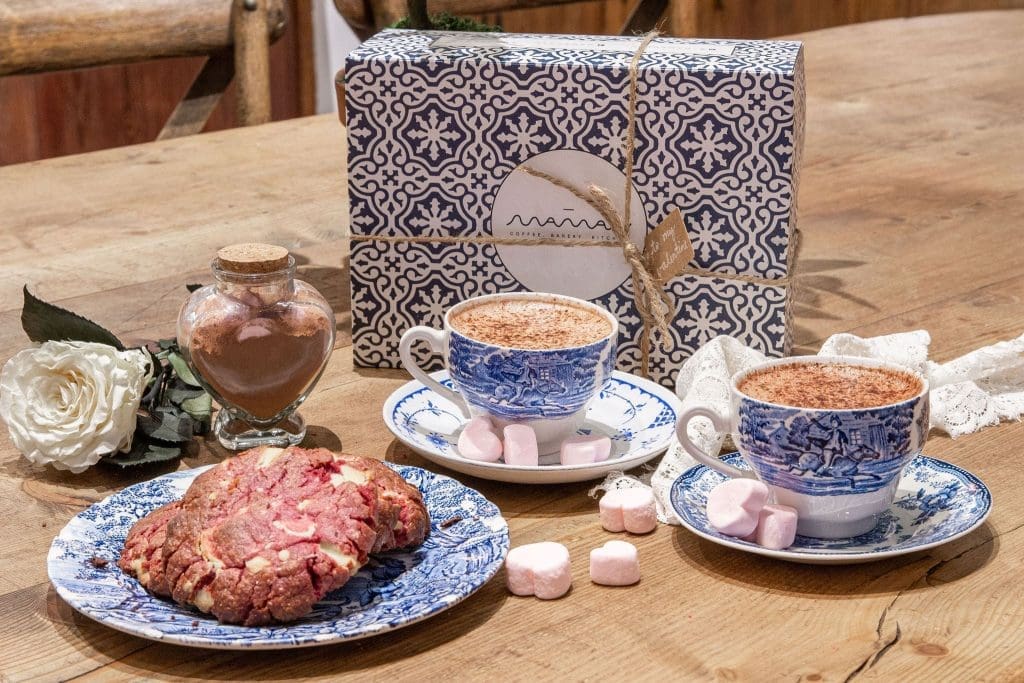 On the go? Try the Love Potion Hot Chocolate which features a glass heart jar filled with hot chocolate mix, topped with heart shaped marshmallows and makes two hot chocolates at home. 212-226-0700
Prime Time Butcher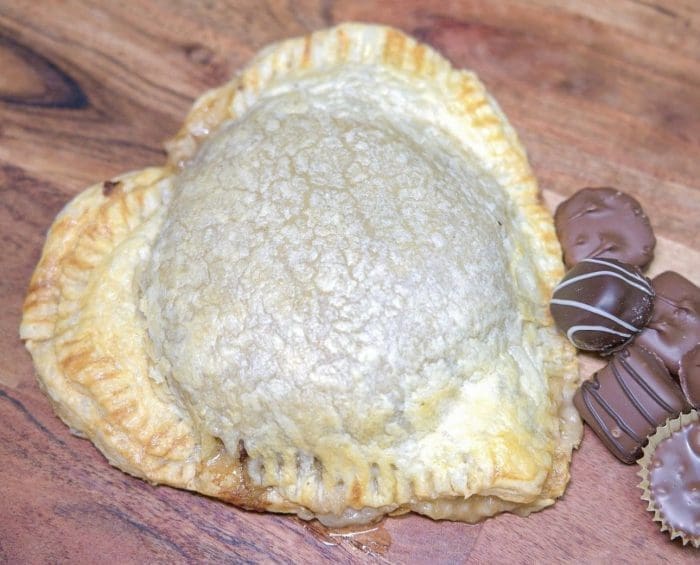 For Valentine's Day, Prime Time Butcher has created a delicious Heart Shaped Beef Wellington. They have a wide selection of cuts and meats including Wagyu Beef, A5 Beef, Steak Burgers, Dry Aged American Lamb, and more. Prime Time Butcher ships nationally and is a local New York business based in Woodbury on Long Island. 516-921-6519
Soogil
Soogil's luxurious French Korean Valentine's Day Tasting Menu from Chef Soogil Lim offers an elegant culinary experience. The menu will be available on both Sunday, February 13th and Monday, February 14th. 
Opt for the Tuna & Caviar with Black Diamond Kaluga Caviar, tuna tartare, watermelon radish, finger lime crème fraiche and seaweed potato taco shell. The gourmand adventure will continue with Sunchoke Soupwith gnocchi, sunchoke nets, and smoked trout roe. The notable main course is Duck Wellington. The Duck Wellington is made with shiitake mushrooms, dates, pistachio, and 24-hour soy bordelaise sauce. 
An additional course of Uni Bowl (with smoked trout roe, seaweed pureed rice, gamtae) or Black Diamond Kaluga Caviar can be added.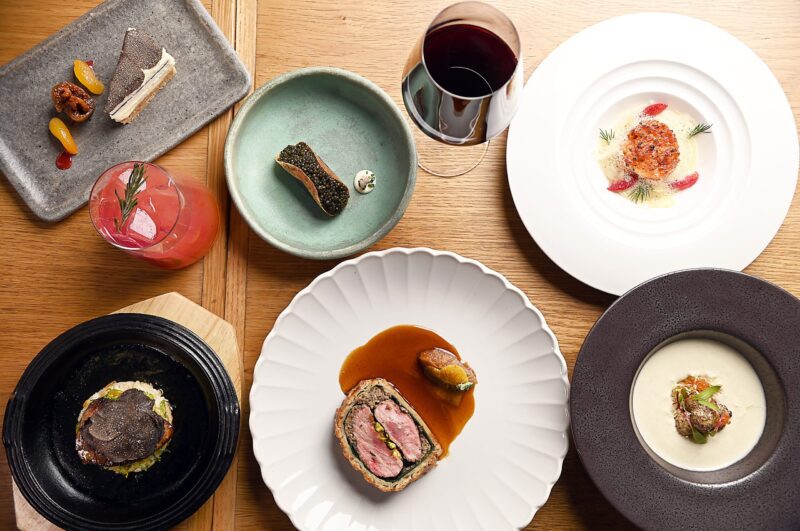 For a sweet finale, there is a choice of Cheesecake with black truffle, fig and raspberry jelly or the signature Jenga Tower, crispy churro-like pastries with black sesame gelato and Korean seven grain powder.
An added wine pairing, including a Burgundy wine pairing, is also available.
Takeout and delivery orders are available via Tock. 646-838-5524 
The Rooftop at the NoMad
The Rooftop at the NoMad restaurant will be offering a pre-fixed menu with an optional wine pairing. Their menu is available on both 2/13 and 2/14. 
Menu highlights include the NoMad Chicken with foie gras, black truffle & brioche, Roasted Sunchokes with dandelion, hazelnuts & grapes, and Gnocchi Parisienne with black truffle, short rib & parmesan.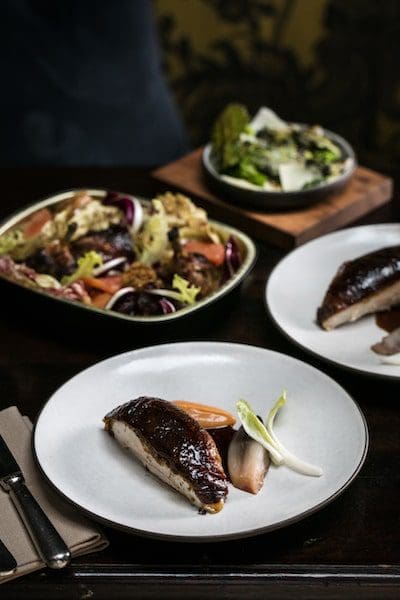 The restaurant will also be offering a selection of Valentine's Day packages for delivery or pick up. These packages are available to book via Caviar. These include Champagne for the Pain (for anti-V-Day patrons) which consists of La Caravelle Champagne (Half Bottle), Fried Chicken, French Fries, Fried Brussel Sprouts, Milk & Cookies, Foil Wrapped Chocolate Hearts, and an amenity card. 
Other packages include the Hot Date which offers the Hot Lips smoky margarita, The NoMad Chicken, Apple Crumble Pie & Ice Cream, assorted chocolates, and an amenity card. 
If you have a sweet tooth, the Indulge Me package is for you as it offers Apple Crumble Pie, Pecan Tart & Ice Cream, handcrafted chocolates, your choice of cocktails and an amenity card. 212-796-1500