Curious to know which restaurants in New York City are offering takeout and delivery for New Year's Eve? Toast the highly anticipated the New Year comfortably and safely at home with all of the trimmings and fixings you would expect when dining out in NYC.


Read on to learn about eight restaurants offering this convenient service, while you reward yourself with more quality time with your loved ones.
Carmine's
The Upper West Side location of Carmine's is offering two to-go packages that feed the whole family. Guests can opt for the Carmine's Classic Celebration. This includes a Caesar Salad, Penne Vodka, Chicken Parmigiana, and Italian Cheesecake. Or, choose Carmine's Grand Celebration. The Grand Celebration includes Carmine's Salad, Fried Calamari, Spaghetti and Meatballs, Porterhouse Steak, and Chocolate Cannolis.
Both packages serve four to six guests, Customers have the option to add a 1.5 liter bottle of Carmine's Reserve Red Wine. 212-362-2200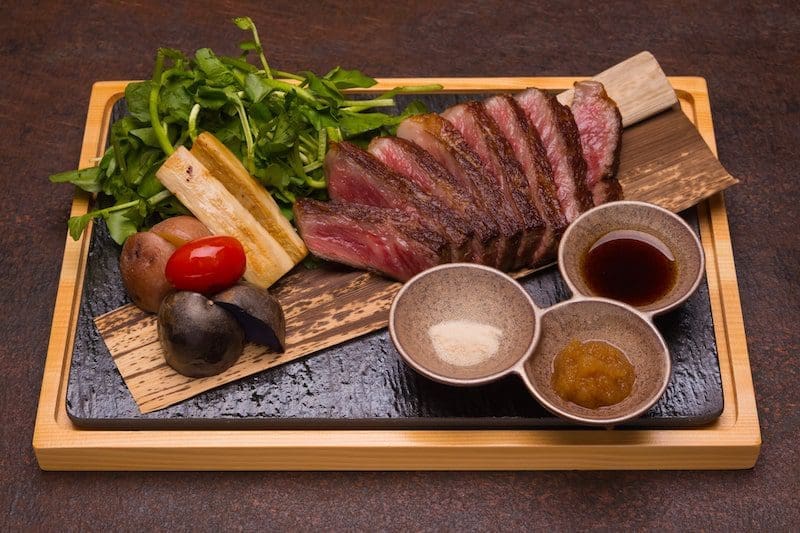 J-Spec
The Wagyu-centric newcomer Japanese restaurant, J-Spec, in the East Village will offer a special Holiday Week Wagyu Dinner. This special runs from December 22nd through December 31st.
For those celebrating at home, J-Spec offers a special grill-at-home Wagyu dinner for two for takeout and delivery. The menu includes popular dishes like Wagyu Tataki, an assortment of Sushi, Washugyu Roast Beef, and Wagyu Steak to grill-at-home including vegetable sides, and dessert.
The to-go menu for two features two different steak options: a 16 ounce Wagyu Striploin, and a premium 14 ounces of Wagyu Chateaubriand. Orders can be placed by calling the restaurant directly or via Seamless, Caviar or DeliverZero. 212-287-0107
L'Avenue at Saks
L'Avenue at Saks has you covered with NYE meal kits that transport you to the Parisian hot spot even if you're stuck at home this year. Champagne (of course), caviar, Pierre Herme desserts, and a selection of NYE goodies including black and gold noisemakers, headbands, and beads.
Options include the New Year's Eve Champagne and Caviar kit. This includes Ruinart Rose, 50 grams of Caviar Oscietre Royal, Couer de Saumon Fume (smoked salmon), and Pierre Hermé macarons.
If you want to go all out, choose The New Year's Eve Dinner Celebration dinner kit. It includes Dom Perignon or Ruinart Rose and a three-course meal. The meal features 50 grams of Caviar Oscietre Royal, Couer de Saumon Fume, Foie Gras, Chili Sea Bass, Filet de Bouef Rossini, sides, and a Buche de Noel. Upgrades on each kit are available. A selection of meal kits are available for Hamptons delivery. Learn more by contacting Lavenue[at]saks[dot]com.
MIFUNE New York
MIFUNE New York will be featuring a Special "Osechi" (Traditional Japanese New Year's Food) Box Set. The box set serves 2-4 people, and features 21 dishes. Highlights from the box set include Four Butternut Squash Soups with almond cream, Four Chilled Japanese Uni Chawanmushi with dashi gelee, and more.
Guests can also include upgrades in their order with the 12g Caviar Jar, Miyazaki Wagyu A5 Rank and Japanese Uni Sushi (6 pieces), or the 250g Japanese Uni Box. This box is for pre-order only and available for pick up (3-7pm). Delivery is available on New Year's Eve anywhere below 125th Street (3-7pm). 212-986-2800
Portale Restaurant
Portale Restaurant had quite the unconventional first 'year' of business after debuting in Manhattan last winter. The restaurant locked down between March and September but has fortunately been able to reopen for takeout and delivery, as well as limited on-premise dining.
For New Years Eve, they are offering an over-the-top take-home feast as part of their newly launched "Cena a Casa"curated meal program. This meal program was designed to offer guests a more formal at-home dining experience.
Portale's New Year's Eve x Cena a Casa Menu includes a variety of contemporary Italian dishes, and add-ons. These include Agnello, Aragosta, and Torta al Cioccolato. Available add-ons include side dishes like polenta cake and broccoli rabe, and cocktails-to-go. Seasonal dessert add-ons by Executive Pastry Chef Kaity Mitchell featured on the menu are Olive Oil Cake, Gingerbread Custard Pie, Cinnamon Rolls, and more.
All meals consist of fully cooked dishes that can easily be reheated. Meals must be pre-ordered at least 48 hours in advance. 917-781-0255
Restaurant Daniel
Celebrate New Year's Eve in full style with an indulgent weekend feast presented by Daniel Boulud. The feast includes canapés, dinner, and brunch featuring artisanal cheeses, charcuterie, festive desserts, and more.
Dinner dishes to savor are Black Truffle Layered Moses Sleeper, Meyer Lemon & Crab Panna Cotta, and other delights. Brunch is a selection of Sourdough & Viennoiserie, Smoked Salmon, Molleaux au Chocolat, and more. The dinner packages are available for pickup and delivery. 212-288-0033
The Smith
The Smith is doing a New Year's Eve delivery box that is available for pickup and delivery. Their New Year's Eve Dinner includes snacks and starters like Tuna Tartare, and Kale & Quinoa Salad. Main dishes are Lobster Risotto, Braised Short Ribs, and others. Dessert is Hazelnut Layer Cake.
The dinner is available on December 30th and 31st. In addition to NYC, delivery zones include New Jersey, Connecticut, and the Hamptons. Serves two or four. 212-685-4500
Socarrat Paella Bar
Ring in the New Year with a Spanish feast from NYC's favorite paella restaurant, Socarrat. The special features a choice of paella: Lamb Truffle with lamb chops, truffle puree, asparagus, saffron aioli, and rice cooked in mushroom sofrito; or the Lobster with scallops, shrimp, calamari, peppers, and rice cooked in tomato sofrito.
Each paella is served with shareable tapas such as The Campero Board with serrano ham, chorizo-Iberico, Manchego, crostini toast; Croquetas de Hongo featuring crispy and creamy mushroom croquettes; and Datiles which includes bacon-wrapped dates stuffed with Valdeon cheese, almonds, and roasted apple puree.
For dessert, enjoy sweet classics like Churros with Hot Chocolate and Crema Catalana.
Orders can be placed by emailing athome[at]socarratnyc[dot]com.
Additional Resources