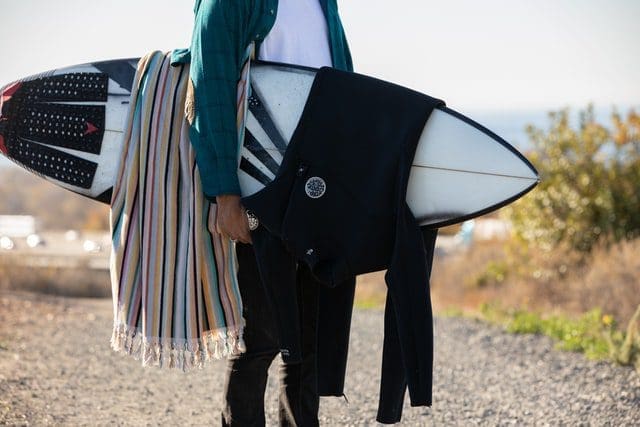 Whether you're a surfer at almost any break outside of the tropics, a triathlete swimming in open water, or a paddler seeking an extra margin of safety, a wetsuit is indispensable.
Wetsuits keep you comfortable in cool or frigid water by trapping a thin layer of water next to your skin. Your body warms up this water, creating a thermal barrier. You can be sure to find exactly what you are looking for at Wetsuit Centre with their range of surfing, water sports and swimming suits.
Wetsuit sizing and thickness
The most important thing to consider when choosing a wetsuit is the size and thickness.
A 3/2 summer wetsuit has a thickness of 3mm on the core body parts (back, chest, stomach, kidneys) for warmth and 2mm on the arms and legs to ensure good flexibility for paddling and, crucially, for popping up quickly.
A 4/3mm winter wetsuit will serve you well for surfing in cold water throughout November to April. With thicker 4mm neoprene around the middle body to keep warmth locked in and 3mm neoprene on the arms and legs for greater flexibility, you can be sure to stay warm while catching incoming waves.
To ensure you get the right fit, you'll have to get your tape measure out.
You'll want to take note of your:
Height
Chest Circumference
Waist Circumference
One you know these measurements you can compare them to the sizing chart of the wetsuit you are interested in purchasing.
Top Tip: Ladies, you may need to spend a little longer researching the right wetsuit for you and to take a few more measurements to ensure your wetsuit will fit your curves perfectly and will keep you warm the way it is supposed to!
Wetsuit Seams and Seals
There are different types of seams and sealing, which in turn have different advantages and disadvantages. Here is an overview of the common seams.
Flatlock Stitch Wetsuit Seams
With this technique, the parts are sewn in overlapping each other. This offers good flexibility, but also a higher permeability for air and water. A good body climate is achieved in warmer temperatures, but this form is not optimal for colder waters.
Glued and Blind stitched Wetsuit Seams
Here, the parts of the wetsuit are first glued and then sewn from the inside without penetrating the outside. Therefore, this seam has a low water permeability and is more advantageous in colder waters.
Taped Wetsuit Seams
Here, elastic tapes are bonded to the inner seam to increase the air and water impermeability and resistance of the seam. At the same time, the comfort and freedom of movement is improved.
Sealed Wetsuit Seams
The sealing of the seam leads to maximum water and air resistance, so is most suitable for winter wetsuits. To achieve this, sealing agents in liquid form are used.
Top Tip: The higher the quality of a wetsuit, the fewer seams are processed for maximum flexibility.
Wetsuit Zippers
The zipper is an important quality feature and therefore of great importance for your individual wetsuit purchase decision.
Front Zip on A Wetsuit
A front zipper is the easiest placement when putting on a wetsuit. This system is often used for Shorties or Spring suits and is therefore a better choice for summer or warm waters.
Back Zip on A Wetsuit
The rather long zipper leads to a higher air and water permeability and is therefore more recommended for warmer climates. This also reduces the flexibility somewhat.
The advantage, however, is that the wetsuit can be put on more easily. In addition, this system is particularly suitable for surfers, as they do not have to lie on the zipper unlike the front zip.
Chest Zip on A Wetsuit
The zipper runs along the chest and is therefore smaller than the front and back zipper. This system offers more flexibility and freedom of movement. This means that less water and air get into the wetsuit. This keeps it warmer and makes more sense for thicker wetsuits for colder temperatures.
Hopefully, with these tips, you'll be able to find the perfect wetsuit for you!