As told by Vanessa Gordon, Publisher of East End Taste Magazine
I have (finally) joined Clubhouse (@VanessaGordon)! Within less than 1 hour, Clubhouse has become not only my favorite social media platform. It is now my most frequently used social media app, behind Twitter.
In less than ten days of being on the platform, I have formed over four dozen solid connections in over two dozen rooms, moderated three rooms, and am continuing to grow my connections at a rapid pace. I have spent on average three hours per day on Clubhouse, and always look forward to signing on.
At last, there is a social media platform that I look forward to signing onto, and one brings people together in a meaningful way.
Why Join Clubhouse
There are two main reasons why people join Clubhouse: to network, and to learn. Clubhouse has launched at the best time: when most of us are still at home, and yearning to meet others in our industry, who share the same hobbies and interests.
I have met new connections and new friends from Finland, Russia, Ireland, Canada, Argentina, and even in my own backyard, The Hamptons! One connection I made used the word 'Serendipity' to describe our meet!
On Clubhouse, you could meet people from all over the world, join and follow clubs and interests. These include language-learning groups/rooms, groups that are travel focused, groups on social media elevation and leveraging, and so much more.
Some clubs have hundreds of people listening and speaking, whereas others have five or less. Both types of groups, large and small, can be very resourceful.
How to Join Clubhouse
First, you need to be an iOS user, meaning you have an iPhone or iPad. Then, you need to receive an invite via text from a current Clubhouse app user. Users have invites available to them on a rolling basis as they moderate rooms and utilize the app. Upon joining, I had three invites that I shared almost immediately.
Afterward, I have been able to invite an additional four more users via text. Since I have invited my name appears at the bottom of the profile, stating I nominated that individual to join Clubhouse.
When you first join, you will be able to see who already has Clubhouse via your own phone contacts, and you may follow them on the app if you wish.
Then, choose your interests and hobbies like Travel, Cooking, Parenting, Beauty, etc. Simply go to your profile, click settings, and then interests to select your categories. Categories include Arts, World Affairs, Life, and Wellness.
Lastly, choose your username, fill in your bio, and search for additional members to follow, and clubs.
You will also notice a 'party hat' embedded within your photo to showcase you are brand-new to the app. The party hat 'drops off' after one week of being on the app.

Which Username Should I Choose For My Clubhouse Account?
Originally, I used my brand/business name (@EastEndTaste). However, it was originally recommended to use my full name, according to who invited me to Clubhouse. After one week, I changed my username to my full name (@VanessaGordon).
Remember, most likely you are using Clubhouse to network and leverage you as a person. You want your name out there to make meaningful connections and to create a platform.
Since I am separate of my business and me as a brand encompasses more than East End Taste, I decided that changing my username to my full name was the best option.
Tip: according to the Clubhouse app, you may only change your username once!
How the Clubhouse App Works
You will see that as you continue to use the app, the more you will become interested in the rooms that are going on, and the ones scheduled for later.
As soon as you sign in, you will see all of the active rooms, including your friends that are in those rooms, how many people are speaking/moderating, and how many are in the audience or listening to the conversation.
When you choose a room that you want to join, you may choose to remain an audience member, you may raise your hand to be invited to come onto 'the stage'.
Note that some rooms may have closed the 'hand raising option', particularly if the room or conversation is almost over.
If you are a moderator or a speaker, tick your microphone in the bottom right-hand corner several times in a row to show that you are clapping or can resonate with what the speaker is saying.
If you wish to leave the room, simply click the 'leave quietly' hand and that will dismiss you from the room, so that you may join another room if you wish.
Conversation Tips
Remember, if you miss a conversation or join once the conversation is coming to a close, chances are that room happens on a regular or weekly basis. Check the moderators' bio(s) to see if they give more information.
Or, if there contact info is mentioned in their bio, send them a quick message, usually via Instagram DM (you currently cannot message one another through the app directly). You never know, you may end up hosting a room with them!
And, if you are moderating a room, particularly a small room, frequently ask those that pop in to join in the conversation! You never know who you may connect with. Chances are, you share some of the same interests.
Tip: the more people you follow, the more rooms you will see!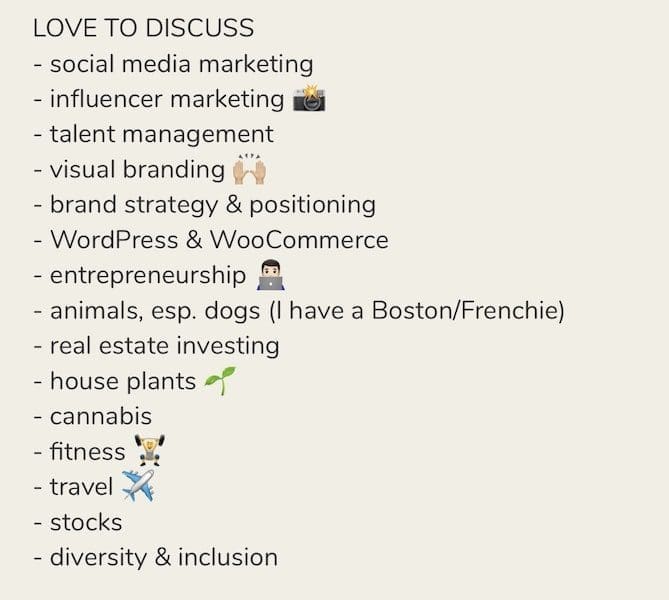 How to Build Your Following and Grow Your Audience
Show up as often as you can! The best way to grow first and foremost is to be active and present in the rooms. I recommend starting with smaller groups, and bouncing between smaller groups throughout the day. Remember, Clubhouse is built on interaction; all you have to do is show up!
You can be anywhere from the gym to the local coffee shop without the concern of constantly looking at the screen. It's like listening to a podcast that you can chime in on.
Tip: make sure your bio includes information that you would want others to know about you. This includes your bio, your social media handles, and how to contact you.
A secondary tip: when creating a room, use an emoji or two to catch the interests of other Clubhouse members.
Remember, emojis are generally colorful and eye-catching! For example, if you are talking about a particular travel destination, use that country's flag emoji and a secondary emoji that may represent that destination.
What Should I Write in My Bio?
You should include information that you feel is both helpful for other Clubhouse users you would want to network with. Think of your bio as an extension of your business card.
Stuck on what to write in your bio? I broke down how I created my bio and what information I chose to include in order from top to bottom:
The Hook: who I am, what my business is
My Current Location, and other relevant locations
Who/what interests I want to listen to
Which topics I would like to moderate or discuss with other Clubhouse app users
Where I have been featured (mini press reel)
Countries I intend to travel to in 2021 (as traveling is a strong interest of mine)
Where I have traveled to, so that I may meet others from those countries or provide insight on those countries I have visited
Tip: let your personality shine through your bio. Don't worry about what others are writing. When it comes to your bio, you do you!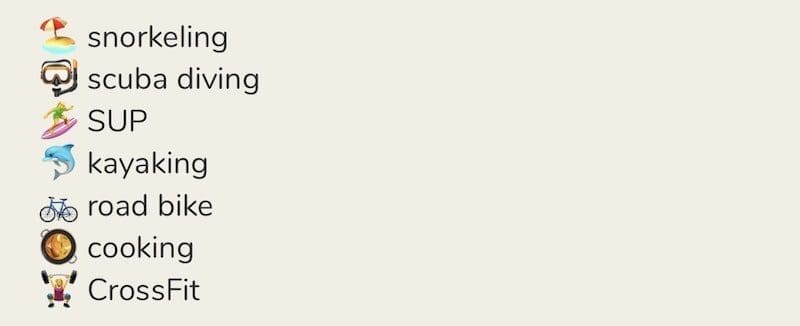 About the App
Clubhouse was founded by Paul Davison and Rohan Seth, two entrepreneurs and alumni from Stanford University. The app launched in April of 2020 at the height of the pandemic.
In May of 2020, according to CNBC, there were only 1,500 users. Currently, as of February 1st, the app has two million users.
Find Me on Clubhouse
Find me on Clubhouse @VanessaGordon.
Please reach out via Instagram DM should you wish to ask a question, want to network, or moderate and or create a room on Clubhouse with me.
In addition, please join my my club on Clubhouse: The Hamptons Network.
I look forward to connect with you. See you in Clubhouse!