Spa enthusiasts can now pamper themselves at home with DIY spa treatments. These easy DIY spa treatments are inspired and created by the team at SE Spa at Grand Velas Riviera Maya in Mexico.
The spa treatments listed below include an exclusive 'El Grito' body polish recipe honoring Mexico's Independence Day (September 16th). The DIY treatment is also part of a lineup of Vegan Spa offerings available at the AAA Five Diamond Grand Velas Riviera Maya resort. The El Grito DIY spa treatment is created by spa director Leticia Fernandez to honor the holiday.
Recreate these super simple and fun DIY spa treatments at home that are listed below. Each nourishing treatment is made with just a few simple ingredients and easy-to-follow instructions.
Deep-Conditioning Treatment with Avocado
½ Avocado
8 oz. jar of Mayonnaise (15 oz. jar for very long hair)
Shower Cap
Towel
Instructions
Smash half of an avocado into a bowl. Add entire jar of mayonnaise and mix well. Divide your hair in 4 parts and work the mixture into each section. Cover your hair with the shower cap. In warm water, wet the towel until damp and wring excess water out.
Fold into quarters, place in a microwave for 1 minute or until it is warm to the touch, and then wrap your head in the hot towel. Leave on for 25 minutes, then rinse.
'El Grito' Organic Body Polish
1 cup of

 

crushed rose petals

2 cups sugar

2/3 cup of

oil of choice (

Fernandez suggests coconut, almond, or lavender

)

2 cups of

fine herbs (

Fernandez suggests dry rosemary, rue, or basil)
Instructions
Combine crushed petals with sugar in a bowl. Add oil of choice and fine herbs. Mix together. 
Apply to the body with hands in a circular motion. Allow it to stay for 3 minutes then rinse with warm water.
Natural Body Exfoliation
Instructions
Combine sugar and olive oil in a bowl. Mix well and apply to your body. Rinse off with water.
Milk and Honey Facial Cleansing Cream
2 tsp. Honey
2 tsp. Warm Milk
Instructions
Mix the honey and milk over low heat. Apply the mixture to your face with the pads of your fingers, in a light massaging motion. Rinse and dry with a towel, lightly tapping your face.
Aloe Vera Cream for Dry Skin
6 capsules of Vitamin E or ½ tsp Wheat Germ Oil
4 tsp. Aloe Vera Gel
125 mL or ½ cup Almond Oil
1 tbs. Lanolin
Instructions
Mix the aloe vera gel with the almond oil. Open the Vitamin E capsules and add the oil to the mixture. Beat vigorously or blend and pour into a small container.
Melt the lanolin over a hot water bath. Remove from heat; add the oil mixture and beat vigorously until cool. Store in a glass container.
Basic Hand Cream
2 tbs. Lanolin
2 tbs. Almond or Wheat Germ Oil
4 drops of your favorite Calming Essential Oil
Instructions
Lightly heat the lanolin over a hot water bath and mix well. Remove from heat when it becomes liquid; add the almond or wheat germ oil and essential oil.
Mix until cool and store in a glass container.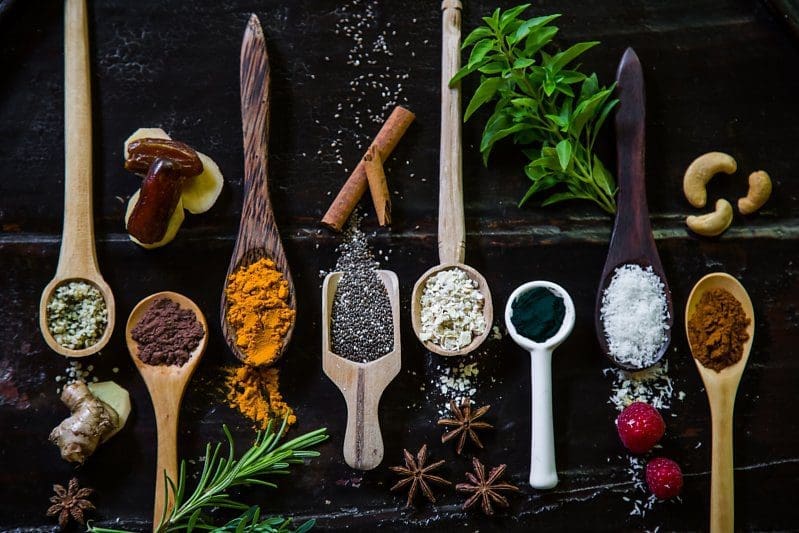 Intensive Oil Treatment for Dry Hair
3 tbs. Almond, Wheat Germ or Soy Oil
3 drops of Chamomile or Rose Aromatherapy Oil
Instructions
Lightly heat the oils and mix them together. Use the mixture to massage the scalp; distribute it over your entire head of hair, focusing on the dry ends.
Cover your head with a hot towel for 20 minutes. Rinse and wash well with shampoo.
Bubble Bath
¾ bottle of Natural Dish soap
Food Coloring
Essential Oil (Lavender, sandalwood, or neroli)
Rose Petals
Instructions
Mix dish soap in the tub. Add food coloring and essential oil one drop at a time until you get the desired color/scent.
Top off with rose petals and relax!