Picture making yourself at home among the rolling Tuscan hills in a hand-restored, 15th century villa perched on the hills of Fiesole, just minutes from Chianti's famed vineyards and from Florence's pulsing city center.
Imagine being surrounded by original frescoes, lush organic gardens, and a vast, yet cozy terrace with beyond belief views of the Duomo, best enjoyed with a classic Negroni. It's the meaning of La Dolce Vita.
While the time to travel is later, the time to dream is now. Here are five swoon-worthy reasons to plan a trip to Tuscany via luxury hotel Il Salviatino.
When Nature Calls
A perfect balance to the fast-paced city of Florence and its surroundings, Il Salviatino's 12.5 acres of park and gardens are a sanctuary. The two-tiered, heated swimming pool invites guests to sunbathe and relax amidst stunning greenery, with a concierge available to help with sun loungers and provide fresh towels. The best way to relax poolside? With an Aperol Spritz while overlooking the Tuscan countryside.
For a tastier outdoor encounter, visit the organic orchard and herb garden. The orchard and herb garden are designed by a local arboreal archeologist dedicated to preserving dwindling varieties of native fruits and vegetables. For example, the garden is home to an extensive variety of seasonal produce. Produce includes winter cabbage, cauliflower and radicchio, as well as varieties of apples, pears, peaches, cherries, plums and apricots native to Tuscany. All of these make their way to the seasonal menus at La Cucina.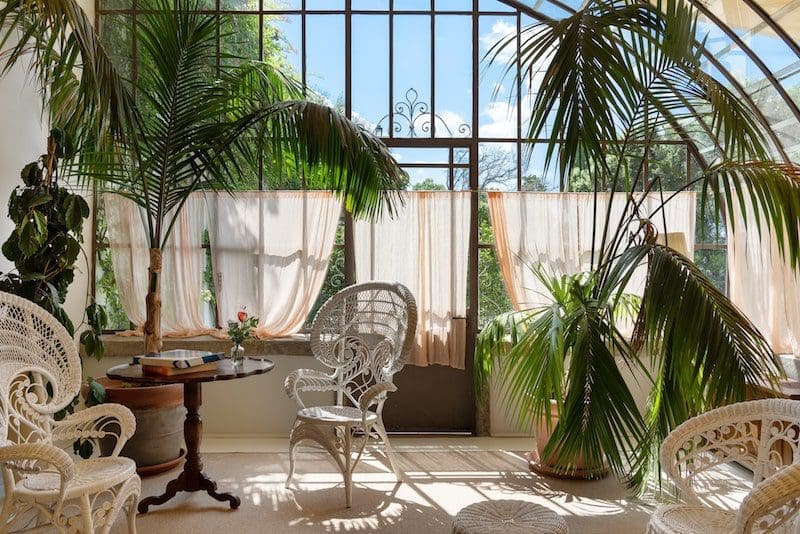 A Quintessential Tuscan Spa
Immersed in the greenest corner of the villa's private park, the hotel's La Spa at Il Salviatino trusts some of Florence's most exclusive perfume houses as well as local wineries to source all-natural products.
The "Tuscany Pleasure" signature treatment is most prominently known for its use of a wine gel and mist. This is handmade and sourced from the grapes of the Tuscan countryside.
The three-hour polysensorial treatment uses this wine gel to cleanse, then peel, and uses wine mist to massage the face and body, leaving the skin feeling soft with the fresh aroma of grapes and revitalizing the mind, body and spirit. 
Indulgent Experience: Truffle Hunting
A certified truffle hunter and his adorable shaggy dogs, Edda and Maga, lead a truffle hunt around the grounds of Il Salviatino. The dog's breed, a Lagotto Romagnolo (or 'lake dog'), are known to be skilled in truffle-hunting. They also make excellent companions.
The truffle hunting experience begins with the hunter teaching guests the basics about the coveted ingredient. These include the origin of the truffle, the different varieties and the process of training his pups to find them in the wild. Then, he leads the group through a hunt around Il Salviatino's private park, where black truffles grow year-round.
When Il Salviatino reopens come the spring of 2021 to guests, the Tuscan forests will be abundant in truffles, making this experience more delectable than ever before. 
"A quintessential renaissance retreat, the Affresco Suite is ideal for history and art lovers alike…"
The Suite Life
Back in the privacy of your suite, the inspiration doesn't stop. Owing its glamour to the finest Florentine craftsmanship with artisans' work incorporated into all aspects of the villa, Il Salviatino's accommodations pay tribute to the local maestri and their art.
A quintessential renaissance retreat, the Affresco Suite is ideal for history and art lovers alike centered around a breathtaking 1886 fresco by Bruschi. This dreamy space seamlessly blends authentic Italian charm with 21st century technology. The space features two oil canvases by Gabriel van der Leeuw known as "Il Fiammingo" and equipped with a vast open living space, and a unique bathroom with an ancient stone bathtub.
Located below the gardens of the property, the Green House Suites feature contemporary design with natural light that enters through the glass-encased living room areas. The suites offer guests a private retreat with direct access to the villa's Italian gardens and park, perfect for those seeking a relaxed and peaceful environment.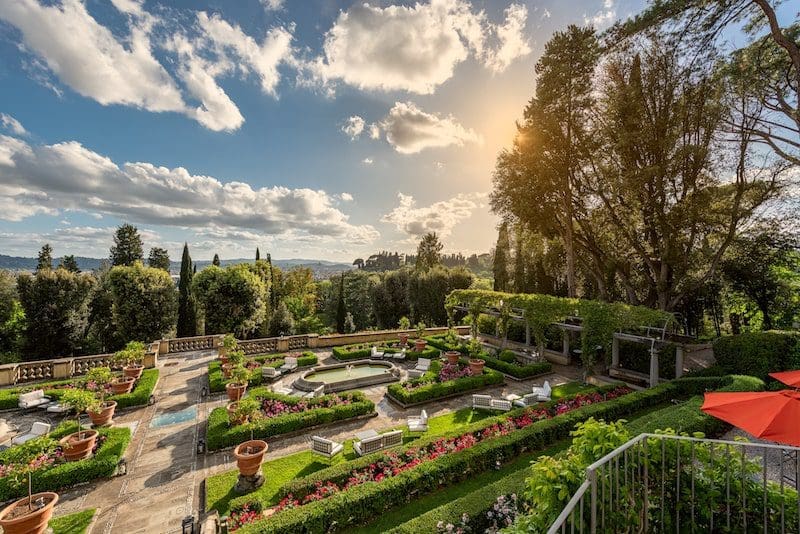 A New Way to Go Wine Tasting
Next, spring roll into Tuscany's wine country in style with Il Salviatino's Chianti Off Road Tour. Offered to guests in partnership with Tuscany Private Tour, the experience sets off at Il Salviatino heading into the beautiful Chianti region. An unforgettable six-hour adventure through the Chianti hills and into the wilderness awaits.
Guests enjoy the scenery aboard a 4×4 vintage car, stopping at three of the area's top wineries for a total of 15 wine tastings and three grappa tastings. This part of Italy is known for producing some of the world's most celebrated wines, making a million cases of wine each year. Typical Tuscan bites are also included such as extra virgin olive oil and honey tastings, and lunch. 
Il Salviatino Special Offer is now accepting reservations for the 2022 season. Visit their website to learn about special offers, packages, and more.
Additional Resources
Looking to visit Italy in the future? Plan your trip in advance with the 10 Days in Italy Guide.