The Covid-19 pandemic saw a lot of home-related trends in the UK which is unsurprising when you think of how much time was spent isolating indoors. From a soaring growth in demand for houseplants to increased investment in home renovation, these trends reflected a collective desire to transform our properties into sanctuaries where we could nourish our personal wellbeing.
Once a room devoted exclusively to functionality, the humble bathroom became a place of refuge in our home as we sought spaces where we could shut ourselves away, switch off, and enjoy a few moments of much-needed peace and privacy. The pandemic also sparked a heightened interest in our mental and physical wellness, giving the bathroom even greater prominence in the home as an ideal place for us to indulge in treatments designed to pamper our bodies and alleviate stress.
Less than 100 years on from the introduction of indoor bathrooms as part of standard house design, the 2020s promises to be a decade where luxury bathing truly comes into its own. If you are joining the wave of UK homeowners seeking to transform their bathroom into the ultimate oasis, visit a bathroom showroom for inspiration and to see the latest styles. Current bathroom designs are still functional, but also predominantly extravagant, increasingly artistic, and with tranquility at the core.
Bathroom Trends for 2022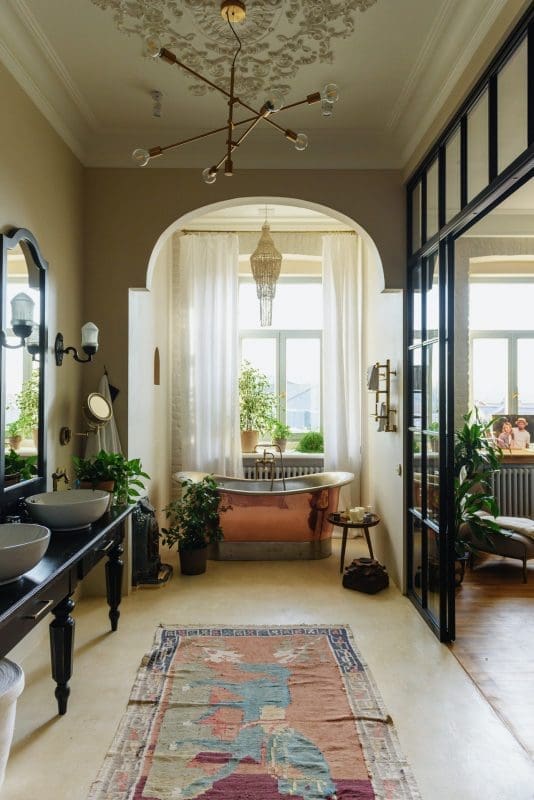 Spa Aesthetics
Is there anything that epitomises serenity and sanctuary more than a spa? One of the biggest bathroom design trends in recent years has been the introduction of luxury fittings and fixtures to replicate the look and feel of a spa. This makes the bathroom an incredibly inviting relaxation space. Bathtubs are a particularly popular addition. So are seated dressing areas for added opulence, while shower cubicles are being removed in favour of a larger and more elegant wet room area.
In terms of generating a spa-like ambience, bathroom lighting is growing ever complex with the introduction of dimmable and coloured lights, particularly in enclosed showers and around mirrors. Go further and embrace spa aesthetics with all of your senses by simply adding scented candles and some high-end bathing products bursting with aromatic oils. You can also experiment with DIY spa treatments to relax the mind and give your body a covetable healthy glow.
Japandi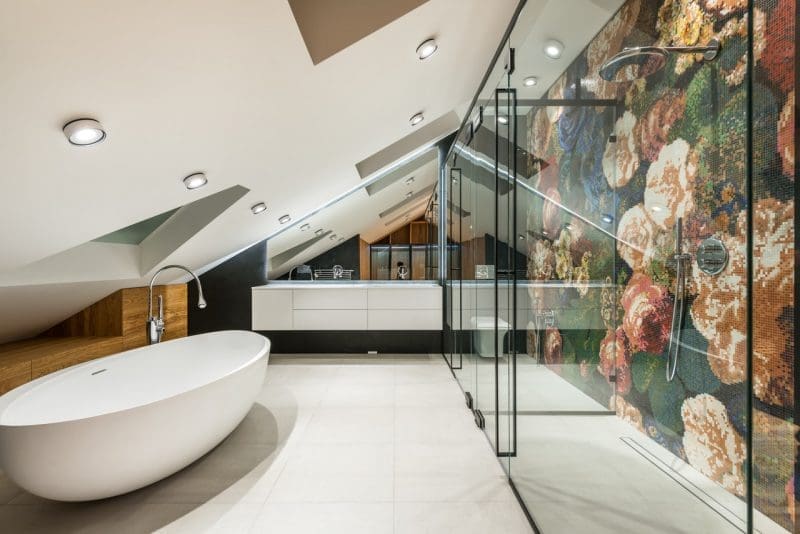 The top bathroom trends for 2022 also reflects our desire to transform the bathroom into an in-house retreat. Combining the clean, calming minimalism of Japanese design with Scandinavian notes of warmth, Japandi is the perfect balance between functional and pleasurable. Match sleek contemporary furniture and fittings with the cosy textures and welcoming natural tones of hygge.
Nature
Houseplants provided us with a healthy hit of happiness and oxygen during the pandemic by bringing nature into our indoor isolation. Our desire to have greenery in the home has not diminished despite our return to normal routines. Popular bathroom plants are striking yet low maintenance such as lilies, snake plants, and cacti. Nature is also making its way into bathroom décor in 2022 as florals and dramatic wildlife murals dominate wallpaper trends.