Léon 1909 has proudly made its debut on Shelter Island. Opening in mid-August, Léon 1909 is named after co-owner Valerie Mnuchin's paternal grandfather. His affinity for romantic coastal adventures abroad gave inspiration for the restaurant's countryside aesthetic. She co-owns the restaurant with her father, Robert Mnuchin.
The Provençal-style menu showcases peak-of-season regional ingredients including seafood and produce. The menu, helmed by Executive Chef Mason Lindahl, also rotates with new dishes on a regular basis. As we look ahead into the fall and winter, Valerie Mnuchin explains, "we're looking forward to changes in the menu as it shifts with the season. We'll also be doing evening events such as paella night or Coq a Vin night."
"We could not have asked for better reception from the Shelter Island community," adds Mnuchin. "People are so excited about the food and service – we're so proud of the team we've built."
Wine & Cocktail List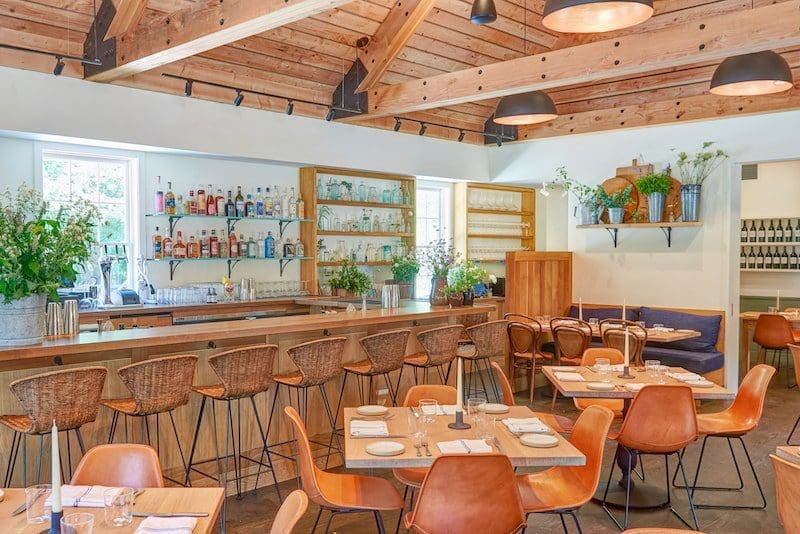 The wine list, rooted primarily in Old World regions while reflecting select contemporary producers, is complemented by a range of other beverages including beer, signature and classic cocktails from the bar, and non-alcoholic options.
Notable cocktails include Metropolitan crafted with Wheat Vodka, Rested Tequila, Almond, Rosé Strawberry, Rose, and French Rosé; and Nonno e Nonna with Whisky, Aged Rum, Sage Blossom, Wood Sorrel, Butter, Greek Brandy, and Fennel.
The Dinner Menu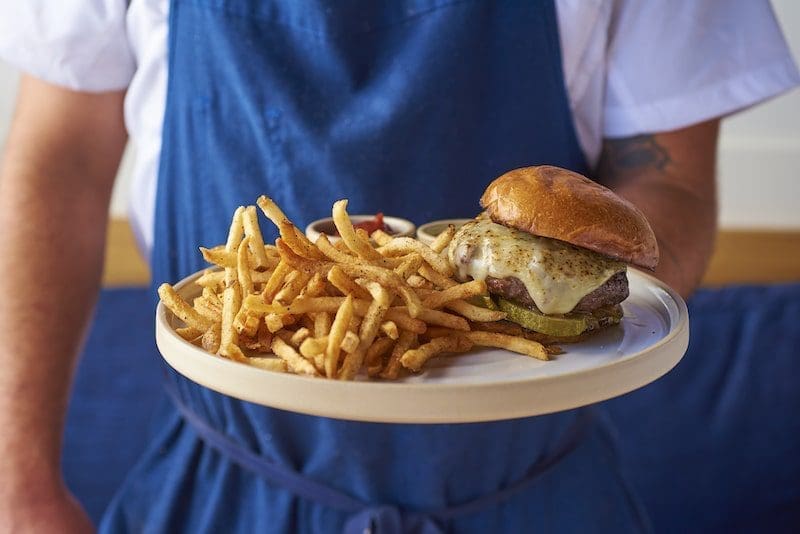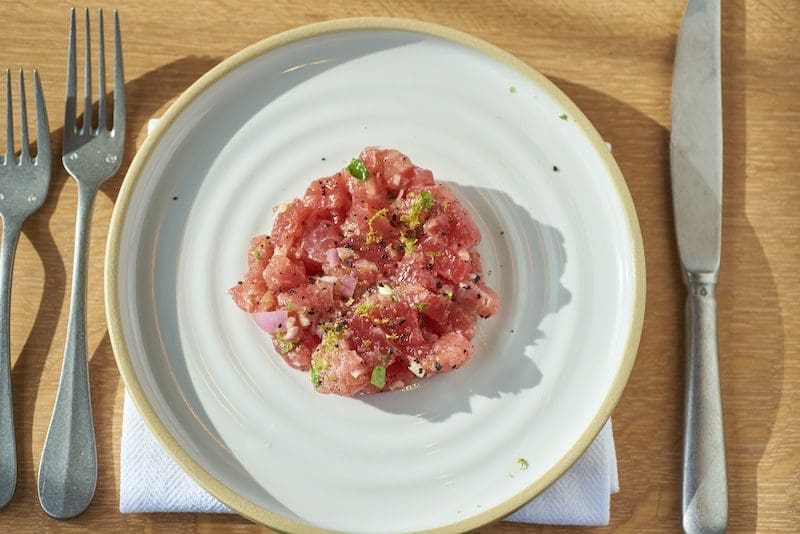 Salads and starters on the menu include the Scallop Crudo with Buttermilk, Pepitas, and Lime; Tuna Tartare with Urfa Chili, Cilantro, Shallots; and Melon and Cucumbers with Charred Scallion, French Beans, and Meyer Lemon.
The dinner menu then leads to a selection of handmade pastas and main dishes. Main dishes include Striped Bass with spicy peperonata, Picholine olives and lemon; Grilled Ribeye served with a generous helping of herbed crispy potatoes; and the Léon Burger with Gruyère, Caramelized Onions, and Sour Pickles.
Popular dishes with visitors thus far include The Scallop Crudo, Tuna Tartare, Red Gem Caesar salad, Slow Fired Half Chicken, and Charbroiled Grass-Fed Ribeye. When it comes to the perfect libation pairings, Mnuchin recommends a glass of Bordeaux or cabernet or the Bee Sting with the Oven Roasted Fluke or the Strozzapreti.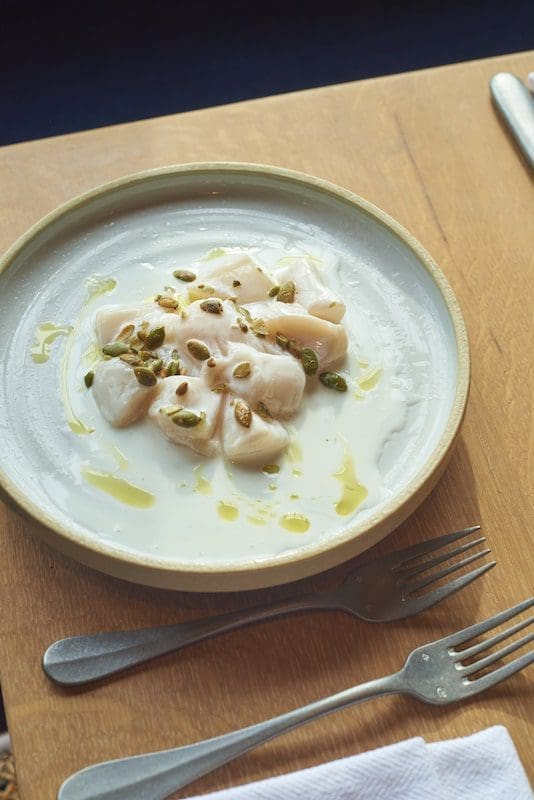 Surrounded by old brick and exposed wooden trusses on the lofted ceiling, Léon's wood-burning hearth with its blackened steel hood and soapstone top serves as the restaurant's anchor and focal point.
Covered by a pergola, the expansive outdoor patio space is lined with bluestone aggregate, creating a setting reminiscent of seaside terraces to enjoy drinks or a relaxed meal with family and friends over a shared table.
Desserts at Léon 1909
The dessert menu also rotates seasonally. Mainstays include the Banana Split, Affogato, and the Cheese Plate. Coffee, tea, and after dinner drinks and cordial are also available.
Hours & Additional Information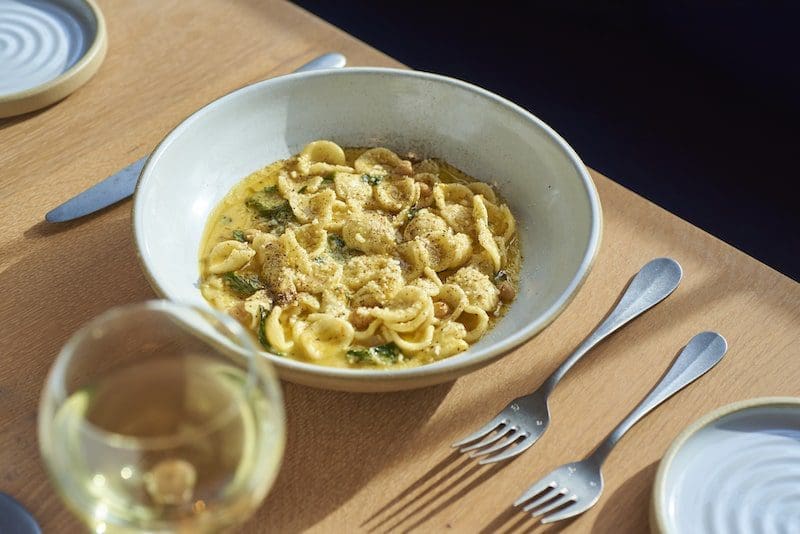 Léon is open for dinner five days per week, Thursday through Monday. Dinner is served 5-10pm on Thursday, Sunday, and Monday. On Friday and Saturday, dinner is served 5-11pm. Both outdoor patio and indoor seating is available, and reservations can be made via Resy.