From quaint villages nestled along pristine lakeshores to towns brimming with history that embrace the great outdoors, Wisconsin is a treasure trove of scenic delights that will leave you in awe. For those who may already be familiar with the breathtaking beauty and charm Wisconsin has to offer as well as those who have yet to visit, this article highlights some of the most beautiful towns across the Badger State from towns to the very north near Lake Superior down to the suburbs of Milwaukee.
Ashland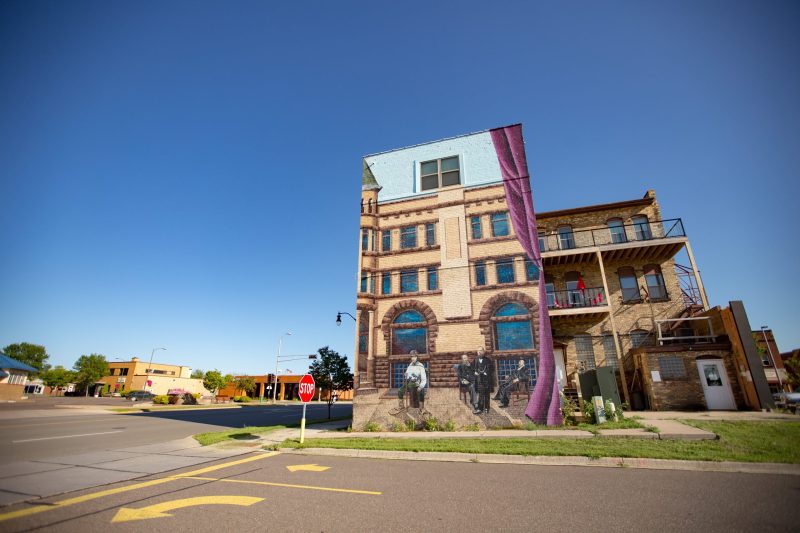 Moving up to northern Wisconsin is the quaint town of Ashland. Known for its historical pride and spectacular waterfalls, Ashland is a must-go destination. There is a great deal to do whether you're in Ashland for an adventurous or relaxing trip! There are delectable places to eat as well as unique hotels and lodging. When looking to book your next summer getaway, look no further than Ashland. 
Start your stay by visiting the beautiful waterfalls found in Ashland. Copper Falls State Park will offer you this experience with three scenic waterfalls. If you want a break from the outdoors, Ashland's downtown shopping district is a great idea. Throughout the historic downtown, there are different shops to visit and beautiful murals to see. Ashland's downtown has 21 amazing murals that depict the history of the town beloved by its people. 
Head to the Breakwater Restaurant for a bite to eat, where breakfast is served all day. This is a family friendly restaurant with an extensive menu and great reviews. Another place to dine is Frankie's Pizza. This is a town favorite with both delicious pizzas and sandwiches. 
When booking your lodging, Mission Springs Resort is the ideal place. It offers both cottages or the Lake House for your stay, along with private beaches. The Ashland Super 8 by Wyndham overlooks Chequamegon Bay and offers close access to hiking trails. It's near to parks and other attractions, offering the perfect quaint stay. 
Bayfield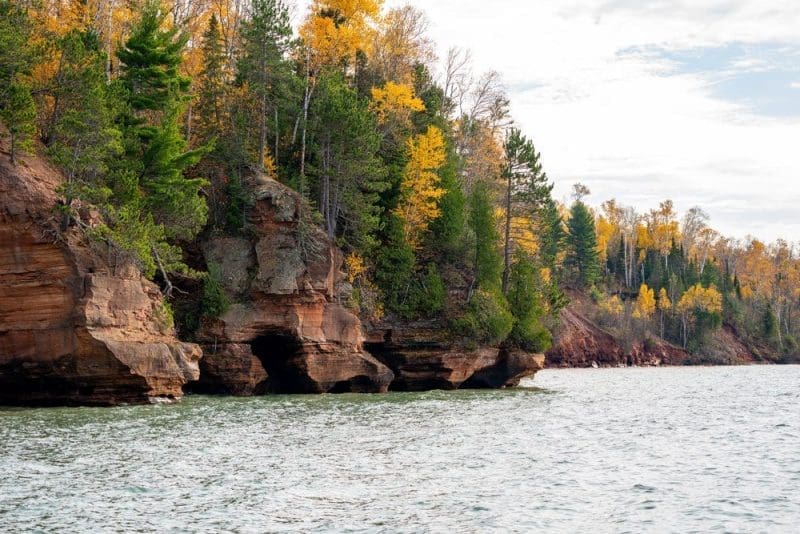 Known for the picturesque Apostle Islands, Bayfield, Wisconsin is a destination that should be on your list. Although Bayfield has the smallest city in Wisconsin, that doesn't take away from the entertaining parts of it. If you like the outdoors, there is everything to do ranging from kayaking and hiking to exploring the ice caves. Whether you stay for a week or for a day, Bayfield will be a trip to remember. 
If you find yourself booking a trip in the winter, exploring the magnificent ice caves is a great attraction. Although there are times when they cannot be directly accessed, they can still be seen from the mainland trails above the caves. There is also kayaking along the Apostle Islands, where you can see nature at its finest. You can also go swimming in the Madeline Island Lagoon. There is also a collection of 10 beautiful historic lighthouses to visit while in Bayfield, these 10 being the most complete collection of lighthouses and towers in the country! 
Visit the The Portside Bar and Restaurant for great family-friendly dining experience along with beautiful views of the marina. If you're interested in a more casual dining experience, head to Greunke's Restaurant. From pizza to fish boils and located centrally, this Bayfield specialty is a great choice.
Lake Superior Lodge is a perfect getaway location to stay at. With a beautiful view of Lake Superior and blooming gardens, this is the place to stay. Another option are the Apostle View Cottages. These fully equipped Bayfield cottages are minutes away from adventure and offer a cozy aura to your stay.
When you've done everything there is to do in Bayfield, head back to the Bayfield County Airport and spread your experience to other beautiful small towns across Wisconsin! 
Cambridge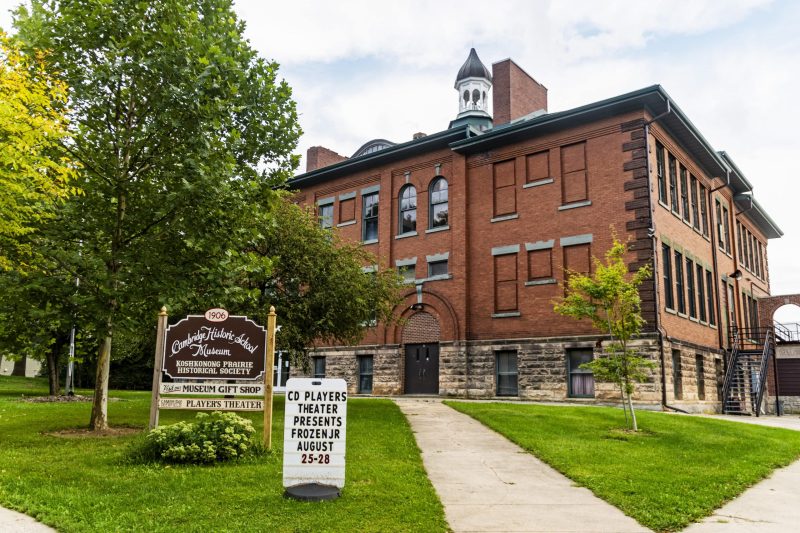 From hiking and biking to its unique downtown, Cambridge has many opportunities for excitement. The beautiful Lake Ripley of Cambridge is a main attraction for tourists to come and visit for scenic views and kayaking. Whether you're up for adventure or a relaxing vacation. 
CamRock Trail is a beautiful 4.8-mile hiking and biking trail that is very popular among visitors. It only takes about 90 minutes and has beautiful sights to see. The Cambridge Historic School Museum has many interesting exhibits showcasing the time when it was the only school in Cambridge. On a sunny day, take a trip down Lake Ripley in a kayak and let the breathtaking views sink in. 
The Cambridge Market Cafe is a great place for a quick bite to eat after a long day of exploring. Stop here for lunch and then make your way to downtown Cambridge for some shopping. The Dancing Goat Distillery is a town favorite and one of the largest in the state. When you want a break from exploring the outdoors, take a tour or a cocktail class at the distillery. 
Book your stay at Lake Ripley Lodge for a lakefront view of Cambridge. With great reviews, this inn is a popular vacation spot and is the perfect place for a weekend getaway. Another possibility is Covington Manor. This cozy Victorian house has modern amenities that make way for an amazing stay. 
Cedarburg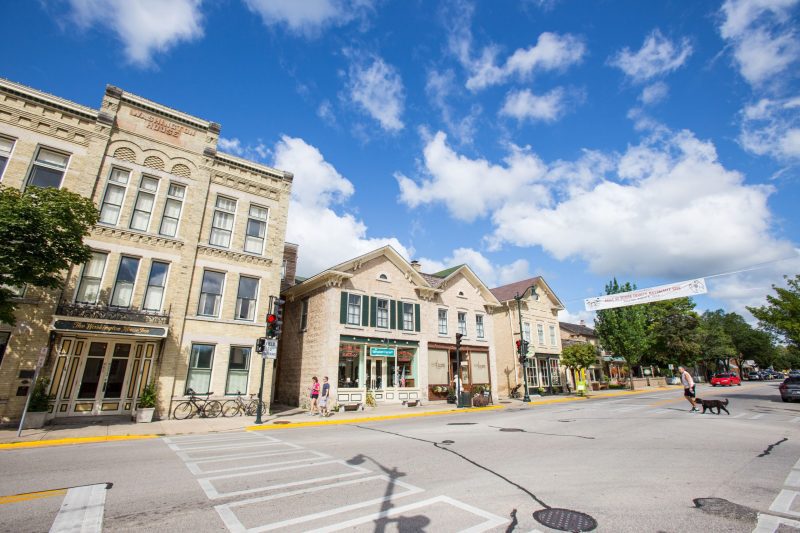 Just 20 miles north of Milwaukee, Cedarburg is a perfect getaway sport. With unique shopping to art galleries and museums, Cedarburg has a small-town charm to offer. The charming Cedar Creek runs through Cedarburg and makes for a scenic area. With much to do in this little town, Cedarburg will leave you wanting more! 
The first stop you should make on your journey through Cambridge is the Jonathan Clark House. This historic attraction was built in 1848 and belonged to Jonathan Clark, who enlisted in the U.S. Army at 21 years old, and his family.  Learn about the history of Cedarburg at the Cedarburg History Museum. The town was discovered in 1842 and has a rich history you'll want to hear more about. 
For casual dining, head on over to the Anvil Pub & Grill. A Cambridge favorite, this restaurant serves dinner and lunch daily and is famous for their phenomenal Bloody Mary bar on Sundays. Another option is the family-owned Brandywine restaurant. With hand made pasta and locally grown ingredients, this restaurant is the place to rave about. During your stay, book a room at the Stagecoach Inn B&B. This historic bed and breakfast is located just minutes away from shops and activities. The Washington House Inn is an elegant hotel with modern amenities that are sure to make your stay memorable. Built in 1886, it brings a historic look to this small-town.
Chippewa Falls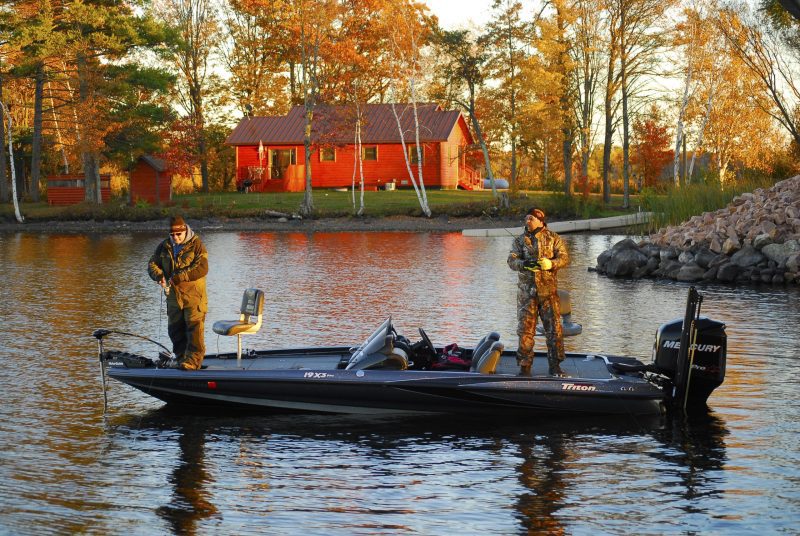 Chippewa Falls is located on the beautiful Chippewa River in Wisconsin. There is a great deal to explore in this town, including shopping in the downtown district and hiking scenic trails. Only 7 miles from the Chippewa Valley Regional Airport, this little town has much to explore. 
Chippewa Falls downtown district has interesting antique shops as well as great restaurants. Before your trip is over, be sure to stop in Collective Charm for an antique souvenir. You can hike or bike the Duncan Creek Parkway Trail with a 5-mile loop around Chippewa Falls. This will let you see the town while getting some exercise in!
Take a tour through the Chippewa Falls Museum of Industry and Technology to learn about some of the rich history, including the Jacob Leinenkugel Brewing Company. 
Max's Bistro & Bar is a great dining option. A locally family-owned restaurant, they have delicious coastal dishes with influences from their Mexican roots. Located on Lake Wissota, The Edge Pub & Eatery is another great place to dine with American style dishes. 
The Cobblestone Hotel & Suites is located in the center of downtown Chippewa Falls, giving you easy access to restaurants, shops, and other activities. This hotel has everything you need to make your stay comfortable and relaxing.
For a breathtaking view, stay at the Hideaway Resort located on Lake Wissota. Each cabin on the water offers both summer and winter activities including kayaking and ice fishing. Wherever you decide to stay, you're sure to have an incredible trip to Chippewa Falls! 
Egg Habor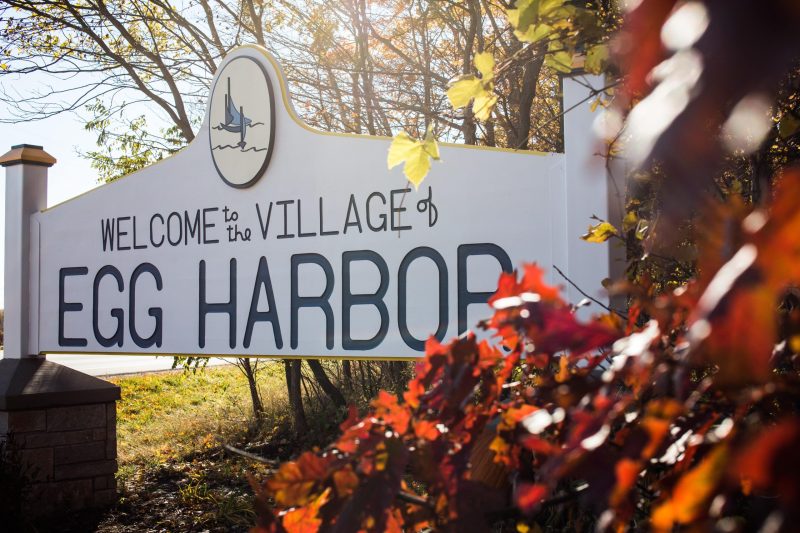 Egg Harbor, Wisconsin is the perfect coastal charm town. From beautiful lighthouses to the famous cherry picking, Egg Harbor is a perfect travel destination. Although it is a small town, there are a variety of activities to do and places to see. 
Cherry picking in Door County is one of the famous attractions of Egg Harbor. The perfect time to visit would be mid-July to mid-August, when the cherries are ripe and ready. There are many orchards to go to, including Lautenbach's Orchard. If you're looking for a relaxing day or want to try out water sports, Egg Harbor Beach and Nicolet Beach are the perfect choices! There are many shopping boutiques in Egg Harbor including Wisconsin Cheese Masters with numerous artisan cheeses to choose from. 
When you're ready for a bite to eat, head to One Barrel Brewing Company. This is a casual dining place that offers lunch and dinner along with a variety of top-quality beer. Village Cafe is another wonderful place to dine that has an eclectic atmosphere. This dog-friendly restaurant is a must stop on your Egg Harbor adventure. 
The Bay Point Inn is the perfect place to stay in Egg Harbor. With amazing views of the Green Bay and a short distance to the shops and restaurants in Egg Harbor. Another hotel to stay with amazing views is the Egg Harbor Lodge just a half mile from downtown Egg Harbor. The Egg Harbor Lodge will give you a quiet and relaxing stay after a day of adventuring.
Elkhart Lake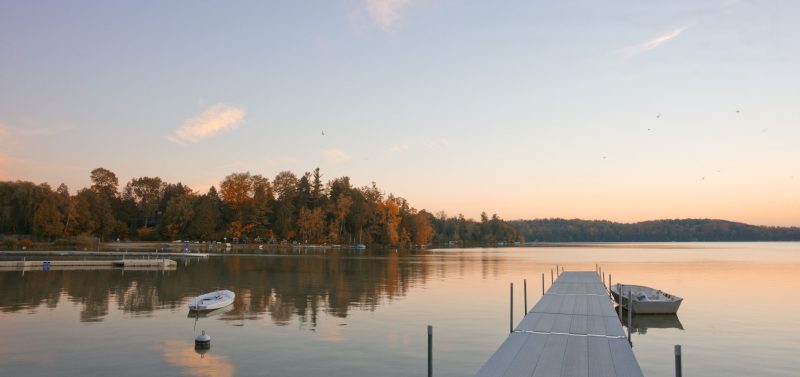 Wisconsin's Elkhart Lake offers a memorable trip no matter the time of year you visit. From kayaking in the summer to snowshoeing in the winter, Elkhart Lake has a range of activities to do. Just an hour north of Milwaukee, this little town will make you wish your trip was longer! 
If you're feeling adventurous, you can rent water skis, wakeboards, or tubes with Elkhart Lake Water Sports. If you're looking for a more relaxing time, you can also rent a pontoon boat. You can bike the 5-mile Rocky Knoll Mountain Bike & Hiking Trail for a scenic way to explore Elkhart Lake.
From May to October every Saturday, the Elkhart Lake Farmers and Artisans Market is open for business. This is a great way to see the local side of the town and the people who live there! 
For casual dining with a great view, try out Otto's Restaurant. With American and Continental dishes and a full menu, this is a great dining choice during your Wisconsin stay. It is located on the lake level of the Osthoff Resort and has a beautiful outdoor patio area. Another possibility is the Lake Street Café. This is a more upscale dining choice but nevertheless delicious. 
During your stay, book a room at the beautiful Osthoff Resort. A premier vacation destination hotel, the Osthoff Resort has restaurants, activities, a spa, and family fun. Another resort option is Siebkens Resort. The historic resort comes with a private beach to relax on after a long day of exploring.
Stockholm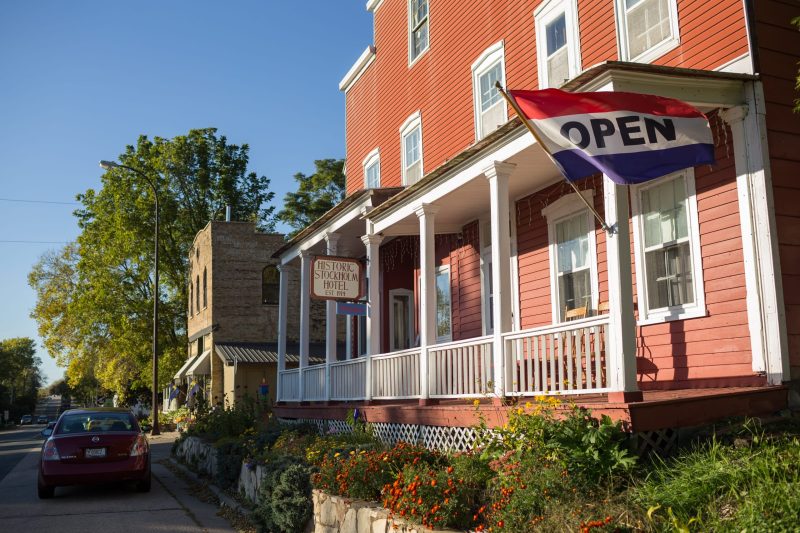 Stockholm is a quaint riverside town engraved with its Swedish roots. Though it's home to less than 80 people, Stockholm has a beautiful culture you'll want to embrace. This town is a large gathering place for arts and culture. Located along Lake Pepin, Stockholm is a cozy town with a lively culture you won't want to miss. 
The first stop you should make in your Stockholm journey is visiting the Heritage Woods. They harvest honey from the honeybees, run bee-keeping workshops, and give classes on native plants. This is a great experience and will allow you to learn what makes Stockholm so special. 
Another stop you should make is to visit the Stockholm Museum. Though it's small it attracts people from all around the world, especially Sweden. While you're there, you can research your family line and the history of Stockholm. 
A great place to eat is the Humble Moon Saloon. Stop here for a home-style meal with ingredients from local farmers. Another delicious option is the Stockholm Pie and General Store, home to some of the best pie in the country. They serve lunch, ice cream, pie, and espresso in the cafe area, with the Stockholm General Store just steps away. 
The Allaire House is a 5-bedroom house to stay at in Stockholm. Just a quick walk away from dining and shopping, this Stockholm favorite gives the feeling of small-town charm. The Pleasant Corner School House is another place to accommodate your stay.