As we enter Phase II reopening across Long Island, select restaurants across the North Fork have begun offering outdoor dining. Below we highlight ten restaurants offering outdoor dining from Riverhead to Orient Point. We recommend calling ahead to see if your chosen restaurant accepts or requires reservations. Some restaurants offer first come, first served seating options as well. Remember, please be patient with restaurants as everyone navigates the new season due to COVID-19.
Claudio's Waterfront
Greenport
Claudio's Waterfront on the North Fork is now open for dining seven days a week. Menu items include Long Island Steamers, Mahi Reuben, Lobster Mac & Cheese, Chilled Lobster Cobb Salad, Crab Cake Sandwich, and much more. A children's menu is also available. Looking for the perfect way to relax and cool off this season? Pair your lobster roll and fries with a cold, crisp Bridge Lane Rose for $32. Available Monday-Thursday from 3-5pm. Takeout and delivery is also still available as is boat delivery to Pipes Cove. 631-477-0627
Digger's Ales N' Eats
Riverhead
Digger's is an Irish-American Pub, offering baked clams, California Cobb Salad, Veggie Wrap, Shepherds Pie, Fish and Chips and more, including daily specials. Drink specials, like Rum Punch, and Margaritas are available. Seating is on a first come, first served basis. Hours are 1-9pm, weather permitting. 631-369-3200
Duryea's
Orient Point
Duryea's on Main Road in Orient Point will open on June 25th. They will be open 6 days a week, Wednesday-Monday from 12-10pm. Their full menu will include Duryea's Classics, Seafood, and Greek inspired fare. No reservations, walk-in only. Patrons' names will be put down in person for waitlist. You will be notified via phone/text when your table is ready. Takeout based on dine-in menu will also be available. 631-323-2424
Green Hill Kitchen & Que
Greenport
Green Hill Kitchen & Que on Front Street is offering daily outdoor dining from 12-8pm. The back parking lot will be converted into an outdoor patio where there will be approximately 24 seats. Diners will order from the takeout window and may enjoy their food and drinks at the outdoor tables. There will be no table service, and it will be first come, first served. Their menu consists of the "NYPD" Smash Burger, Hot Lobster Roll, Smoked Jackfruit, Smoked Prime Brisket, Beer Can Chicken, Pulled Pork, Hungry Man, and Da Pit Crew. 631-477-4900
The Halyard Restaurant
Greenport
For an upscale outdoor dining option on the North Fork, The Halyard should be one of your top picks. They are open Thursday-Monday from 12-9 pm. To-go is available from 4-8pm. They offer starters like green chickpea hummus, summer truffle tartine, Halyard Clam Chowder, and many more options. They also offer entrees like Beer Battered Fish and Chips, Grilled Montauk Monkfish, Shinnecock Sea Scallops, and others. Desserts include Chocolate Mousse and Strawberry Shortcake. Be on the lookout for news regarding their Halyard Summer Guest Chef Series. 631-477-0666
Il Giardino Aquebogue
Aquebogue
Il Giardino Aquebogue on Main Road is now open for dinner for outdoor dining beginning at 4pm. Be on the lookout for menu specials like Vine ripe tomato & onion salad with homemade mozzarella, Veggie stuffed portobello mushroom, Local striped bass puttanesca, Pasta chicken bolognese, and Stuffed peppers. 631-779-3900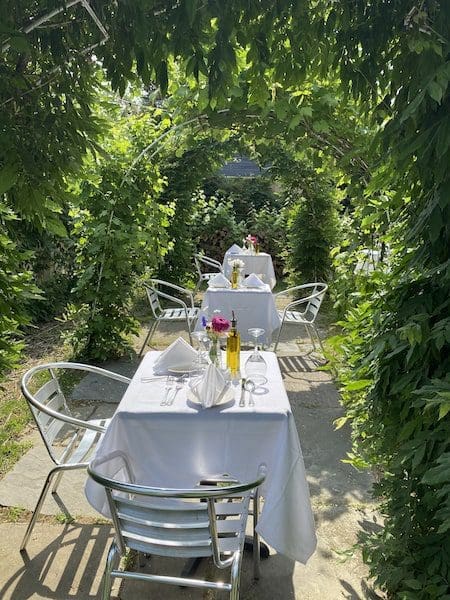 Jerry and the Mermaid
Riverhead
Jerry and the Mermaid, located on Main Street in Riverhead, is open seven days a week for lunch and dinner. Hours are 11:30am-9pm daily. Their menu consists of Crispy Duck Wings, Baked Stuffed Clams, Tuscan Chicken Sandwich, Jumbo Shrimp, Crispy Chicken Wings, and more. A must order is their famous Lobster Roll. Their takeout window is also available. Come on down to Jerry and the Mermaid, even if it's raining! A covered deck and patio is available for patrons. 631-727-8489
Noah's
Greenport
Noah's opened for outdoor dining on Wednesday, June 10th. Patio dining is also available. They are offering a large seafood selection, along with an American selection. Seating is first come, first served. Notable dishes to try include Crescent Duck Farm BBQ, Peel & Eat Jumbo Shrimp, Filet Mignon Sliders, and Local Seafood Jambalaya. Noah's is still offering curbside pickup, takeout, and local delivery. Hours are 12-8pm. 631-477-6720
Touch of Venice
Cutchogue
Touch of Venice on Main Road is open for outdoor dining Wednesday-Sunday by reservation. Call after 3pm to make a reservation. Patio dining is currently available as are curbside orders. Recommended dishes include Eggplant Sorrentino, Strawberry Goat Insalata, Asparagus Pasta, and Bistecca Tuscany. 631-298-5851
Turkuaz Grill
Riverhead
Turkuaz Grill is a Turkish and Mediterranean Restaurant located on McDermott Ave near the Peconic River. Seafood, wraps, and combination meals are available. Some of our favorites include Shrimp Shish Kebab, Adana Kebab, Gyros, and many others. Their Turkish wines make for a great pairing. They also have a great selection of desserts. Hours are from 12-8pm. Closed Tuesdays. 631-591-1757
**
Checkout current selection of outdoor dining options across the Hamptons.