Brigit's Bakery based in London has launched the official Peppa Pig Afternoon Tea bus tour. This delightful afternoon tea experience is in partnership the global play and entertainment company, Hasbro.
This is the first experience of its kind for Londoners and for visitors. The fully themed tour features a Pippa Pig inspired afternoon tea menu and experience. Families of all ages can enjoy on board Brigit's Bakery's signature 1960's Routemaster.
Peppa Pig's Favorite Treats
Guests will enjoy a selection of Peppa and her friends' favorite treats. Featured treats include:
Freddy Fox's egg & cress sandwich
Emily Elephant's mini Margherita pizza
Rebecca Rabbit's carrot cupcake
George's seasonal fruit tart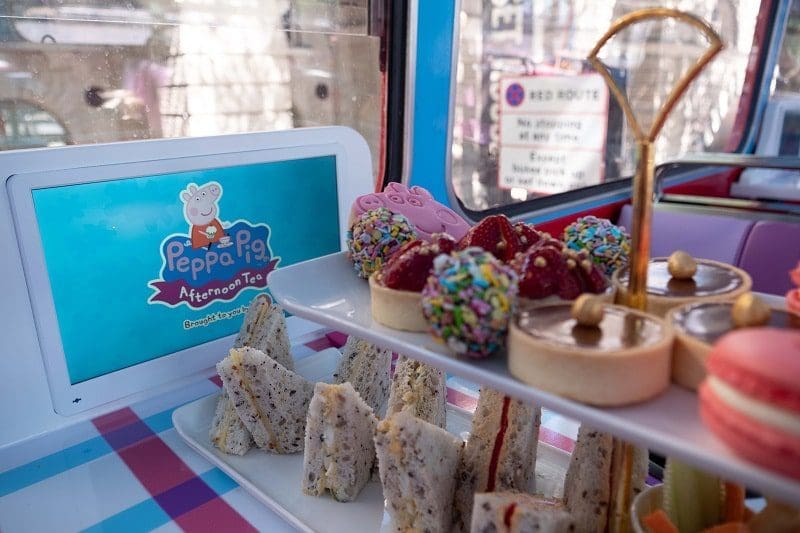 The London Bus Tour
During the 90 minute journey, guests will also enjoy a Peppa Pig narrated guided tour video hosted by characters from the show via tablets on each table. The tour video features clips from the popular episode 'London', sing-a-long songs, and more activities as the bus visits cultural and historical landmarks. Historic landmarks include The Houses of Parliament, Westminster Abbey, The Shard, Tower Bridge and St Paul's Cathedral to name a few.
A Peppa Pig themed activity book and branded Peppa Pig mug is provided for each guest to take home.
To celebrate the launch of the Peppa Pig Afternoon Tea Bus, each little guest will receive an extra special goodie bag for tours in September.
Hours & Information
The Peppa Pig Afternoon Tea Bus Tour runs weekly from Thursday-Sunday at 12:15pm and 2:45pm from Somerset House / Embankment.
A range of dietary options including Vegetarian, Vegan, Halal, Gluten Free and Pescetarian are available. A selection of Peppa Pig merchandise is available for purchase on booking. The merchandise would be delivered directly on board the bus.
Prices start from £35 for children and £45 for adults.
Due to the popularity of the tour, all bookings are released on the last day of every month. For example, bookings for all Peppa Pig tours in November are released on September 30th.
Safety and Social Distancing
The bus tours will run at reduced capacity to comply with social distancing guidelines. Safety precautions will be in place to ensure the health and wellbeing of visitors.
Staff will be wearing masks at all times and hand sanitizer will be provided on board for all guests on entering and exiting the bus.