Porto in the north of Portugal is an ideal place for foodies. It has it all, from good fish and seafood to delicious snacks and comfort food. Best of all, eating out in Portugal is typically cheap. You will easily find plenty of cheap food and a wide variety of different ingredients with good quality. Furthermore, Porto is a bit cheaper than Lisbon and the Algarve.
Porto is an ideal place to visit if you like food and experimenting with new flavors. Below, we describe the top dishes you should try in Porto, Portugal and where to eat them.
Top dishes you must try in Porto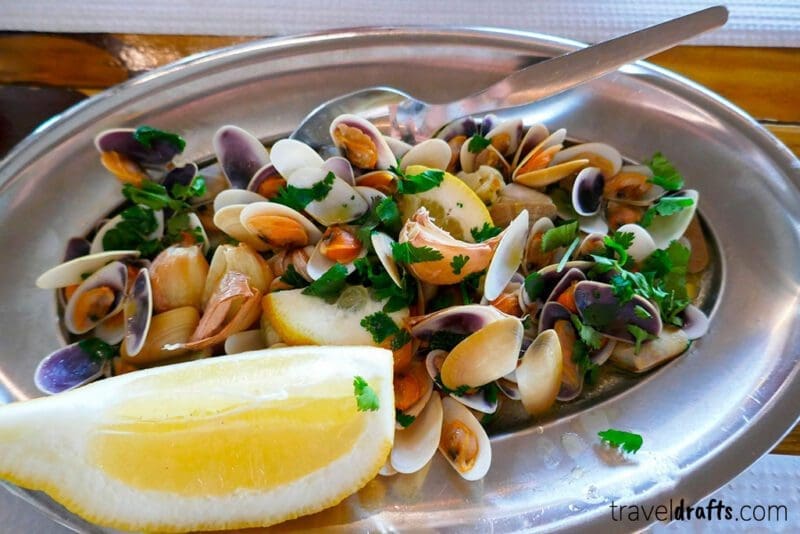 Francesinha
Francesinha is the most appreciated dish in Porto, and although you will find Francesinhas all over Portugal, they are the best in Porto. So Francesinha should be on the top of your list of dishes to eat in Porto.
The dish's name means Frenchie or little French women and was created in Porto. It is made with toasted bread, ham, several types of sausages, steak, or roasted beef, covered with melted cheese and a thick hot tomato, beer, and peri-peri sauce. It is generally served with French fries and sometimes a fried egg or a shrimp on top. Typically, you should eat it with a cold beer or a soft drink, never with wine.
It is a delicious, quite caloric dish but totally worth it.
Where to eat francesinha?
As it is a traditional dish from Porto, you will find plenty of places that serve Francesinhas. To choose a good Francesinha, you have to consider the quality of the meat, most importantly the sauce. There are intense debates between the Portuenses (people who live in Porto) about the best spots to eat Francesinha.
Considering all these facts, the best places to eat Francesinha are Lado B, cafe Santigo, and Capa Negra II. These restaurants are in the center of Porto, where all the tourist attractions the best hotels in Porto are located.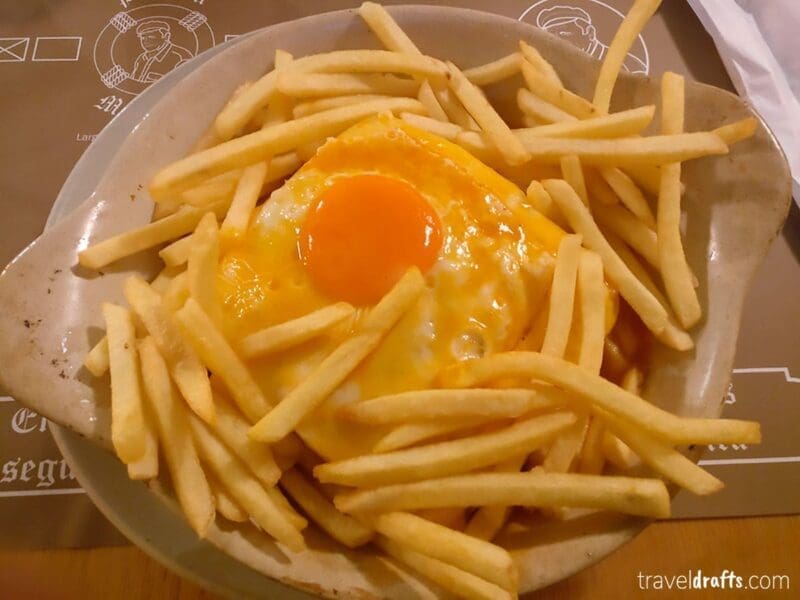 Bifana
Regarded as a snack or fast food, bifana is one of Portugal's best sandwiches. It is a pork steak sandwich seasoned with garlic and a spicy sauce. It is very satisfying, and you will end wanting more than one.
This sandwich is popular in several Portuguese cities, but it is done differently in Porto. Here, the pork steak is cut into extremely thin pieces, seasoned in a big pot of spicy sauce, and placed in a small bread roll along with the sauce. The spicy sauce is what makes the sandwich so delicious.
Where to eat Bifana?
The place to eat bifanas in Porto is Conga. They are the best. When you enter the restaurant, you can see the big pots where the Bifanas are cooked and feel the delicious smell of its sauce. The place is often packed with people, so be prepared to find a queue.
Caldo Verde Soup
Caldo Verde is one of Portugal's most traditional dishes and is eaten frequently by the Portuguese, especially in the north. It is a soup done with shredded green cabbage, onion, garlic, potato, and chouriço (cured sausage). Caldo Verde Soup is served with Broa de Milho (cornbread).
It is simply comforting food that you will find it everywhere. During National festivities like S. João or S. Antonio, it is sold in food stalls, so you can even think of it as street food.
Where to eat Caldo Verde?
You can eat Caldo Verde everywhere in nearly every restaurant in Porto. Yet, we recommend eating Caldo Verde in Conga as you can eat a Bifana with your soup or in Casa Guedes, which is also famous for its Pernil (roasted pork) sandwiches.
Tripas à Moda do Porto (tripes Port's way)
Tripas (tripes) is a well-known traditional dish from Porto. This dish is cooked with white beans, tripes, and then several cured sausages like chouriço, salpicão.
Tripes is a heavy dish. It is best to have it at midday and followed by a long walk.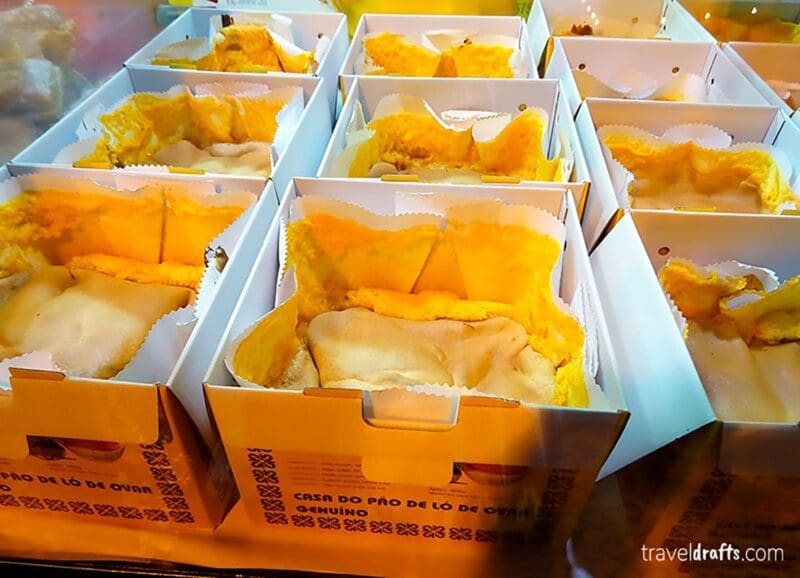 Where to eat Tripas à Moda do Porto?
Although it is a dish fancied by the Portuenses, it isn't easy to find a good restaurant that serves tripes. The restaurants that we recommend are Abadia and O Gaveto. This is a dish that it is crucial to ensure that first try it in a specialized restaurant.
Sardinhas Assadas (Grilled Sardines)
Grilled Sardines is one of the most iconic dishes in Porto, more specifically in Matosinhos, a town that belongs to the Porto district. Portugal is one of the best places in the world to eat fresh fish.
Eating freshly fished and grilled sardines in the typical restaurants by the sea is one of the best culinary experiences you can have while visiting Porto, Portual.
Typically, grilled sardines are eaten with boiled potatoes, grilled peppers, and broa (cornbread). In the end, they are served with good olive oil.
Where to eat Grilled Sardines?
The best restaurants to eat grilled Sardines are by the sea. Several good fish restaurants serve grilled Sardines and other fish in Matosinhos by the seafront.
Seafood
Portugal has several fantastic places to eat good seafood, and Porto is one of them. We suggest you try: Ameijoas à bolhão do pato (clams with a fantastic sauce); Arroz de Marisco (seafood rice), Shrimp boiled or grilled; lavagantes (lobters); percebes; navalheiras (razors).
Best of all, seafood in Portugal is relatively cheap compared with other European countries.
Where to Eat Seafood?
In Matosinhos there are plenty of recommended marisqueiras (restaurants that serve marisco). Matosinhos is also known as the "World's Best Fish."
The most famous restaurants to eat seafood are: Marisqueira de Matosinhos, Gaveto, Marisqueira antiga. Although cheaper than in other countries, seafood is still an expensive dish.
Doçaria conventual
Portugal is known for its conventual sweets. These sweets used to be made by nuns or monks in convents and monasteries. They are characterized by the use of large amounts of sugar and egg yolks, but often also almond. You will find a considerable diversity of Conventual sweets to die for in Porto.
The conventual sweet we suggest are pasteis de nata, queijadas, pão de ló, and doces de ovos, but basically try them all.
Where to Eat Conventual Sweets?
Any pastry shop in Porto has conventual sweets, but the best places to go are Confeitaria do Bolhão, Tavi Confeitaria da Foz and Padaria Ribeiro.
Eclair
One of Porto's most well-known pastries is the Eclair from the pastry Leitaria da Quinta do Paço. This pastry started by producing pasteurized milk, butter, and chantilly in 1920.
Eclairs became very famous for the quality of its products, especially the chantilly. People used to come to the store to buy chantilly wrapped-in paper bags. Today the eclair stuffed with chantilly is one of their most delicious products.
Where to eat an eclair?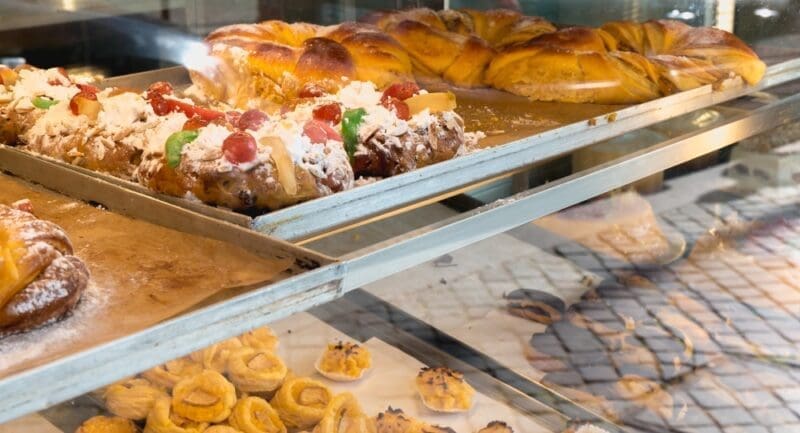 Defenitly you have to eat this pastry in Leitaria da Quinta do Paço. There are several stores in Porto.
Jesuitas
Jesuita is a pastry made with puff pastry layered with sweet egg cream and topped with crispy icing. It is a delicious crispy and soft pastry.
This sweet isn't originally from Porto, but from Santo Tirso, about 20 km north of Porto. Nonetheless, you will find jesuitas in any pastry in Porto. It is definitely a pastry you must try.
Where to eat Jesuitas?
You can eat Jesuitas in any pastry shop in Porto. Still, the best Jesuitas are from Moura pastry in Santo Tirso.