Nestled between the majestic coastal mountains and the glistening Pacific Ocean, Vancouver is your perfect starting point for a world of adventure just beyond city limits. Whether you're a local in search of a quick escape or a visitor eager to explore, Vancouver is your gateway to some of the most incredible day trips. From the serene shores of Bowen Island to the bustling streets of Seattle and the alpine wonderland of Whistler, we've curated a list of the best day trips from Vancouver. Grab your hiking boots, jump in the car, or hop on a ferry, and join us on these epic day trips that showcase the natural beauty and cultural charm of the Pacific Northwest.
Bowen Island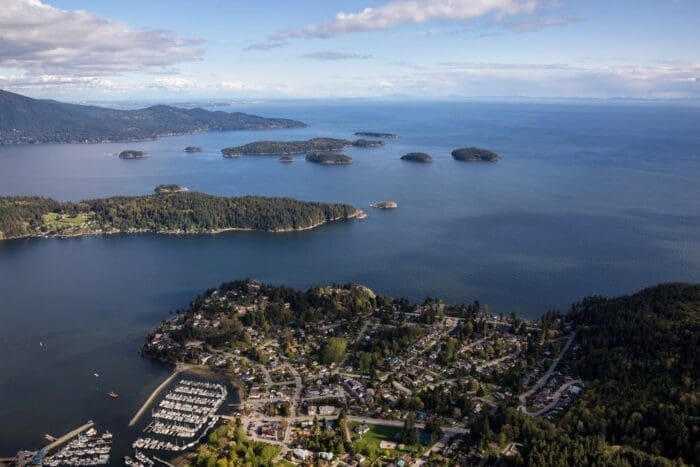 Escape the hustle and bustle of Vancouver with a day trip to Bowen Island, a serene oasis just a short ferry ride away. To get to Bowen, catch a 20-minute ferry from Horseshoe Bay, which itself is a picturesque drive from Vancouver. Bowen Island offers a peaceful retreat, surrounded by lush forests, pristine beaches, and clear waters, making it a perfect year-round destination.
Summertime brings opportunities for hiking, kayaking, wildlife viewing, bird watching, and picnicking in Crippen Regional Park, while winter invites cozy walks by the sea and storm watching.
After a day of exploration, dine at the exceptional Tuscany Restaurant, known for its delectable Italian cuisine and waterfront views. Artisan Eats is another great dining option. This cozy café and bakery, tucked away in Artisan Square, is known for its freshly baked goods, hearty sandwiches, and delectable quiches. Enjoy a leisurely brunch or a cup of their specialty coffee while surrounded by local art and a welcoming, laid-back atmosphere.
For those seeking luxury, the charming Nectar Yoga B&B offers a tranquil retreat with boutique accommodations, yoga classes, and a serene garden to unwind, completing your perfect day trip to Bowen Island.
Butchart Gardens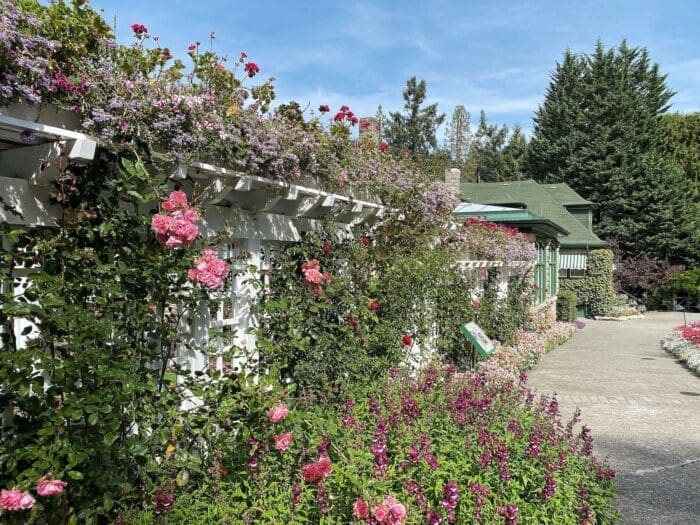 Claudia Tavani of My Adventures Across The World
Located in the lovely Vancouver Island, Butchart Gardens (a National Historic Site of Canada) are easy to visit on day trips from Vancouver, and a pleasant place to spend a few hours for the entire family. It was Jennie Butchart, wife of Robert Pim Butchart, that came up with the idea of creating the gardens in the early 20th century, with the aim of repurposing a limestone quarry.
The gardens are quite vast, and there's a lot to see. Notable spots you should not miss include the Sunken Garden, the Japanese Garden, the Italian Garden and the Rose Garden. There are also several fountains to admire that are scattered around the garden. Make sure to grab one of the maps at the ticket counter and walk along the easy to follow trails to explore. It will take you around four hours to see everything, if you go on a leisurely place.
Inside the gardens you will find several places to eat. The best one is the Dining Room Restaurant, where you can have a sit-down meal. Otherwise, Gelateria Benvenuto offers gigantic scoops of delicious ice-cream.
If you are planning to spend more time in Vancouver Island, opt to stay at the Fairmont Empress Hotel, which is also a National Historic Site! The hotel also offers a luxury afternoon tea which is worth splurging on.
The gardens are around 25 minutes' drive from Victoria, the main city in Vancouver Island. You can take a cab or Uber to the gardens, get there by bus or join one of the guided tours that depart regularly from the tourist harbor. In fact, you can also get there on an organized group tour from Vancouver that includes the ferry crossing.
Chilliwack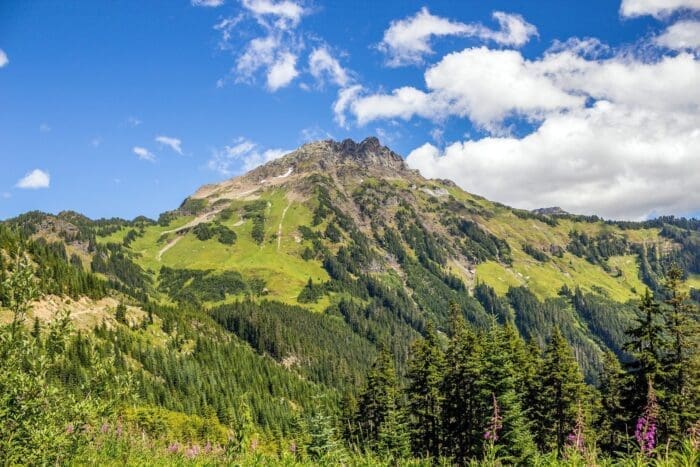 By Kate Fletcher of Bags-Always-Packed
When you leave Vancouver and head just one and a half hours east, you'll be surprised at how quickly the scenery changes from sprawling city suburbs to large mountains, clear lakes, and endless wilderness to enjoy. 
At first glance, this little town doesn't look like much but head a few minutes from the center and you will be rewarded with an off-the-beaten-path destination where you will have plenty of space all to yourself. 
The surroundings of Chilliwack offer everything from white water rafting to quaint country farms with huge corn mazes to keep the whole family entertained. But while you're here, don't miss a trip to the famous Bridal Veil Falls and the S⨱ótsaqel/Chilliwack Lake Provincial Park with its unbeatable views and endless hiking trails. 
If visiting in summer, kids will love the Cultus Lake waterpark, while every April, the town hosts the largest tulip festival in Western Canada. Plus, open all year round are the Chilliwack Cultural Centre, Antique Powerland Pioneer Village, and Dickens Sweets & British Museum if you're looking for a little bit of learning, so there's always something going on to suit a huge range of interests. 
Chilliwack is a great place to go camping with the whole crew, but if you're looking for a hotel, a stay at the beautiful Fraser River's Edge B&B Lodge will be one to remember. 
Coombs & Port Alberni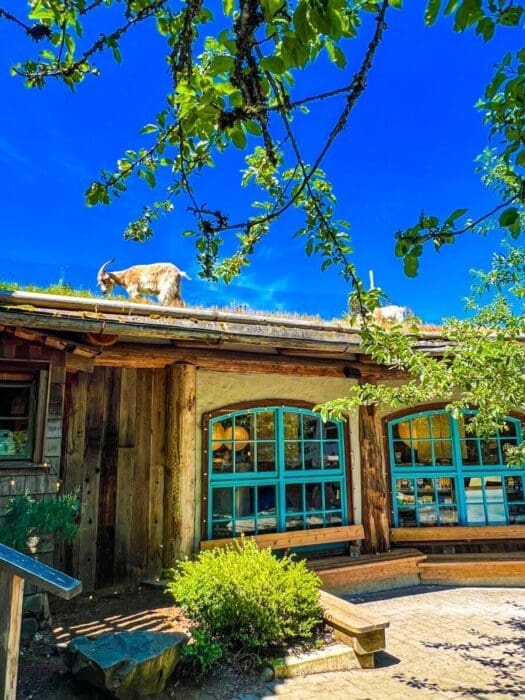 By Shireen of The Happy Days Travels
What better day trip from Vancouver than travelling by ferry to Vancouver Island to see a family of goats that live on the roof of a market?!
On the East coast of the island is a quaint town called Coombs with a population of roughly 2000 people and 2 or 3 goats. The Old Country Market was set up in the 70s by a couple who used goats to tend to the market's grass roof. What they didn't expect was this to become a phenomenon with people from all over the world travelling here just to see the resident goats!
It's so cute to see these animals chilling on the roof and a unique experience. To capture the perfect pictures, be sure to time your visit right as they are only here between May and October.
At the market, you can go shopping for clothing, surfing / skating gear or groceries. The main indoor market has lots of souvenir items such as Goats on The Roof Goatradish and a wide variety of international produce. 
There are three restaurants; Market Cafe, Cuckoo's Italian and Taqueria Cantina to dine at but be sure to visit Billy G's Ice Cream Shop or Billy G's Donut Shop for a sweet treat.
In the centre of Vancouver Island, just a short drive away is the city of Port Alberni with breath-taking lakes to visit such as Sproat Lake Provincial Park. 
The best thing to do in Port Alberni, however, is visiting Sproat Lake to marvel at the petroglyphs. Petroglyphs are ancient carvings by First Nation people and the ones at Sproat Lake depict lake creatures. There is a short boardwalk so you can view the rock art with ease and wonder about the First Nation people who carved this (potentially over 1000 years ago). It's another unique thing to do as part of your day trip from Vancouver because there aren't many places that have the pre-historic carvings like here. 
From Vancouver city, catch the ferry to Nanaimo which takes 1.5 to 2 hours. From here, drive 30 minutes north to reach the town of Coombs or 30 minutes northwest to reach the region of Port Alberni to experience this fun day trip. 
Galiano Island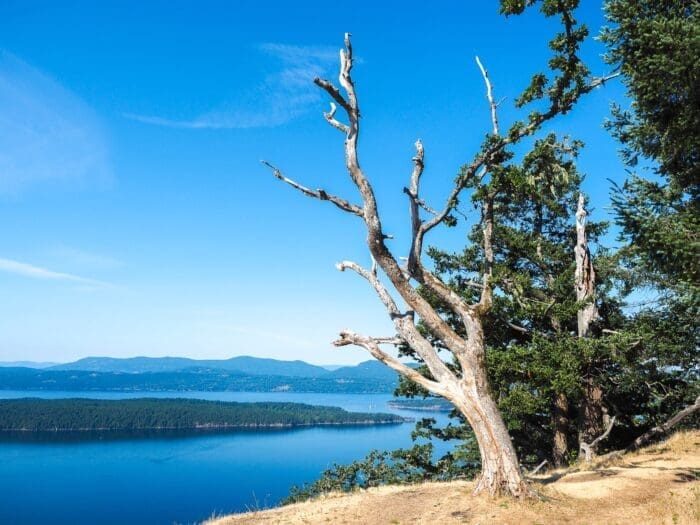 By Nick Kembel of Spiritual Travels
If you're looking to escape to the Southern Gulf Islands for a day, but with the shortest possible ferry ride, then Galiano Island is for you. Galiano is a long and thin island directly opposite Vancouver. Ferries from Tsawwassen (1 hour) stop here first before sailing through narrow Active Pass to the others.
Despite its proximity to Vancouver, Galiano Island is a natural retreat with minimal development. The island remains mostly forested and has a permanent population of only 1400. Deer on the island are practically tame, and there are owls, sea stars, orcas, otters, and sea lions.

Arriving at Sturdies Bay, there's a small collection of local shops and restaurants. From there, walk or cycle (ebikes available to rent) to Bellhouse Provincial Park to explore the coastal tide pools. From there, continue to Bluff's Park or hike up Mount Galiano for epic views of the other Gulf Islands, with ferries passing far below.
Don't miss Montague Harbor, where you can rent kayaks or have lunch overlooking the pretty harbor. Next to it, Montague Harbour Marine Provincial Park features crushed white shell beaches, formed by indigenous refuse heaps going back 3000 years. Lastly, many artists reside on Galiano. You can tour their workshops or see several at once at the Saturday Market (10 AM to 2 PM, mid-May to mid-October).

If you decide to spend the night, Galiano Oceanfront Inn and Spa is conveniently located near Sturdies Bay for your return trip to Vancouver and it has one of the best restaurants on the island.
Lynden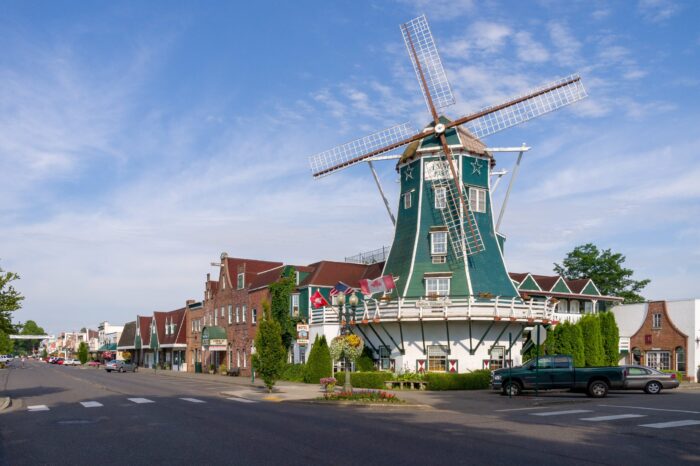 By Taylor at Culture Craving Couple
Lynden, Washington is a charming Dutch Settlement just across the Canada/USA border, about 1 hour from Vancouver. Home to one of the largest Dutch communities in the USA, it offers a slow-paced way of life with a focus on festivals and family activities.
When you walk down the adorable front street, you will be greeted by a large windmill, towering trees, and the smell of pastries wafting out of the Lynden Dutch Bakery, which is a must-try for an afternoon snack.  To start your day, go to the Dutch Treat restaurant for some no-frills breakfast at affordable prices. To end your day, you can eat right at the Dutch windmill at The Mill at Seventh.
When spending a day in Lynden, it's an absolute must to explore the Dutch Village Mall. Inside you will find locally owned shops such as antiques and fudge as well as an indoor river and quirky photo areas.
If you go in the summer, a visit to Edaleen Dairy store will allow you to taste some of the creamiest, locally produced ice cream on the planet. Try any flavor with raspberries because Lynden has the largest per capita crop of red raspberries in the world! 
To sleep, "The Inn at Lynden" is in a restored building downtown, walkable to many attractions, and right next to Avenue Bread, another great option for breakfast or lunch.
Okanagan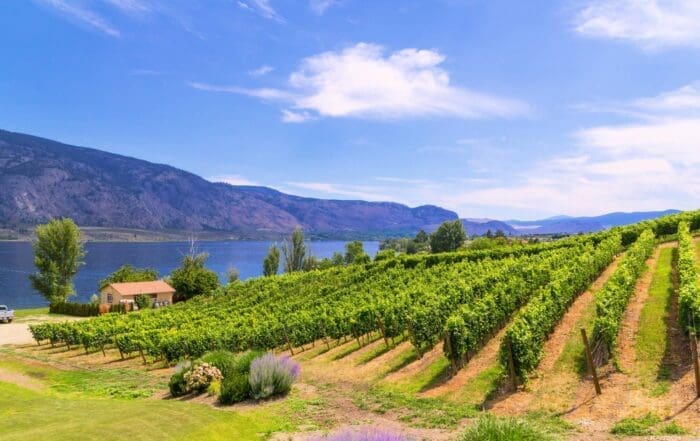 By Kamila Jakubjakova
When you visit the rolling hills in Okanagan, you'll feel like you teleported yourself somewhere in Tuscany. This warm, sunny valley 400 kilometers (250 miles) east of Vancouver is full of lush orchards, vineyards and beautiful lakes. 
Did you know that the Okanagan region produces 30% of Canada's apples, 60% of its cherries, 20% of its peaches, half of its pears and plums, and all the apricots in the country?
If locally grown seasonal produce and good wine are your cup of tea, you'll love Okanagan. Dining at one of Okanagan winery restaurants is definitely worth the 4-hour drive from Vancouver. 
If you prefer something more low-key, the towns across Okanagan Valley have epic farmers' markets and u-pick farms. 
But Okanagan isn't only about wine. In summer, you can swim in Kalmalka Lake, float on the river in Penticton, sunbathe at Okanagan Lake beach and more.
If you plan to visit in winter, it's an ideal time to hit the slopes at picturesque Silver Star Mountain Resort.
A really cool spot to stay in Okanagan is Myra Canyon Lodge / Ranch. It's a great base if you plan to bike the Kettle Valley Rail Trail. Plus, the views from the lodge are unbeatable.
The lodge prides itself in sustainable practices and even received the Sustainable Tourism Destination accreditation from Biosphere International and the Responsible Tourism Institute.
And the best part is that it's only 20 mins from downtown Kelowna yet feels miles away. It's a super tranquil and convenient location. 
Pemberton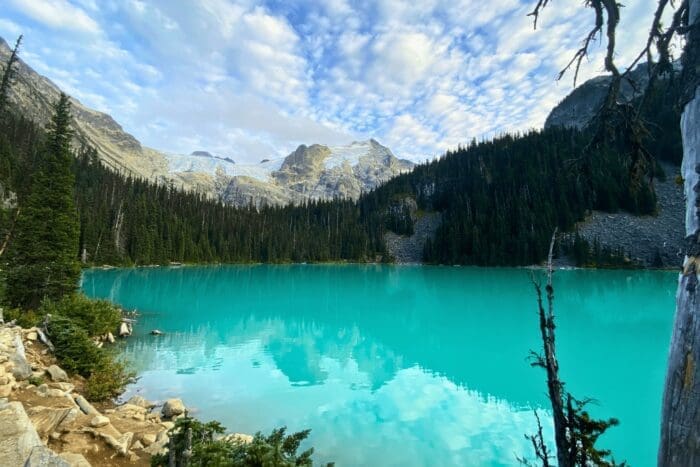 By Chanelle Rosenbaum
In just a 2-hour drive along the Sea to Sky Highway from Vancouver is the quaint mountain town of Pemberton. Brimming with outdoor activities and spectacular scenery, Pemberton is an excellent destination for a day trip.
Nestled in the heart of the region's farm country, and surrounded by dramatic mountain peaks, pristine lakes, picturesque valleys and popular hiking trails, there's so much to see and do here for the whole family. Some of the most popular activities to do nearby include camping, hiking, golf, canoeing and kayaking, swimming, and fishing.
In particular, Pemberton is known for its proximity to Joffre Lakes Provincial Park, where you can hike to see the park's three famous turquoise-blue lakes. This is a particularly good trail for children as the hike is relatively easy and there are some stunning views early on, so you don't have to hike all the way to the top to enjoy the beautiful scenery.
And close to town one of the best activities to do is to explore the local farms. In fact, there are several different ways to see the various farms, including self-guided tours, u-pick experiences, horse and animal-rescue visits, weekly farmer's markets, and organic vodka distillery and homegrown brewery tours. And for some farm fresh food, grab lunch at the North Arm Farm.
If one day isn't enough for you in Pemberton, then you can easily make a weekend out of it by camping at the nearby Nairn Falls Campground or booking a room in town at the Pemberton Valley Lodge.
Tofino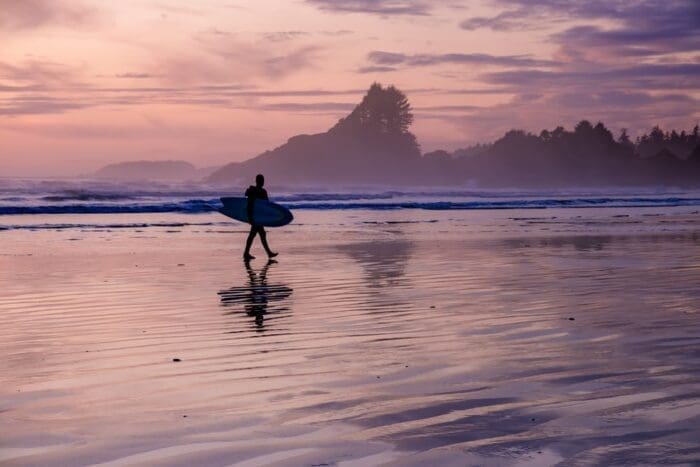 By V Kay of Travel Addicted Unicorn
Tofino is a small picturesque coastal town located on Vancouver Island in British Columbia, Canada. Known for its stunning natural beauty and rugged coastline, Tofino has become a popular destination for nature enthusiasts, hikers, and those seeking a relaxing escape from city life.
Tofino is best known for its world-class surfing opportunities, with surfers flocking to the area to ride the Pacific Ocean's waves. Also, visitors can explore the town's arts and culture scene, enjoy fresh seafood at local restaurants, or embark on outdoor adventures like kayaking, hiking, and whale watching. Whale watching is a wonderful adult/family activity to enjoy in Tofino. The waters surrounding Tofino are home to a diverse range of whale species, including gray whales, humpback whales, orcas, etc.
A great restaurant to try in Tofino is Shelter, which offers a variety of local seafood. In addition, Tofino Brewing Company offers a selection of local beers, making it the perfect place to stop for drinks.
To have enough time to explore everything the town has to offer, spending a weekend in Tofino is an excellent option.
Tofino Resort + Marina is a centrally located accommodation offering free parking and Wi-Fi to its guests.
Overall, Tofino's laid-back atmosphere and natural beauty make it a gem on the west coast of Canada, attracting travelers from around the globe.
Seattle
By Kristin of Global Travel Escapades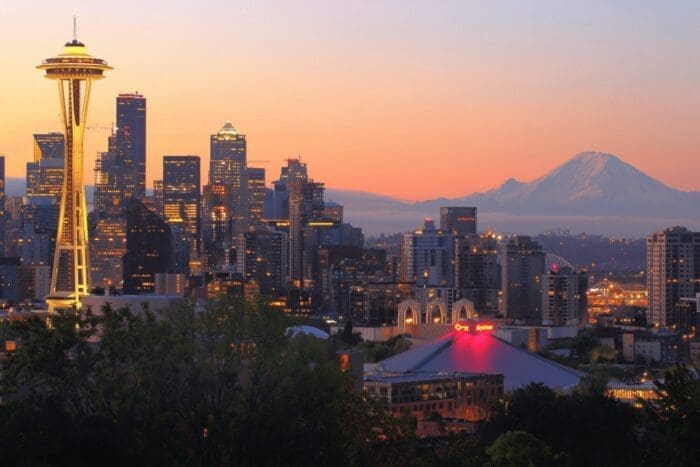 Another fabulous place to day trip to is the "Emerald City," otherwise known as Seattle. This city is known for its verdant surroundings and offers the perfect blend of city life and outdoor activities for all types of travelers.

For example, a couple of must-visit attractions for those who have not yet visited are the towering Space Needle and the iconic Pike Place Market. Or, if you're looking for something on the kid-friendly side, consider checking out the Pacific Science Center. It has several interactive exhibits, a planetarium, and a laser dome and is dedicated to inspiring curiosity and discovery!

Or, if you're traveling as a group of adults and are a fan of wine, there is an array of fantastic wine-tasting opportunities available in the local area. Plus, it offers a chance to escape the noise of the city for a few hours.
When it comes to food, Seattle has an incredibly diverse culinary scene. One place worth checking out is Biang Biang Noodles. Here, you can try their famous hand-pulled noodles. And if you end up wanting to stay for more than a day, a lovely place to check out is the Inn at the Market. This 4-star hotel is located right on the water and is just steps away from Pike Place Market!
Squamish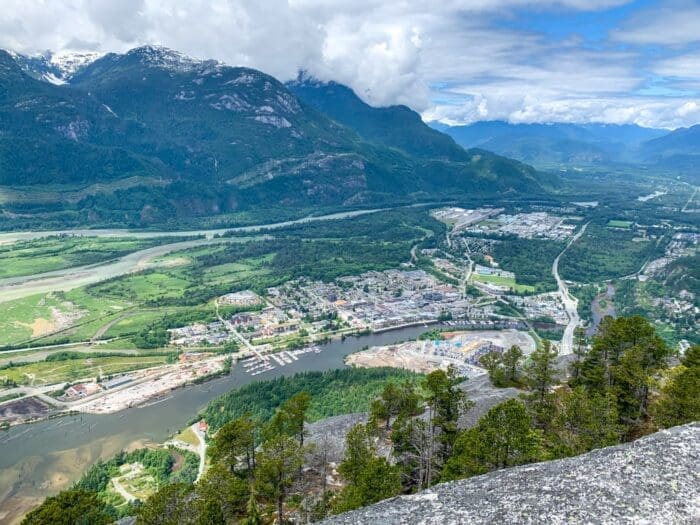 By Taryn Eyton
If you want to get outdoors and get off the beaten path, a trip to Squamish makes a great day trip from Vancouver. It's a small town located about halfway between Vancouver and Whistler on the Sea to Sky Highway.
From hiking to rock climbing to mountain biking, there are tons of outdoorsy things to do in Squamish. If you are up for an epic hike, make the steep and challenging trek to the top of the Stawamus Chief, a huge granite outcropping with incredible views from the top. If you want something more mellow or are traveling with kids, catch a ride into the mountains on the Sea to Sky Gondola, then hike the Panorama Trail to a breathtaking viewing platform suspended on the side of a cliff.
After your adventure, explore the restaurants and shops along Cleveland Avenue in downtown Squamish. Drop by Billie's House for the cutest plants and home goods and stop into Xoco for incredibly artistic chocolates. Pick up a coffee and artisanal doughnut at Fox and Oak to snack while you shop or grab a table on the patio at the Copper Coil to enjoy Louisiana-style BBQ with mountain views. If you want to spend the night, book an adorable riverside cabin at Sunwolf on the edge of town.
Victoria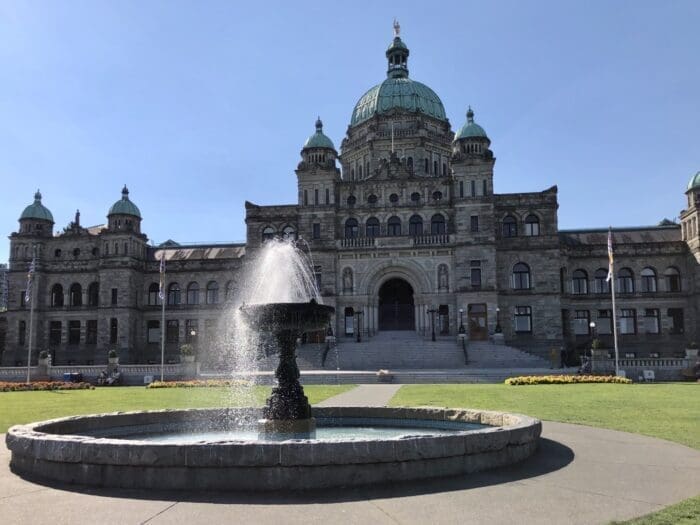 By Lisa Garrett of Waves and Cobblestones        
One of the best day trips from Vancouver is to visit the charming city of Victoria.  This beautifully verdant city is the capital of the Canadian province of British Columbia. 
Victoria's amazing gardens and flowers have earned it the sobriquet of Canada's "Garden City".  And even better, it's also green from a sustainability perspective! The greater Victoria area has been designated as a Biosphere-certified destination.
Many of the top attractions in Victoria are located near the inner harbor, and Victoria is easy to explore on foot or by water taxi.  Check out the Legislative Assembly building, Victoria's Chinatown, the Royal British Columbia Museum, and the impressive totem poles in Thunderbird Park. 
One activity that is perfect for couples and families alike is to take a whale-watching tour.  Victoria is one of the best places in the world to see these magnificent creatures, and there are plenty of certified sustainable whale-watching tours available to choose from.
Visit Fisherman's Wharf, a unique and colorful array of floating houses and eateries. Savor locally sourced seafood from The Fish Store – you'll love the seafood stew and halibut tacos at this floating restaurant!
Stay at the Fairmont Empress.  This grande dame of Victoria's hotels is known for its elaborate tea service and unbeatable location.  It's also a leader in eco-friendly practices including 'bee hotels' for our pollinating friends.
Whistler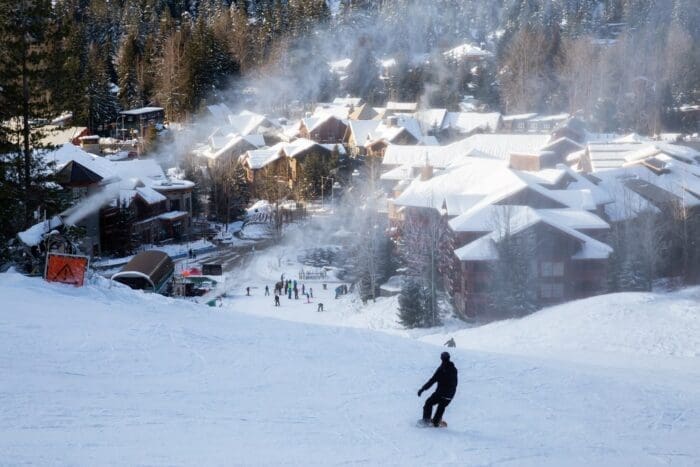 Whistler, just a scenic 90-minute drive away from Vancouver, is a must-visit destination for those seeking adventure and relaxation in the heart of the Coast Mountains. This world-renowned resort town is famous for its world-class skiing and snowboarding in the winter, as well as a wide range of outdoor activities during the warmer months, such as hiking, mountain biking, and golf.
The best time to visit truly depends on your interests. For winter sports enthusiasts, the snowy wonderland of Whistler-Blackcomb is at its peak from December to April. In the summer, the village comes alive with a vibrant atmosphere, and outdoor enthusiasts can explore the extensive trail network and take part in various festivals.
Whistler offers a myriad of exciting activities beyond skiing and snowboarding. Take a ride on the PEAK 2 PEAK Gondola, a record-breaking wonder that connects Whistler and Blackcomb Mountains. The breathtaking journey offers panoramic views of the alpine landscape and is perfect for sightseeing and hiking during the summer, or even snowshoeing in the winter.
Additionally, don't miss the chance to explore Whistler Village, a charming, pedestrian-friendly hub filled with boutique shops, art galleries, and lively après-ski spots. You can also visit the Squamish Lil'wat Cultural Centre to learn about the Indigenous history and heritage of the region, making your day trip to Whistler a well-rounded adventure.
For dining in Whistler, head to the acclaimed Araxi Restaurant + Oyster Bar right in the Village Square for an unforgettable farm-to-table dining experience.
To top off your day trip, indulge in the luxurious comforts of the Fairmont Chateau Whistler, a stunning mountain-side hotel that offers top-notch amenities and breathtaking views of the surrounding peaks.