When in London, it may be quite common to find yourself in Trafalgar Square or around Embankment during dinner hours. Pre or post theatre, after a day at one of the many nearby museums, an afternoon at the beauty parlor, or simply a day of exploring the city, The Northall is calling your name for dinner. Set inside Corinthia London, the dining room is adorned with enormous windows, modern and dramatic chandeliers, and marmalade-orange booths.
The highest standard of hospitality is found at The Northall. We encountered the friendliest service in London at The Northall. The staff gets a special nod of appreciation for that being that it was nearly 9:30pm, and what a busy even it was. This restaurant establishment is one of those rare, refined dining destinations that you could rely on anytime and recommend to friends and family young and old.
A unique concept at Corinthia London is in the powder room, dinner guests can listen to classic mysteries being narrated to them. I ended up sitting and listening to one excerpt for nearly fifteen minutes.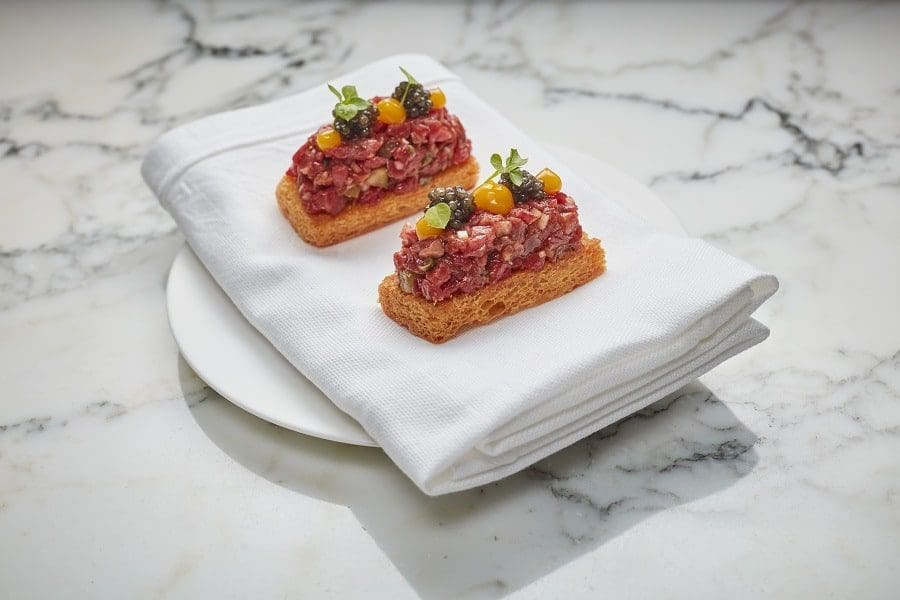 "In wine there's truth."

-pliny the elder As read in The Northall's dinner menu.
The Dinner Menu at The Northall
The Northall has a particularly impressive wine list, which encompasses a hand-selected collection from biodynamic and organic estates, in addition to some of the finest international labels. In all there are more than 300 wines and Champagne.
The freshly baked bread with top quality British butter was a course in and of itself. Luscious, creamy salted butter with bread straight from the oven warmed our bellies soon after we escaped the chill outside.
For starters, we chose the Heritage Beetroot Salad with compressed pear, English burrata, and black olive. A salad that can easily substitute as a main dish, it has all the textures and flavors one would desire for a hearty winter salad. The marriage of pear and burrata with that subtle zing of olive was refreshing while comforting.
For the main course, it was a pasta and fish duo. We each shared the half portion of Cep Mushroom Risotto with Aquerello rice, pickled walnut, and cavolo nero (a type of kale); and the Dover Sole that we chose to have grilled. The full or dinner size portion of the Risotto. Each main dish was that and more than what you would expect from Executive Chef André Garrett. A true 'taste experience to remember', we will be back soon.
Additional dishes that we recommend from their dinner menu are:
Baked Semolina Gnocchi: Broccoli, Trompette, Truffle, Hazelnut Pesto
Romney Marsh Lamb `En Croute`: Braised Endive, Sherry Vinegar Caramel
Fillet of Lake District Farm Beef: Pressed Potato, Braised Shallot, Red Wine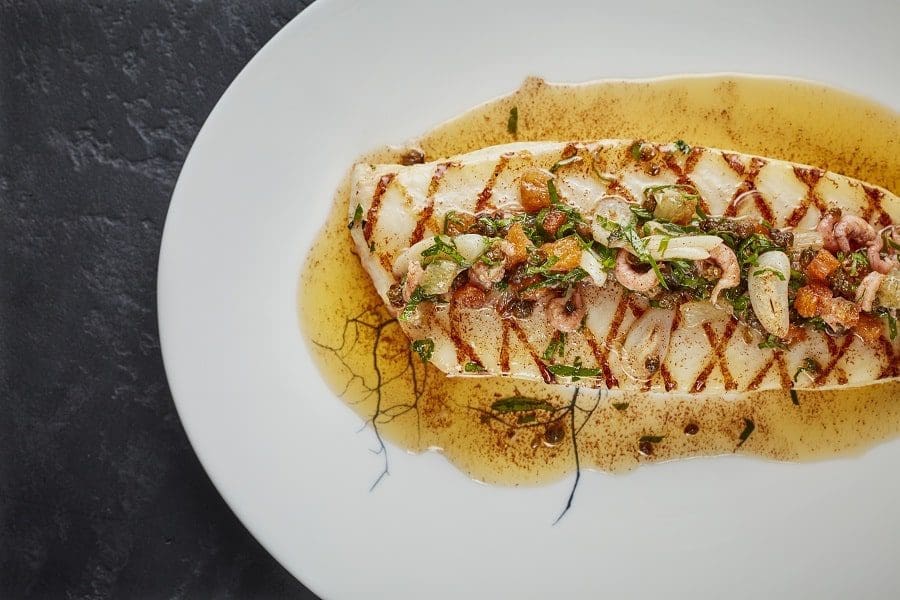 Dessert
Desserts at The Northall at Corinthia London are £12 each. Options include a Prune and Armagnac Rice Pudding; a Caramelized Pineapple Rum Baba; a Caramel, Yuzu and Milk Chocolate Tartlet; and others. Pair with their selection of fine teas, Rainforest Alliance certified coffee, or hot chocolate.
Their handsome cheese selection is worth a look (and a taste). Choose from a selection of artisanal cheeses from the trolley served with grapes, celery and crackers. I would come to The Northall just for wine and cheese one evening. Pair the cheese with Graham's 20-Year-Old Tawny Port.
Hours and Information
The Northall in London is open for breakfast, lunch, and dinner seven days a week. Dinner is served Monday-Sunday from 5:30-10pm.