In honor of World Food Day 2021 on Saturday, October 16th, we have rounded up the best places worldwide destinations for gourmands. These travel destinations include Greece, Morocco, and many other corners of the globe.
From organic restaurants using locally sourced produce to bespoke wellness meal plans, these are the best trips to book in the future to satisfy your taste buds and celebrate World Food Day.
argos in Cappadocia, Turkey
New cooking classes, al fresco picnics and wine tasting in the original land of viniculture.
Located in central Turkey, argos in Cappadocia hotel is set within a 2000-year-old network of ancient ruins, caves, and underground tunnels. The hotel is home to the region's largest wine cellar with a capacity of 70,000 bottles.
New this year, argos is now offering exciting cooking classes with a chance for guests to harvest the in-season produce themselves and wine tasting experiences, in order to sample and protect the local cuisine of the region, taste authentic local dishes and cook alongside the hotel's experienced chefs. Aiming to support the vintification of the country, argos is offering a new wine tasting menu.
In addition, guests can dine in the rustic chic SEKI restaurant. The restaurant sources produce from the hotel's own organic vegetable garden.
What's more, argos can arrange for romantic picnics in the hotel's rooftop garden with a breath-taking view over Pigeon Valley. Or, how about a private barbecue at their al fresco Monks terrace venue.
CAYO Exclusive Resort & Spa, Crete
Locally sourced Grecian Goodness from a Michelin-starred chef.
CAYO Exclusive Resort and Spa is located on Crete's northern coast. The resort boasts four gastronomic restaurants. These include the effortlessly cool Stone Beach House, perched on Plaka Beach.
Then there is also Kelari, where guests can expect a fine-dining experience. CAYO also has an all-day eatery called Ambrosia, and a Mediterranean restaurant called Sage & Thyme.
The menu is curated by Chef Lefteris Lazarou, the first Greek chef to be awarded with one Michelin star. Speciality dishes include Red Mullet TarTar, Seabass Ala 'Polita', and Mushroom Ragout.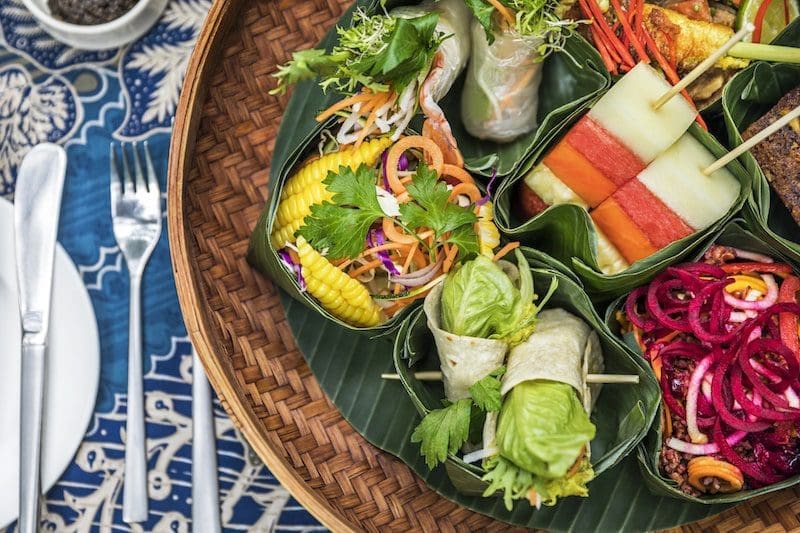 COMO Hotels and Resorts, Worldwide
A philosophy of healthy living. 
COMO Shambhala, the holistic wellbeing concept within COMO Hotels and Resorts, is founded on the philosophy of healthy living. This philosophy is synonymous with World Food Day.
Their cuisine focuses on a mixture of raw and cooked ingredients with specific nutritional purposes. The cuisine is served-up across a selection of COMO properties, from the heart of the Bhutanese Himalayas to Parrot Cay, a private island in Turks & Caicos.
On-property nutritionists are on hand to help design bespoke meal plans to complement specific wellbeing programs, whether it's a full body detox or to regain control of your wellness routine.
Es Saadi Marrakech Resort, Morocco
Slow Food and Farm-to-Fork Dining.
One of Es Saadi Marrakech Resort's main themes is mindfulness. They have incorporated this theme into their gastronomic offerings with a SLOW food movement. SLOW stands for: Sustainable, Local, Organic and Wellness.
Their food menu includes low calorie suggestions as well as gluten-intolerance alternatives. Described as the anti-fast food, the SLOW food movement has gone about celebrating locally sourced organic foods and encourages farming of plants, seeds and livestock characteristic of the local ecosystem.
Their restaurant offers a light salad bar each lunchtime. The salad bar consists of both raw and cooked full-flavored vegetables, salads, nuts, and freshly gathered herbs.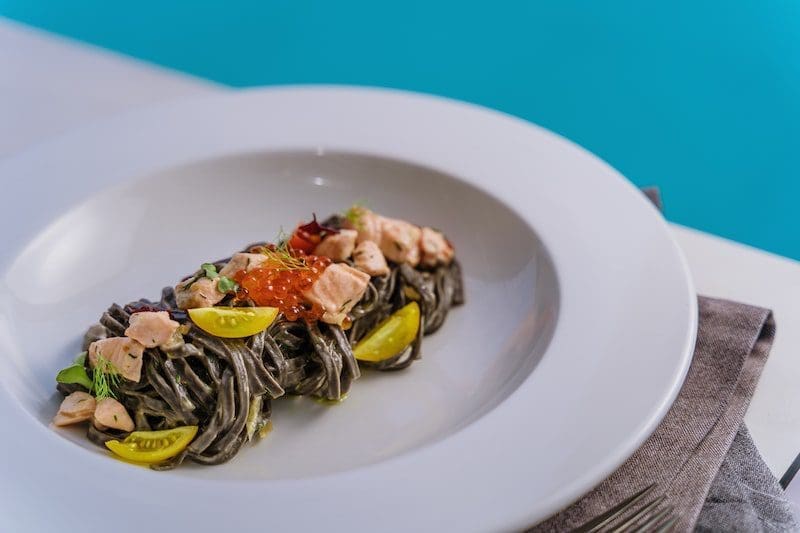 Gennadi Grand Resort, Rhodes
Nutritious and delicious Greek and international dishes served with a waste free food policy.
Gennadi Grand Resort on Gennadi Bay in Greece boasts sustainable practices ideal for celebrating World Food Day.
Their onsite restaurants offer everything from traditional Greek, Mediterranean, grills and fine dining fusion dishes. Gennadi prides itself on nutritious and delicious dishes that are unprocessed, and they cut those containing palm oil. The resort also has increased their vegan and vegetarian offering by reducing meat-based dishes.